My grandmother was an amazing cook and baker. I remember her ALWAYS having cookies in the freezer for when the grandkids came to visit. These Kringla cookies were one of my top 3 favorite cookie recipes that she made. My kids and I were studying Christmas Around The World last year. This recipe is a Norwegian Christmas Cookie, so we decided we had to make them as part of the unit study. They are soft cookie that just melts in your mouth. I'm thrilled that I can make this cookie with my kids now that my grandmother has passed. There's nothing like an old family recipe. I hope you enjoy it as much as my family does.
Kringla Cookies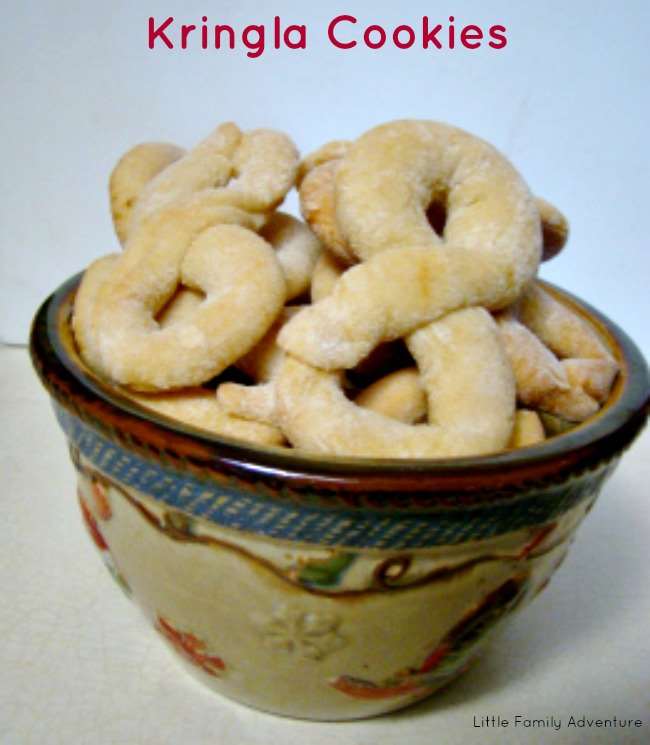 Yields Makes 6 to 7 dozen
Kringla Cookies
Ingredients
1 1/2 cups sugar
1 egg, beaten
2 1/2 cups sour cream
4 cups all-purpose flour
2 teaspoon baking soda
1/4 teaspoon salt
Instructions
Preheat oven to 350 degrees.
In a medium mixing bowl, combine sugar, egg, and sour cream.
In another bowl, combine flour, baking soda, and salt.
Add the flour mixture to the cream mixture and combine completely. Dough will be a little sticky.
Refrigerate for 30 minutes.
Divide dough in half and return 1/2 to refrigerator.
On a floured surface, form dough into a long roll with your hands.
Cut off a narrow slice of dough. Roll lightly with hands on lightly floured board into a pencil width strip about 7-8? long.
Create a figure 8 and pinching the ends together to fasten securely.
Place on lightly greased baking sheet. Repeat with remaining dough.
Bake 12 minutes or until lightly golden.
7.8.1.2
95
https://littlefamilyadventure.com/kringla-cookies/
LittleFamilyAdventure.com
Do you have any favorite family recipes? Perhaps Kringla Cookies?
I'd love to hear what they are. Please tell us in the comments below.
You might also like these cookie recipes