Thank you to Nestle Toll House for sponsoring this easy brownie recipe with DelightFulls Caramel Filled Baking Morsels! These delectable treats combine my love of brownies and cheesecake into tasty little squares. This article contains affiliate links. Purchase through our affiliate links and we receive a small commission without any extra expense to you!All opinions are 100% my own.
Cheesecake Brownies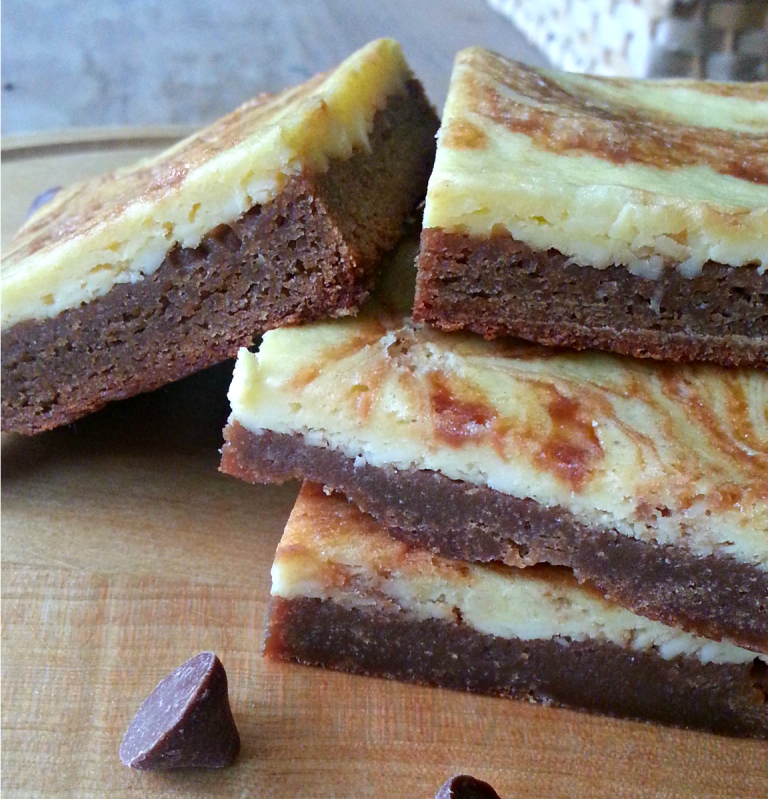 Don't these look good? My family can't get enough of these Cheesecake Brownies with their layer of dense chocolate caramel brownie and creamy cheesecake top. They go kinda nuts over them. Each bite is a little bit of heaven. I like that these are an easy brownie recipe to make anytime and I can make these brownies from scratch.
Every holiday season, my kids and I get in the kitchen to bake cookies, breads, and cakes. It's one of the holiday traditions I look forward to. Baking cookies with my children is always a great time. It may not be the cleanest of activities, but who cares. It's a fun way to spend time together and the results are always delicious. I remember baking cookies with my grandmother when I was younger. I have fond memories of getting in the kitchen with her. One of the cookies was the Chocolate Chip Cookie recipe on the bag. Do you have a favorite cookie or easy brownie recipe you like to make?
How to Make Brownies from Scratch
Homemade brownies are always better than anything you'll get from a box. Luckily the answer to the question of "How to Make Brownies From Scratch?", is REALLY REALLY simple! With brownies, you melt the chocolate in a double boiler or in the microwave, then add the remaining ingredients. With then cheesecake brownies, you layer the brownie mixture in a 8×8 pan and then follow with the cream cheese layer. Bake for 30 minutes or so and then let cook.
Print this easy brownie recipe below and you can learn to make brownies from scratch too!
Chocolate Filled Baking Morsels
Have y'all tried these Nestle Toll House DelightFulls Filled Baking Morsels yet? They're chocolate chips with stuff in the middle; caramel, peanut butter, mint, or cherry. The thing that makes these the best brownie recipe is the addition of Nestle Toll House DelightFulls baking morsels. The ones I really like in this are Caramel filled milk chocolate chips.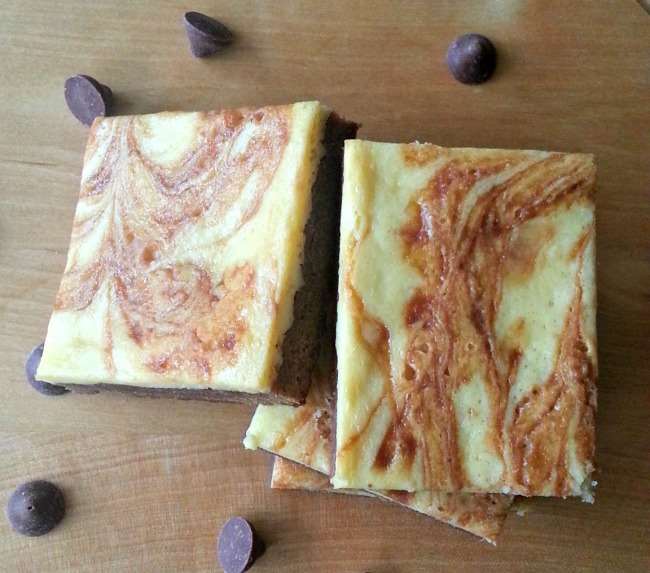 Easy Brownie Recipe
These Cheesecake Brownies are delicious and oh so easy. They really are one of the best brownie recipes the kids and I have ever made. I mean how can you go wrong with chocolately brownies topped with a layer of creamy cheese goodness. The marbleized effect on top is decorative with a few melted chocolate chips swirled in. It gives these brownie cheesecake bars a nice look.
Every year, we try to host a cookie exchange for friends, family and neighbors. These are usually one of the desserts I make to swap because they are so easy. I'll cut them into smaller squares or 2″ bars. If you want to give these or other cookies as gifts, here are a few ideas on packaging homemade treats.
Have fun in the kitchen this holiday season and create some delicious treats for yourself!
Yield: 16
Caramel Cheesecake Brownies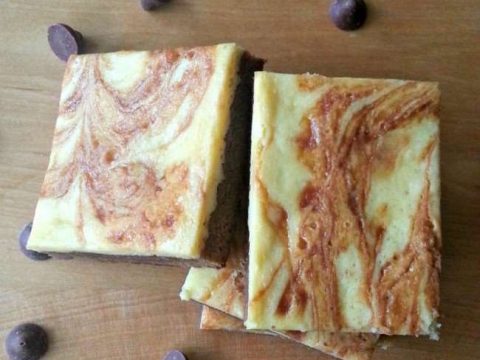 These cheesecake brownies combine a dense chocolate and caramel brownie with a creamy cheesecake topping using the Nestle Toll House DelightFulls Milk Chocolate Morsels with Caramel Filling.
Ingredients
For the Cheesecake
1 egg
1 cup cream cheese
1/4 cup cane sugar
1 teaspoon vanilla extract
For the Brownie Mixture
1/3 cup Nestle Toll House DelightFulls Milk Chocolate Morsels with Caramel Filling
1/2 cup unsalted butter
3/4 cup light brown sugar
2 eggs
1/2 cup all purpose flour
Instructions
Preheat oven to 325 degrees F.
Line the bottom of a 8x8 cake pan with parchment paper or butter the bottom of a silicone pan.
For Cheesecake Mixture
Beat the egg in a large bowl.
Add the cream cheese, cane sugar, and vanilla extract to the egg. Beat together until creamy and smooth.
Set aside.
For the Brownie Mixture
Melt the chocolate chips and butter in the microwave or in double boiler on the stove top.
When mixture is melted, remove from heat and stir until well combined.
Add sugar and stir to combine.
Add the eggs to mixture and beat in with a whisk.
Stir flour into brownie mixture.
To Assemble Cheesecake Brownies
Spread 3/4 of the brownie mixture to the prepared pan. Layer will be thin.
Spread the cheesecake mixture on top of the brownie to cover it completely.
Spoon remaining brownie mixture over the cheesecake layer.
Use a skewer or knife to swirl mixture together.
Bake for 30-35 minutes or until the center to set when touched.
Leave to cool in the pan.
Cut into squares or bars and serve.
Nutrition Information:
Serving Size:
1
Amount Per Serving:
Calories:

3018
Total Fat:

194g
Saturated Fat:

117g
Cholesterol:

494mg
Sodium:

879mg
Carbohydrates:

305g
Sugar:

248g
Protein:

34g
If you liked this easy brownie recipe for layered Cheesecake Brownies, you may also like these other cookie recipes:
Be sure to SUBSCRIBE and Follow us on FACEBOOK , TWITTER , INSTAGRAM and Follow PINTEREST to see more delicious recipes, travel destinations and tips, adventures, and more of what we are up to.