I have another one of my Grandmother's cookies recipes for you today. The official name is Lebkuchen. But I always called them the spice cookies with the almonds on top. They get their flavor from honey, molasses, cinnamon, clove, and allspice. They are similar to a richly flavored American soft gingerbread or a Dutch Tai Tai cookie.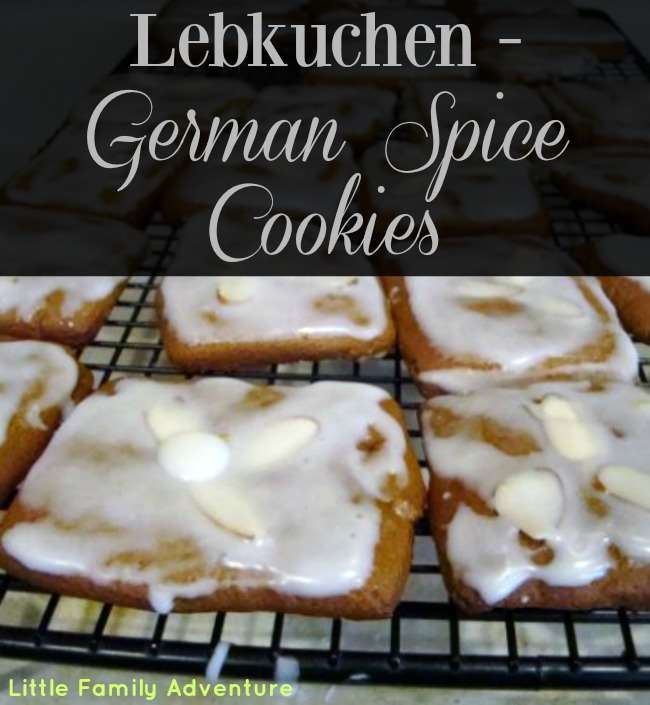 Lebkuchen is a traditional Christmas cookie that originated in Germany. Different regions of Germany make different versions of Lebkuchen. There are cookies loaded with candied fruit or nuts, covered in chocolate, thin and spicy, etc. The version my Grandmother made were soft, slightly spicy, without fruit, topped with sliced almonds, and had a delicious sugar glaze.
For the past few years, I have looked for the recipe to these cookies. When Grandma would make them, I don't remember her using a written recipe. She went from memory. I feared that her recipe was lost when she passed away. However, when going through her recipe cards, I found a newspaper clipping attached to an index card. It wasn't an exact version of what she made, but I hoped that this was what I had been searching for.
The recipe above contained ingredients she hadn't included in her cookies. When I was talking to my mother the other day, she reminded me that Grandma didn't always follow a recipe. I was reminded that like most people, she would add and left out ingredients to suit her. So I set out to find out if this was my favorite cookie from my childhood.
You'll notice that I didn't follow the original recipe exactly. I left out the candied fruit, silvered almonds in the batter, and lemon in the glaze. Grandma didn't include almonds inside the cookie. Instead, she carefully arranged 3 sliced almonds on top of each cookie. Her cookies were also round. The easiest way to make round cookies would be to break off a small amount of dough, form a circle with floured hands, place circle on the cookie sheet, and press down/squish it with the bottom of a glass or other flat surface. But you can choose whatever shape you like. I followed the above recipe and did the rectangular shaped one. Just one word of caution if rolling out your dough, it is temperamental! When rolling it out, don't touch it too much. It becomes sticky and doesn't hold together as well the more you handle it. So just be sure that you flour the surface or your hands well and work quickly.
On cooking temperature and cook time, I tried what the above recipe recommended only to result in lovely charcoal bricks that had to be chiseled off the baking sheet. Doesn't that sound yummy? 🙁 So first I adjusted the cooking time and it still didn't give me the cookie I wanted. So I lowered the temperature as well. I was looking for a cookie that would be done when you pressed the top and it didn't leave a finger indentation. You may want to experiment with these cookies yourself and see how they work out for you.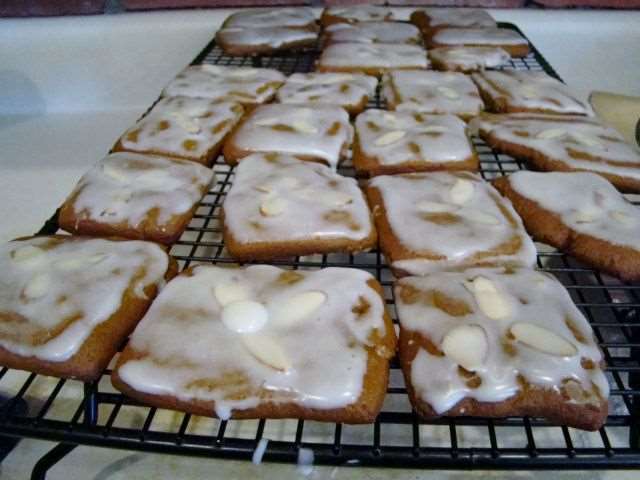 When looking at different Lebkuchen recipes online, a few stated that flavor of the cookie tastes better if you let them sit for a few days. They were right! These cookies are great the first day, but they are even better a few days later. Also if your cookies harden, you could re-soften them. Add a slice of apple to the container or bag of cookies and leave closed for a day or two. The cookies will absorb the apple's moisture and return the cookie the right consistency. Just be sure to remove the apple after two days, otherwise mold can start to form. And who likes moldy cookies? Not this girl!
All in all, these cookies taste just like I remember as a girl. Make them yourself and you'll love them too! I will say that this is also taught me a valuable lesson. From now on, I plan to write all of my family's favorite memories and recipes down. You should do the same. It would be tragic if one of our favorite memories was lost forever.
Now on to the food……….
Yield: 3 dozen cookies
Lebkuchen – German Spice Cookies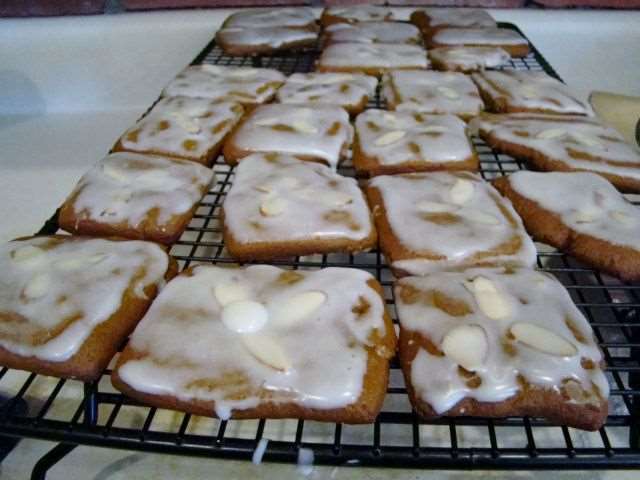 Ingredients
3 cups all-purpose flour
1 1/2 teaspoon ground nutmeg
1 1/4 teaspoon ground cinnamon
1/2 teaspoon baking soda
1/2 teaspoon ground cloves
1/2 teaspoon allspice
1 egg
3/4 cup packed brown sugar
1/2 cup honey
1/2 cup dark molasses
Handful of sliced almonds
Sugar glaze
1 slightly beaten egg white
1 1/2 cup powdered sugar
1-2 tablespoons of water
Instructions
Sugar Glaze
Combine all ingredients together until you get a slightly runny glaze.
Cookies
Stir together flour, nutmeg, cinnamon, soda, cloves, and allspice.
In a mixing bowl, beat egg, add brown sugar and beat with an electric mixer on medium speed until fluffy.
Stir in honey and molasses.
Add dry ingredients to molasses mixture. Beat until well blended.
Cover and chill for several hours.
Preheat oven to 350 degrees F.
On a floured surface, roll dough into a 14 inch square, about 1/4 inch thick. Cut into 3 1/2 by 2 inch rectangles.
Place the cookies 2 inches apart on a greased cookie sheet or on a parchment sheet lined cookie sheet. Place sliced almonds on top of each cookie.
Bake for 9-10 minutes until she can touch the cookie without leaving an imprint.
Remove immediately to wire rack to cool slightly.
While cookies are still warm, dip the top of each cookie in the icing and spread with the back of a knife. Return to the wire rack to dry.
Sore in air tight container.
Nutrition Information:
Yield:
36
Serving Size:
1 cookie
Amount Per Serving:
Calories:

111
Total Fat:

1g
Saturated Fat:

0g
Trans Fat:

0g
Unsaturated Fat:

1g
Cholesterol:

5mg
Sodium:

24mg
Carbohydrates:

24g
Fiber:

1g
Sugar:

16g
Protein:

2g