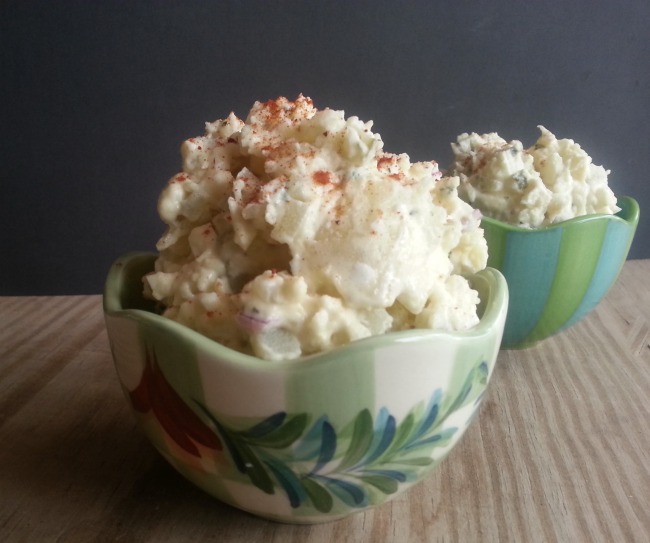 No summer barbecue or group picnic is complete without potato salad. It's simply a MUST have when you are grilling. There are so many different versions out there. There's the potato salad recipe with egg, potato salad with mayo or mustard, German potato salad, loaded potato salad, Russian potato salad with beets, etc… Do you have a favorite?
This site contains affiliate links. Purchase through our affiliate links and we receive a small commission without any extra expense to you!
Hands down, my favorite is my Mom's Potato Salad recipe with egg. My mother has made this potato salad for as long as I can remember. She makes it for holiday meals, picnics, barbecues, or anytime she needs another easy side dish. There are a million different potato salad recipes out there. This version has a sweetness to it, thanks to Bread & Butter Pickles. I've never had anything like it before. She uses a drained 24 ounce jar of them for this recipe for 6 cups of cooked potatoes.
Bread and Butter pickles are one of the few types of pickles my mom will eat. She hates dill pickles with a passion. She says it's all my fault! When she was pregnant with me, she had cravings for mikshakes and an aversion to dill pickles. So opposite from the cliche I know! But back to this potato salad recipe with eggs. Anything other than Bread and Butter pickles won't give you the same flavor in this potato salad. There is a link above to Amazon for my favorite type of bread and butter pickles. Another secret in this recipe is Granny Smith apple. It adds a little crunch, balances out the pickle, and a touch sweetness without having to add any sugar.
Mom would always mix her potato salad by hand. So, I do the same. She said that mixing by hand allows a few of the potatoes to maintain their shape while getting a creamy texture. It gets a bit messy, but the end result is awesome! I leave the skins on my potatoes too. You can choose to do the same or peel your potatoes prior to cooking them. I leave them on for the added vitamin content. I remember reading, years ago, that there are minerals and nutrients in the skins. So I leave them on.
For special occasions, Mom would top her potato salad with a layer of added mayonnaise and then make a design with vegetables. One of my favorites is a floral pattern with sliced bell peppers and carrots to create flowers and stems.To create the design (pictured above), slice 1/2 a bell pepper horizontally for rings (flowers) and slice the remaining 1/2 vertically for straighter slices (stems). It's a nice touch, but my hubby doesn't like the added mayo so I only do it occasionally. You can choose to add it or not.
Mom's Potato Salad
Ingredients
5-6 potatoes, chopped (about 6 cups)
2 large hard boiled eggs, chopped
½ Granny Smith apple, diced
24 oz bread and butter pickles, drained and diced
¼ cup diced red onion
2 Tablespoons dried parsley
3 Tablespoons white wine vinegar or rice wine vinegar
1 ¼ cup mayonnaise
1 Tablespoon German mustard
1 teaspoon salt
¼ teaspoon freshly ground black pepper
Paprika, optional
Instructions
Place potatoes into a large pot and cover with salted water; bring to a boil. Reduce heat to medium-low and simmer until tender, about 20 minutes. Drain, cool, and set aside.
Combine chopped eggs, pickles, apple, and red onion in a large bowl. Add potatoes once cool.
Add remaining ingredients and mix until well combined. Refrigerate 1-2 hours before serving.
Optional: Sprinkle top with a little paprika for color and extra flavor.
Nutrition Information:
Serving Size:
1
Amount Per Serving:
Calories:

2522
Total Fat:

209g
Saturated Fat:

33g
Cholesterol:

116mg
Sodium:

7369mg
Carbohydrates:

151g
Sugar:

128g
Protein:

8g
If you liked this potato salad recipe with egg, you may also like these recipes: