Making a Philly Cheesesteak Better
A while back, I saw a recipe for Philly Cheesesteak Bell Peppers online and knew I had to try it. I mean, what's not to love about copious amounts of gooey mozzarella cheese, sliced roast beef, and stuffed bell peppers? I took my family's recipe for a Philly Cheesesteak sandwich, ditched the bread and added more bell peppers. Voila! Philly Cheesesteak Stuffed Peppers. It's all of the flavor without the bread.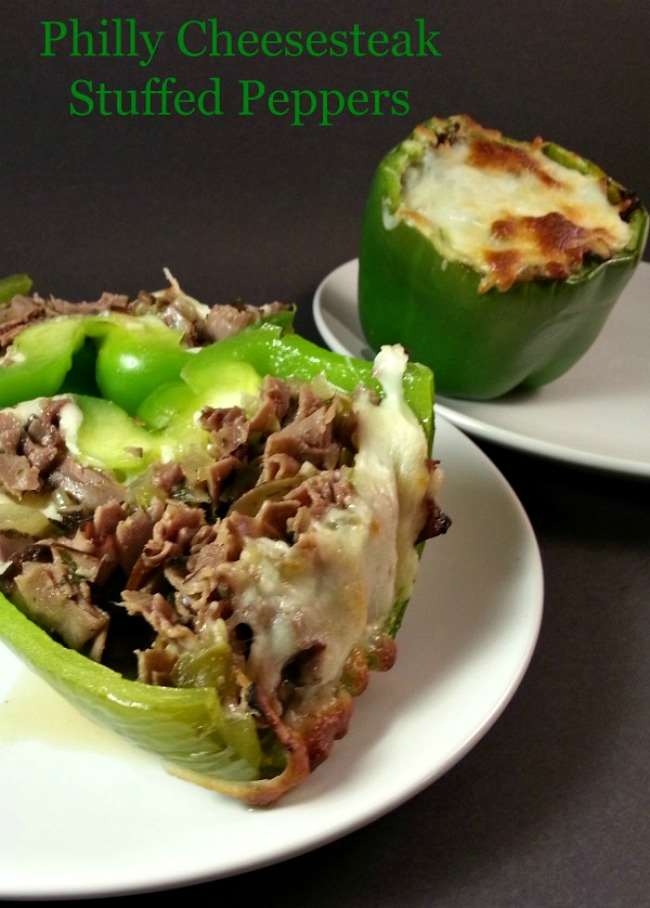 Philly Cheesesteak Stuffed Peppers
Gluten Free and Lower in Carbs
Because we ditched the bread, this recipe is gluten free and lower in carbs. I LOVE bread but don't miss it in this recipe for Philly Chesesteak Stuffed Peppers. This recipe makes 4 whole bell peppers. It's easy to double and even triple the recipe for company.
More Veggies
When I make cheesesteaks at home or if I order one when we go out, I always ask for extra peppers. So this version was right up my alley. I keep the main bell pepper a little firmer and cook the bell peppers inside the filling a  little longer. I like that combination of textures. If you want all of the bell peppers softer, more like a traditional Philly Cheesesteak, bake or parboil the bell peppers 10 minutes  before stuffing them. You can use this while you are prepping and cooking the filling/stuffing.
Easy to Make Ahead
This recipe takes about 35-40 minutes to make. If you know you'll be in a short on time to make dinner, cook the filling, minus the cheese, the night before and store in the refrigerator. When you're ready to make dinner, continue with the recipe my adding the cheese, stuffing the peppers, and bake. Since the filling is cold, you'll want to add a few extra minutes to bake. When the cheese on top is melted and turning golden, they are done.
Want More Keto Recipes? Then You'll Want to Try:
Kids LOVE Philly Cheesesteak Stuffed Peppers!
My kids aren't huge fans of bell peppers, but they will eat their weight in these Philly Cheesesteak Stuffed Peppers. That's a win in my book! Your family will love it too!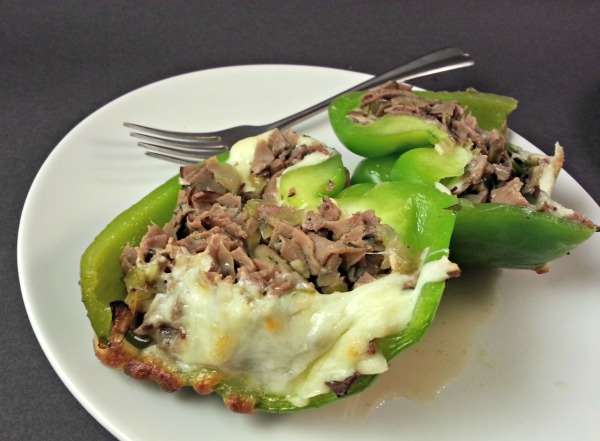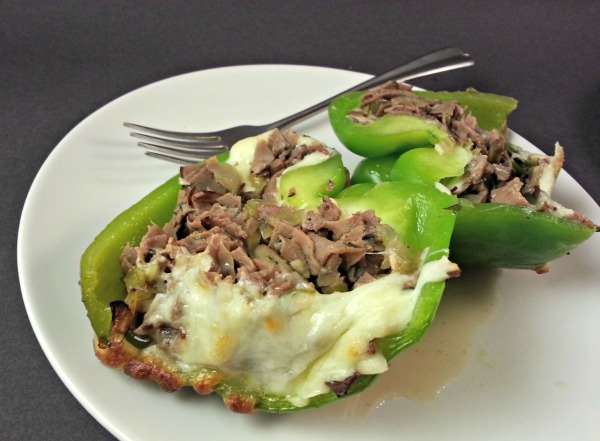 Cooking Outdoors?
These Philly Cheesesteak Stuffed Bell Peppers are great cooked on the grill or over a campfire too! Prepare them according the the directions below. Instead of finishing them in the oven, you can add them over indirect heat on a barbecue grill or place in a cast iron dutch oven and cook over the campfire. Once the cheese is melted thru and bubbly, they are ready to enjoy!

Yield:

4 servings
Philly Cheesesteak Stuffed Peppers
Ingredients
4 Green Bell Peppers
8 oz. Thinly Sliced Roast Beef (I purchased from the deli)
1 1/2 to 2 cups mozzarella cheese, shredded
1 Medium Sweet Onion – Sliced
8 oz. Mushrooms of choice – Sliced
2 Tbs. Olive Oil
2 Cloves of Garlic
2 Tablespoons Worcestershire sauce
1 teaspoon salt
1 teaspoon pepper
Instructions
Preheat oven to 350 degrees
Slice the tops off the peppers and clean out the insides.
Place peppers in a shallow baking dish.
Remove the stem from the tops and chop up the remaining pepper top.
In a large pan or Dutch oven, heat oil over medium heat. Once oil is heated, add mushrooms, onions, and garlic.
Sauté until onions and mushroom are soft and slightly browned, about 10 minutes.
Slice roast beef into thin strips and add to the onion/mushroom mixture. Add Worcestershire sauce, salt, and pepper to the mixture. Cook for 5 minutes over medium heat.
Divide the cheese in half. Sprinkle half the cheese among the 4 peppers. Top each pepper with the meat mixture until they are nearly overflowing. Then, top each pepper with the remaining cheese.
Bake for 15-18 minutes until the cheese on top is golden brown and peppers are soft.
Recommended Products
As an Amazon Associate and member of other affiliate programs, I earn from qualifying purchases.
Nutrition Information:
Yield:
4
Serving Size:
1 bell pepper
Amount Per Serving:
Calories:

463
Total Fat:

28g
Saturated Fat:

13g
Trans Fat:

0g
Unsaturated Fat:

13g
Cholesterol:

95mg
Sodium:

1636mg
Carbohydrates:

22g
Fiber:

4g
Sugar:

11g
Protein:

32g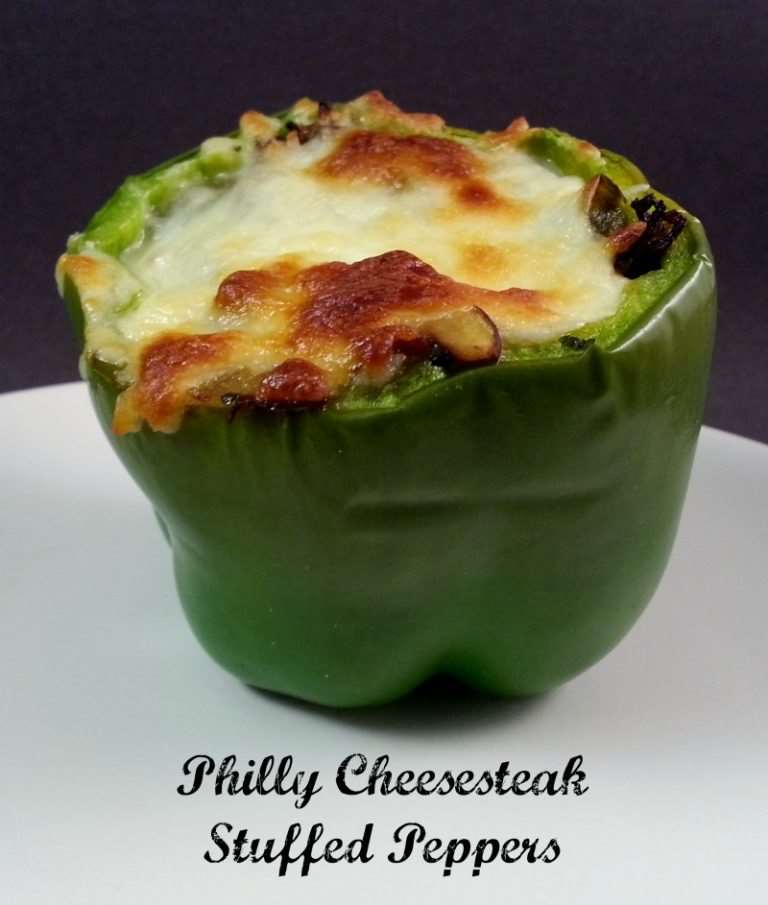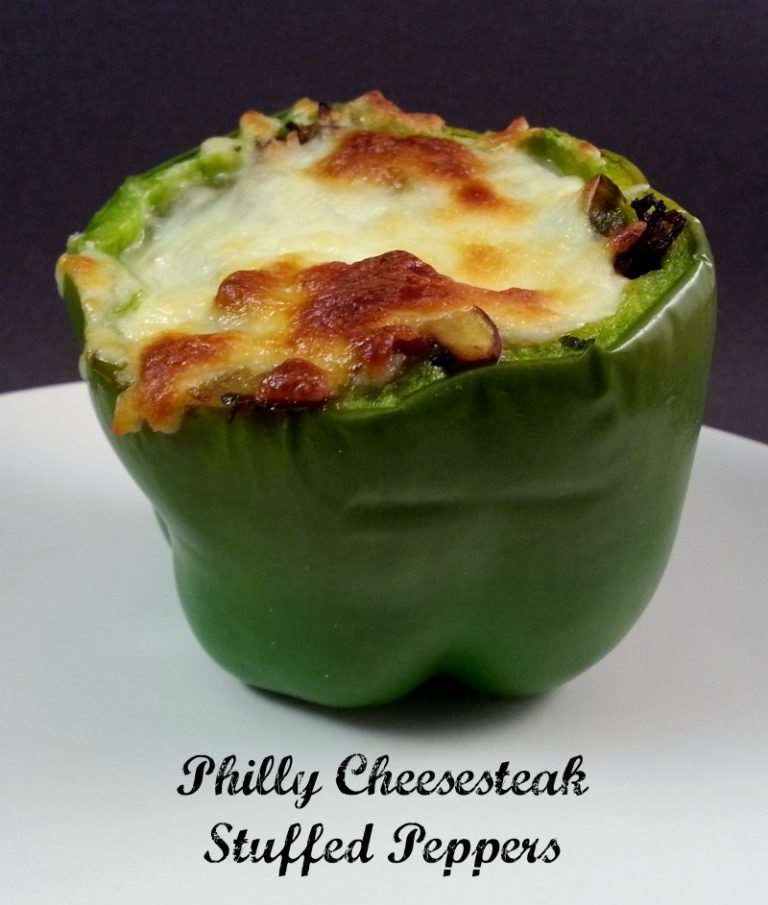 If you liked this recipe for Philly Cheesesteak Stugged Bell Peppers, you may also like these recipes:
Easy Gumbo – Instant Pot Version