Looking for a pumpkin dessert that isn't pie? Make this simple Pumpkin Roll and your quest is over.
A pumpkin roll is simple dessert that is sweet, creamy, and delicious. Whenever I bring one anywhere, it's the first thing to go.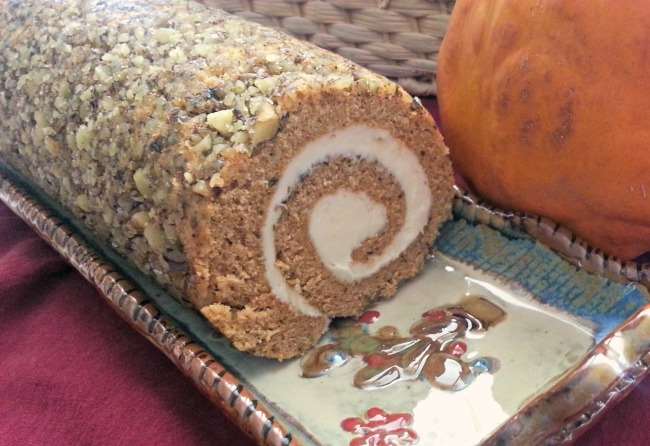 Make this ahead of time for holiday meals or parties. It freezes well once it's been wrapped in plastic wrap and aluminum foil. I always slice one roll up and then freeze it for when unexpected company comes or when I want a sweet bite, but don't want to be tempted by the whole dessert. You can just pull out what you need and allow it to defrost.
Fresh pumpkin puree makes all the difference in the flavor of this cake. It is easy to make. After Halloween, I cut up our pumpkins and roast them for fresh puree and roasted pumpkin seeds. If you'd like to make your own puree, you can find the tutorial here. If you don't want to make your own, you can use canned pumpkin puree in equal amounts.
Ingredients
Cake
3/4 cup white whole wheat flour
1/2 teaspoon baking powder
1/2 teaspoon baking soda
1/2 teaspoon ground cloves
1/2 teaspoon ground cinnamon
1/4 teaspoon salt
3 large eggs
1 cup cane sugar
2/3 cup fresh pumpkin puree
1 cup walnuts, chopped
Filling
1 cup + 1/4 cup powdered sugar
8 ounces cream cheese
6 Tablespoons butter, softened
1 teaspoon vanilla extract
Instructions
For the Cake
Preheat the oven to 375 degrees F. Butter a 10" jelly roll pan and line with wax paper. Butter and flour the wax paper.
Combine flour, baking powder, baking soda, cloves, cinnamon, and salt in a mixing bowl.
Beat eggs and sugar in a large mixing bowl until thick.
Beat in pumpkin until well incorporated.
Stir pumpkin mixture into dry ingredients and combine well.
Pour into prepared jelly roll pan and spread evenly.
Spread top with chopped walnuts.
Bake for 13-15 minutes or until the top of the cake is pops back after you touch it. It should feel spongy.
Evenly sprinkle 1/4 cup of powdered sugar onto a kitchen towel.
After the cake is done, immediately remove it from the oven. Loosen the wax paper and invert the cake onto the prepared/sugared kitchen towel.
Carefully peel off the wax paper.
Roll up the cake and towel together, narrow side first. Cool on a wire rack, seam side down.
For Filling
Beat cream cheese and remaining 1 cup of powdered sugar, butter, and vanilla in a mixing bowl. Beat until smooth.
Assembling Pumpkin Roll
Carefully unroll cake, removing the towel.
Spread the cream cheese mixture over the cake.
Reroll the cake and wrap in plastic wrap.
Refrigerate for at least one hour.
Optional: Sprinkle with powdered sugar before serving.
Enjoy!
If you are looking for Thanksgiving Recipes, Planning Ideas, etc. Be sure to check this articles/recipes:
Thanksgiving Meal Planning 101

Thanksgiving Dinner: What's the Plan (recipes)