Today I'm bringing you this Pumpkin Spiced Gluten Free Granola recipe that is great served by itself or as a granola parfait. I love that I get the chance to share new recipes and ideas we use and will help you eat healthier everyday.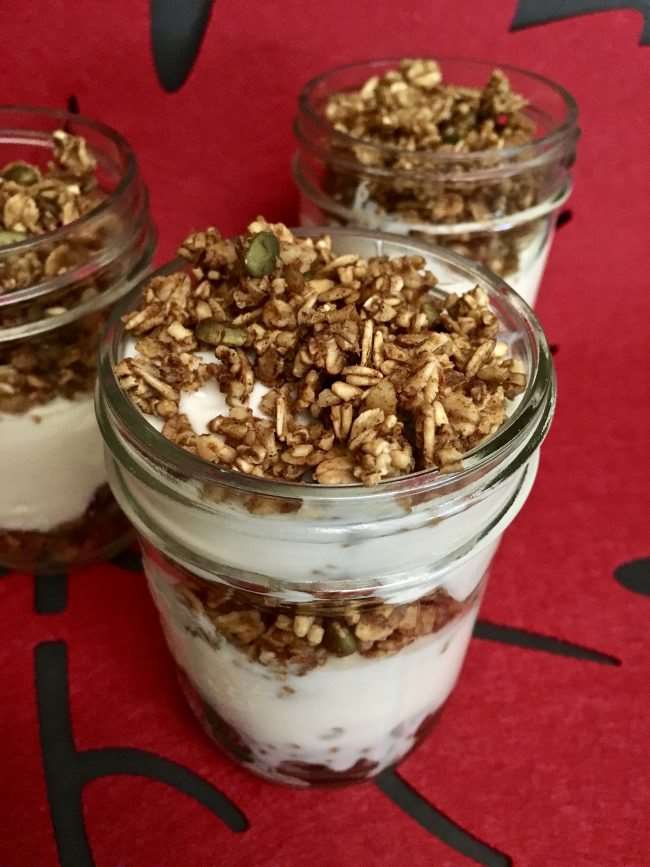 This article contains affiliate links. Purchase through our affiliate links and we receive a small commission without any extra expense to you!
PUMPKIN SPICE EVERYTHING
Everyone marks there calendars for September 1st because it's THE day. You know! Sept. 1st is the day that pumpkin spice is available again. It's the day dedicated to pumpkin spice EVERYTHING!!! It should be it's own little holiday. What do you think? It's one of the things I know many of us look forward to. One of the grocery stores here comes out with a whole display full of pumpkin this and pumpkin spice that. One of the seasonal favorites in our house is a Pumpkin Spiced Cereal. It's a whole grain "O" shaped cereal that has a touch of sweetness to it. The inspiration for this Pumpkin Spice Gluten Free Granola comes from that cereal.

Homemade Gluten Free Granola
Have you ever made granola before? Well, I'm here to tell you that it's pretty easy. I've been making homemade granola for years! It's really simple to make and needs just a few ingredients. The pumpkin spice granola recipe I'm sharing with you is gluten free and can be easily changed for the season by switching up the spices and/or puree. Try substituting a Spiced Apple Butter or Lemon Curd instead of the pumpkin purée for a completely different version. You can easily make this all year around with whatever combination you like. But in our house it's pumpkin spice.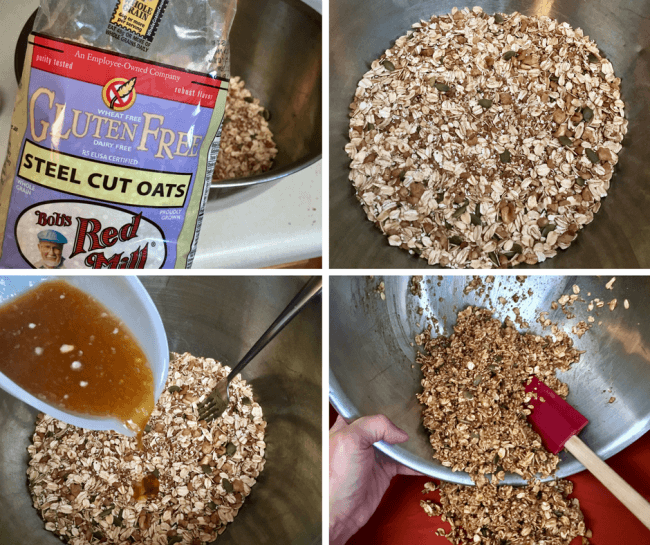 My homemade granola recipe is healthier than anything I can buy at the store. Plus it's much less expensive to make granola at home. If you want to make a gluten free granola, you need to be sure that the oats you are using are gluten free. You can use this one from Bob's Red Mill or any other one. In the picture above you can see an in process picture of making the granola before it's baked. It's really is measure, pour, stir, bake with this recipe.

Which Type of Oats Are Best for Granola?
This is a great question! The difference between steel cut oats, rolled, and quick cooked oats are how they are processed. Steel cut oats is most like the original oat kernel without the hull and coarsely chopped. Steel cut oats have a coarse texture and a nutty flavor. They take longer to cook because they are less processed. Baking them into granola provides great texture and flavor.
Rolled oats have been steamed and flattened. They are often used in baking because they are softer and milder in flavor. I often use rolled oats in breads and cookies. In this recipe I use a 2:1 ratio of rolled to steel cut oats for different textures and flavors.
Quick oats is that last type of oats. They are thinner than rolled oats and are often used in hot cereals because they get mushy when cooked. I don't like this type of oat for granola and don't recommend it.

Pumpkin Spice Granola Parfaits
Today's recipe is a healthy treat that can be enjoyed at breakfast, lunch, as a snack, or as a dessert. The parfaits are assembled by layering granola and yogurt in a bowl or glass. The parfait is "pretty" enough for a party. I recently served these when my daughter had a sleepover. The girls loved these parfaits served in pint sized Mason jars. They felt like they were getting a treat. You'll enjoy them too!
Gluten Free Pumpkin Spiced Granola Parfaits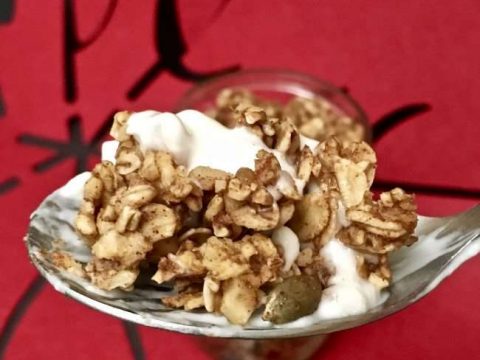 Ingredients
Granola
½ cup Gluten Free l steel cut oats
1 cup Gluten Free rolled oats
1 tsp. cinnamon
1/4 tsp. nutmeg
1/4 tsp. ginger
1/8 tsp. allspice
1/4 cup walnut pieces
2 tbsp raw pepitas (pumpkin seeds)
2 tbsp coconut oil, melted
1/2 Tbsp. granulated sweetener sugar (coconut sugar, Swerve, sugar)
2 tablespoons applesauce
¼ cup maple syrup
2 tablespoons pumpkin puree
Parfait
Instructions
Preheat oven to 300F. Line a baking sheet with a silicone mat and set aside
In a medium bowl, combine together the oats, spices, nuts, seeds, and coconut sugar.
In a small bowl, mix together the coconut oil, applesauce, maple syrup, and pumpkin puree
Pour the wet ingredients into the dry ingredients. Mix until everything is evenly coated.
Spread the mixture evenly on the baking sheet.
Bake at 300° for 15 minutes. Remove from oven and stir.
Return to oven and bake for 10-15 more minutes or until golden. Granola will crisp up as it cools.
Once granola is cool, layer granola and yogurt into glasses or mason jars.
Notes
Granola can be stored in an airtight container for up two weeks
Nutrition Information:
Serving Size:
1
Amount Per Serving:
Calories:

345
Total Fat:

10g
Saturated Fat:

4g
Sodium:

2mg
Carbohydrates:

58g
Sugar:

3g
Protein:

10g
We like to take granola with us when we go hiking and when we travel. It's easy to eat by itself and is a great addition to yogurt or ice cream.