This is a sponsored article for Natrol®. All opinions are my own.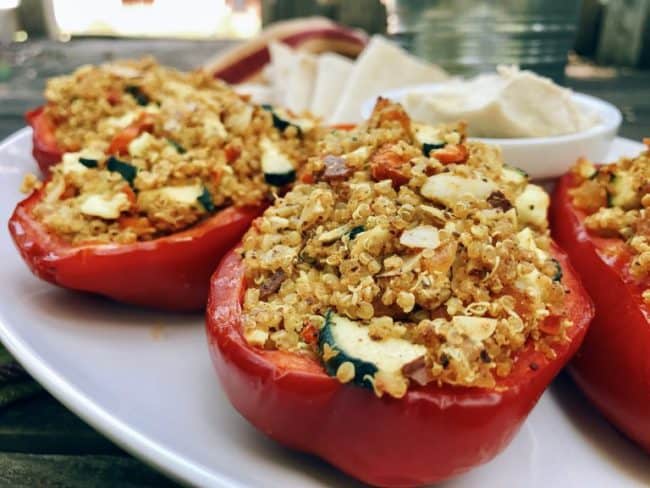 Turmeric is a popular ingredient in many ethnic foods. For most people, the thought of turmeric immediately brings an Indian curry to mind. But you can find turmeric used in other cultures in the Middle East and Southeast Asia like Indonesian and Moroccan. It's also what makes American mustard yellow. Turmeric is a versatile spice that is aromatic and partners well with grains, vegetables, and other spices. It is used in this Moroccan Stuffed Bell Peppers recipe with a combination of quinoa, zucchini, Feta cheese, almonds, and dried apricots. It's an easy vegetarian dish that is gluten free. It's perfect for a Meatless Monday or any weeknight meal.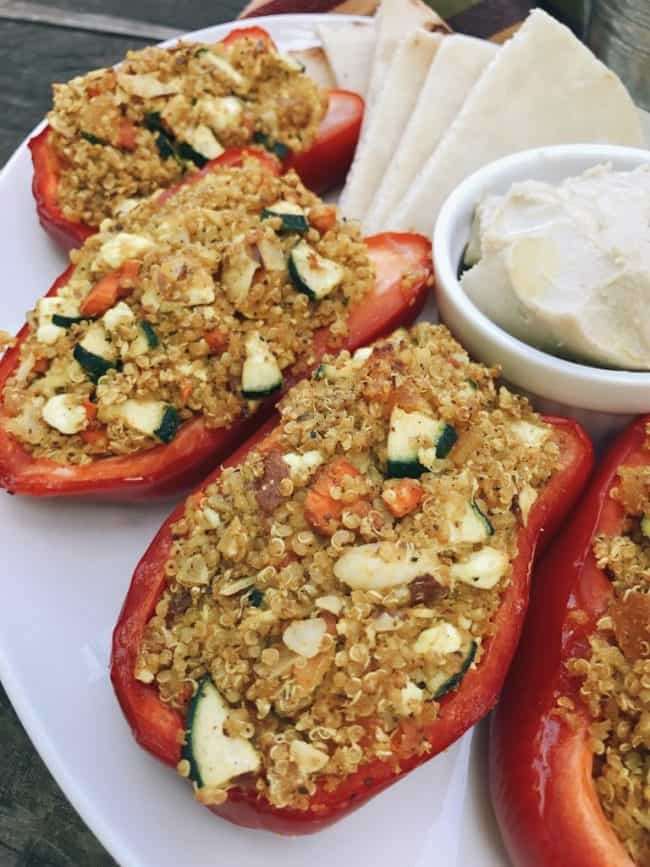 For thousands of years, Turmeric has been used in India as a medicinal herb. During this year's Expo West, a large natural products trade show, there were quite a few new products featuring Turmeric. Curcumin, the active compound in turmeric that gives it that bright yellow color, has powerful anti-inflammatory benefits and is a strong antioxidant. Because of these properties, turmeric is often suggested for reducing pain due to arthritis or following heavy exercise or injury. I'm not a medical professional, but some studies have found that it may also help fight infections and some cancers, and treat digestive problems. A recent study conducted on a specific enhanced form of curcumin, called CurcuWIN®, showed heart health benefits in healthy people too. It's no wonder that turmeric has become so popular.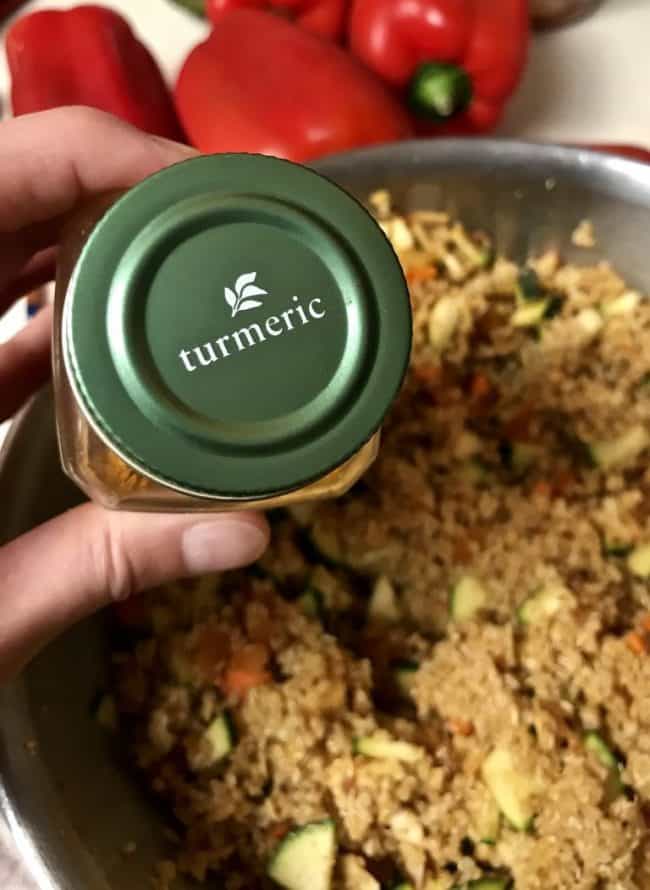 The recipe I have for you here is for a Middle Eastern inspired Moroccan Stuffed Bell Peppers. It combines traditional Middle Eastern and Mediterranean flavors like Feta cheese, olive oil, peppers, dried apricots, and spices like turmeric, sumac, paprika, and cumin. Ground sumac may be a spice you aren't familiar with. It can be found in Middle Eastern markets or in with specialty spices at the local grocery store. It's a spice that reminds be of lemons and I like to add it to roast chicken, over vegetables, and sprinkled on hummus. If you can't find it, substitute 1-2 Tablespoons lemon juice depending on your taste. These stuffed bell peppers are fantastic straight out of the oven, but are also good served cold like a quinoa salad. That makes it a good option for a work lunch or a picnic meal.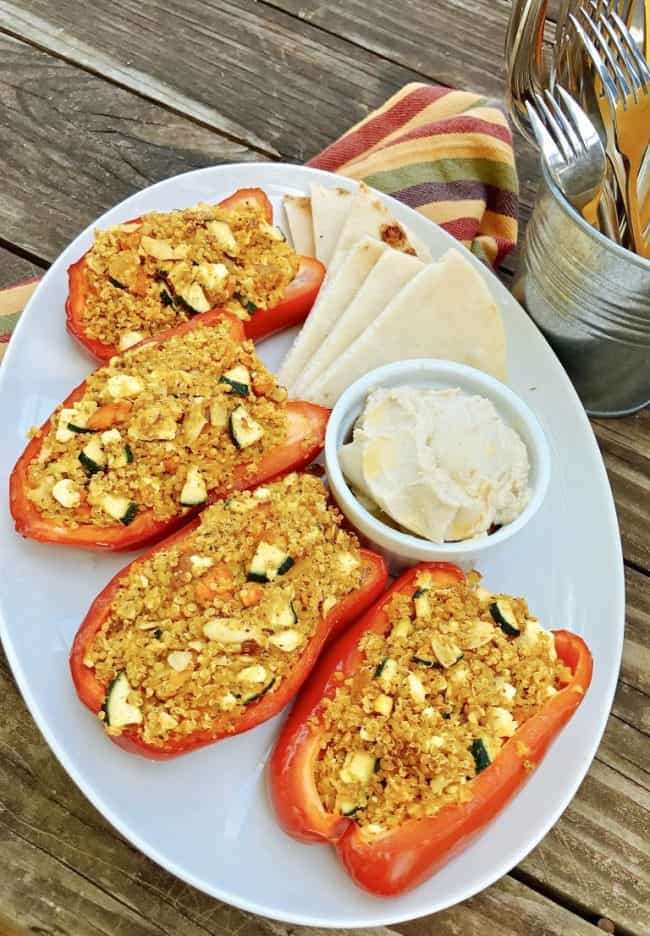 Moroccan Stuffed Peppers with Quinoa
Moroccan Stuffed Peppers with Quinoa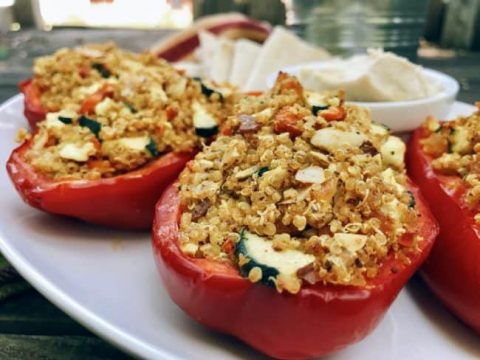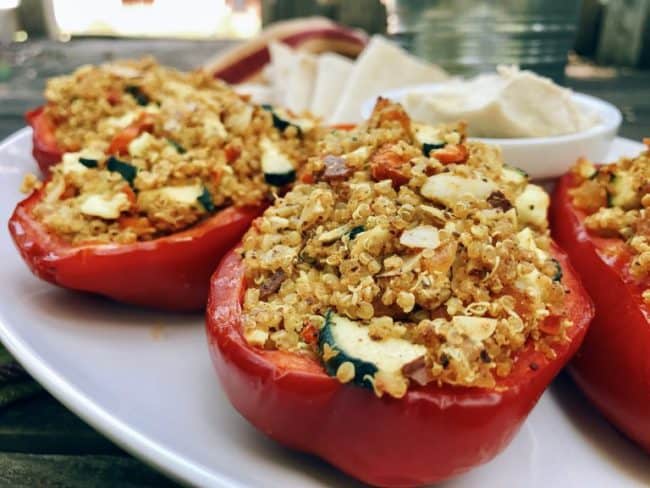 Ingredients
4 red bell peppers
1 cup quinoa
2 cups water
2 carrots, chopped
1 zucchini, chopped
1/2 cup sliced almonds, coarsely chopped
1/3 cup dried apricots, chopped
3/4 cup crumbled Feta cheese
2 teaspoons turmeric
2 teaspoons ground sumac
1 teaspoon cumin
1 teaspoon garlic powder
1/2 teaspoon smoked paprika
1/4 teaspoon ground ginger
1/4 teaspoon black pepper
1/4 cup olive oil
Instructions
Preheat oven to 350 degrees.
Bring two cups of water to a boil in a saucepan. Add quinoa, cover and lower heat to simmer. Cook for 15 minutes. Once cooked, set aside and allow to cool slightly.
In a large mixing bowl combine carrots, zucchini, almonds apricots, Feta and quinoa.
In a small bowl, combine spices; turmeric, sumac, cumin, garlic powder, paprika, ginger, and black pepper.
Add spice blend to quinoa mixture and combine well.
Cut each bell pepper down the center. Remove stem and seeds.
Stuff each bell pepper half with quinoa mixture.
Drizzle stuffed bell peppers with olive oil.
Bake for 20 minutes.
Nutrition Information:
Serving Size:
1
Amount Per Serving:
Calories:

1109
Total Fat:

36g
Saturated Fat:

3g
Sodium:

218mg
Carbohydrates:

164g
Sugar:

22g
Protein:

40g
Adding turmeric to food, like in this recipe for Moroccan Stuffed Peppers, adds a great flavor and depth to the dish. But if you are looking to gain the full health benefits from turmeric, it is difficult to reach the level of curcumin needed in these small amounts. Add to that the fact that our body isn't efficient at absorbing curcumin in its natural form. Food alone isn't sufficient to gain all the benefits we could from turmeric or curcumin. Adding black pepper does help with absorption, but if you want to experience the full anti-inflammatory benefits of turmeric, you need to go with a dietary supplement.
Natrol Extra Strength Turmeric features CurcuWIN®, a proprietary form of curcumin that has been clinically shown to increase absorption and retention in the body. The illustration below explains how highly bioavailable CurcuWIN® helps you get the heart health benefits of curcumin into and used by the body.
CurcuWIN in Natrol Extra Strength Turmeric maintains the natural profile of curcumin found in turmeric and is a safe, GMO-free, scientifically researched ingredient backed by multiple clinical studies. For more information about Natrol Extra Strength Turmeric, visit natrol.com.
This statement has not been evaluated by the Food and Drug Administration. This product is not intended to diagnose, treat, cure, or prevent any disease.