Russian Salad isn't from Russia, but from Italy. Different forms of this salad can be found in various parts of Italy. It's as popular as potato salad is to an American backyard barbecue. It's a tasty side dish featuring potatoes, beets, carrots, and peas.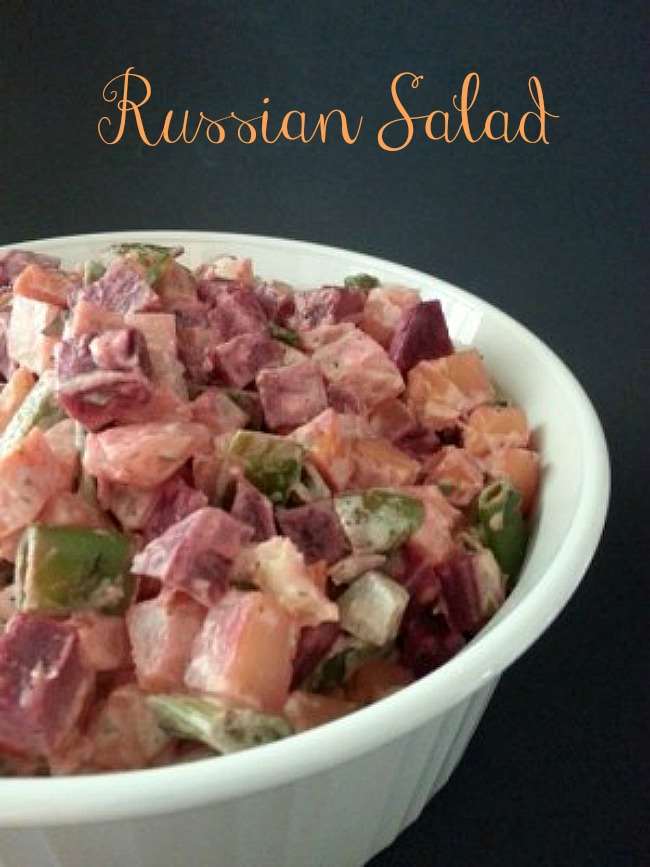 Do you keep a recipe inspiration binder? Something that holds all the recipes and food ideas you come across in magazines and cookbooks. I have one and I has flipping thru it the other day.  I found a recipe for Russian Salad in there. I had copied a recipe it down from a magazine or cookbook, but I couldn't tell you which one. The original recipe was good, but it was missing something. I played with the it and come up with this version that I'm sharing with you here.
This recipe calls for waxy potatoes. I found that they work the best and keep their shape. You can use Yukon Gold, Finn, Red Bliss, or Rose Gold. You can use any type of beet you like too. Red beets give this salad a rose color which looks great. Serve this salad at room temperature or chilled. It's great for barbecues, parties, or anytime.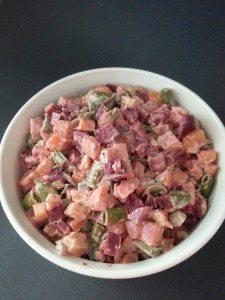 Russian Salad (Potatoes, Beets, Carrots, and Peas)
Ingredients
Russian Salad
6 small waxy potatoes, washed and cut into 1/2 inch cubes (about 3 cups)
2 small red beets, peeled and cut into 1/2 inch cubes
2 large carrots, washed and cut into 1/2 inch cubes
1 1/2 cups garden peas (can be frozen or fresh)
1/2 cup mayonnaise
1 Tablespoon German mustard
1 garlic clove, minced
2 Tablespoons white wine vinegar
1/2 teaspoon Worcestershire sauce
3-5 mini dill pickles, chopped
1 1/2 teaspoon salt
1/2 teaspoon black pepper
1 teaspoon fresh or 1/2 teaspoon dried thyme
1 teaspoon fresh or 1/2 teaspoon dried oregano
Instructions
Place the potatoes, beets, carrots, and peas in a large saucepan. Cover with water and bring to a boil on high heat.
Reduce heat to medium and cook for 8-10 minutes, or until the potatoes and tender. Strain vegetables in a colander and allow to cool slightly. You can rinse with cool water to quickly cool the vegetables.
While the vegetables are cooking, combine the remaining ingredients (mayonnaise to oregano) in a lidded jar. Shake to combine.
Place the cooled vegetables in a serving bowl and combine with the dressing. Serve immediately or store in the refrigerator until ready to use.
7.8.0.1
36
https://littlefamilyadventure.com/russian-salad-potatoes-beets-carrots-and-peas/
LittleFamilyAdventure.com
What would you serve this Russian Salad with?