Looking for a new take on traditional potato salad? Let me introduce you to Russian Salad. It is sure to be a hit at your next backyard barbecue, Sunday dinner, or pool party.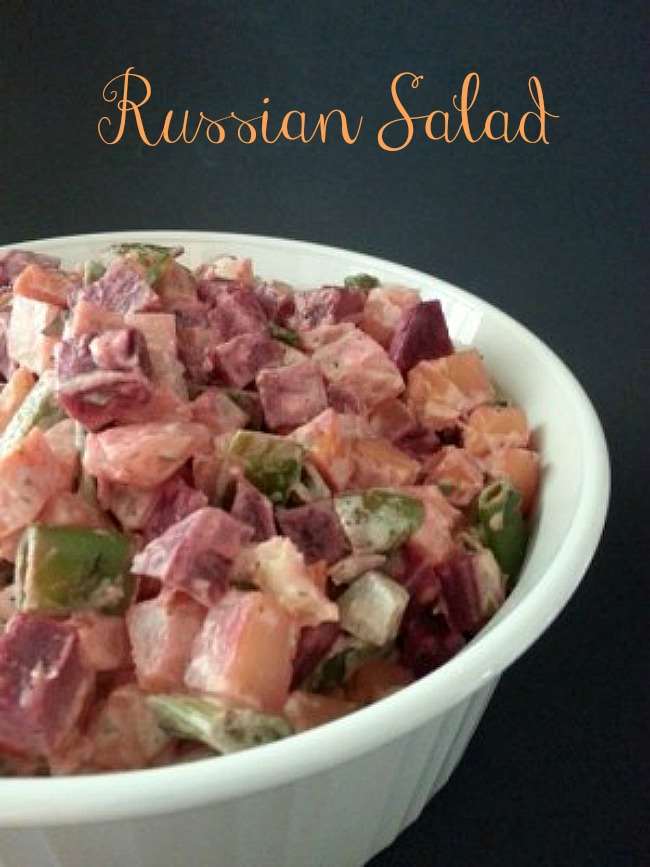 Russian Salad isn't from Russia, but from Italy. It's a tasty side dish featuring potatoes, beets, carrots, and peas. You can see different versions of this Russian potato salad all across Italy. It's as popular there as mayo or mustard based potato salad is here as an American backyard barbecue.
Do you keep a recipe inspiration binder?
Something that holds all the recipes and food ideas you come across in magazines and cookbooks. I have one and I has flipping thru it the other day. I found a recipe for Russian Salad in there. It had been so long that I can't tell you this source it came from. That inspiration recipe was good, but it was missing something. I played with the it and come up with this version that I'm sharing with you here.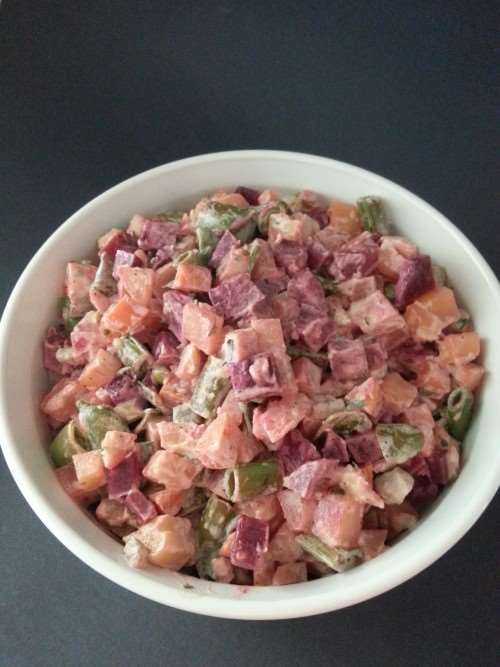 Making a great salad
This Russian potato salad recipe calls for waxy potatoes. I found that they work the best becasue they keep their shape really well. I recommend using Yukon Gold, Finn, Red Bliss, or Rose Gold varieties. Red beets give this salad its traditional rose color which looks great. Golden beets will give this salad a yellowish color. The kids get a little funny about the yello version. Therefor, I prefer the red over the yellow.
This salad is best served at room temperature, but can be served chilled. This Russian potato salad is a crowd pleaser for barbecues and parties. It is very easy to double or quadruple the recipe for crowds. Try it for yourself and see just how delicious this will be.
Russian Salad (Potatoes, Beets, Carrots, and Peas)
Ingredients
Russian Salad
6 small waxy potatoes, washed and cut into 1/2 inch cubes (about 3 cups)
2 small red beets, peeled and cut into 1/2 inch cubes
2 large carrots, washed and cut into 1/2 inch cubes
1 1/2 cups garden peas (can be frozen or fresh)
1/2 cup mayonnaise
1 Tablespoon German mustard
1 garlic clove, minced
2 Tablespoons white wine vinegar
1/2 teaspoon Worcestershire sauce
3-5 mini dill pickles, chopped
1 1/2 teaspoon salt
1/2 teaspoon black pepper
1 teaspoon fresh or 1/2 teaspoon dried thyme
1 teaspoon fresh or 1/2 teaspoon dried oregano
Instructions
Place the potatoes, beets, carrots, and peas in a large saucepan. Cover with water and bring to a boil on high heat.
Reduce heat to medium and cook for 8-10 minutes, or until the potatoes and tender. Strain vegetables in a colander and allow to cool slightly. You can rinse with cool water to quickly cool the vegetables.
While the vegetables are cooking, combine the remaining ingredients (mayonnaise to oregano) in a lidded jar. Shake to combine.
Place the cooled vegetables in a serving bowl and combine with the dressing. Serve immediately or store in the refrigerator until ready to use.
Nutrition Information:
Serving Size:
1
Amount Per Serving:
Calories:

931
Total Fat:

83g
Saturated Fat:

13g
Cholesterol:

46mg
Sodium:

4383mg
Carbohydrates:

30g
Sugar:

10g
Protein:

12g
If you liked this Russian Potato Salad, you may also like to try: