Our family LOVES BBQ and we often joke that one day we'll take a barbecue themed US road trip. My kids and husband are all partial to barbecue brisket. Me? I can't get enough of barbecue pork ribs. That's why I love making this Crock Pot ribs recipe with beans.
This is an easy recipe for crock pot pork ribs so tender they fall off the bone and a side of beans. Instead of firing up the smoker or grill, I can "fix it and forget it" as they say. I throw all the ingredients in the slow cooker ribs and all. Then after slow cooking all day, I end up with barbecue ribs and beans that the family loves.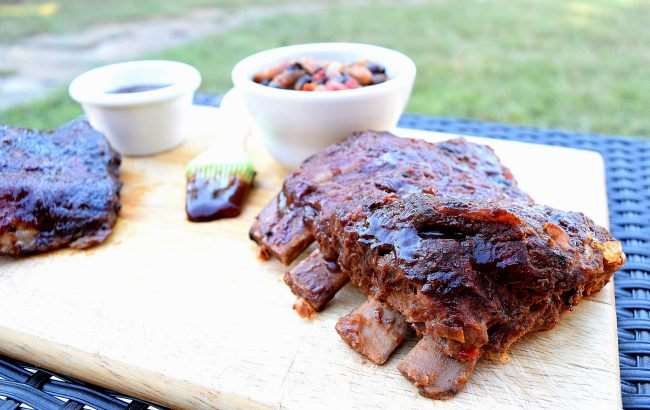 Love Crock Pot recipes? Make sure to check out these other tasty slow cooker recipes:
This article contains affiliate links. Purchase through our affiliate links and we receive a small commission without any extra expense to you!
Crock Pot Ribs
The slow cooker is the answer when you want a great meal, but don't have time to get in the kitchen. Making this recipe for crock pot BBQ ribs allows you to throw everything together, set it, and forget about it. It's perfect for when you want smoky barbecue flavor without having to slave over a hot grill. When you get home, you'll get fall-off-the-bone tender barbecue pork ribs with a side of sweet and spicy beans (kind of like classic baked beans) that everyone will love.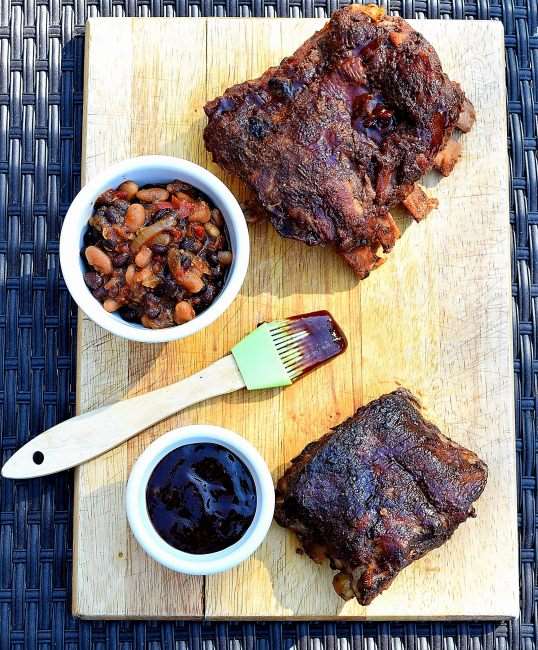 Crock Pot BBQ Ribs
There are several different kinds of barbecue and I love them ALL! There's California grilled tri-tip, Memphis dry rub ribs, Texas smoked brisket, Carolina pork, Kansas City style with sauce, just to name a few. This crock pot ribs recipe combines a Memphis style dry rub, a not so sweet "baked style" bean, and then a bold and smoky Kansas City style BBQ sauce. Many of the spices used for these crock pot country ribs and beans are the same. So it just makes sense to throw them all together for this crock pot barbecue ribs recipe.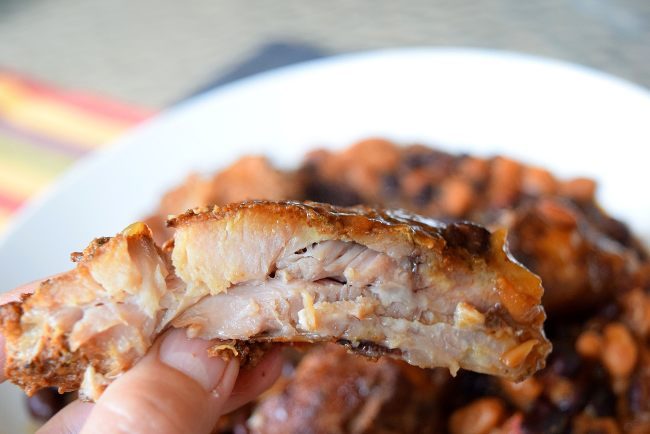 The result is tender fall off the bone ribs and spicy baked beans that melt in your mouth. You're going to love this slow cooker barbecue recipe. You may never make ribs on the grill again.
Slow Cooker Barbecue Beans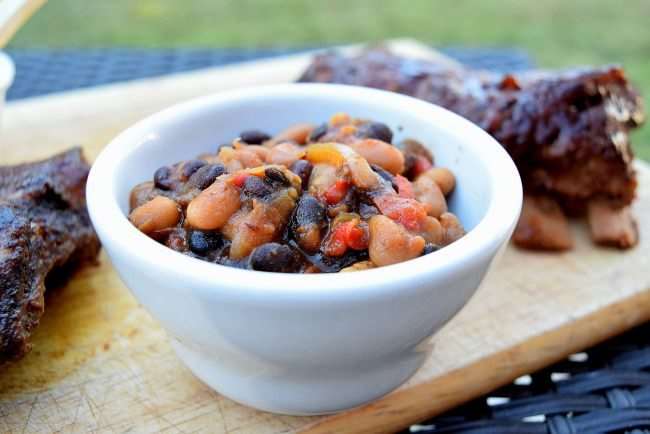 Baked beans are a classic barbecue side dish. You can find them at most picnics and back yard barbecues. My version isn't your ordinary recipe because:
These beans AREN'T overly sweet
They AREN'T baked
You aren't going to find tons of sugar in this recipe. A few tablespoons of maple syrup (the REAL stuff mind you) and the small amount of cane sugar or KETO sugar in the barbecue sauce are all that's added. I choose and recommend a barbecue sauce that's bold with a good smoke flavor. Those flavors provide a nice balance and it complements the spices in the crock pot ribs.
How to Cook Ribs in a Crock Pot
It's really easy to make cook ribs in a crock pot. In the bottom of your crock pot, combine all of your "baked bean" ingredients. Next, season your pork ribs with the Memphis style dry rub and place on top of the beans. Cover with the slow cooker lid cook on low for 8 to 10 hours.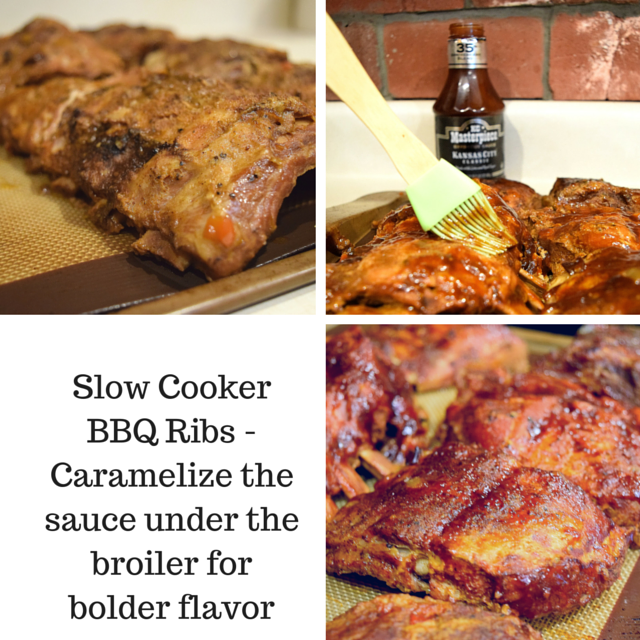 If you want that charred, crispy skin, you can set the finished the ribs under a broiler for just a few times prior to serving. To do this, carefully remove the ribs from the slow cooker and place onto a cookie sheet. Brush ribs with barbecue sauce and set under the oven broiler to the caramelize the sauce, 2-3 minutes. This step isn't needed but it does add a TON of umami (flavor).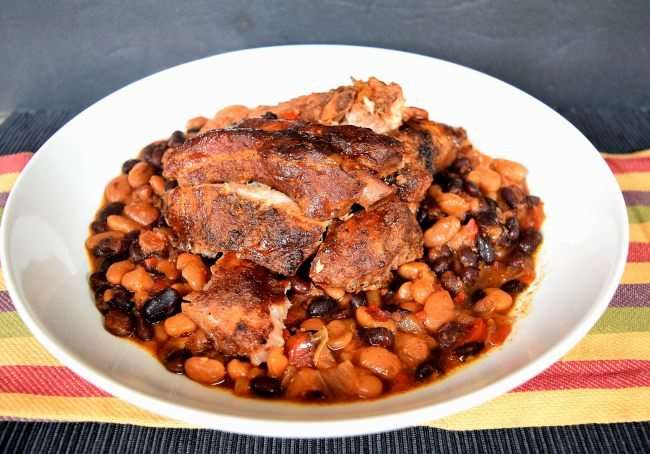 Slice up your crock pot ribs and serve with the beans and other classic BBQ side dishes, corn on the cob, coleslaw, etc.
Crock Pot Ribs
Yield: 8
Slow Cooker Ribs and Beans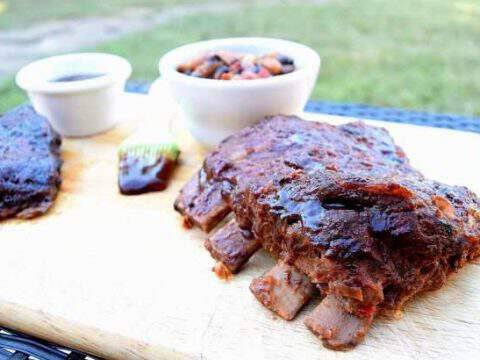 Total Time
8 hours
5 minutes
Ingredients
Beans
4 cups cooked black beans, drained and rinsed
4 cups cooked white beans, drained and rinsed
1 cup barbecue sauce
1 bell pepper, diced
1/4 cup onions, finely diced
1 Tablespoon Dijon mustard
3 Tablespoons Apple Cider Vinegar
1 Tablespoon Cumin
1 Tablespoon Chili Powder
2 Tablespoons Real Maple Syrup (not pancake syrup)
Pork Ribs
Pork Ribs, 2 Racks – 2-3 pounds each cut into sections of 4-5 ribs each
1 cup barbecue sauce (Use a bold, smokey flavor)
Barbecue Rub (enough for 6lbs of ribs)
2 teaspoons salt
1 teaspoon Smoked Paprika
1 teaspoon Onion Powder
1 teaspoon Garlic Powder
1 teaspoon Cumin
1/4 teaspoon black pepper
Pinch of cayenne
Instructions
In the bottom of your crock pot, combine all of your baked bean ingredients.
Combine the Barbecue Rub ingredients in a small bowl. Set aside.
Remove as much fat from the ribs and cut into sections with 4-5 ribs.
Season your ribs with the dry rub and place them on top of the beans.
Add the slow cooker lid cook and cook on low for 8 to 10 hours.
Just before you're ready to eat, carefully remove the ribs onto a cookie sheet. Brush ribs with a bold, smoky barbecue sauce and set under the oven broiler for 2-3 minutes to the caramelize the sauce.
Serve ribs with baked beans and other BBQ side dishes; corn on the cob, coleslaw, etc.
Nutrition Information:
Serving Size:
1
Amount Per Serving:
Calories:

5827
Total Fat:

211g
Saturated Fat:

79g
Cholesterol:

774mg
Sodium:

21911mg
Carbohydrates:

637g
Sugar:

235g
Protein:

331g
Try this crock pot ribs and beans recipe today. You may never grill your ribs again.
Check out these other great recipes!
Shop related items –