Korean Bulgogi is one of the staple BBQ dishes that is enjoyed by Koreans and Americans alike. I love eating Korean food, but it is definitely on the more expensive scale when eating out. Here is a simple recipe for bulgogi that you can make at home.
Friends and family alike will tell you that I don't make Korean food as often as I would like. Many of the ingredients require one or two special items that need to be purchased at a Korean market, like H-Mart, which is not in my regular shopping routine.
Bulgogi Ingredients
This recipe for bulgogi is one that my mom gave to me. It is simple and delicious! Here is a photo of what you will need to make bulgogi:
soy sauce

sesame oil
sugar
garlic
green onion
onion
The beef that you will use for bulgogi is thinly sliced ribeye. You'll see in the package below that it specifically says "bulgogi":
If you go to a Korean or Asian market for the first time and you are unfamiliar with the layout of the store in addition to the language, it can be overwhelming. I myself do not read Korean well and my conversational skills are very limited. I was grateful to a Korean woman who helped me locate exactly the right type of beef I would need (not realizing it said right on the package that it was beef for bulgogi). I had even called my mom to find out what type of beef I would need, but still couldn't locate it on my own! There is an overwhelming selection of beef and seafood at most Asian markets, so brace yourself!
I used 3 lbs of ribeye which was a lot for our family of 5. I think 2 lbs would have been plenty.
Nicky
Yields 4
Korean Bulgogi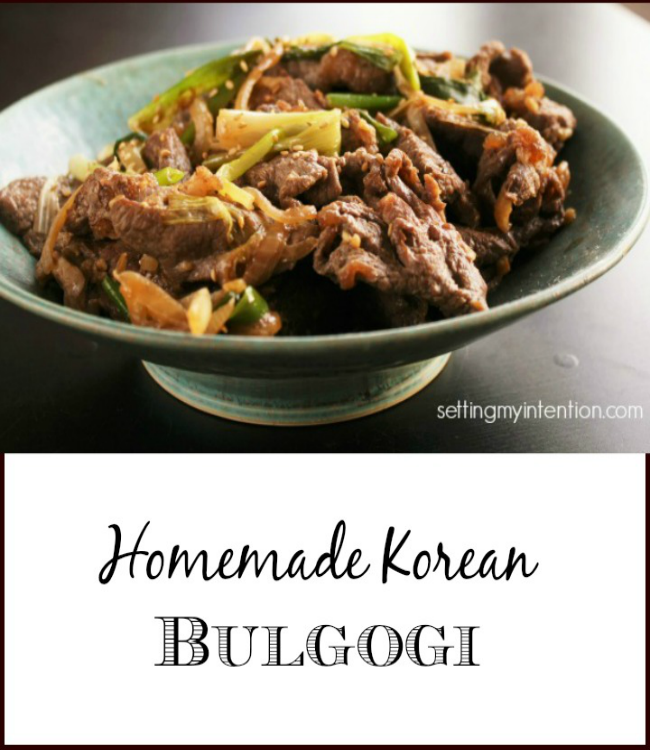 Ingredients
2 pounds thinly sliced rib eye steak
6 T. soy sauce
2 T. sesame oil
2 t. sugar
6 cloves of garlic crushed
6-8 stalks of green onion cut in 2 inch
onion, thinly sliced.
Instructions
Combine all of then marinade ingredients in a large bowl.
Add the beef and marinate for at least 30 minutes. (I marinated ours for a few hours.)
When ready, heat a skillet or cast iron pan to medium high.
Place beef in pan and reduce heat to medium.
Cook until the beef is no longer pink.
7.8.1.2
171
https://littlefamilyadventure.com/korean-bulgogi/
LittleFamilyAdventure.com
Banchan
You will also want to buy some "banchan" or little side dishes for the meal. My children absolutely need seaweed to wrap their rice in. The adults need kimchi (fermented cabbage which is a staple in Korean food). We load up on seaweed when we go to H-Mart. The seaweed comes in large square sheets, or individual packages already cut up. We usually get the larger sheets and cut it ourselves. There are a lot of different brands, but we don't have a preference. I frequently just buy the one on sale. The most important thing is that you buy the package that says "premium roasted seaweed."
My older children also love myeolchi-bokkeum, which is basically stir fried anchovies. This is the ONLY time they eat anchovies and, yes, it surprises me that they love it! I made a simple spinach banchan, called sigeumchi namul, which is one of my favorite banchan. For this simple recipe, go here.
My husband and I usually get a head of red leaf lettuce as well, which is typically served in a Korean restaurant to wrap up your rice, bulgogi and any other bachan you desire. If you haven't tried it this way I would encourage you to try it – it's delicious!
About our guest contributor 

Angela blogs at Setting My Intention. She is a wife and mom to three boys. She works part time outside the home, and full time inside the home. She loves to spend time outside with her family, read, write, and most recently, run. She writes about her family's steps to simplify life and her journey in developing healthy habits. Please drop by to say hello! You can also find her on Facebook, Twitter, and Pinterest