Irish Pub Food: Shepherd's Pie

After a long day, you want to unwind from your day and enjoy your pint of Guinness or Magners Cider.  The Irish pub is an institution where you can gather with friends and neighbors, have that drink, and enjoy delicious food. Traditional Irish pub food is hearty and delicious. Think Shepherd's Pie, Fish and Chips, Boxty, Colcannon, Corned Beef and Cabbage, etc. These traditional Irish dishes all contains main of the common staples of Irish cooking; potatoes, meat and seafood, and stews. Today I'm sharing my recipe for a classic Irish Shepherd's Pie.
Shepherd's Pie, also called Cottage Pie, is an easy and delicious meal of stewed ground lamb in gravy topped with mashed potatoes.  Like many of my stews, I add red wine to the stock. It gives a rich and hearty flavor, that warms you up both inside and out. On cold winter nights, there's nothing better. We get our lamb from a local farm and it's amazing. If you haven't had lamb before, this is a perfect way to try it. If you don't want to try it or can't find it, you can substitute ground beef.
If you are looking for a quick dinner idea, you can cook and assemble the Shepherd's pie and store, covered in the fridge. Pop it in a cold oven and cook at 400 degrees for 25 to 28 minutes. (Note: Place casserole dish in a cold oven to prevent the dish for breaking from rapid temperature change)
St. Patrick's Day
The Saint Patrick's Festival runs March 14-17 in Ireland. 7th. It's a national celebration that for the first time with have a three-year theme; past, present and future. You can read more about the festival and celebrations here and here.
My husband and I would love to go to Ireland. It's on our bucket list. One day we will travel to Ireland and experience their people, places, and foods for ourselves. Until then, we'll just enjoy our local Irish Pub. We were just there a few weeks ago to listen to a band. We won't be going back with the kids during the week around St. Patrick's, but we will be celebrating with some great food at home. In the U.S., we celebrate St. Patrick's on March 17th.  On the menu, lunch will be a Plowman's lunch with Irish cheeses (Kerrygold brand), pear chutney, Brown bread, sliced ham, pickles, and fresh fruit. For dinner, there will be this Irish Shepherd's Pie, Soda Bread with Guinness Reduction, and a simple green salad.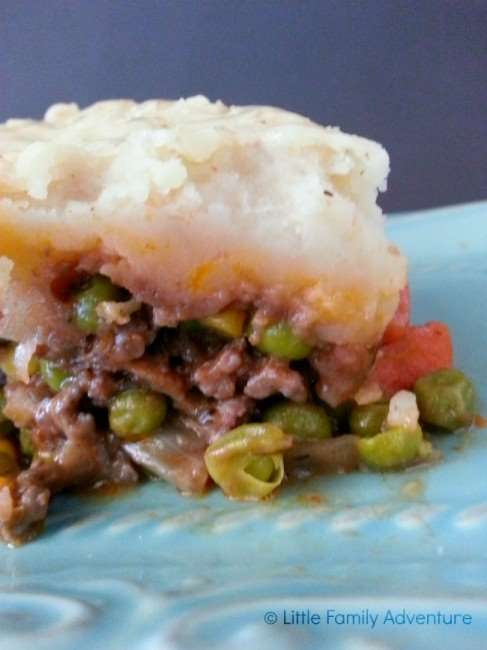 So without any more talk, here's my recipe for Irish Shepherd's Pie. Enjoy!
Yields 4 servings
Irish Shepherd's Pie
10 minPrep Time
30 minCook Time
40 minTotal Time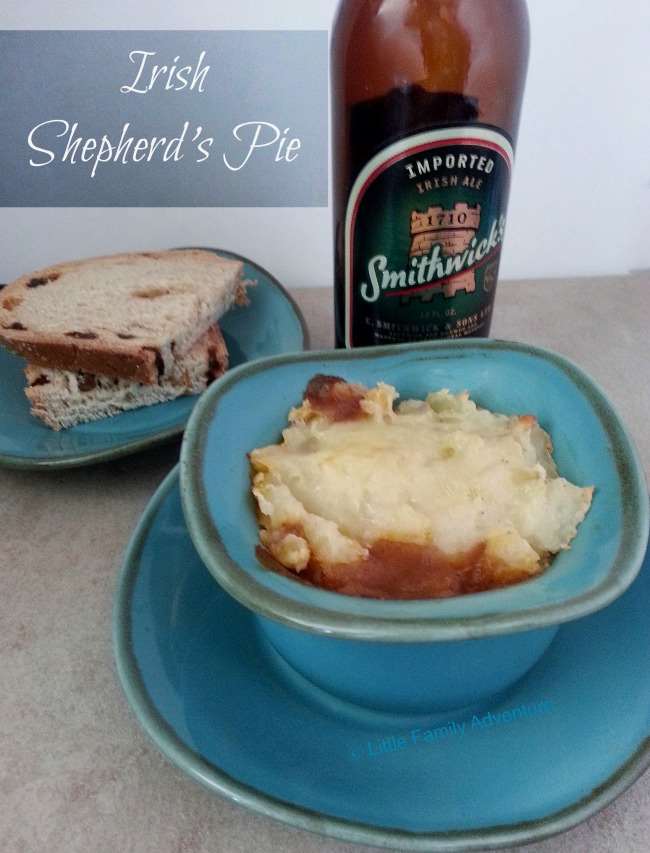 Ingredients
Potatoes
6 cups peeled, cubed russet potatoes
1 cup milk
2 tablespoons butter
1/2 teaspoon garlic powder
1/4 teaspoon nutmeg
1/2 teaspoon salt
1/8 teaspoon black pepper
Meat and Gravy
2 Tablespoons butter
1 onion, diced
2 large carrots, diced (about 1 1/2 cups)
2 garlic cloves, minced
1 pound ground lamb
1 teaspoon salt
1/8 teaspoon black pepper
3 Tablespoons white whole wheat flour
1 Tablespoon tomato paste
1 cup red wine
1 cup chicken broth
1 Tablespoon Worcestershire sauce
1 teaspoon dried thyme
1 teaspoon dried rosemary
1/2 teaspoon dried sage
1 cup corn
1 1/2 cup green peas
1/4 cup Parmesan cheese
Instructions
Potatoes

Place potatoes in a pot. Add enough water to cover potatoes by 2". Bring to a boil, then reduce heat to a simmer. Cook for 10-12 minutes or until potatoes are soft.
Drain potatoes and return them to the pot. Add milk, butter, garlic powder, nutmeg, salt, and pepper. Mash potatoes into a creamy consistency being sure to combine all the seasonings. Set aside until meat and gravy is ready.

Meat and Gravy

Melt butter in a dutch oven over medium heat. Add onion and carrot. Saute for 4 minutes or until onions are soft.
Add garlic, salt, pepper, garlic, and ground lamb to the carrots and onions. Saute 5-6 minutes, until ground lamb is lightly browned. Be sure to break up meat into smaller pieces while it cooks.
Add flour and stir constantly for 1 minute.
Add tomato paste, wine, chicken broth, Worcestershire sauce, thyme, rosemary, and sage. Bring to a boil, then reduce to a simmer. Cook for 8 minutes or until thickened. Stir occasionally.
Add corn and peas and cook for an additional 2 minutes. Remove from heat

Assembly

Preheat oven to 400 degrees.
In a 2 quart casserole dish, add meat and gravy mixture.
Spoon mashed potatoes over the meat and gravy. Spread potatoes over the mixture being sure to spread them all the way to the rim of the dish.
Sprinkle potatoes with Parmesan cheese.
Bake for 20 minutes or until lightly browned.
Remove from oven and let rest for 5 minutes.
Serve.
7.8.1.2
48
https://littlefamilyadventure.com/shepherds-pie/
LittleFamilyAdventure.com