What is your idea of comfort food?
This Loaded Potato Soup screams comfort food. It's a bowl of rich creamy soup loaded with bacon and Irish cheddar cheese. This is the kind of soup that makes it hard to stop after just one bowl.
Loaded with crispy bacon and Irish cheddar cheese, this soup warms you, heart and soul. It's not a light soup in any way. It's a hearty, stick to your ribs kind of soup filled with real food ingredients. Some people shy away from bacon saying it's not good for you. I say, "Enjoy it! But, everything in moderation." Look for nitrate free bacon that isn't filled with artificial ingredients. You'd be surprised at what is on some bacon products. (But I digress). Splurge on the good quality bacon for this soup. It makes a world of difference.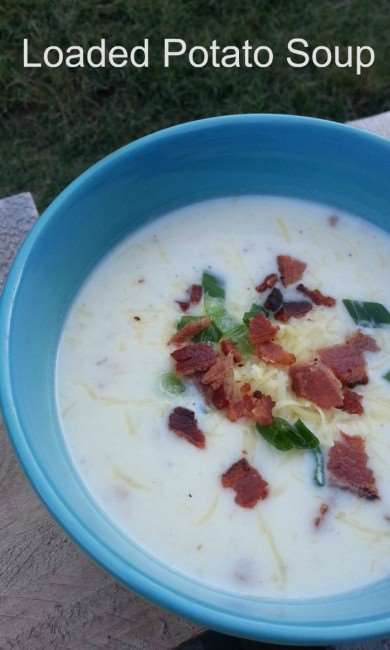 The key to this recipe is adding Irish Cheddar. I like Kerrygold Blarney Stone in this soup. It's slightly salty to me. It adds a rich flavor and creamy texture to the soup. If you can't get this cheese, look for a Dutch Gouda or an aged sharp cheddar. Both with add a deeper flavor than other cheeses.
If you can make real mashed potatoes, you can make Loaded Potato Soup. It's a simple recipe that takes less than 20 minutes. Some people like really creamy potatoes, other chunky. The outcome is all in your technique. My family likes a smoother texture, so I'll mash my potatoes really well.
If you want chunkier soup:
Cut the potatoes smaller prior to cooking

Skip mashing the potatoes

Stir the soup just until combined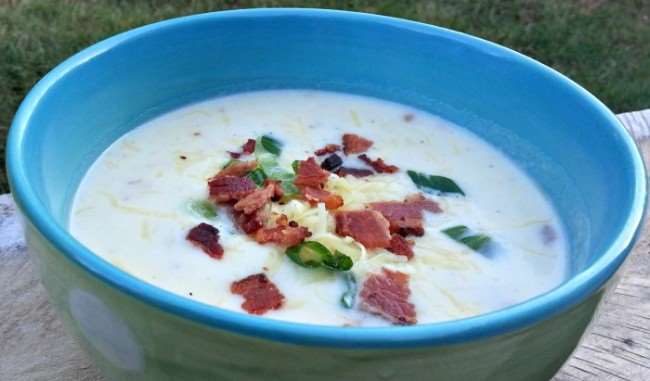 Yield: 8 servings
Loaded Potato Soup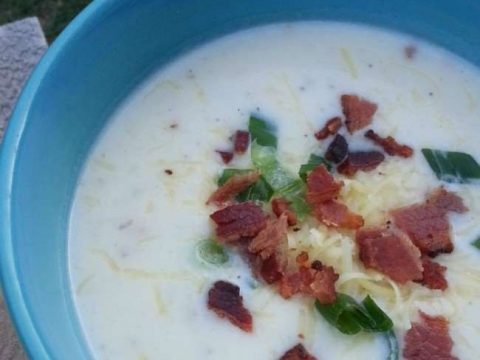 Ingredients
6 cups peeled, cubed potatoes, about 6 medium sized potatoes
3 cloves of garlic, smashed
3 tablespoons salt, divided
4 cups whole milk
1/4 cup sour cream
1 cup Irish Cheddar cheese, shredded
6 sliced of bacon
1 tablespoon black pepper
3 Tablespoons sliced green onions
Instructions
Place potatoes in a large pot and cover with water. Add garlic and 1 teaspoon of salt to the water. Bring to a boil and cook covered for 15 minutes, or until potatoes are tender. Drain water from potatoes.
While potatoes are cooking, cook bacon in a large skillet. Cook until crispy then remove from pan to cool slightly. Reserve 1 tablespoon of bacon drippings for soup. Chop bacon into smaller pieces. Set aside.
Return cooked potatoes to the pot. Mash potatoes. Add milk, remaining salt, sour cream, 1/2 cup of cheese, 1/2 of the chopped bacon, 1 tablespoon of bacon drippings, and black pepper. Stir until well combined.
To serve: Ladle soup into bowls. Top with remaining cheese, bacon, and green onions.
Nutrition Information:
Serving Size:
1
Amount Per Serving:
Calories:

1377
Total Fat:

89g
Saturated Fat:

56g
Cholesterol:

275mg
Sodium:

22818mg
Carbohydrates:

65g
Sugar:

47g
Protein:

78g
So how do you like your potato soup?
If you are looking for more soup recipes, be sure to check out these: