Today's recipe is a wonderfully filling, thick, and hearty soup. We are expecting a blizzard over the next day and a half. Nothing warms your insides quite like soup. Plus, in case we lose power, we have something nice and easy to heat on the camp stove.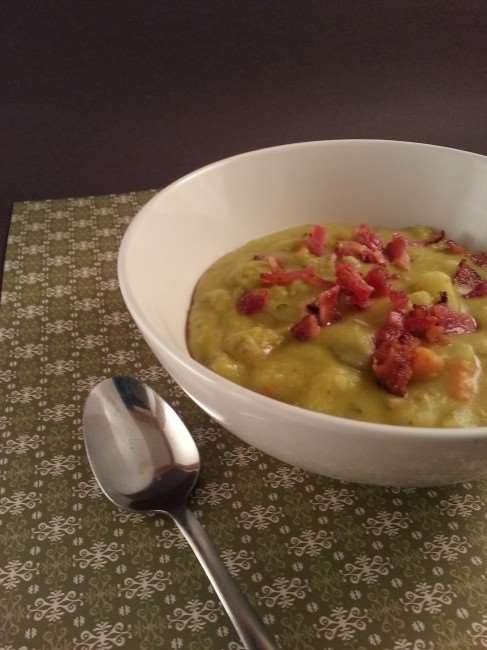 Split Pea Soup with Bacon
Photo Courtesy: Words on Canvas
This recipe is based on a version I found in the cookbook Eet Smakelijk. It's a cookbook written by the Junior Welfare League of Holland, Michigan. It features a variety of recipes. Many of them are popular foods from the Netherlands.
On the first page of this cookbook it reads:
In his native land,
A Dutch host utters these words before each meal
"Eet Smakelijk"
Meaning to eat well and with taste.
In Dutch, this recipe is called Erwtensoep met spek. Regardless of the language, bacon makes just about everything better. Don't you agree?
Like all of our food, I'm using real food ingredients. The bacon I buy contains no nitrates or nitrites. The buy it from a store that cures and smokes their own bacon in house. It's amazing. You can find similar products in your area. Applegate Naturals brand is a great real food alternative to other brands. Their Sunday Bacon contains 5 ingredients (Pork, Water, Sea Salt. Contains Less Than 2% Of The Following: Evaporated Cane Syrup, Celery Powder.) You can eat the foods you love without all the harmful additives and preservatives. If you use other bacon brands without fillers, preservatives, and nitrates, please share the brands in the comments section of this recipe. Thanks.
I like to serve this soup with a toasted piece of hearty whole wheat bread with real butter.
So here is my recipe for Dutch Split Pea Soup with Bacon
Yield: 8-10
Dutch Split Pea Soup with Bacon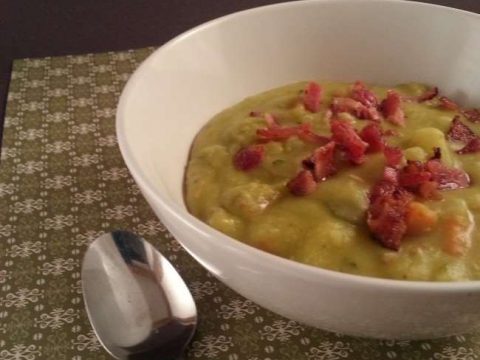 Ingredients
1 pound green split peas
1 ham hock
3 quarts water
4 strips thick cut bacon, I prefer peppered
2 stalks celery, diced
2 medium onions, chopped
3 potatoes, diced
1 clove garlic, diced
2 large carrots, diced
1/2 teaspoon thyme
parsley
1 cup milk
salt and pepper to taste
Instructions
Soaks peas overnight covered completely with cold water. Drain.
Combine ham hock, peas, and water in dutch oven or large pot. Bring to a boil and reduce heat to a simmer. Cook for 2 hours.
In a skillet, fry bacon until crispy. Remove to a plate lined with paper towel. Crumble or chop bacon once cooled. Set aside for later.
In the bacon drippings, cook the celery, onions, and potatoes for 3 minutes or until the onions start to soften.
Add vegetables to the soup. Add the carrots, garlic, and thyme. Cook for 1 hour.
Add parsley and milk. Cook 10 more minutes. Season with salt and pepper.
Serve soup with crumbled bacon on top.