Summer is finally here! I don't know about you, but I've so excited that I could do a "Happy Dance". This last winter was the season that just won't give up. I was beginning to think Spring and Summer would never get here. Now that summer is finally here, I'm over the moon happy. With the beginning of Summer, my cooking changes with the season. Meals get lighter meals, I use more fruits and vegetables because more is in season, and grilling happens more often. In central Oklahoma, (where I live), there are days that it is simply TOO hot to turn on the stove. If I do darn cook indoors, the house just gets TOO darn hot. Do you ever have days like that? Well when they happen here, I look for simple salads to feed my family. This Celery, Apple and Walnut Salad is one of my go to salads. It's light, refreshing, easy to make, and oh so delicious!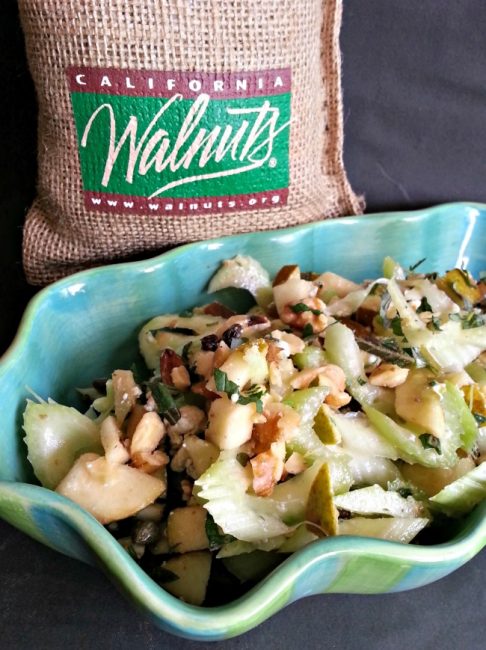 This Celery, Apple, and Walnut Salad is the perfect combination of sweet, salty, and crunchy. No matter the season, this is always a welcome addition to any meal. Honey crisp apples are one of my favorite varieties. They are sweet, juicy, and delicious. It's one of the best apples for eating raw. At certain times of the year, they may be harder to find. You can substitute any another variety of sweet apple; Pink Lady, Cameo, Fuji, etc. Capers and Feta cheese add saltiness that compliments the sweetness of the raisins and apple. Celery adds a nice crunch to this salad, adds only a few calories, and has loads of fiber.
Walnuts and other nuts are a great addition to most any salad. A few weeks ago, California Walnuts contacted me and asked if I wanted to try a sample of their fresh walnuts. I replied that I'd love to and shortly thereafter, I received a burlap bag filled with fresh, delicious walnuts. I was surprised to learn that walnuts keep longer when refrigerated. Who knew? Where do you store your nuts? Walnuts are high in Omega-3 fatty acids and help you feel maintain your diet. Walnuts make great snacks, but are perfect in recipes like this tasty salad.
You can make this salad ahead of time or eat it immediately after making it. If you have time, I recommend making this ahead of time by about an hour. That give the salad time to meld all the flavors together. If you plan on storing this salad overnight, add the celery just before serving. If they are combined too long (more than 12 hours) with the other ingredients, the celery will lose its crunch. The flavor will be there, but the texture will be off.
So without further ado, here is my family's Celery, Apple. Walnut Salad.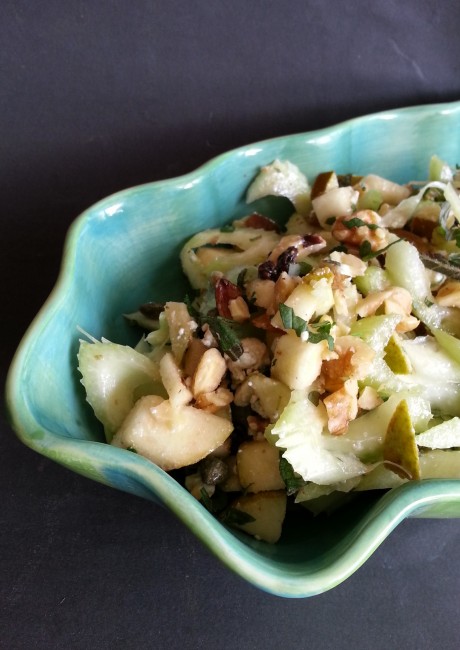 Yield: 4 servings
Celery, Apple, and Walnut Salad

A light and refreshing salad that combines sweet, salty, and crunch.
Ingredients
4 stalks of celery, cut on a diagonal (about 2 cups)
1 Honey Crisp apple, cored and cut into small cubes (substitute any other sweet apple variety - about 1.5 cups)
1/2 cup chopped walnuts
1/4 cup Golden raisins
2 Tablespoons capers
1/2 lime, juiced
1 Tablespoon olive oil
2 Tablespoons fresh mint, chopped
1 teaspoon fresh thyme, chopped
1/4 cup Feta cheese, crumbled
Instructions
Combine the celery, apple, walnuts, raisins, and capers in a large bowl. Drizzle with lime juice and olive oil. Stir to combine.
Add the chopped mint, thyme, and feta cheese. Toss to combine.
Serve immediately or chill until ready to use.
What are some of your favorite summer salad recipes?
Disclaimer: California Walnuts provided me with a sample of walnuts to try and include in this recipe. Click here for my full disclosure policy.