Sunday Morning Waffles
Sunday mornings around here are low key and the perfect opportunity to make a big breakfast. These Sunday Morning Waffles are one of the things we like to make when we have the time. The recipe is inspired by one of our favorite Disney Parks' foods, Mickey Mouse Waffles.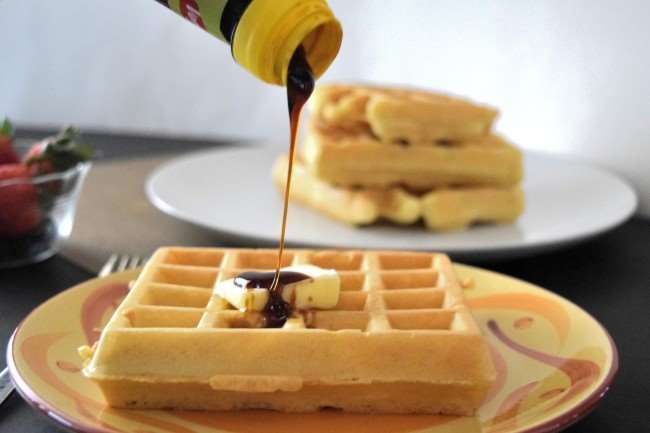 Have you ever had a Mickey Waffle at a Disney Park?
Disney Mickey Waffles are tasty waffles found all over the Disney Parks. They are light and ohhhh so delicious. You can find them at character breakfasts, quick service restaurants, and hotel buffet lines. They are the perfect way to start your day. Our trip to any Disney Park isn't complete without having these at least once.
Once we get home, the "Disney Blues" often set in and we start yearning for another trip to Disney. These waffles may not be shaped like Mickey Mouse, but they'll taste just like those in the parks. And since food holds so many memories, these help pacify our Disney cravings for the time being.
The original recipe for these waffles comes from The Disney Chef. We're trying to cut out refined sugars at our house, so I have swapped out the white granulated sugar for honey. You can substitute maple syrup or other sweeteners.
Tip when swapping all-natural liquid sweetener fro granulated/cane sugar:
Just remember that when swapping sugars, you may need to adjust the liquid proportions in the recipe. Usually you will decrease liquid by 1/2 tablespoons when you substitute a liquid sweetener like honey for granulated sugar and vice versa. With this waffle recipe, the batter should resemble thick yogurt, not quite Greek yogurt, but good creamy yogurt that is slow to pour.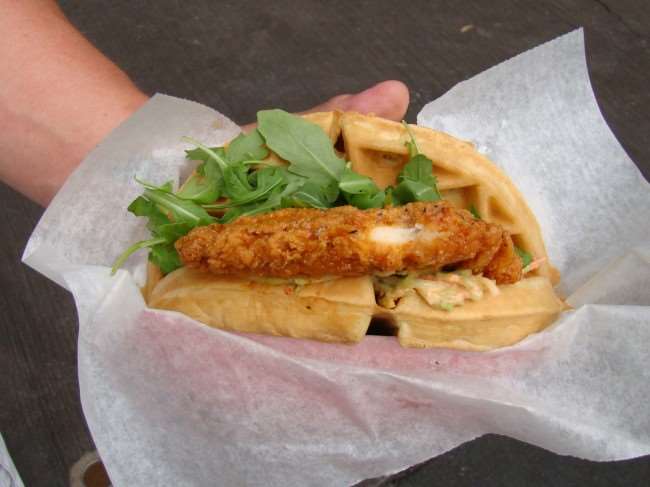 Waffles are something we eat in our house for breakfast, brunch, dinner, well anytime really. When we visit Disney World, my favorite waffle is actually a Sweet and Spicy Chicken Waffle in Magic Kingdom at Sleepy Hollow Restaurant. (Update 5/14/16 – Sadly these are no longer available in Disney World) It's this round waffle topped with a chicken strip, sweet coleslaw, arugula, and Thai Sweet Chili Sauce. It's delicious. I get this and a Dole Whip on EVERY trip at least twice. The kids like the Fruit and Nutella Waffle at the same place. It's a round waffle spread with Nutella and mixed berries. It's really good too! For more waffle servings ideas, keep reading. I'll have a few more ideas at the end of this post.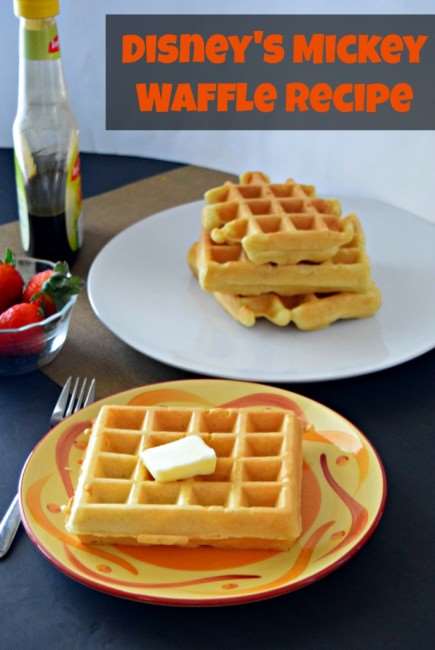 To get the texture the same as what is served at Disney Parks, I use a Belgium Waffle Maker. If you wanted a Mickey shaped waffle, you can find one on Amazon. To serve waffles, you can keep them whole, cut them into waffle strips (which my kids love for breakfast), or cut into small squares for appetizers or bite sized snacks. I recently hosted a #DisneySide @Home celebration and served waffle bites for the party. They were a huge hit. I cut the waffles into 2 square bites, which turned out to be a little big, so that's why I say cut into 1 square bites. Secure any toppings with a toothpick or skewer and you're all set.
So enough talking from me, let's get to the recipe.

Yield: 9
Mickey Waffles Without Refined Sugar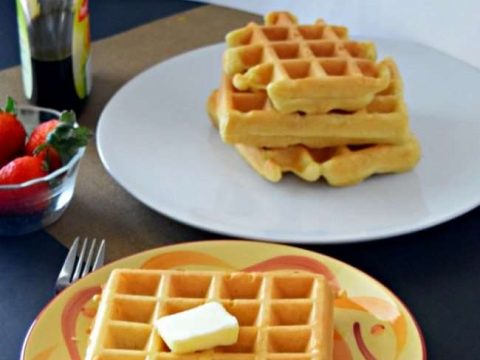 Light and delicious waffles just like those found in Disney Parks. Enjoy these waffles anytime.
Ingredients
4 eggs, separated
2 tablespoons honey
1 1/4 cup milk
1/4 cup melted butter
1 teaspoon vanilla
2 cups all purpose flour
2 teaspoons baking powder
1/2 teaspoon salt
Instructions
Beat egg yolks and honey together in a large bowl until yolks are thick and a rich yellow color.
Add milk, melted butter, and vanilla. Stir to combine.
Add flour, baking powder, and salt all together. Mix until ingredients are combined. Do not overmix.
In a stand mixer or a large bowl using a hand mixer, beat egg whites until they are stiff.
Gently fold egg whites into the batter.
Bake waffles according to the waffler maker instructions until golden brown.
Enjoy these waffles a few ways: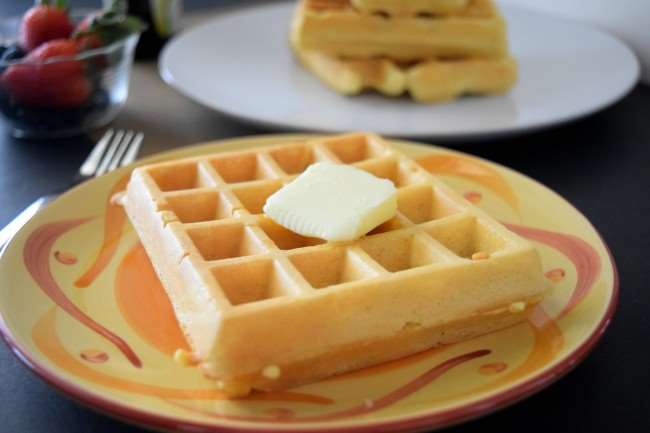 Breakfast Waffles
Pat of butter and drizzled maple syrup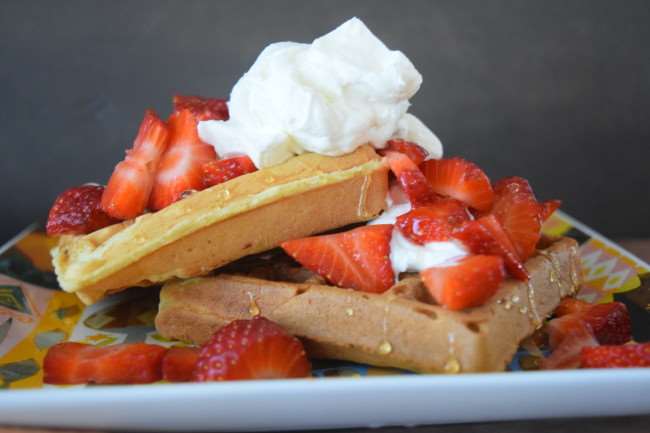 Strawberry Shortcake Waffles
Fresh sliced strawberries, homemade whipped cream ( 1/2 cup heavy whipping cream +1/2 teaspoon maple syrup – whipped until thick), drizzle of honey or maple syrup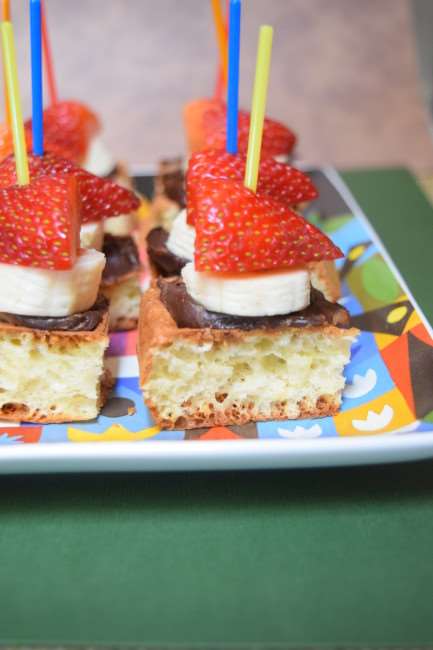 Fruit & Nutella Waffles
Spread waffle with Nutella sliced bananas and strawberries
Sweet & Spicy Chicken and Waffles
Sliced chicken breast, spinach, and Thai Sweet Chili Sauce. These are cut into party sized bites.
How will you enjoy these Mickey waffles?