When it's cold outside, there is nothing better than a big pot of Field Peas with Ham. This field peas recipe features ingredients from two local farms. I like to support local farms whenever I can. You develop a relationship with the person who grows your food, you know where your food comes from, and you help support your local community. You can find field peas either fresh or dried in a variety of stores/markets near you.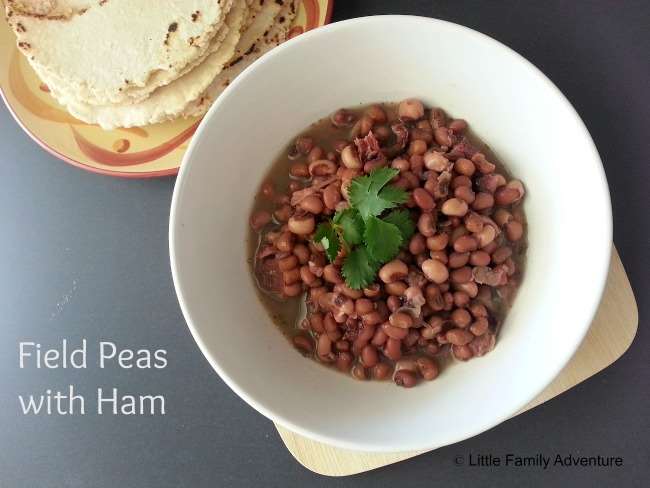 * This article contains affiliate links. Purchase through our affiliate links and we receive a small commission without any extra expense to you!
Field Peas = Comfort Food
There is something a bit comforting about enjoying a big bowl of Field Peas with Ham with a fresh corn tortilla or slice of buttered cornbread. Maybe that's because I remember my grandmother cooking dishes like this when I was growing up. She had a huge garden with all kinds of vegetables. Beans and peas were always a part of that early and late season gardens.
During the cooler months, I love making a big pot of beans or field peas. It's one of those dishes where you can throw everything together and then just let it cook. You can cook a large batch for a crowd or section out for freezer meals, cook on the stove top or in a Simple crock pot or Instant Pot. The recipe for field peas below is written for the stove top, but you can easily adjust it for a slow cooker or pressure cooker.
Related: Black Eyed Peas Salad Recipe
How to Cook Field Peas
The field peas I used were a combination of organic dried Black-eyes, Victors, Chinese Reds, Red Rippers. Cooking field peas is the same as cooking any fresh or dried bean.
Fresh Field Beans: No presoak or prep is needed when using fresh field peas or beans. In this recipe, you will skip the presoak needed for dried beans and cook for 1 hour according to the recipe.
Cooking Dried Field Peas/Beans: With either peas or beans, it's recommended to soak them overnight in water. This helps them cook faster and removes some of those indigestible sugars that cause gassiness.
Rapid Soak for Dried Field Peas: If you are in a hurry, you can do a rapid soak by bringing the peas/beans to a rapid boil for 3 minutes. After that, remove them from the heat, cover, and let stand for 1 hour.
Instant Pot: If I'm using my Instant Pot, I will skip the presoak/quick soak method all together and just add an additional 15 minutes to my cook time on the Bean/Chili setting.
Reduce gassiness from eating peas/beans: Dried peas and beans can cause some to get a little gassy. That's why it's recommended to presoak them to remove the indigestible sugars that cause that gassiness. But, I have found that added a 2″ x 2″ square of dried kelp (seaweed) called kombu to all my beans and peas helps eliminate the "toot". You add it before cooking and then remove before serving. It also adds a complementary mild flavor to the dish. You can pick it up at most large grocery stores, online on Amazon, or any Asian market.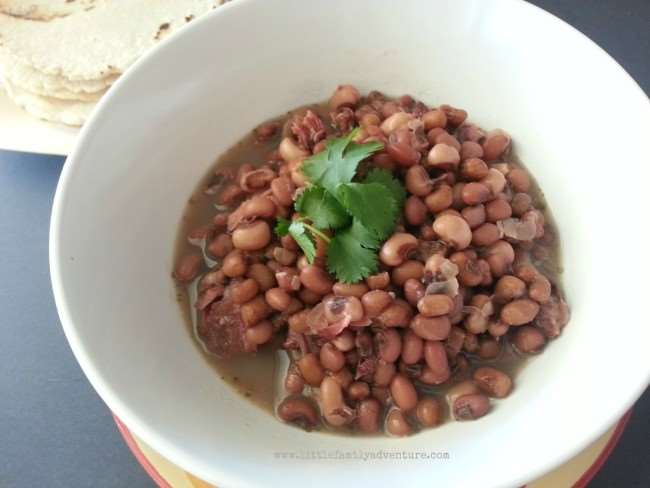 If you liked this Field Peas Recipe, you may also like these:
Yield: 8
Field Peas with Ham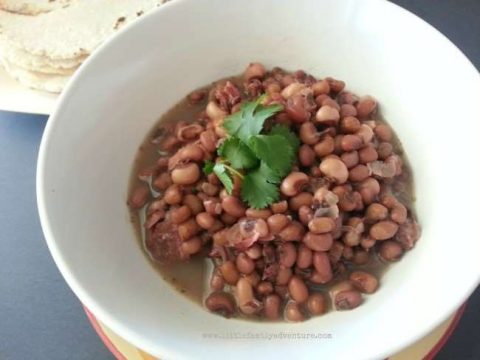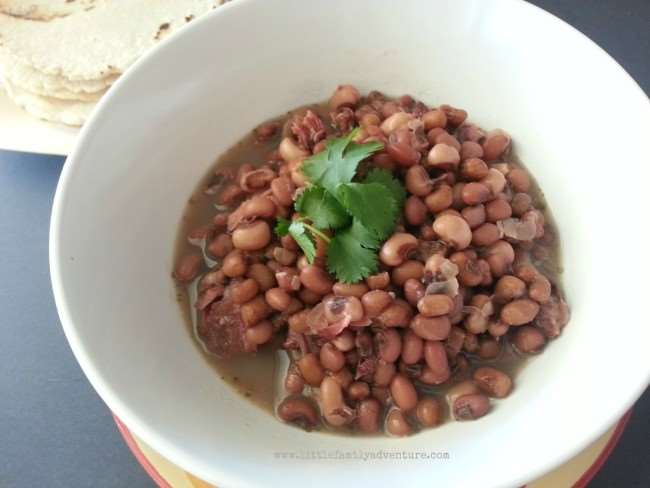 Additional Time
10 minutes
Total Time
1 hour
15 minutes
Ingredients
1 pound dried peas
3 cups chicken broth + water to cover peas
1 ham bone or 2 ham hocks
2 Tablespoon chopped fresh cilantro or 1 Tablespoon dried cilantro
1/2 medium onion, chopped (about 1/2 cup)
2 cloves garlic, minced
1 bay leaf
1 teaspoon cumin
2 inch square of dried kelp, optional
Optional Garnish: freshly chopped cilantro
Instructions
Soak peas overnight.
Drain peas and place them in a large Dutch oven. Add fresh water to cover them by 2 inches.
Add all remaining ingredients
Bring to a boil. Reduce to simmer, cover, and cook for 1 hour.
Remove ham bone or ham hocks, kelp, and bay leaf.
Once ham has cooled enough to work with, remove the meat and return to the peas.
Spoon peas into individual serving bowls. Garnish with chopped cilantro if desired and serve.
Notes
You can cut cook time when using an Instant Pot and there is no need to pre-soak. Place everything in slow cooker and bring to pressure for 15 minutes and then natural release.
Recommended Products
As an Amazon Associate and member of other affiliate programs, I earn from qualifying purchases.
Nutrition Information:
Yield:
8
Serving Size:
1
Amount Per Serving:
Calories:

128
Total Fat:

3g
Saturated Fat:

1g
Trans Fat:

0g
Unsaturated Fat:

2g
Cholesterol:

24mg
Sodium:

528mg
Carbohydrates:

14g
Fiber:

4g
Sugar:

5g
Protein:

12g
This recipe for Field Peas and Ham is a simple and delicious dish. I know you are going to enjoy it. Serve it with cornbread, corn tortillas, or try something different with my Irish Soda Bread. If you want a vegetarian/vegan version, just omit the ham.
Be sure to SUBSCRIBE and on FACEBOOK , TWITTER , INSTAGRAM and Follow PINTEREST to see more delicious recipes, travel destinations and tips, adventures, and more of what we are up to.