Coleslaw is a family favorite in our house. It's one of those side dishes that is easy to make and goes great with so many dishes. There are so many different coleslaw recipes out there.  The one my family likes best is this Tri-Color Sweet Coleslaw. It's a copycat recipe for Rudy's coleslaw. It combines both green and red cabbage, carrot, mayo, cider vinegar, and cane sugar.
My family loves barbecue. Actually that's putting it mildly. We LOVE, LOVE, LOVE Barbecue. We've lived in California, Texas, Oklahoma, and North Carolina. So, we have tried all kinds of  coleslaw. This version is based the coleslaw at Rudy's BBQ, a regional chain of barbecue joints. Their coleslaw is a sweet slaw with shredded green cabbage and carrot. Slaw is great with smoked sausage and brisket, at a picnic or backyard party. Here I've added this coleslaw to pulled pork and created Carolina Sliders with Coleslaw.
You can serve this sweet coleslaw immediately or store it in the refrigerator until ready to use it. I like to let it sit for at least 1 hour to let the flavors meld. My kids love that the slaw will turn pink if you let it sit overnight. Either way, it's a great side dish using real food ingredients.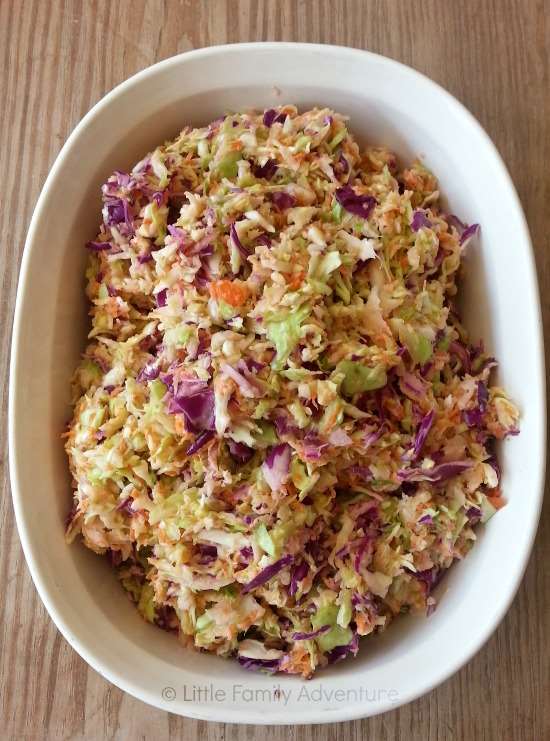 For the recipe, you're going to cut the cabbage and carrots into small pieces. This is how Rudy's does it and how we like it. I use my Kitchenaide Stand Mixer's slicing and grating attachments (affiliate link) 
 to save time. I cut the cabbage and then run it through the slicing attachment. I use the grating attachment for the carrots. It gets the veggies to the right size. You can use a food processor or cut up everything my hand. With the grater and slicing attachments, it takes less than 10 minutes to make this delicious tri-color sweet coleslaw.
So what do you like to serve coleslaw with?
Yields 10-12 servings
Tri-color Coleslaw
10 minPrep Time
10 minTotal Time
Ingredients
1 medium green cabbage
1/4 small red cabbage
3 carrots
1 cup mayonnaise
1/4 c sugar
2 Tablespoons apple cider vinegar
1/2 teaspoon salt
1/8 teaspoon black pepper
Instructions
Shred cabbages using a shredding blade on a food processor or knife (thinly slice and chop) into small pieces
Grate carrots using box grater or grating blade in a food processor.
In a big bowl, combine mayonnaise, sugar, vinegar, salt, and pepper.
Add cabbage and carrots. Mix to combine.
Serve immediately, but is best after the salad has been refrigerated for at least 1 hour.
Nutrition
Nutrition Facts
Amount Per Serving

Calories

1794

% Daily Value*



Total Fat:

166 g

255.38%

Saturated Fat:

g

0%

Cholesterol:

93 mg

31%

Sodium:

2830 mg

117.92%

Potassium:

1277 mg

36.49%

Total Carbohydrate:

78 g

%

Sugar:

55 g

Protein:

6 g

Vitamin A:

1285.92%

Calcium:

146 mg

14.6%

Iron:

2 mg

11.11%
7.8.1.2
57
https://littlefamilyadventure.com/sweet-coleslaw/
LittleFamilyAdventure.com
SaveSave