Enjoy Roasted Butternut Squash and Farro Salad  as a side dish or main entree salad.
The earthy farro adds a subtle crunch to roasted butternut squash flavored with a herbed balsamic vinaigrette. The end result is a dish you will want to make again and again.
This week's new food of the week challenge urged readers to try farro in some way. Farro is a deliciously nutty whole grain that dates back to Ancient Egypt. Italians have been using this grain for centuries. I have enjoyed farro before , but this Roasted Butternut Squash and Farro Salad is the first time I've cooked with it. It was so easy to cook with and helps to create an amazingly delicious side dish or salad. This recipe uses pearled farro which has much of the fiber removed for easier cooking. You can use other types of farro, but your cook times with be longer.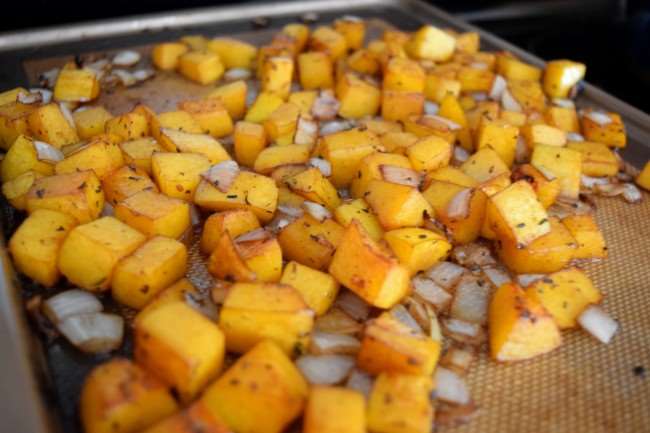 The first time I had farro was at an Italian restaurant. It was served alongside roasted vegetables, cured meats, and cheeses. Roasted vegetables are a delicious and healthy way to prepare vegetables. This recipe calls for the butternut squash to be tossed in a balsamic vinaigrette before roasting. It imparts a delicious flavor that is incredible. You are really going to like it.
Enjoy this dish as a side dish or as a main entree. It's vegan, dairy free, and ohhh so delicious!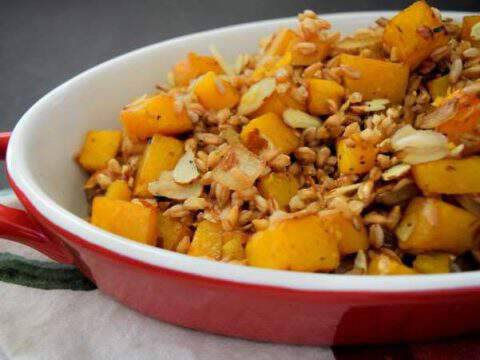 Yield:

35
Roasted Butternut Squash and Farro Salad
Serves 6 - 8 as a side side or 3-4 as a main dish.
Ingredients
2 cups pearled farro, rinsed and drained
1 1/2 teaspoons salt, divided
6 cups water
1 teaspoon dried thyme
1 teaspoon dried sage
1/2 teaspoon dried marjoram
1/2 teaspoon dried basil
1/8 teaspoon garlic powder
Pinch of black pepper
3 tablespoons olive oil
1 tablespoon balsamic vinegar
1 medium sized butternut squash, peeled and cut into 1/2-inch dice
1 large sweet onion, coarsely chopped
1 cup sliced almonds
1 tablespoon toasted sesame oil
Instructions
Preheat oven to 375.
Combine the farro, 1 teaspoon salt, and water in a large, heavy saucepan over medium heat. Cover and bring to a boil. Reduce heat to a simmer and cook for 15 minutes, stirring often. Grains will be done when they are chewy but not hard. Remove from heat, drain any excess water, and set aside.
In a large bowl, combine the remaining 1/2 teaspoon of salt, dried herbs, balsamic vinegar, and olive oil. Add the cubed squash and onion. Toss well. Spread out onto a baking sheet and place in the oven. Bake for 20 minutes, tossing the squash every 5-7 minutes to ensure even browning. Remove from the oven and allow to cool slightly.
In a large bowl gently toss cooked farro, cooked squash, almonds, and sesame oil together. Taste salad and add salt if necessary. Transfer salad to a large serving bowl and enjoy warm or chilled.
Nutrition Information:
Serving Size:
1
Amount Per Serving:
Calories:

1025
Total Fat:

101g
Saturated Fat:

11g
Sodium:

3539mg
Carbohydrates:

24g
Sugar:

4g
Protein:

20g
Have you tried farro before? How was it prepared?