Roast chicken is a family tradition at our house. You can expect to see it on the table for dinner on any given Sunday. This Roast Chicken in a Clay Pot with Roast Vegetables is a rustic dish that is simple, yet can be served when company is coming.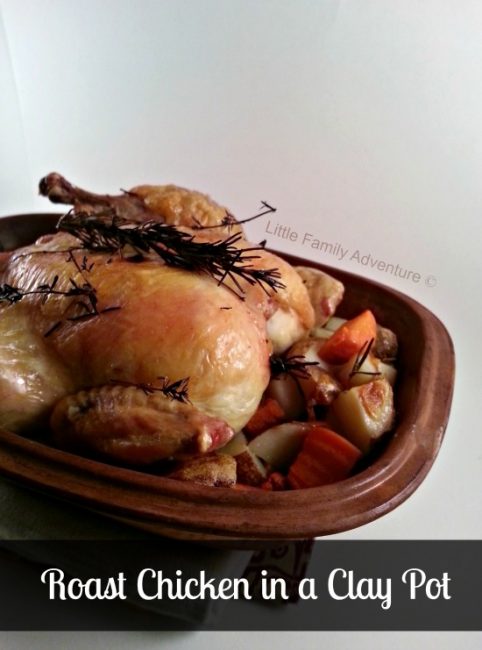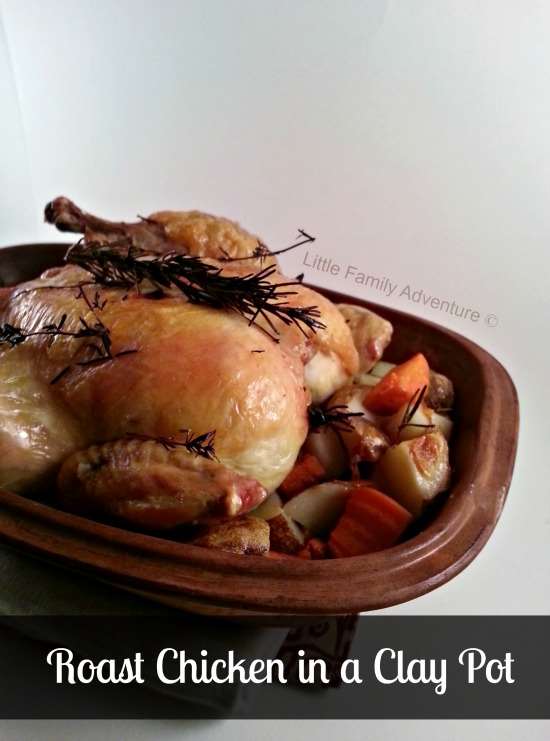 This website contains affiliate links. Purchase through these links and we receive a small commission without any extra expense to you!
Cooking a whole chicken in a clay pot is my favorite method because it's easy, results in juicy chicken, and clean up is a breeze. I have had this Romertopf Classic Baker for years and use it often. It's a German pot that is worth it's weight in gold (or chicken).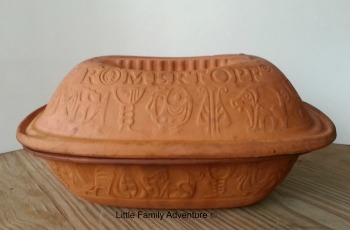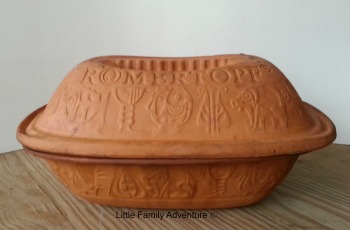 This type of cooking is a wonderful way to ensure that your chicken stays juicy and guarantees that you won't be making a mess in the oven. You soak the baker in water for at least 15 minutes and this ensures a moist chicken that needs no additional oil or broth. The chicken and vegetables cook in their own juices and is to die for! Since everything is cooked in one dish, clean up becomes so much easier too. You can use this baker for more than just chicken too. There are lamb shanks, pork roast, bread, roasted vegetables, etc.
This roast chicken in a clay pot recipe for is very simple. It combines root vegetables, fresh herbs, garlic, salt, pepper, and chicken. It's a perfect example of how clean eating can be easy and delicious. You can change-up the herbs is you like. I used fresh herbs in my recipe. If you want to use dried herbs, decrease the amount to 1-2 teaspoons each (depending on taste).
I hope you enjoy this family favorite. Serve it with a fresh green salad and fresh baguette. You'll have a meal that you'll find yourself making more and more.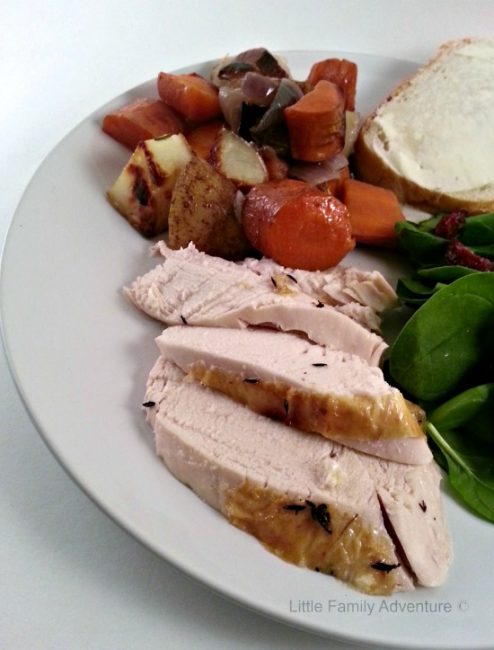 Yield: 4-6
Roast Chicken in a Clay Pot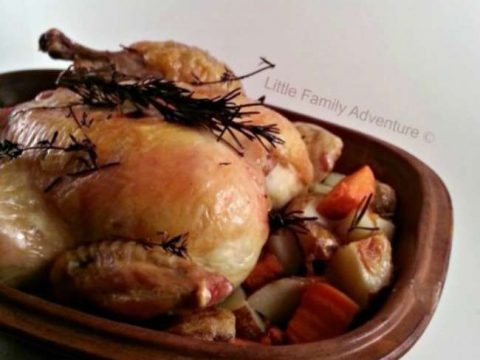 Cook Time
1 hour
20 minutes
Additional Time
10 minutes
Total Time
1 hour
40 minutes
Ingredients
1 3-4 pound whole chicken
2 carrots, cut in half and sliced
3 russet potatoes, cubed
1/2 red onion, chopped
3 garlic cloves, crushed
2 sprigs rosemary
2 sprigs thyme
1 teaspoon sea salt
1/2 teaspoon black pepper
Instructions
Soak clay baker in warm water for 15 minutes.
Remove baker from water. Place carrots, potatoes, onions, and garlic in the bottom of baker.
Toss with half of the herbs, salt, and pepper.
Add chicken on top of vegetables and add remaining herbs, salt, and pepper. Cover with top lid of baker.
Place in a cold oven. Set oven temperature to 450 degrees and bake for 1 hour. Remove lid of the baker and cook for an additional 20 minutes, or until chicken is browned and the meat thermometer inserted in thigh area reads 165°F.
Remove from oven and set baker on a cutting board or trivet to rest for 10 minutes.
If you like this recipe, you may also like these: