For holiday dinners, I like to prepare this roasted root vegetable dish in lieu of mashed potatoes and gravy. It is healthier, contains less fat, and can be paired with a variety of main entrées. This dish can also be prepared ahead of time. It can be cooked early and allowed to rest for up to 4 hours at room temperature.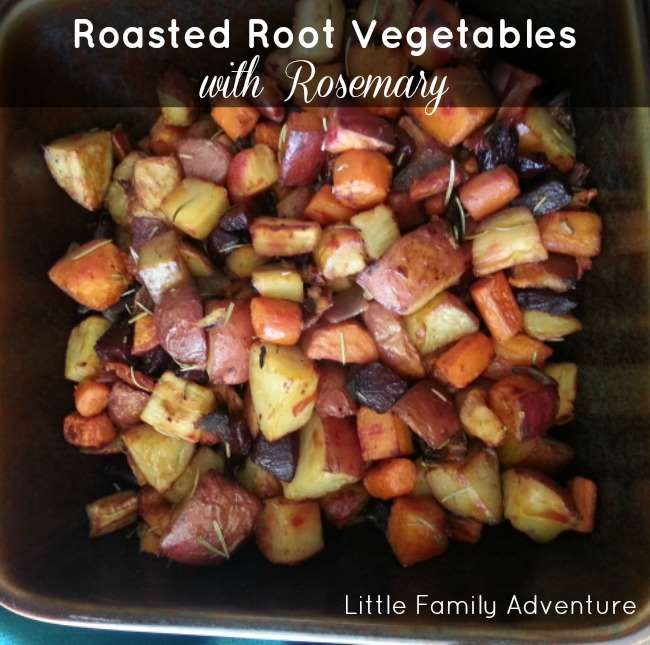 For this version, I chose red skinned potatoes, sweet potatoes, carrots, parsnips, onions, and red beets. You can substitute or add any other type of root vegetable (squash, fingerling potatoes, purple yams, rutabaga, turnip, etc.). If you don't like rosemary, substitute another herb like thyme instead.
Serves 12
2 pounds red skinned potatoes
2 pounds large sweet potato
2 large parsnips
2 large carrots
2 large red beets
1 small onion
4 cloves garlic, crushed and chopped
3 sprigs fresh rosemary (rosemary leaves pulled off the stem)
1 teaspoon salt
1/4 teaspoon pepper
3 Tablespoons olive oil
Instructions
1. Preheat onion to 425 degrees. Lightly oil two baking sheets with olive oil or cooking spray.
2. Cut all vegetables into 1 inch segments. Cut the onion into large chunks.
3. Place all the vegetables in a large bowl and toss with rosemary leaves and stem, garlic, salt, pepper, and olive oil.
4. Divide the vegetables onto two baking sheets. Spread the vegetables out into one layer. Place baking sheets on separate racks in the oven and cook for 25 minutes.Rotate the baking sheets in the oven so that the vegetables cook evenly.  Stir vegetables on each sheet and cook an additional 15-35 minutes. Vegetables will be golden brown and tender.
5. Discard rosemary stem. Add additional salt and pepper if desired. Transfer vegetables to a bowl and it's ready to serve. If you are making this ahead of time, it can be stored at room temperature for up to 4 hours. To reheat, place in a 450 degree oven for 10-15 minutes or until heated through.