Sandwiches and salads make terrific quick and easy summer meals. Sandwiches are great for on the go meals or snacks. Salads take little effort to create and are a good way to get your vegetables for the day. Chicken salad is a wonderful blend of both a salad and a sandwich. Imagine chicken salad on a fresh croissant or whole wheat bread! Yumm! You are going to LOVE this lighter version of Chicken Salad. It combines plain yogurt and mayonnaise. You lose some calories without sacrificing the flavor.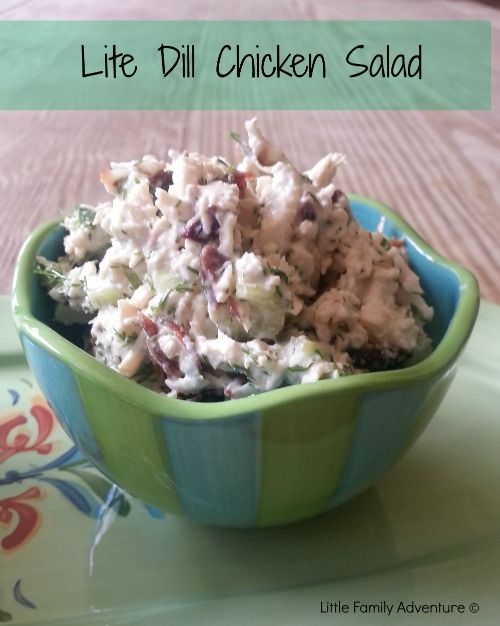 When my oldest son was a baby, I used to conduct home parties for a home decorating company. During that time, I met some great people and sampled amazing party food. One of the dishes I really enjoyed was a Dill Chicken Salad served on fresh cocktail sized croissants. The hostess that made these chicken salad sandwiches said the trick was when you think you've added enough dill, add another handful. She was right. That extra handful of dill makes all the difference.

If you don't want to have a sandwich, try this chicken salad on sliced celery sticks. Top the celery sticks with salad or use the celery as a dipping stick. The celery add a wonderful crunch without additional calories. You can also serve this on top of mixed greens with no dressing or just a drizzle of olive oil. Both ways are terrific. My kids' preferred way to eat chicken salad is on crackers. The pita chips I buy don't contain anything ingredients, and they are as close to homemade as I will get. This method is great for packed lunches too.

Chicken salad is a great summer salad. It's quick and easy to make. I hope you enjoy it!
Ingredients
2 cups chopped chicken
1 celery stalk, diced
1/3 cup dried cherries
1/4 cup sliced or chopped almonds
2 handfuls of fresh dill, chopped (about 3 tablespoons)
1/4 cup plain yogurt
3 tablespoons mayonnaise
1/2 teaspoon salt
Instructions
Combine all ingredients. Serve immediately or store in the refrigerator until ready to use.
Serve on alone, with crackers or sliced celery, on a salad, or on a croissant or sliced bread.
How do you to eat chicken salad?