This Campfire Nachos post is sponsored by Nature's Path and Que Pasa Foods. All opinions and ideas are my own.

If you are looking for an easy camping recipe, these Campfire Nachos are just the thing. Nachos are easy to throw together and can be made almost anywhere. These nachos feature green chili chicken that is made ahead of time, beans, corn, mounds of melted cheese, and Que Pasa organic tortilla chips.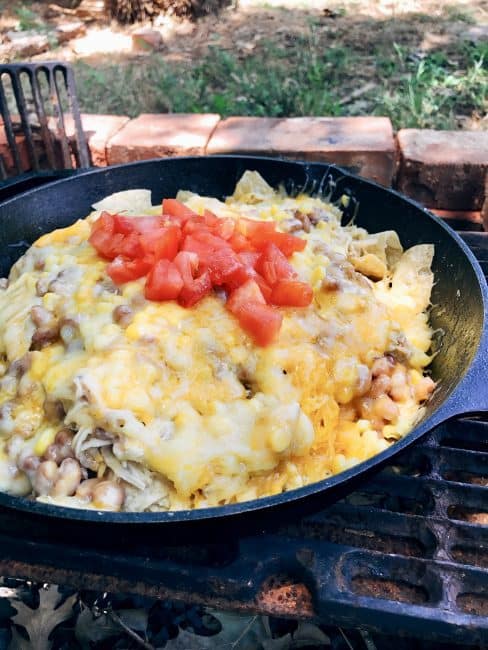 When you are looking for camping recipes, you need recipes that can be cooked using different equipment/heating methods. I really like to make these campfire nachos over an open fire with a foil pocket or pan, but they can also be made in a pan using a camp stove or canister/rocket stove.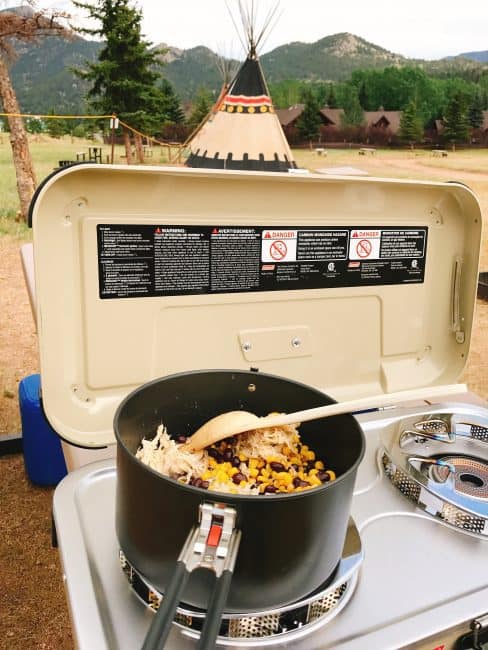 Last week, I was in Rocky Mountain National Park in Colorado. Due to high fire danger, there was a county wide burn ban. So that meant no wood or charcoal fires were allowed. So I created these nachos without a campfire but with a camp stove and pan instead.  I heated all the ingredients inside a cooking pan. Once heated, I placed the hot ingredients over the chips and topped with shredded cheese. I topped the nachos with an inverted metal plate to allow the heat from the food to melt the cheese. A piece of aluminum foil would work too! A minute or two with the cheese covered and it melts nicely over everything.  It's all about versatility when you're outdoors. Finish the nachos by topping with guacamole, salsa, tomatoes, or etc.
This summer we are on a 4 week road trip to 6 different national parks. So far, we've been to Rocky Mountain, Grand Teton, and Yellowstone National Parks. Take a look at some of my favorite spots so far.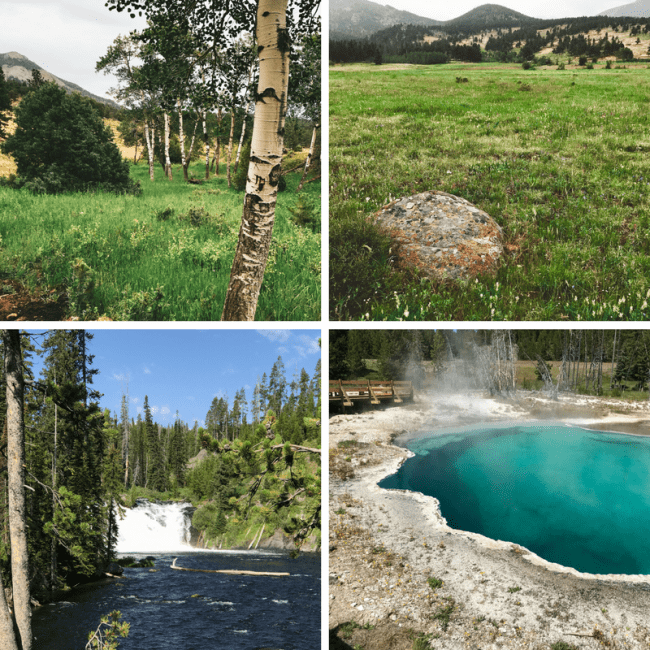 We are camping in at least 4 different places. So I have been busy planning out meals. These campfire nachos are on the menu for two different locations. To save time while cooking at the campsite, I'm cooking the chicken at home and freezing portions in freezer bags. The recipe below will make 4-5 servings, but can easily to doubled or tripled. Cooking anything I can ahead, will save time and cooking fuel on site. Other foods I like to freeze ahead are breakfast burritos and breakfast sandwiches.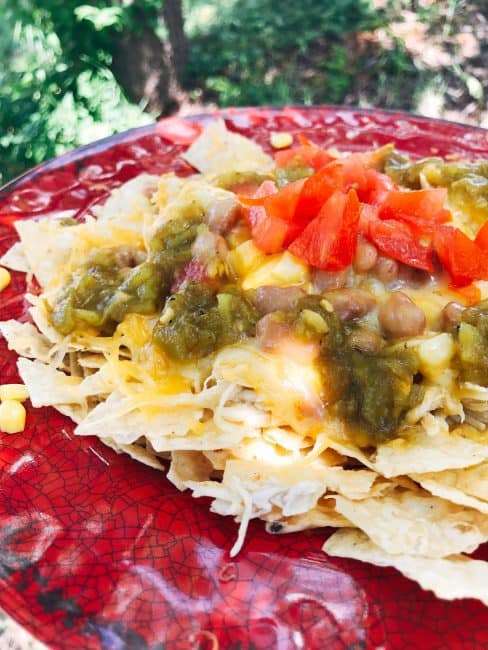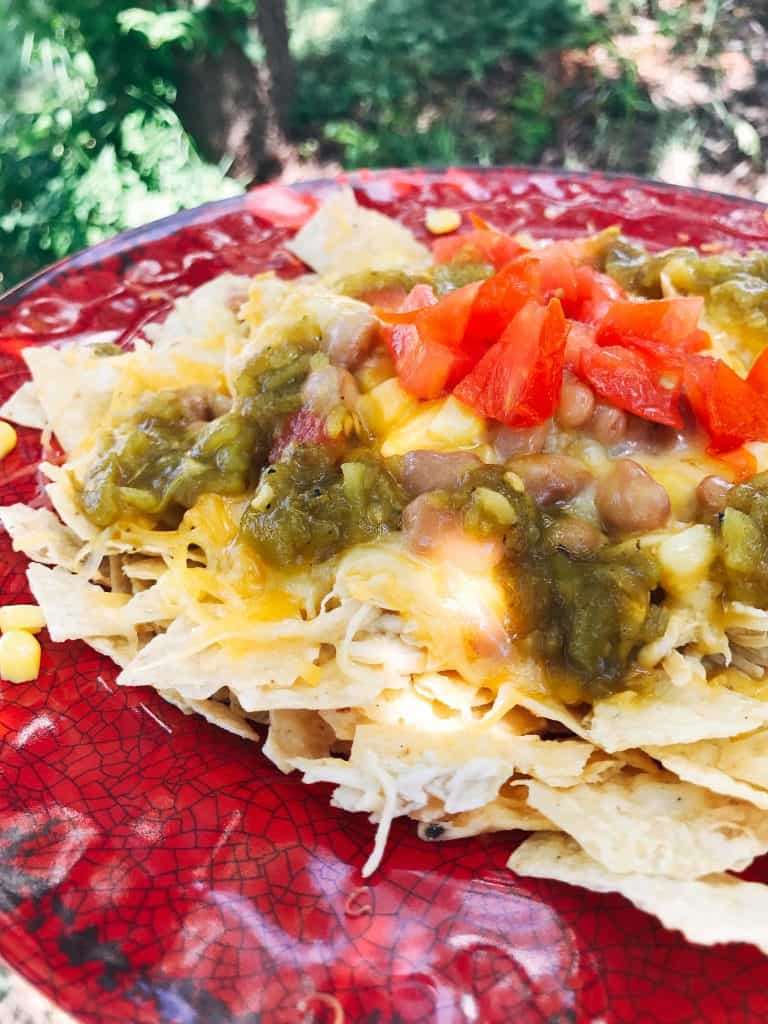 Nachos can be customized to your own taste. Add different types of beans, toppings, or salsa. Choose a tortilla chip that holds up well and won't break under the weight of nacho ingredients. I like Que Pasa organic tortilla chips because they are great for nachos or just with salsa and guacamole.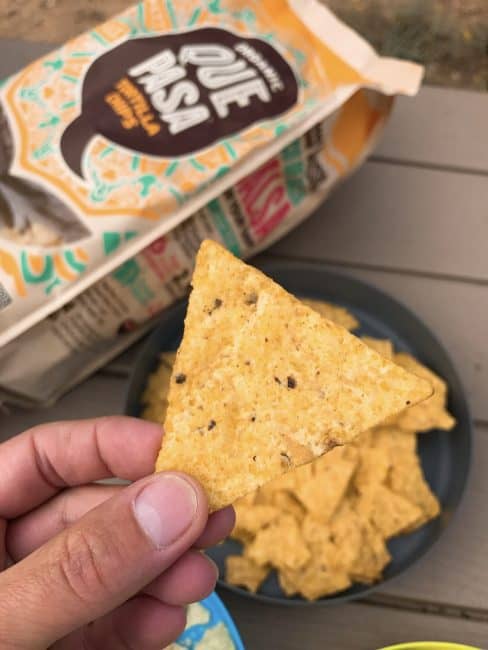 Their yellow corn chip is made with organic stone ground corn. They are not highly processed and that is a difference you can definitely taste and see.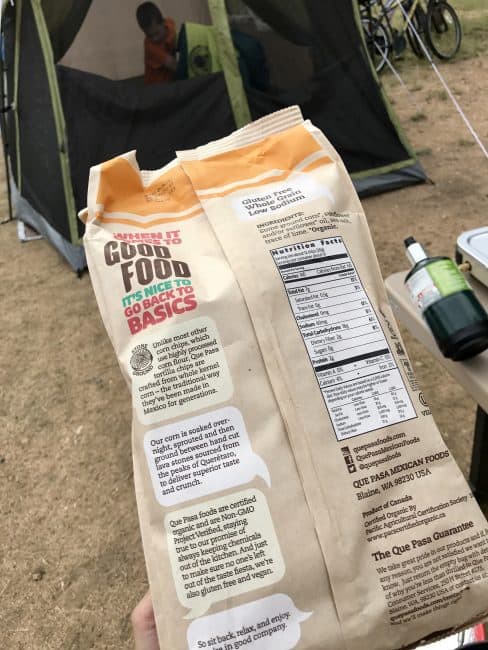 The ingredient list for Que Pasa tortilla chips is short and I like that too. These chips are gluten free and non-GMO verified too. If you like a little citrus zest, try the Que Pasa Organic tortilla chips with a twist of lime.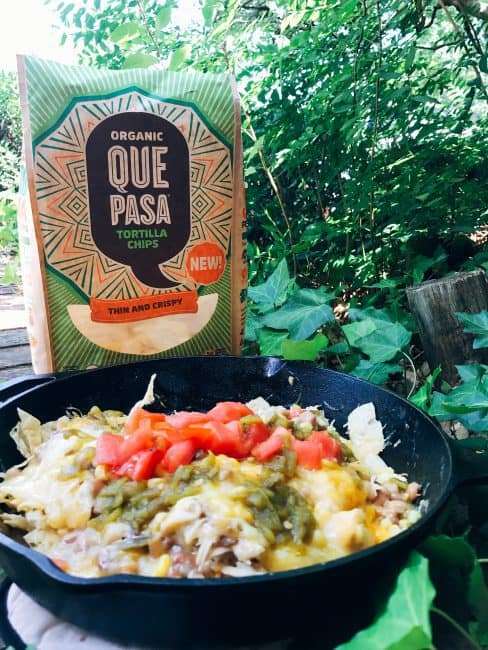 Below you'll find my recipe for Campfire Nachos. In the directions, I walk you through how to make nachos in a foil pan or pocket over a fire. The second version is on a camp stove or rocket stove in a pot/pan. If you have any questions, please let me know in the comments below.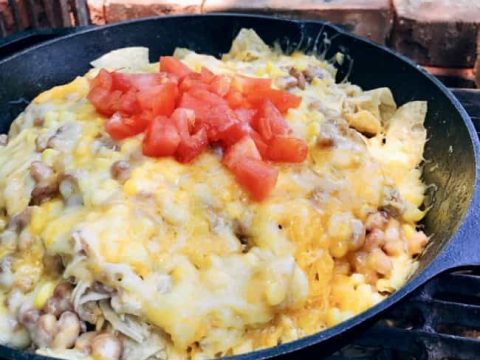 Yield:

8
Make Anywhere Campfire Nachos 
Ingredients
2 large chicken breasts, skinless and boneless
14oz can of green enchilada sauce or salsa verde
1 teaspoon garlic powder or 1 clove crushed garlic
1 teaspoon cumin
1 teaspoon onion powder
1- 14oz  can beans, black or pinto (drained)
1- 14oz can corn (drained)
16 oz shredded Colby and  Monterey cheese 
1 bag Que Pasa Organic tortilla chips
Guacamole
Salsa
Chopped tomatoes (optional)
Sliced Jalapenos (optional)
Instructions
Chicken (to be made at home)
Place chicken, enchilada sauce, garlic powder, cumin, and onion powder in a medium pot.
Cook over medium heat for 10-12 minutes, or until chicken is cooked through.
Remove chicken from pan, leaving enchilada sauce in pot.
Reduce sauce and allow it to thicken slightly so it resembles the original sauce consistency. Remove from heat once finished.
Shred chicken using a fork and return to the sauce once it is reduced.
Allow shredded chicken and sauce to cool and then place in a freezer bag.
Freeze until ready to use.
Nachos (On site)
Double Foil Pan or Foil Pocket over Campfire
Stack 2 foil cooking pans or a double layer of heavy duty aluminum foil together.
Place a thick layer of tortilla chips into the pan or on top of the aluminum foil sheet.
Top with shredded chicken, beans, corn, and cheese.
Top pan with a layer of aluminum foil and seal well.
Place foil pan or pocket on a cooking grate so that is over indirect heat from the campfire or resting on hot rocks surrounding the fire.
Rotate foil pan/pocket each 2-3 minutes to heat through and melt cheese without burning chips.
Uncover and top with guacamole, salsa, etc.
Using Camp stove or rocket stove
Place chicken, beans, and corn into a pan and heat through.
Place chips onto a plate and top with heated chicken.
Top with cheese.
Place a metal plate, pot lid, or aluminum foil over nachos to allow the heat from the chicken to melt the cheese. Allow to 2-3 minutes for cheese to melt.
Uncover and top with guacamole, tomatoes, salsa, etc.
Nutrition Information:
Yield:
8
Serving Size:
1
Amount Per Serving:
Calories:

558
Total Fat:

28g
Saturated Fat:

13g
Trans Fat:

0g
Unsaturated Fat:

12g
Cholesterol:

83mg
Sodium:

1118mg
Carbohydrates:

48g
Fiber:

8g
Sugar:

9g
Protein:

32g
Campfire Nachos will be a hit at your next family camping trip. They are quick and easy to allow you to get out and explore where ever you are.
Learn more about Que Pasa tortilla chips and other products from Nature's Path at www.naturespath.com. Take a look at their oatmeal cups too. They have been a staple on the road trip.