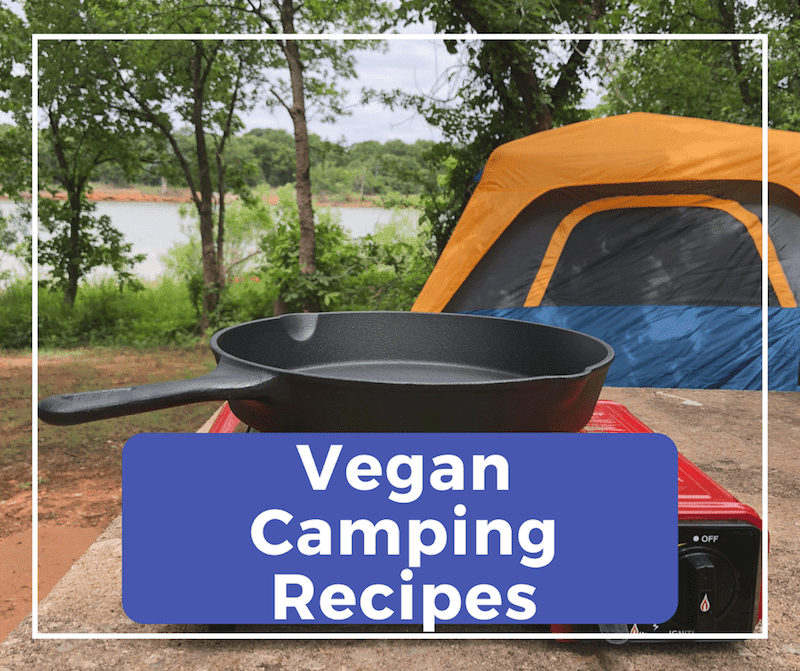 There is more to vegan camping food than a Cup 'O Ramen Noodles!!
Our favorite part of family car camping is the food. There is just something about being in nature and cooking over the open fire that I absolutely LOVE!!! In my Simple Outdoor Cooking Facebook group, a fellow outdoor cook asked for vegan camping food recipes and ideas that weren't ramen noodles. Most camping recipes are meat heavy, but it isn't difficult to eat a plant based diet outdoors. When looking for vegan camping food and recipes, there are so many better options than sodium laden ramen noodles.
Recently, our family took part in the One Meal a Day Challenge to incorporate one plant based meal into our diet for 21 days. I enjoyed the challenge because it pushed me to look at food differently and try new things as we went camping. Below, I share several easy vegan camping food recipes and ideas that we really liked. They will help you plan your next camping trip menu. I have added ideas plant based options for breakfast, lunch and dinner. Many of the breakfast options double as snacks too.
This article contains affiliate links. Purchase through our affiliate links and we receive a small commission without any extra expense to you!
Vegan Camping Food for Breakfast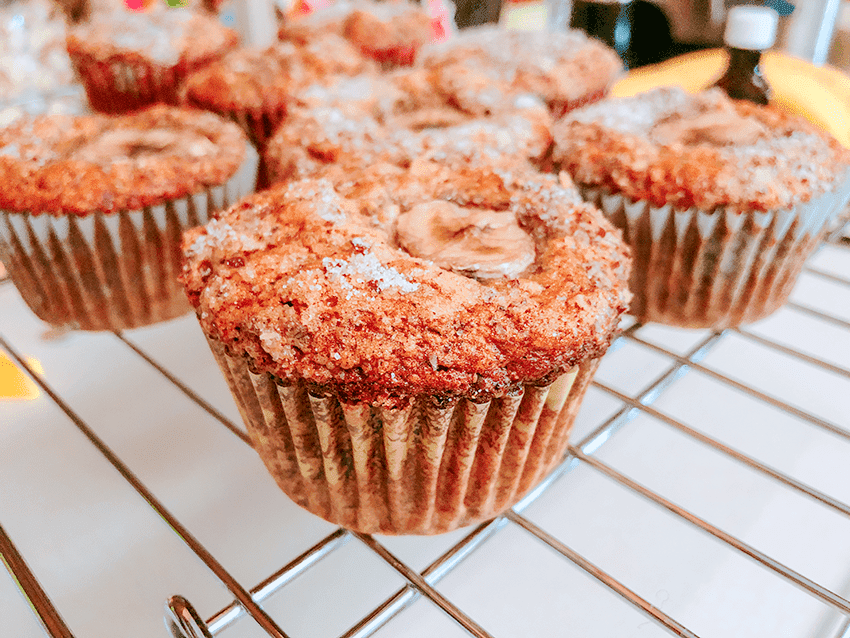 Creating make ahead meals/recipes like this muffin is a wise idea. It saves time at the campsite and allows us to grab and go to see the sunrise or just relax at the campsite. These banana muffins freeze well and can be made well in advance.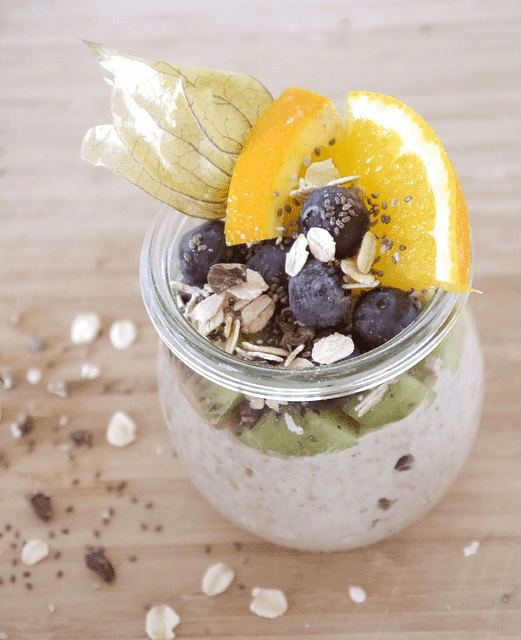 Overnight Oats
1 cup Old Fashioned rolled oats
2 Tablespoons sweetener (maple syrup, rice syrup, sugar, etc.
Mix-Ins: Chopped or dried fruit, chopped nuts, nut butter, jam, granola, chia seeds, etc.
Combine all the ingredients together in a cup or jar and store covered in the ice cooler. Enjoy the next morning.
Hot Cereal
For a grain free option, I really like this Instant Hot Cereal from Wildway. I was introduced to the owners, who are fellow Aggies, at Expo West earlier this year. They sent several varieties to sample. Their cereals are individually wrapped and just need hot water. The texture is similar to a porridge or stone ground grits. Each cereal is made with real food ingredients like walnuts, flaxseed, vanilla bean, and dried dates.
These vegan pancakes from Simplify Live Love are fluffy and kid approved! They can be mixed at home or at the camp site.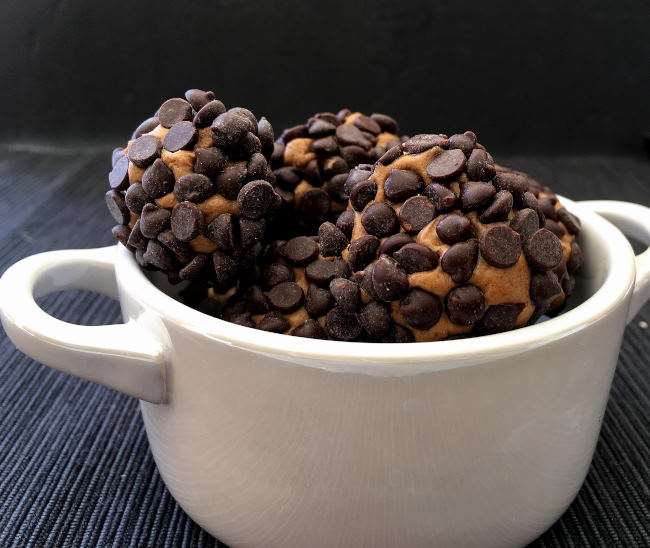 No Bake Nut Butter Energy Balls
These no bake snack balls take about 10 minutes to make. Everyone will enjoy them for breakfast, at snack time, or on the trail.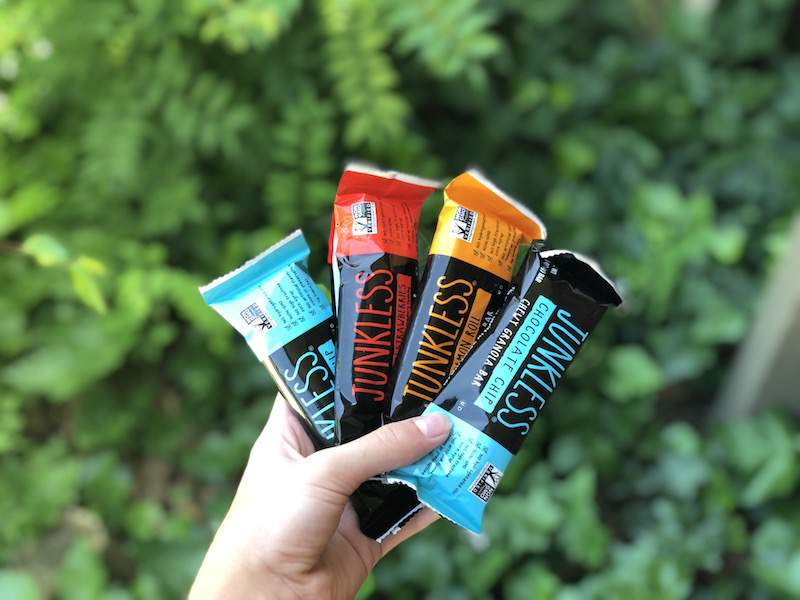 Granola Bars
My kids love these homemade granola bars, but I don't always make the time to whip up a batch. So I will often buy a few boxes of granola bars at the store for a camping trip. You can find great vegan options, like these Junkless Chewy Granola Bars. The company sent these granola bars to try. They aren't certified vegan, but contain only plant based ingredients. The kids and I are loving them because they are free of "fake stuff" and come in flavors we really like. You won't find artificial anything in these bars, only real food ingredients. Our favorite is the strawberry bars with chunks of real dried strawberries.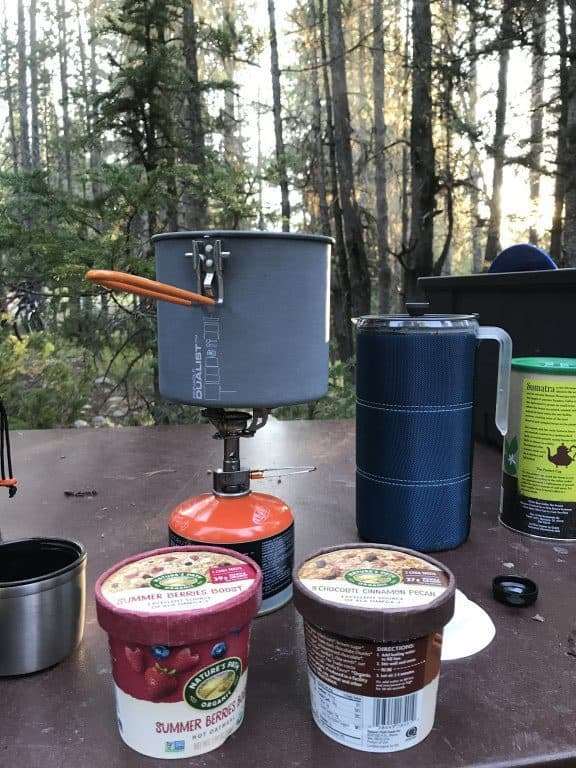 Oatmeal
Whether at home, at a hotel, or camping, oatmeal is a favorite go-to breakfast. It is easy enough to create your own oatmeal bags with customized mix-ins. But I really like these cups from Nature's Path. Our two favorite flavors are Summer Berries Boost and Chocolate Cinnamon Pecan. They feature whole grains and chia seeds. So that added boost of nutrition is a plus for me. The kids just know they taste great.
With breakfast, you may want a cup of camp coffee. Here are 7 ways to create a great cup/pot/carafe/IV.
Pin this for later….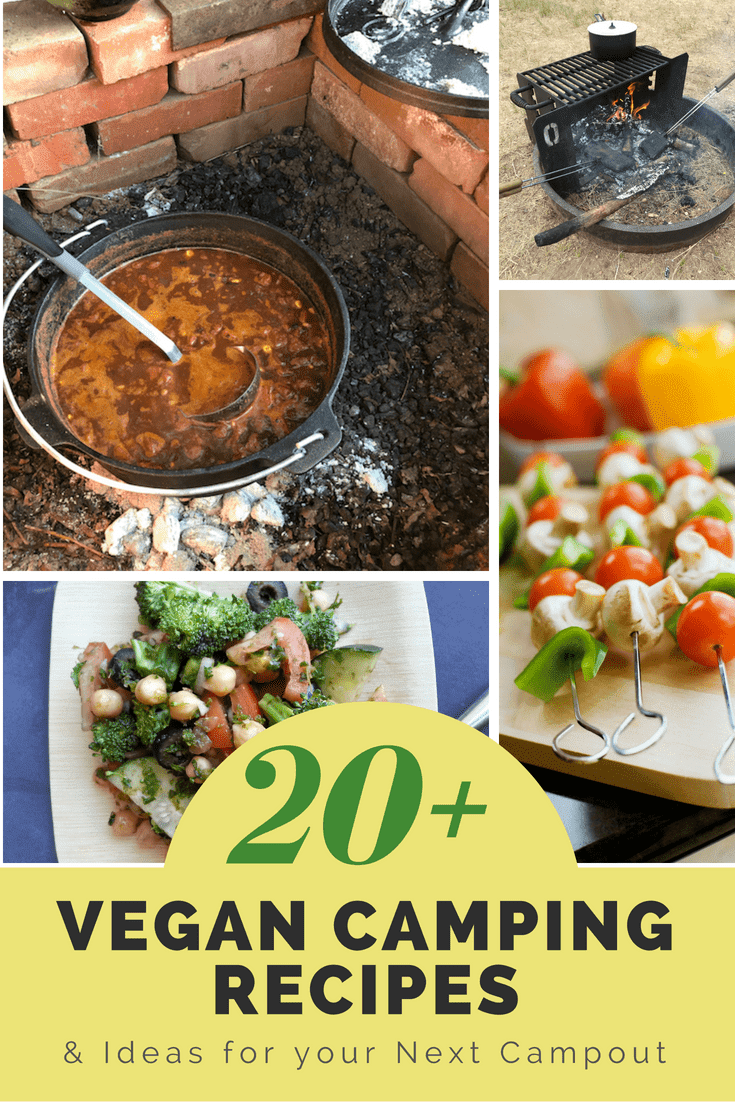 Vegan Camping Food for Lunch/Dinner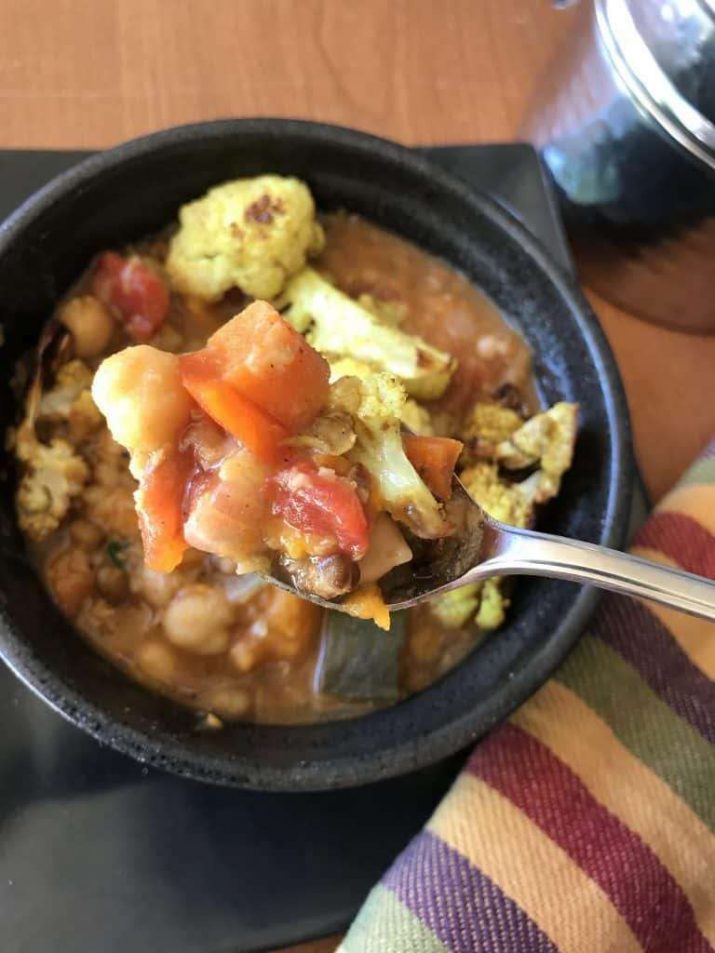 Mediterranean Lentil and Chickpea Stew
Just about anything cooked in an Instant Pot can be created in a Dutch Oven (with enough time). This vegan stew is delicious! Cook at home and freeze or cook on site in a cast iron Dutch Oven. Cooking time will be about 40 minutes with coals at about 375 degrees. Cauliflower can be roasted in foil pockets on the fire or in a skillet.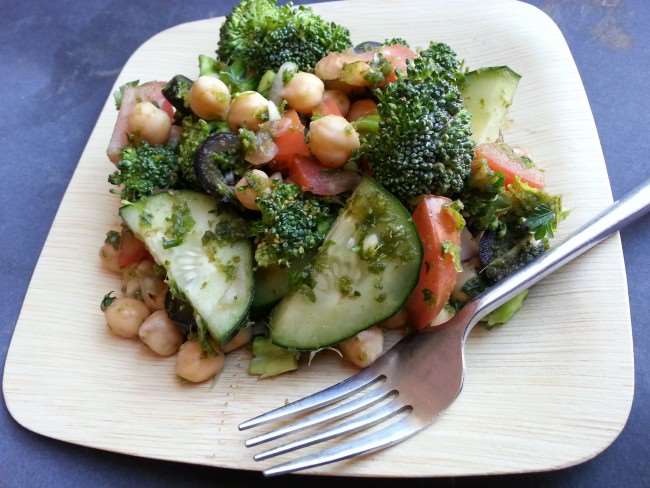 Loaded with vegetables and protein packed chickpeas, this salad holds well in the ice cooler. Super easy to make at the campsite or at home and stored in the cooler.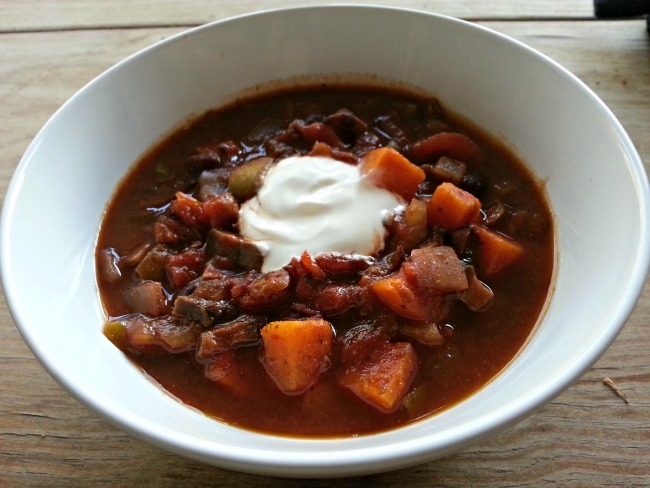 Sweet Potato and Black Bean Chili
Cooked in a Dutch Oven, this is sure to be a camp favorite. This vegan camping recipe gets better the longer you cook it.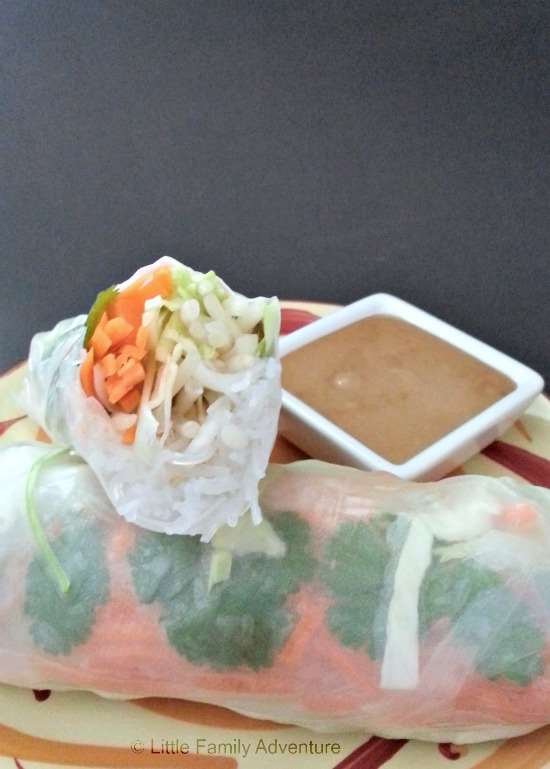 Vietnamese Spring Rolls with Thai Peanut Sauce
My family loves these spring rolls with rice paper wrappers. We will make them with and without spring for an easy lunch. They can also be enjoyed deconstructed as a salad and drizzled with the peanut sauce.
Peanut Noodle Salad
Alternative to above recipe – Cook buckwheat or whole wheat noodles until al dente. Add spring roll ingredients, omitting rice paper, and toss with peanut sauce.
This pasta dish from Fresh Off the Grid is delicious and super simple to make.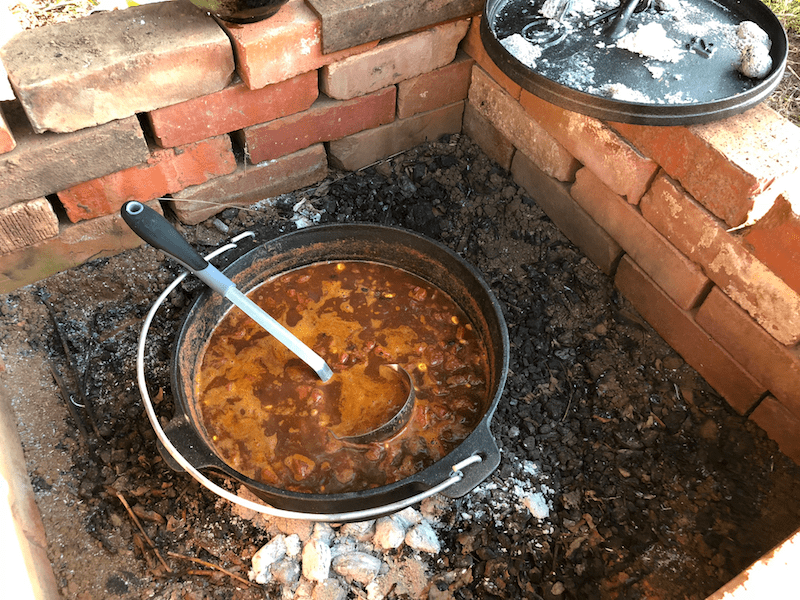 Taco Soup (Vegan) – A tomato based soup with black beans, chickpeas, and corn. The secret to this is homemade ranch dressing powder. Make it during your next camping trip in a Dutch oven or at home in a large pot.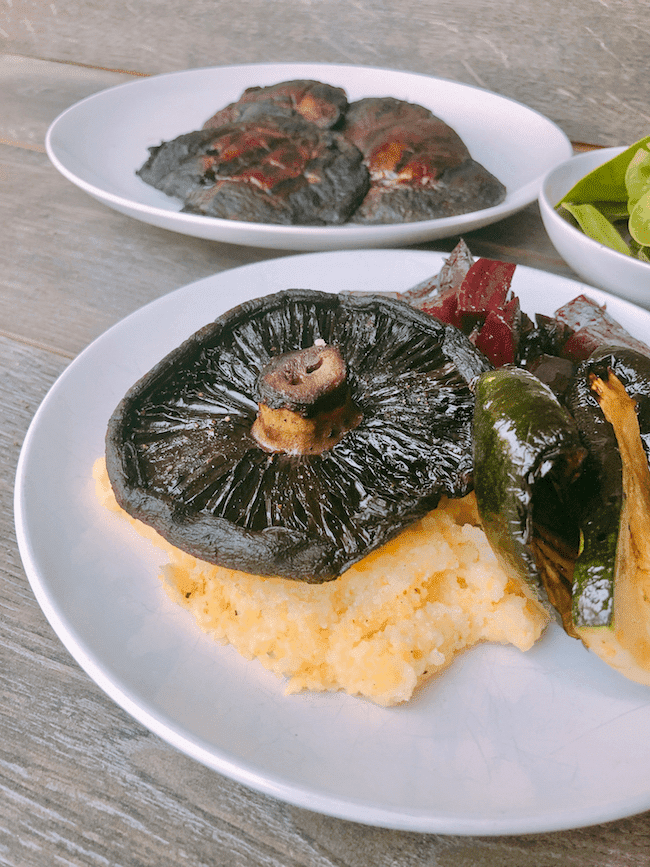 Grilled Portobello Mushrooms
Marinate in balsamic vinegar, EVOO, and fresh herbs for at least one hour.
Grill on each side for 5-6 minutes.
These quick and easy tacos from The Kitchen are perfect for camping. Whip them up in a flash and hit the trails.
Four Bean, Quinoa, and Veggie Tacos
One last taco recipe for you comes from Vegetarian Gastronomy.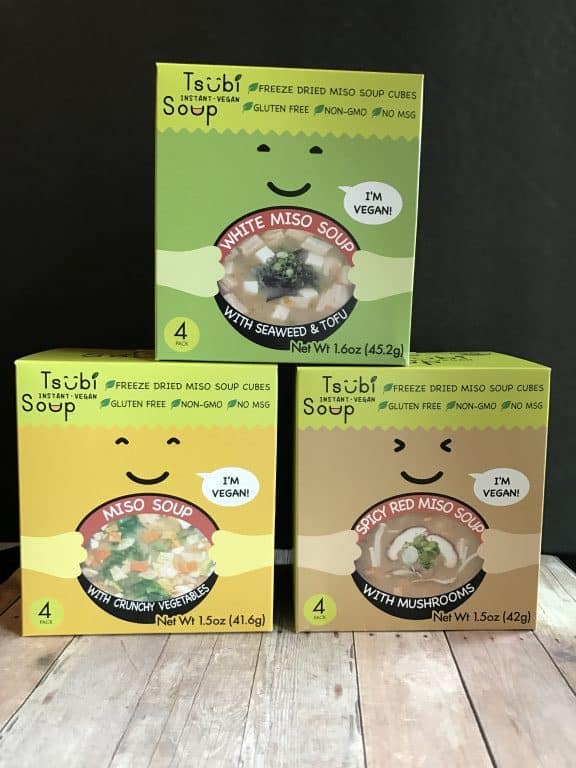 Instant Miso Soup
I have talked about Tsubi Miso Soup Cubes before on this dehydrated camping food article. They are cubes of dehydrated soup and vegetables that you add hot water too. They are a great alternative to a Cup O'Ramen and taste so much better. Find them online here.
Other Vegan Camping Food Ideas:
Grilled Vegetable Skewers
Vegetable Sushi (cucumber, carrot, daikon. etc.)
Pasta with marinara sauce
Fresh fruit
Grilled Tofu and vegetables
Stir Fried Vegetables with Tempeh
Baked Potato with Vegetarian Chili or Southwest Green Chile
Above, I've included a variety of recipes for vegan camping food using a different of camping cookware. Many recipes can be easily modified for the cookware you have. If you are looking for new camping gear, here are a few of our favorites, available on Amazon.
If you liked this article, you may also enjoy:
Disclosure: I received samples of the Wildway Hot Cereal and Junkless Granola Bars to sample. All opinions are my own.
SaveSave
SaveSave