This recipe for Mediterranean Lentil and Chickpea stew is sponsored by Dunya Harvest.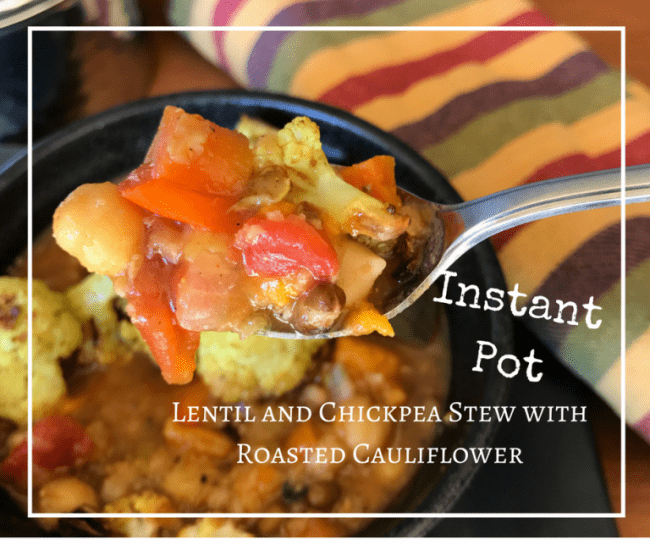 When it's 5pm and I don't have a clue as to what's for dinner, it's my Instant Pot to the rescue. I can throw in a few things, turn it on and in less time than it takes getting take out, I can have dinner ready and on the table. Today, I've got a lentil and chickpea stew with roasted cauliflower for you. It's a hearty meal that even the kids like.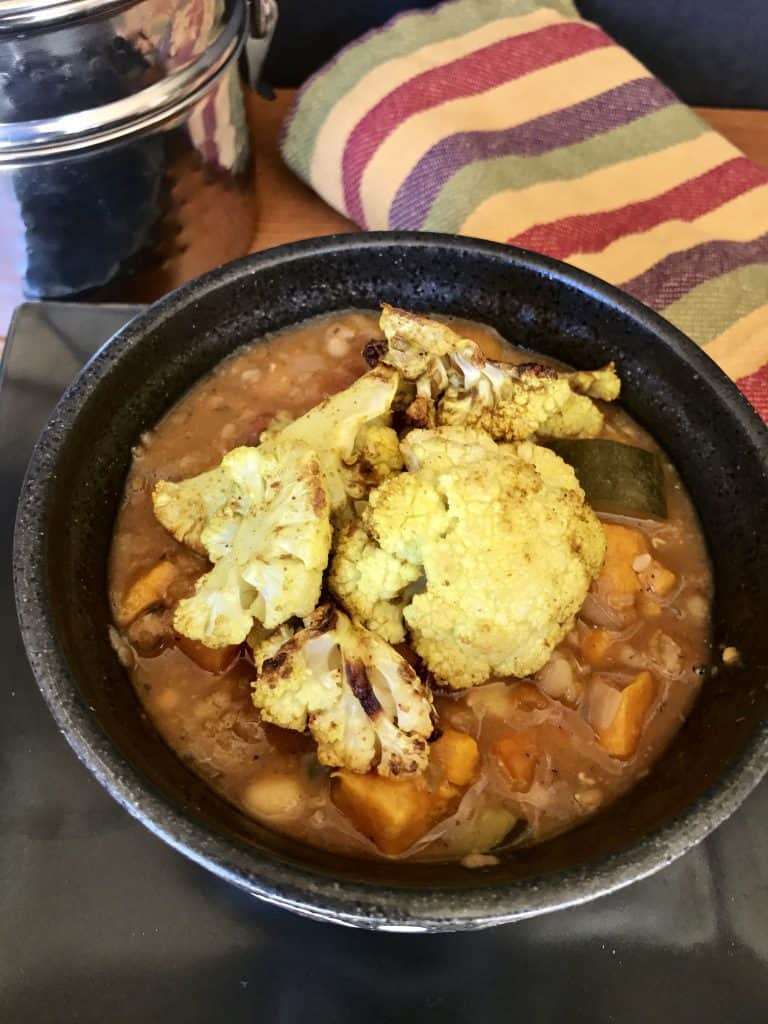 The Instant Pot is a huge time saver in the kitchen. It's replaced by slow cooker and my Dutch oven. For this lentil and chickpea stew, I cook it for 30 minutes on manual with a quick release. The result is a thicker stew rather than a soup, which my kids love. Honestly, I think it's because they can't identify all the vegetables, but they love it. So I'm good with that. If you like your lentils to be firmer or the stew to be not as thick, you can cut the cook time in half and do a natural release on the Instant Pot.
For this recipe, I'm using lentil blend and chickpeas from Dunya Harvest. The lentils I'm using are the Rainbow Lentil Blend. It includes red lentils, green split peas, barley, moong beans, and Indian black lentils. These are a great source of plant based protein. I like the flavor of this blend with the earthiness of the roasted cauliflower. When you roast at a high heat (425F), the flavor of vegetables, like cauliflower, really come out. Plus it gives a great texture to the thick stew. If you want to try a single source lentil like black or green, Dunya Harvest has those too.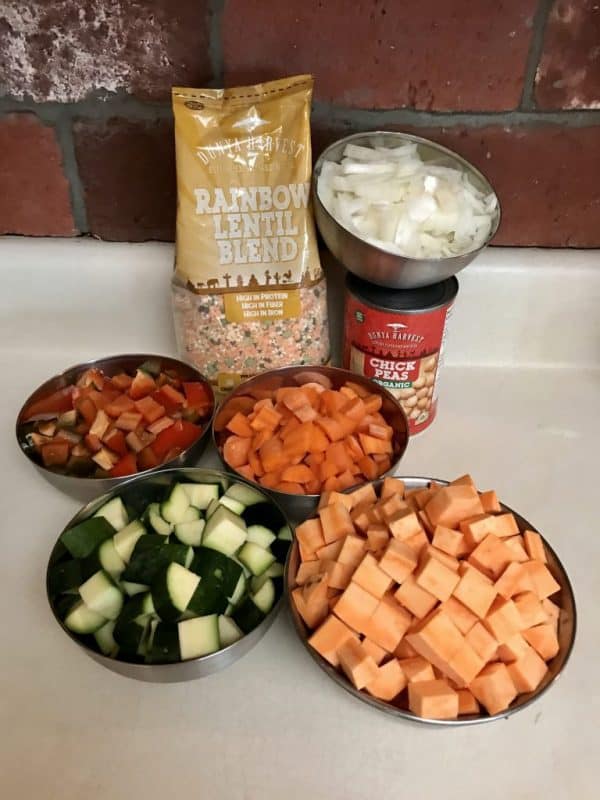 I like Dunya Harvest's canned beans because they are all organic and come in a certified BPA free lined can. I keep a few cans of chickpeas in the pantry for hummus, stews, salads, or to make a roasted chickpea snack. BPA is a chemical used in many food containers, like canned goods and water bottles. Research has shown that BPA can leach into food and drinks and act as an endocrine disruptor. Although it is used in the US, other countries like Canada, the EU, China, and Malaysia have restricted its use.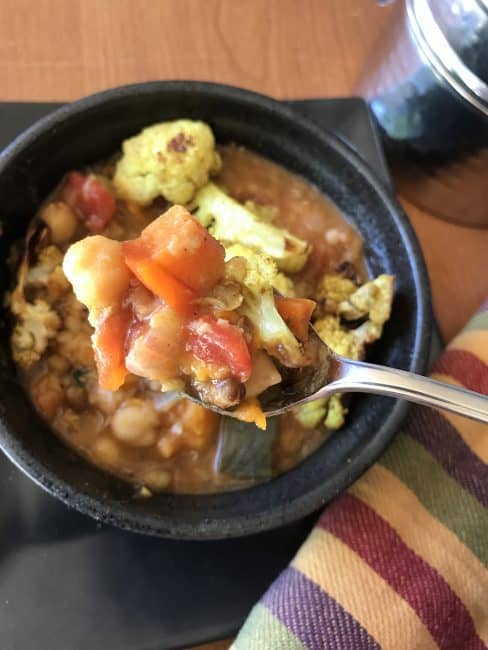 This is a super easy meal that can be serving one night and then freeze leftovers for another day.
Mediterranean Lentil and Chickpea Stew with Roasted Cauliflower

Ingredients
Lentil Stew
1 1/2 cups Dunya Harvest Rainbow Lentil Blend lentils
1 medium onion, chopped
1 large sweet potato, chopped
3 carrots, chopped
1 red bell pepper, chopped
3 zucchini, chopped
1 - 28oz can tomatoes, diced
4 cups vegetable broth
1/2 cup water
1 Tablespoon smoked paprika
1 Tablespoon ground cumin
1 teaspoon garlic powder
1 teaspoon ground ginger
1 teaspoon ground sumac
1 teaspoon dried oregano
1 teaspoon sea salt
1/2 teaspoon black pepper
12 oz can of Dunya Harvest chickpeas, drained
1 handful fresh cilantro, chopped
Roasted Cauliflower
1 head cauliflower, cut into florets
3 Tablespoons olive oil
2 garlic cloves, mined
1 Tablespoon curry powder
1 Tablespoon ground cumin
Instructions
Lentil Stew
Add lentils through black pepper into the Instant Pot. Stir to combine.
Secure Instant Pot lid and set to manual for 30 minutes.
Quick release pressure.
Add chickpeas and cilantro.
Spoon stew into a bowl and top with roasted cauliflower.
Roasted Cauliflower
In a small bowl, add olive oil, garlic, curry powder, and cumin. Stir to combine.
Add seasoned oil to cauliflower florets.
Transfer cauliflower to a roasting pan.
Roast at 425 degrees F for 20 minutes, stirring half way through.
Remove from oven.
Nutrition Information:
Amount Per Serving:
Calories:

314
Total Fat:

12g
Carbohydrates:

41g
Protein:

12g