Whether you are car camping or backpacking, there are many different ways to make coffee camping. From a camping coffee pot or cowboy coffee to camping pour-over coffee singles, I'm sharing my favorite ways to make camp coffee while in the great outdoors.
"The best part of waking up is COFFEE in your cup."
Coffee isn't the exact word used in that jingle, but you get the idea! For those of us die-hard coffee drinkers (myself included), we can't imagine starting a single day without a hot steaming cup of glorious coffee. Nor should you EVER have to!
Just because you're "roughing it" or miles from civilization doesn't mean sacrificing on this all-important camp essential, a strong brew first thing in the morning. We have tried nearly all of these brewing methods and will share why we like certain methods best.
How to Make Coffee While Camping
Coffee is made up of two things – coffee grounds and water. The secret to a great cup, as any coffee enthusiast will tell you, is HOW you brew your coffee. That depends entirely on the coffee maker or equipment you use. Here I am going to share how to make campfire coffee starting at the easiest with instant coffee and finish up on the glamping side with a full outdoor coffee pot like the OXX Coffeeboxx.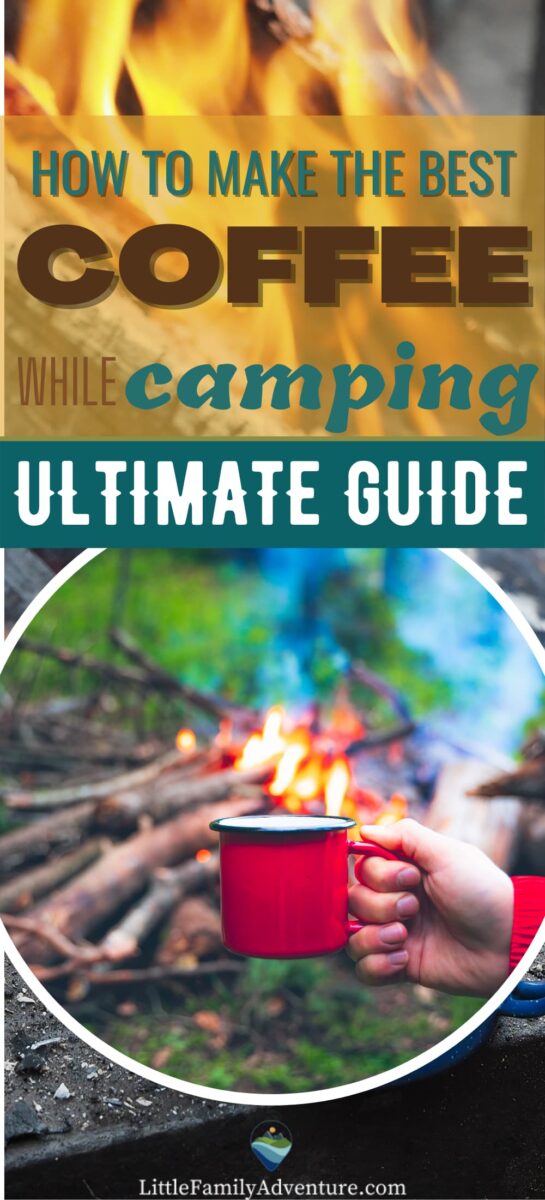 Instant Coffee
Instant coffee has come a LONG way in terms of flavor over the years. For the most lightweight and packable brew method, instant coffee is the best option. If you are debating instant coffee vs ground coffee, I'd recommend you give these examples a try.
Best For – Backpacking, dry campers with a need to reduce the amount of what is packed in/out, or anyone trying to save space.
How to Brew: exact methods differ by brand, but especially boil water and place with instant crystals/powder to a cup. Easy Peasy! Once everything is dissolved, you can enjoy it!
Here are a few of our favorite instant coffee brands:
Alpine Start
Personally, I think this is the best instant coffee for backpacking and beats Starbucks hands down. Alpine Start is a Boulder, CO-based company created by a climber/foodie who wanted a great cup on the go. In addition to instant coffee in single-serve tubes, they also have it available in larger jars (great for RVing) as well as a Dirty Chai and Coffee and Creamer combo.
Starbucks VIA Instant French Roast
You either love or hate Starbucks coffee. For those that like the strong, robust flavor of their French Roast, this is for you. I'm not a fan, but then again I don't like their brewed ground coffee either. But this is one of the most reviewed instant options on Amazon, so I am including it here.
Laird SuperFood InstantFuel Coffee
For those that like non-dairy creamer in their coffee, Laird SuperFood makes the best (IMO) coffee and creamer combos. Their creamer is coconut milk based and is really good. I like that this can be enjoyed hot or cold (mixed hot and allowed to cool). When RVing, I'll enjoy this over ice for an iced coffee. This is available with added sugar or unsweetened. Only drawback is this isn't available in single serving sizes.
Coffee in a Bag
In the single serve category, coffee brew bags are my new favorite thing when it comes to ease of use. Think tea bags with ground coffee instead of tea leaves. It almost has a certain hygge sense to it too as you sit waiting for it to brew while dunking the bag up and down…. Or maybe that's just me.
Best For – Anyone who wants a cup without a lot of work, backpackers, car campers, RVers.
How to Brew – Remove your brew bag from its packaging and place in a cup. Add boiling water and steep for 4-5 minutes (or longer for a stronger brew).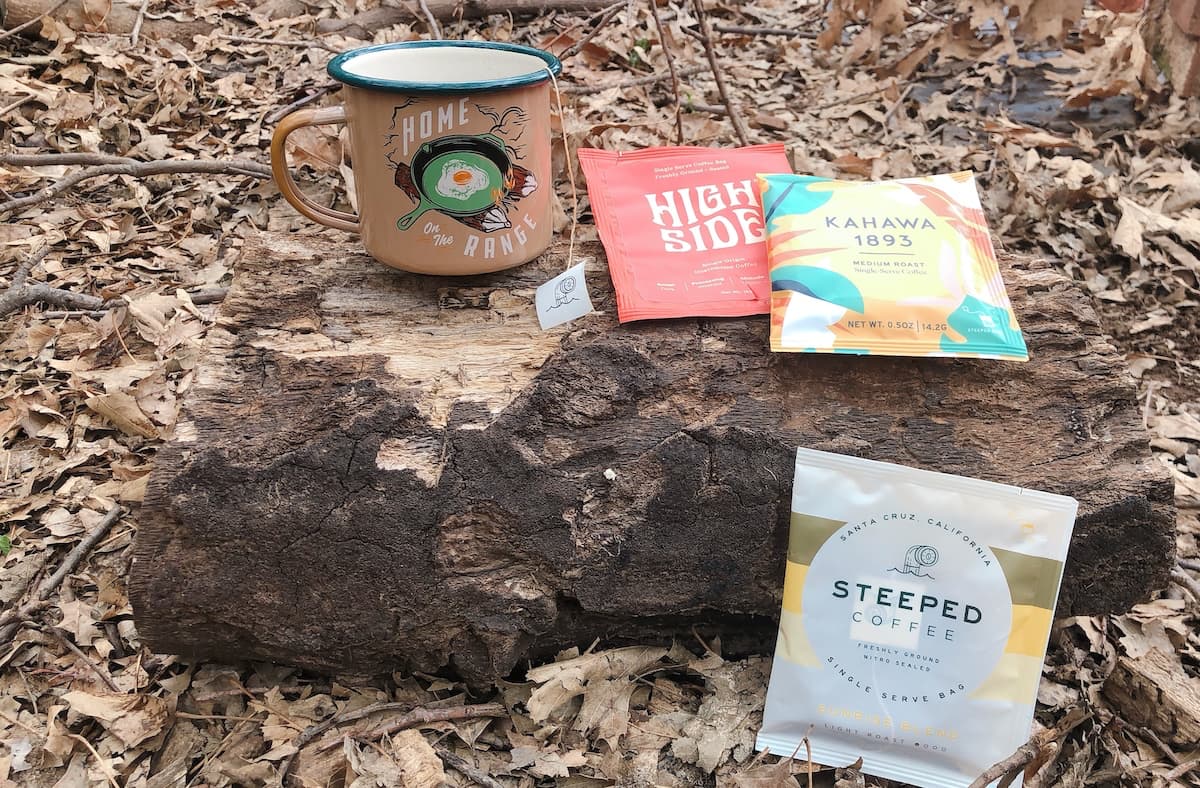 Here are a few of my favorite brew bags I've tried recently:
Steeped Coffee
Nothing beats a craft coffee, except maybe one in the great outdoors while watching the sun rise. That's what you get in a cup of Steeped Coffee. They are 100% specialty Direct Trade craft. Beans are hand roasted in small batches for a difference you can taste. I received a variety pack of Steeped Coffee to try. They have the widest selection of blends from all the brew bag companies I tried. My favorite was the Sunrise Blend – a light roast with beans from Colmbia. 100% compostable.
Find it on Steeped Coffee | Amazon
Kahawa 1893
This California company is sourcing their beans directly from women farmers in Africa and small-batch roasting in San Francisco. I was sent a box of Medium roast to try and really enjoyed it for its mild acidity. Kahawa offers single orders as well as a monthly subscription service. 100% compostable.
Find it at Kahawa 1893
High Side Coffee
I recently got High Side's Single Origin Guatemalan Coffee Bag in a Nomadik Gear Box. It's really good coffee with a smooth finish. Available in light, medium, and dark roast. The packaging is recyclable and the brew bag itself is compostable.
Find it on High Side Coffee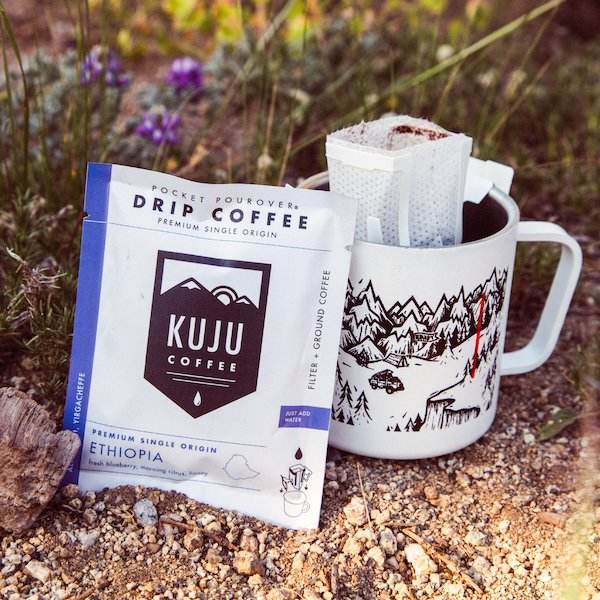 Single Serve Disposable Pour-Over
Single Serve pour-overs are specifically designed for car campers and travelers. They are by far the best AND easier way to brew without a lot of bulky equipment. Cleaning up is a breeze with this type of camping pour coffee because once finished brewing, you can place the filter with the used grounds back in the pouch to dispose of them both. Typically there's no mess!
Best For – Anyone who enjoys the flavor of pour over, backpacker, car camper, and RVers.
How to Brew – Single serving pour-overs are a coffee filled filter with a paper frame. That frame folds out and is placed over a cup or mug. Boil water and slowly pour over the grounds like you would an at-home pour-over. You then pour boiling water through the pouch-like pour-over. Remove and enjoy.
*A great tip a barista gave me: Add water only until half way up the filter. Allow that to drain and then refill half way again. Repeat as needed. It takes a little more effort but results in a MUCH better cup of coffee.
Kuju Pocket Pour Over
My favorite single-serve pour-over brand is Kuju Coffee. The company was started by two Eagle scouts and were the first in the outdoor gear world I found with this brew method. Their original blends and single-origin coffees make for a fantastic cup of joe. 1% of sales is donated to the National Park Foundation and their products are ethically sourced and certified fair trade and organic.
Find this on Kuju | Amazon | REI
For delicious breakfast ideas on your next camping trip, check out my favorite camping breakfast ideas I share here.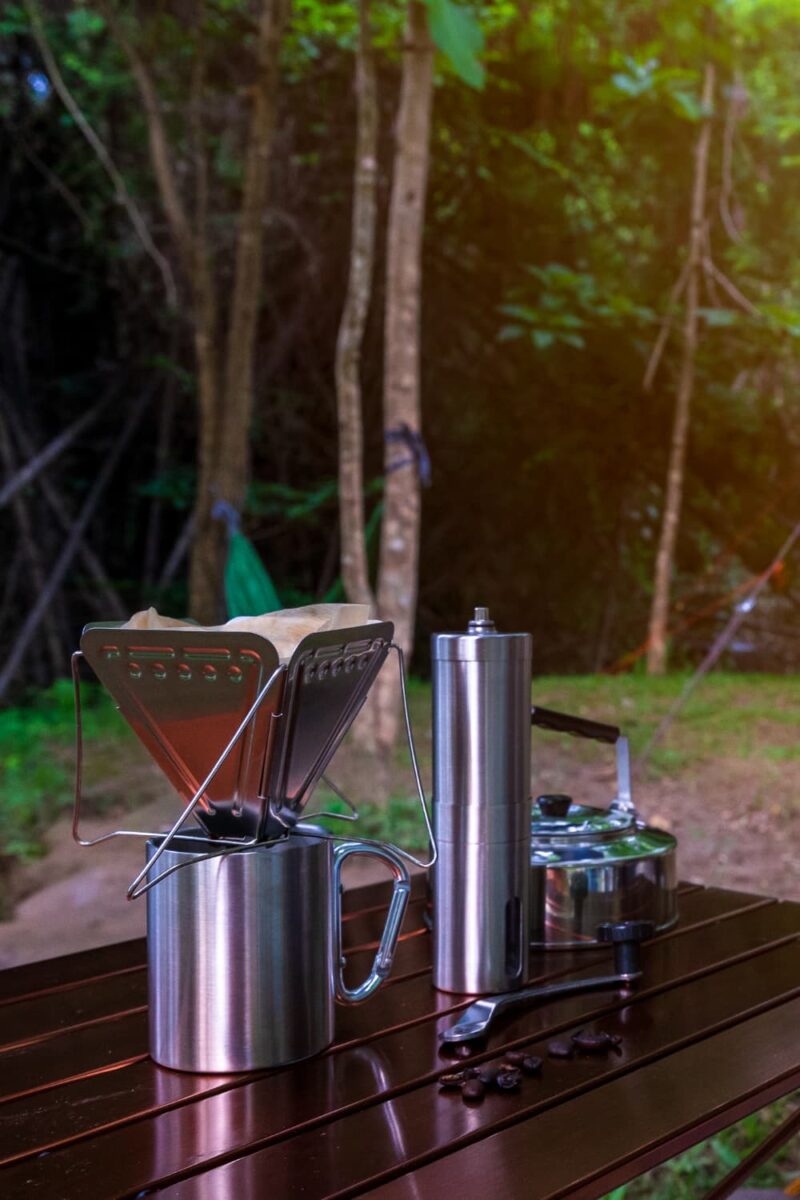 Collapsible Coffee Dripper
A coffee dripper takes the single-serve pour over method and increases the output. They are a bit like having a basic backpacking coffee maker. With the pour-over method, you pour hot water over ground beans, let that filter down into a cup or container below, and then repeat. When you want more flavor, you just slow down the water moving through the grounds. You can find pour-over stands made from ceramic, stainless steel, plastic, and silicone.
Best for – Pour over coffee drinkers, cold brew fans, car campers, backpackers, and RVers. Great when you want to make coffee for 2-4 people.
How to Brew – Place a filter (cloth, metal, or paper) and coffee grounds into the top portion of the pour over container. Place this atop a container. Then, bring your water to nearly boiling and slowly pour water over the grounds in a circular motion being sure to saturate the grounds evenly. Having a kettle that is easy to pour from is important here. I have this kettle and love how it performs for this.
GSI Java Drip (Collapsible)
This is the pour-over stand I use most often when car camping and traveling. It's lightweight, compact, and holds #4 paper filter. When not in use, it collapses flat and stores inside a hard plastic cover. You can buy it separately at the GSI website or as a Java set with a backcountry coffee grinder.
Find it on GSI OUTDOORS | Backcountry
Sea to Summit X-Brew Coffee Dripper

If you want an all in one coffee dripper/pour over stand, this version from Sea to Summit is a great option. The collapsible stand is made of food grade silicone with an integrated stainless steel mesh filter. If you want a full compact brew kit, this X-Brew fits inside Sea to Summit's X-Pot kettle.
Find it on Sea to Summit | Amazon | REI
Snow Peak's Folding Coffee Dripper
This collapsible metal coffee drip stand fits really nicely on wider rimmed mugs and cups. Uses a size #2 coffee filter. Flats flat for easy storage.
Find it on Amazon | Backcountry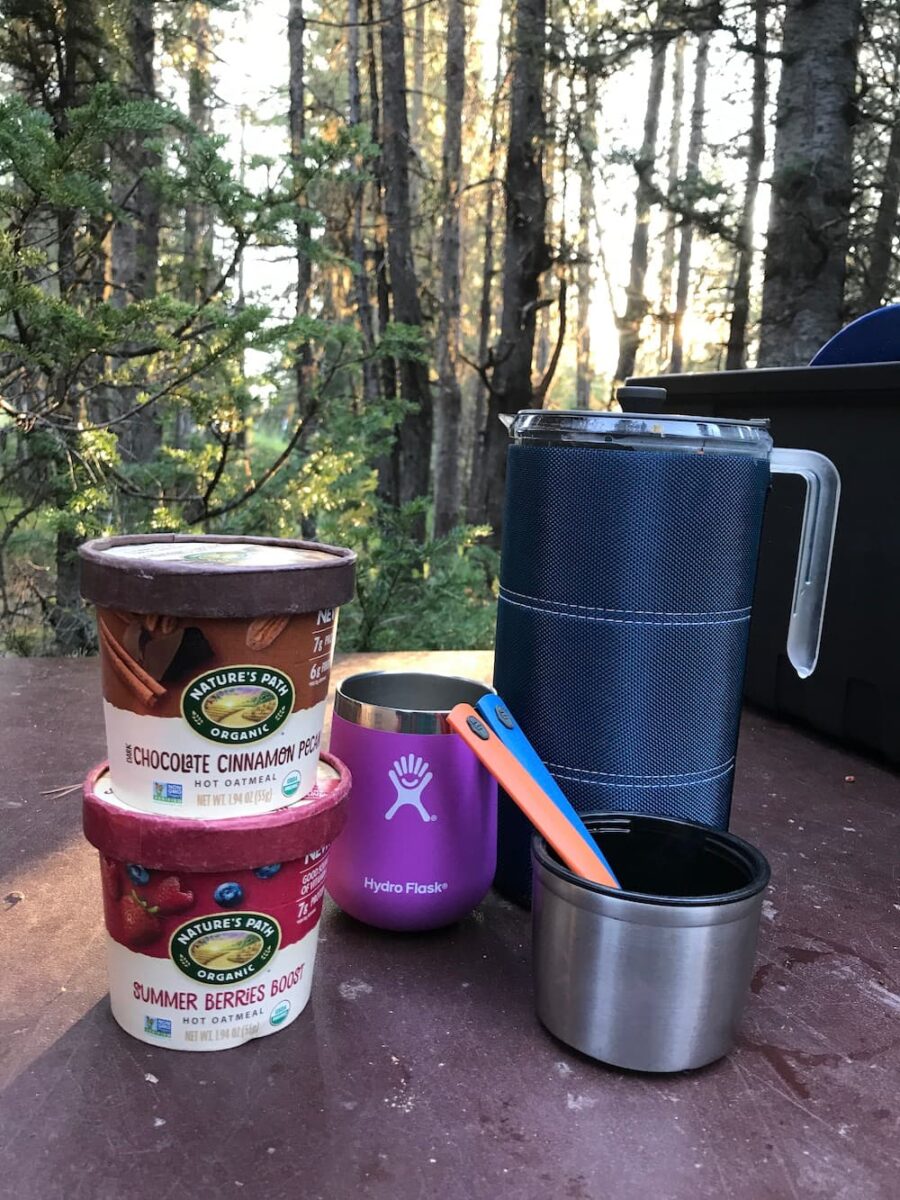 Camping French Presses
French press coffee is typically stronger and more full-bodied than any other brew method. It has a unique texture, preferred by many coffee drinkers, that you just can't get with other methods. It's much like cowboy coffee in that you mix hot water and grounds together, but this camping coffee press pushes down the grounds and separates them from the water. The downside to this method is clean up. It's a bit messy and takes a good amount of extra water for clean up. Ideally, you want a French press made of durable material to prevent breakage. Coarse ground coffee beans are best for French press use.
Best for – Car campers, RVers, and anyone who doesn't mind using the extra water needed for clean up.
How To Brew – Spoon coarse coffee grounds into the bottom of the French press and fill halfway with hot water. Stir gently and then fill the container with more hot water. Add the top of the French press but do not depress it, just yet. Wait for 4 minutes and push down the plunger slowly.
Here are two French Press models made especially for outdoor use that I like:
GSI Outdoors Java Press
We have the Java Press in the 50 oz size and really like how smooth it brews. There is also a smaller 30oz version. Both presses are specifically designed for outdoor use with a lightweight, shatterproof plastic carafe wrapped in an insulated nylon sleeve. I have thrown the larger version in my camp kitchen box and a suitcase without issue. Coffee stays warm while brewing, if you want a hot cup of coffee in a few minutes, I recommend transferring to insulated mugs. This just doesn't hold the heat the way I like.
Find it on Backcountry | Amazon
Coffee Gator Insulated French Press
Although not camping specific, the Coffee Gator press does a great job at both brewing AND keeping coffee hot. I just got this one myself and found that keeps coffee hot for over an hour after brewing. The Coffee Gator is a heavy-duty, thermal insulated French Press made of double-walled stainless steel that makes up to 8 cups at a time. I think it outperforms the more expensive Stanley Press. The only drawback is this is not lightweight.
Find this on Amazon.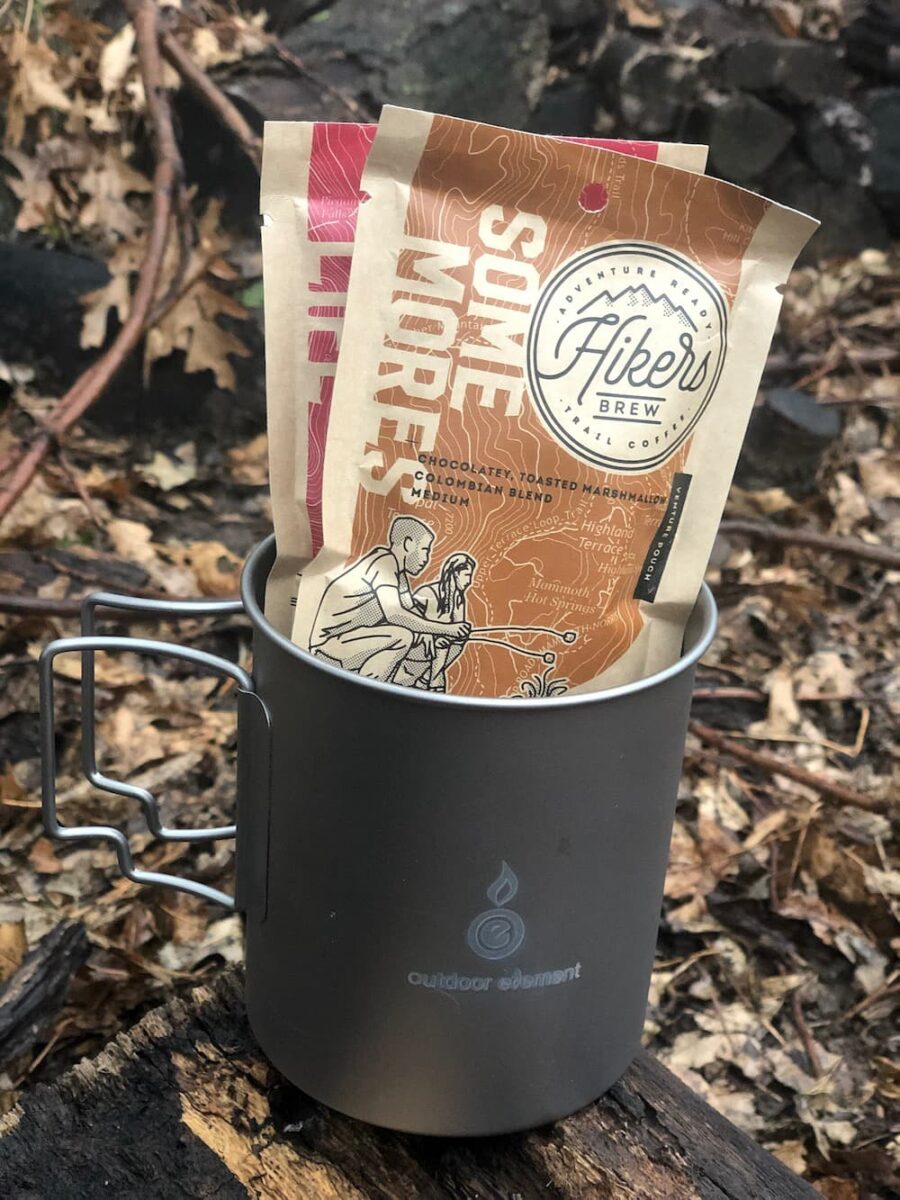 Hikers Brew Coffee
In this list of camp coffee favorites, I want to mention coffee too. You can't have a good cup of java without good beans. Recently, Hikers Brew sent me a variety pack of their venture packs to try out. I mentioned them in an Instagram story after I got a sample in a Nomadik Box.
These Venture Packs are convenient for camping and have enough grounds for 4 cups. So it's the perfect size for a French Press or a pour over. There a variety of roasts and flavors. My favorite is the medium roast because it's well balanced and it's acidic when brewed strong.
Find it on Hikers Brew website.
French Press Accessories for Cook Systems
Integrated cook systems like BioLite, MSR, and Jetboil are camping essentials, especially for backpackers or anyone limiting the amount of gear they are packing in. Each of these companies makes a French press plunger accessory that can be used to brew coffee or tea. They are convenient, but clean up is the same as with a more traditional model. (Note: If you use this method, let us know what you like best. I use the two more traditional models above)
Best For – Anyone using an integrated cook system
BioLite KettlePot CoffeePress
Stainless-steel and BPA-free coffee press accessory is built for BioLite's KettlePot.
Find It On Amazon | BioLite | REI
Jetboil Flash Java Kit
This aluminum and silicone press works with the Jetboil Flash as well as the Zip, Flash, MicroMo, PCS Sol and Sol TI, along with 1-liter tall and 0.8-liter spare cups.
Compare prices: Backcountry | Amazon | REI
MSR Windburner Coffee Kit
Stainless steel and flexible gasket press insert turn the MSR WindBurner Duo stove system into a rapid, windproof brewing machine.
Find this On: MSR | Amazon | Backcountry | REI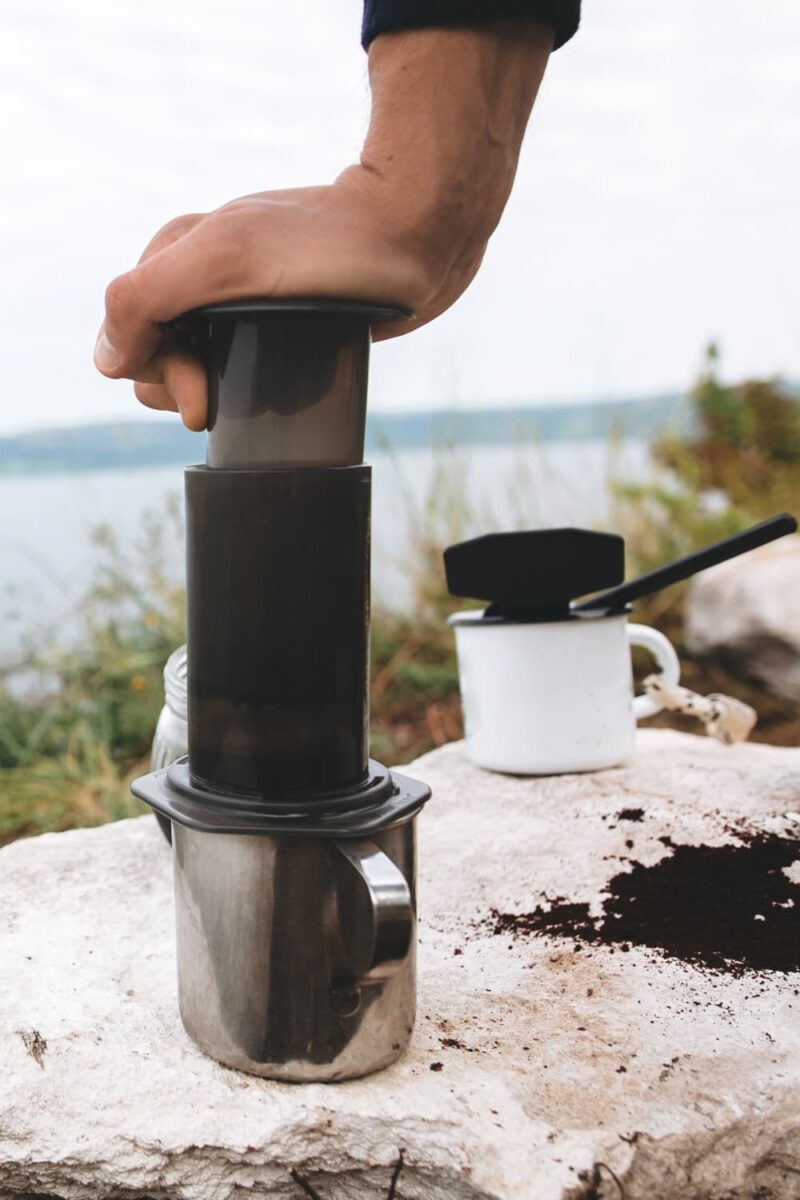 AeroPress
I am mentioning this particular model because fellow coffee fanatics and campers are raving about the Aeropress saying it's a mix between a pour-over, French press, and a pneumatic press. The advantage of the Aeropress over a French Press is the clean up. Grounds are compressed into a compact disk for easy clean up. Plus you can also make cold brew and espresso. Say hello to mixed espresso/coffee drinks like cappuccinos and lattes. Best to use espresso ground for this type of brewing.
Best For – Backpackers, Tent Campers, and Rvers. Good for small groups of 2-3 people.
Note – Readers that have the Aeropress say that it comes with tons of paper filters. But they recommend getting reusable metal filters to reduce waste after you've gone through those first paper ones.
Find it on Amazon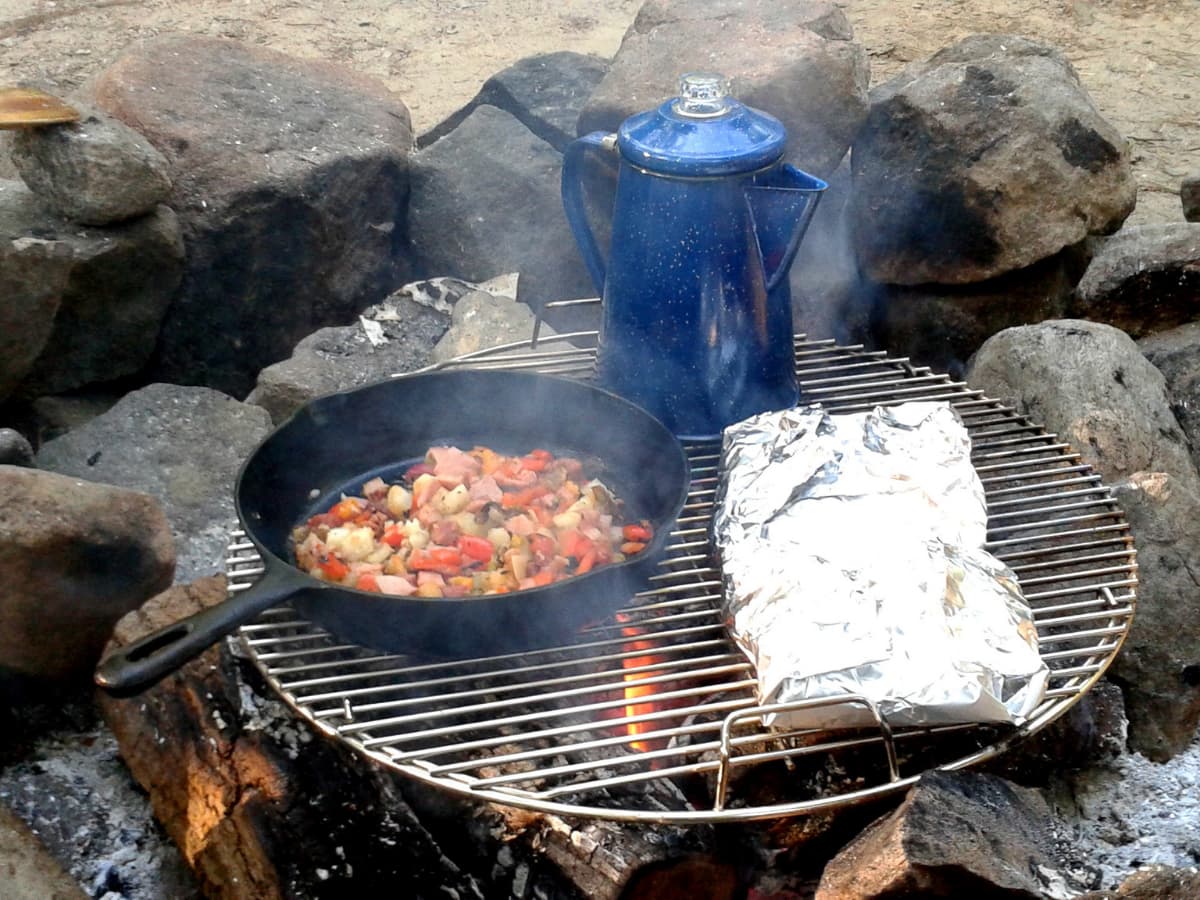 Cowboy Coffee
This is the classic, tried and true method of campfire coffee. It is also the simplest brew method outside instant coffee. You simply add coffee grounds to hot water. Best of all you can use any sized pot to make cowboy coffee. Unlike instant coffee, the grounds don't dissolve. Therefore, there can be ground beans in your cup and cleaning up is a bit messy. Finely ground beans are highly recommended.
Best For – Campers who forgot their coffee maker/brew equipment at home, anyone who wants a really strong cup and doesn't mind a little grit, anyone who wants the nostalgia of this method, and large groups (when using a large pot).
How to brew – (I've heard there are several methods, but I will share the one I use commonly known as the Sink Method) Boil a large pot or kettle of water.. Remove from heat and add coffee grounds to the water. I like to add 2 tablespoons per 8 ounces of water. DON'T STIR! Return to the heat and allow water to simmer. Remove from the heat again and wait for the grounds to sink to the bottom. Strain the grounds or just pour carefully.
If you are looking for new pots and cookware for camping, check out my review of popular camping cookware.
Camping Percolator
When you ask "How do you make camp coffee?", this is what comes to mind. A camping coffee percolator has been the go-to method for generations. I remember my parents using a Coleman percolator when I was growing up. It is a classic brew method and a popular choice because you can use it on a camp stove or over a fire. As water boils, it is pushed up through a metal tube into a stainless steel percolator basket. As long as the water is boiling through that filter, you're brewing.
Best For – Car campers, RVers, anyone looking for that nostalgia factor, or small groups.
How to Brew – Add 1-2 Tablespoons of coarse coffee grounds per 8 ounces of water into the metal basket and insert into the percolator. Add clean water to just below the bottom of the grounds basket, and set over the campfire on a grate or on a camp stove. Bring to a rolling boil. Watch the clear dome at the top of the percolator for the right color. If the coffee is pale, it's too weak. If it's black as midnight, you have REALLY STRONG coffee.
Coleman 9 Cup Coffee Percolator
We have had aluminum coffee percolator for years and use it quite often for coffee as well as tea and hot water for hot cocoa. It's well suited for campfire use.
Find this on Amazon
GSI Outdoors Glacier Stainless Percolator
Durable stainless steel percolator can be placed over a campfire or on a camp stove. It's great for groups because there are models that make 6 cups and 14 cups.
Find this on REI | Backcountry | Camping World
Camping Coffee Makers
Last on this list are traditional drip coffee makers built specifically for the outdoors. These are similar to your at home coffee drip machines and Keurig machines.
https://www.awltovhc.com/image-100217969-13666165?imgurl=https%3A%2F%2Fs7d2.scene7.com%2Fis%2Fimage%2Facademy%2F10637322%3Fwid%3D800%26hei%3D800
Coleman QuikPot Propane Coffeemaker
The QuikPot is a fully integrated coffee maker that runs on propane. Fuel is provided via a camping 16.4 oz propane bottle which if used continuously will last approximately 4.5 hours. Makes 10 cups.
Find this on Coleman | Academy | Camping World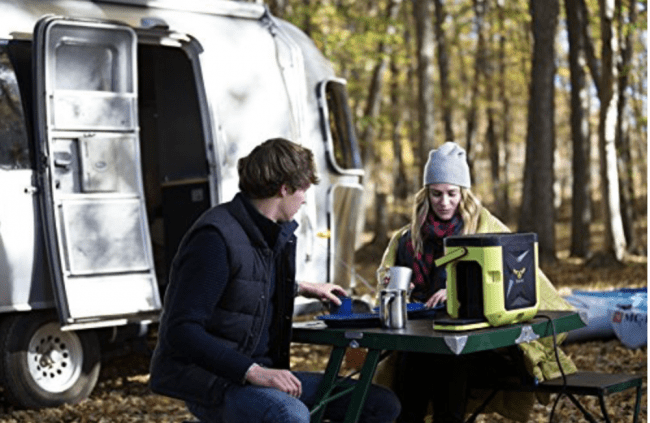 Oxx Coffeeboxx
Finally, on the full glamping end of the spectrum, there is the Oxx Coffeeboxx. This is basically the industrial hard hat version of a Keurig. Crushproof, spill proof, impact and water resistant, this indestructible coffee maker produces a great cup of coffee at the push of a button. Makes 8, 10, and 12 ounce cups.
Best For – Group camping, RVers, job site, tailgaters, and anyone camping with access to an electric power (120Volt) plug.
How to Brew – Fill the water tank with cold water, add a K-cup in in the slot, and then push the button to brew.
Find it on Amazon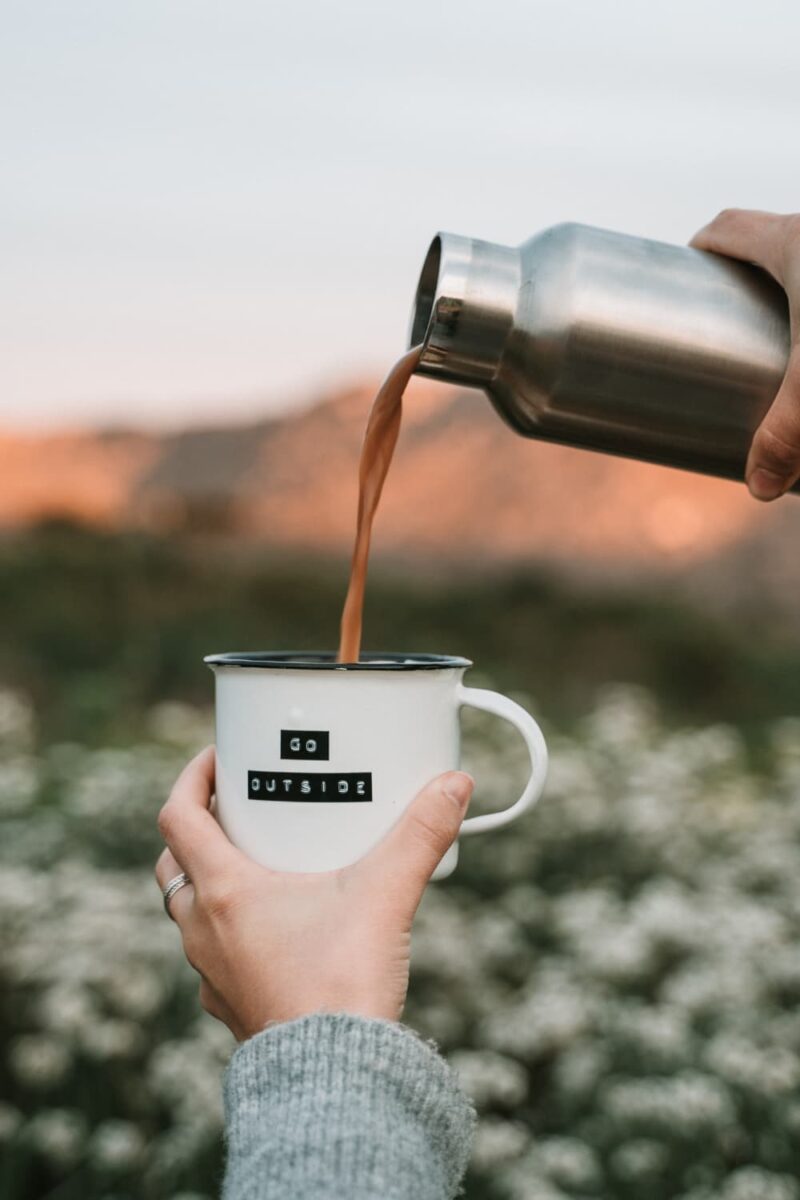 The Thing About Camp Coffee…..
The thing about camp coffee is you have to decide what setup is best for you. There are a lot of variables to getting to the perfect method. Will you have power? Do you have to pack everything out? Do you want strong yet simple coffee or fancier coffee drinks? How much space do you have? There is a lot of coffee gear out there that makes camping caffeinated easy and enjoyable!
Now that I've shared a litany of different ways to brew your morning life juice, I will share my all-time favorites. If it's just me and I want a single cup, I reach for a Kuju Single Cup Pour Over Pouch. My favorite brew is Angel Landing. If I am camping with my husband or friends, I like the French Pour-Over made in my GSI Outdoors Java Drip. If I am RVing, I pack along with my illy iperEspresso machine with pre-packed espresso pods AND the Coffee Gator French Press. However, after hearing so many friends talk about the Aeropress and the Moka Pot (not mentioned here), I am seriously looking to try these out for myself.
No matter how you prefer to brew your campfire coffee, I can almost guarantee you'll find these the easiest methods to give you that all-important shot of caffeine on each and every camping trip.