Coffee is the life blood that fuels my family adventures. I shudder to think what my morning would look like without a cup or (if I'm being totally honest) a pot of coffee to help me start the day. This site is filled with camping recipes and meal ideas, but one question I've never answered is "How Do You Make Camp Coffee When You're Camping? Just like at home, there are so many ways to brew coffee outdoors and they all start with the equipment. Let me share with you a few different ways to brew coffee and explain the equipment you can use from a camping coffee percolator and camping coffee maker to individual pour over options. Here are 7 different ways to make a great cup of camp coffee outdoors.
Disclosure: There are affiliate links below if you are ready to make a great cup of coffee on your next camping trip. These links help pay for our coffee that keeps us turning out adventures week after week. I'll only recommend and share products that I use and love myself. GSI Outdoors sent over samples of their products for us to try and review. All opinions are our own and not-compensated. Ready for that great cup of coffee?
How Do You Make Camp Coffee with a…….

Camping Coffee Percolator
When you ask "How do you make camp coffee?", this is it what comes to mind. A camping coffee percolator is the classic method and a very popular choice. Coffee is brewed as water boils and is pushed up through the filter. As long as the water is boiling, you're making coffee.
Add 1 Tablespoon of coarse coffee grounds per 8 ounces of water into the grounds basket and insert into the percolator.
Fill percolator with water until just below the bottom of the grounds basket.
Set over the campfire or on a camp stove to a low boil.
Simmer for 5-10 minutes, or until coffee is the desired strength.
*Tip: Watch the clear dome at the top of the percolator for the right color coffee. If the coffee is pale, it's too weak. If it's black as midnight, you have REALLY STRONG coffee.

Coleman 9 Cup Coffee Percolator



GSI Glacier Stainless Coffee Perk Cup, 6 Cup



GSI Outdoors 8 Cup Percolator, Red #01254



GSI Outdoors Glacier Stainless 14-Cup Percolater



Cowboy Coffee
This method is really simple and is similar to the Percolator method above. The difference is this method doesn't use a filter or basket to contain the coffee grounds. You can any pot to make cowboy coffee.
Fill a percolator or pot with water.
Add 1 Tablespoon of coarse coffee grounds per 8 ounces of water directly into the percolator.
Place over the campfire and bring to a boil.
Remove it from the heat and allow the coffee to cool slightly and for the grounds to settle to the bottom.
Pour coffee slowly into your cup.
Camping Coffee Maker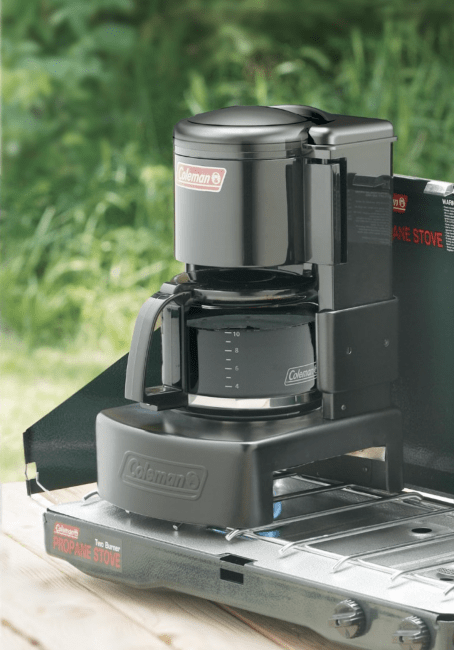 There are actually more traditional coffee makers built specifically for the outdoors. Coleman makes two versions of a camping coffee maker; the Coleman Camping Coffeemaker and the QuikPot Propane Coffeemaker. The first, shown above, is a drop coffeemaker that can be placed on a Coleman stove (compatible with a 2 or 3 burner stove) for heat. It makes 4 cups of drip coffee just like you would get at home.
The second Coleman camping coffee maker is the QuikPot, shown below. It is a fully integrated coffee maker that runs on propane. Fuel is provided via camping 16.4 oz propane bottle which if used continuously will last approximately 4.5 hours. Capacity is much larger than the other Coleman coffee maker with a full pot of 10 cups.

Coleman Camping Coffeemaker



Coleman QuikPot Propane Coffeemaker



OXX COFFEEBOXX Jobsite Single Serve Coffee Maker, Green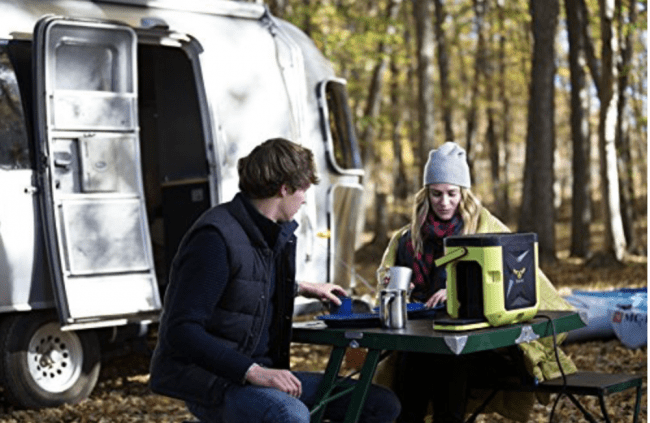 Oxx makes a fully contained electric camping coffee maker called the Coffeeboxx. They call it the "World's Toughest Coffee Maker". It uses K-Cups to brew 8, 10, and 12 ounce cups. An electrical power source (120Volt) is needed. This rugged camping coffee maker iss tested to be crush proof chassis to 1500lbs, weather resistant, dust resistant, and rust proof. It also has a large 2.5L water tank.
When you wonder how do you make coffee outdoors, these three camping coffee makers function very much like a normal coffee maker you would have at home. You add filters or K-cups, water, and turn on. The only drawbacks is that these are only suited for RVing and car camping, especially with the glass carafes in the Colemans. These aren't something you want to pack in and out.
French/Coffee Press
What's the Best Way to Make Coffee Camping? Out of all of these options, my favorite is the French press. Leave the breakable glass French Press at home and opt for this plastic version from GSI Outdoors. It's lightweight and perfect for camping or backpacking. (Note: I also pack it when I travel and avoid awful hotel coffee.)
Heat up water over the campfire or camp stove and once hot but not boiling.
Pour water into the coffee press.
Add one heaping tablespoons of coffee to the coffee press for every 8 ounces of hot water. Replace the press lid but don't press down yet.
Wait 4-5 minutes or until coffee is your desired strength/
Plunge to push down the grounds slowly.
Pour and enjoy.

GSI Outdoors Javapress French Press Coffee, 50 fl. oz.



GSI Outdoors – Commuter Java Press, Blue



GSI Outdoors Personal Java Press,Blue,20 fl. Oz



GSI Outdoors Javadrip Portable Drip Coffee System, 30 fl. oz.


Pour Over One Cup Filter
A collapsible, lightweight pour over filter is a great option for backpackers. This one from GSI Outdoors, is made with 100% silicone and is super lightweight. You can take it camping or traveling to avoid bad hotel coffee.
Attach the pour over filter to your cup.
Boil water over the campfire or on a camp stove.
Add 1 Tablespoon of coarse coffee grounds per 8 ounces of water to the filter.
Slowly pour water over the grounds and allow coffee to drip into the cup.
*A great tip a barista gave me: Add water only until half way up the filter. Allow that to drain and then refill half way again. Repeat as needed. It takes a little more effort but results in a MUCH better cup of coffee.

GSI Outdoors Ultralight Java Drip



GSI Outdoors Javadrip Portable Drip Coffee System, 30 fl. oz.



Camp Casual CC-004W Mug (Wanderlust White),1 Per Pack



Gentlemen's Hardware Enamel Mug, Cream



Disposable Pour Over Coffee
There are companies like Kuju Coffee making a great disposable option for the outdoors. This pocket pour over comes individually packaged. You remove the prefilled pouch from the package and set over any coffee mug. Pour hot water over the pouch and wait for the coffee to drain down into the cup. *Use the tip from above for a great cup of pour over coffee.

Kuju Coffee Dark Coffee Pocket – D101



Kuju Coffee Light Coffee Pocket – L101



Kuju Coffee Pocket PourOver Basecamp Blend



Golden Mandheling, Single Serve Drip Bag Coffee, 8 Count



Instant Coffee Pack
Instant coffee has come a long way but it's almost cheating.
Pour hot water into a cup and add instant coffee grounds. That's it.

Mount Hagen Organic Instant Regular Coffee, 25 Count Single Serve packet Net wt 1.76 oz (50g)



100% Kona Coffee Freeze Dried Instant (12 Individual 1.7g Stick Packs)



Douwe Egberts 25 X Pure Gold 1 Cup Coffee Sachets



Starbucks VIA® Colombia Coffee, Medium Instant, 1.4 Ounce


Those are 7 different ways you can make coffee when camping, hiking, or any time you're outdoors. It's also a handy skill to have if you lose power for an extended period of time at home. No matter where you are, you can enjoy a great, hot cup of coffee that will start your day on the right foot and have you ready for new adventures!
If you liked this article, be sure to check out our feature on the different types if camping cookware.
Be sure to SUBSCRIBE and on FACEBOOK , TWITTER , INSTAGRAM and Follow PINTEREST to see more delicious recipes, travel destinations and tips, adventures, and more of what we are up to.