A few months ago, I started getting the Nomadik subscription box. Once a month, the mail fairy delivers this curated box of new outdoor gear to my door. This month the box theme is Weekend Trek.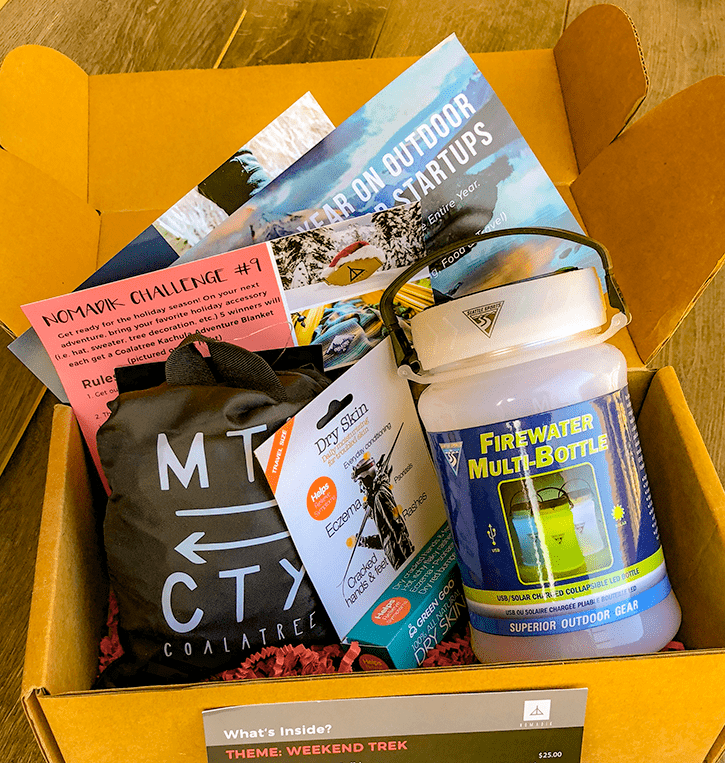 I'll admit, I'm a little giddy the day my Nomadik subscription box arrives. I don't know exactly what's inside. But I do know that whatever is in there will have to be tested. That means a trip outside. Any excuse to get outdoors is a good one in my book. Take a look the contents of the last outdoor gear subscription box.
This Nomadik Subscription Box article contains affiliate links. When you purchase through a link, we receive a small commission at no expense to you.
Like I said earlier, the theme for this month's Nomadik subscription box was Weekend Trek. There were three items and a few coupons to help me get outdoors this weekend.

Included in this Nomadik subscription box:
Coaltree Nomad Packable Duffel
Whether it's air travel or camping, a packable duffel is a great thing to have on an adventure. You can store food, clothes, toys, gear, etc. This 22L duffle from Coaltree is a durable bag to have. When not in use, it packs into its own pocket and when you need it you just unstuff and go.
Made with 210 denier rip stop fabric. Water repellant too. I'm keeping this in my car because I always need an extra bag when we are out.
Seattle Sports Fire Water Multi-Bottle
This is a flexible bottle that wears many hats. It's a water bottle, LED light & lantern, and waterproof container. A solar/USB charged light allows you to illuminate just about any space; tent, car, house when the lights are out, etc. The light has 3 color settings and 3 light output settings with 500-100 lumens. You can run the light up to 5 hours on a single charge.
Green Goo by Sierra Sage Dry Skin Care Stick
I have several of Green Goo's products at home and in our travel first aid kit. Green Goo products are all natural remedies with plant based oils and herbs. This dry skin care stick uses calendula chamomile, and yarrow to hep soothe skin. During dry winter weather, it helps relieve wind burn and chapped skin.
These three products are valued at $55.
Extras in This Month's Box
Coupon codes for 25% at Foresake and Duer. Duer is a Canadian men's clothing store that has great apparel. I just stopped by their booth at Outdoor Retailers to see what was new for next season. Their anti-spill pants repel drinks, food, and more.
Information and 1st month Free for the ReddyYeti community. This community lets you discover new outdoor startups and get early access to new outdoor products.


The Nomadik subscription box is a monthly service. Price: $32.95 per month (or less)
If you are like me and love trying new outdoor gear, or are looking for a unique gift for that gear loving person, this is a great way to go at $32.95 a month. Discounts are given on the 6 and 12 month plan. Buy it today at TheNomadik.com.
Save 10% off your next box
Order your next box at TheNomadik.com and use code LILFAMILYADVENTURE to save 10% off and get free shopping.
** Click Below to Pin **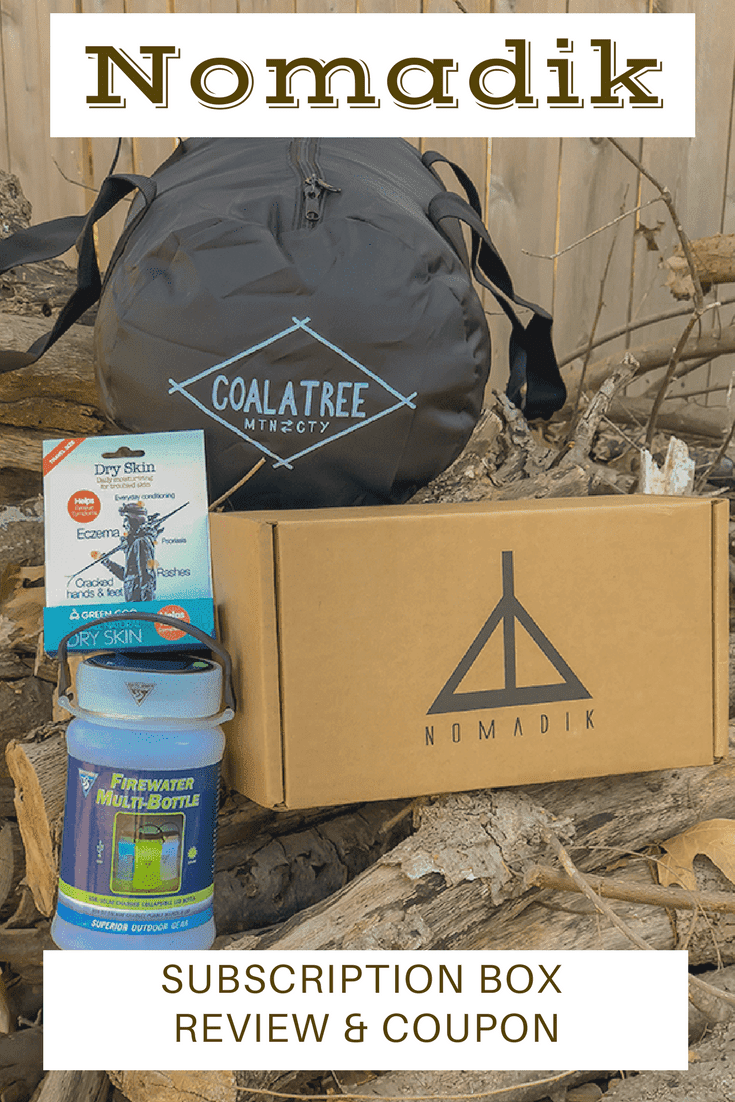 SaveSave
SaveSave
SaveSave