This article on the Nomadik Outdoor Subscription Box contains affiliate links. When you purchase through them, they help keep our adventures going without any extra expense to you! This box was provided for review.
Imagine getting a box of new outdoor gear to test out every single month!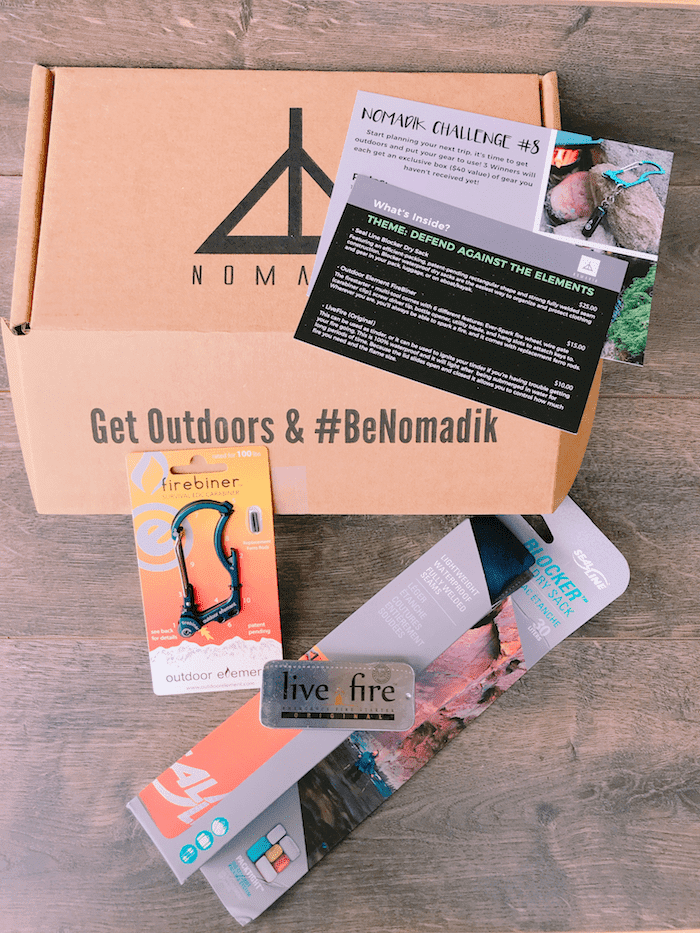 This is the Nomadik outdoor subscription box. It is a curated box that contains 3-5 items ranging from tools, foods, gear, and more. Each month the box has a theme that each item fits into. This is the November 2017 Box. The theme is Defend Against the Elements
Included in this box are:
Seal Like Blocker Dry Sack
I own other sry bags from Seal Line and really like them. This one is a Navy 30L dry bag. These come in handy for everything from water sports to packing for a trip.
Outdoor Element FireBinder
This one is new to me. It's a survival carabiner with several added features for different uses. There's a fire wheel, utility blade, carabiner clip, screwdriver, bottle opener, and has hang slots for additional gear. It's rated for 100 pounds of gear which is really good.
LiveFire (Original)
Another new product for me. This is a 100% waterproof emergency fire starter. Inside the metal tin is an oil and resin coated fiber that cam be used as a firestarter/tinder. Use the metal lid to control the flame and use it as a fuel source. Great thing for the emergency kit this winter.
These three products are valued at $50.
In addition to the 3 products this month, there was also an information card with "Nomadik Tips" on creating and maintaining a campfire. Simple and easy to follow!
Price: $32.95 per month
If you are like me and love trying new outdoor gear, or are looking for a unique gift for that gear loving person, this is a great way to go at $32.95 a month. Discounts are given on the 6 and 12 month plan.
Order your next box at TheNomadik.com and use code LILFAMILYADVENTURE to save 10% off and get free shopping.
For the holidays, order by December 11 to ensure it arrives by December 22.
Overall this is a great subscription box for outdoor gear lovers. Buy it for yourself or as a gift today at TheNomadik.com.