The thing I like best about family camping is cooking outdoors. Yes, I love hiking in the woods, geocaching, and all that, but my heart is in the food. Camp food just gets me giddy like a school girl and I look forward to Camp food that part of every camping trip most. You can cook on everything from the open campfire to a propane stove. The result is the same, amazing campfire food!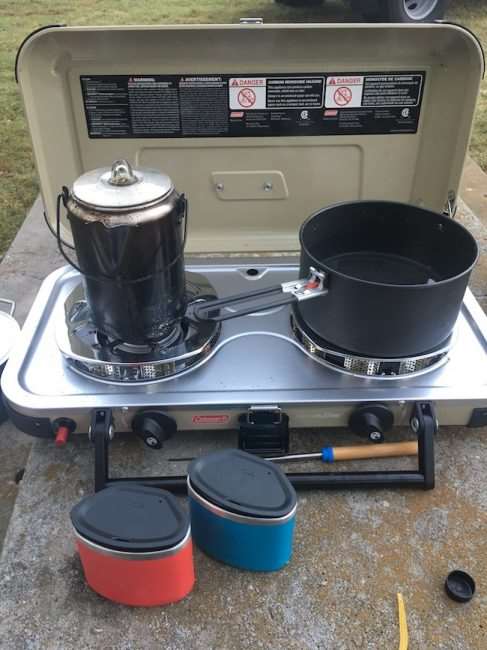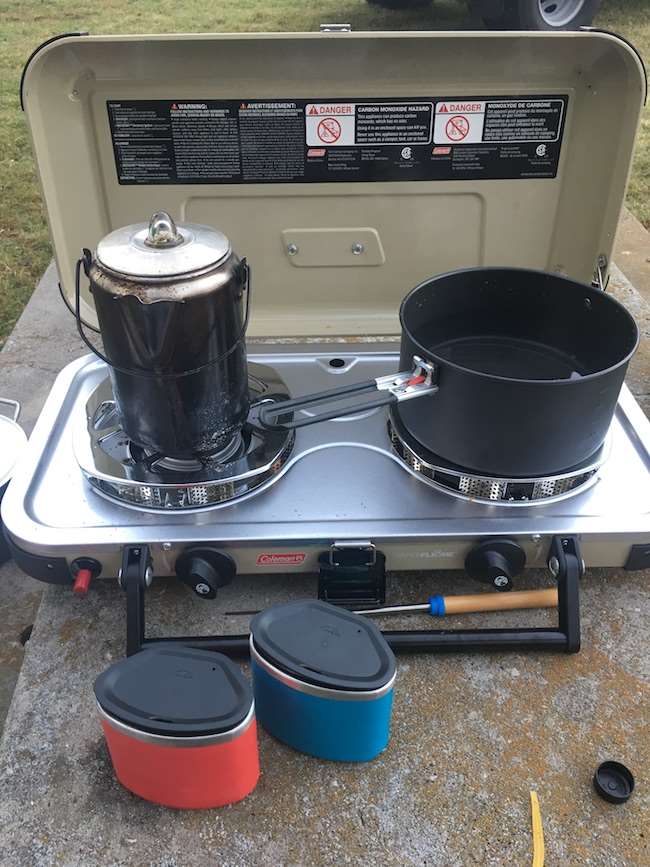 Camp Cooking
Using a propane stove while car camping is pretty easy. You typically unload very close to your campsite and don't have to worry about bulk or gear weight like you do when backpacking. A propane stove makes quick work of cooking and has an available fuel source, as long as you remember the propane bottles.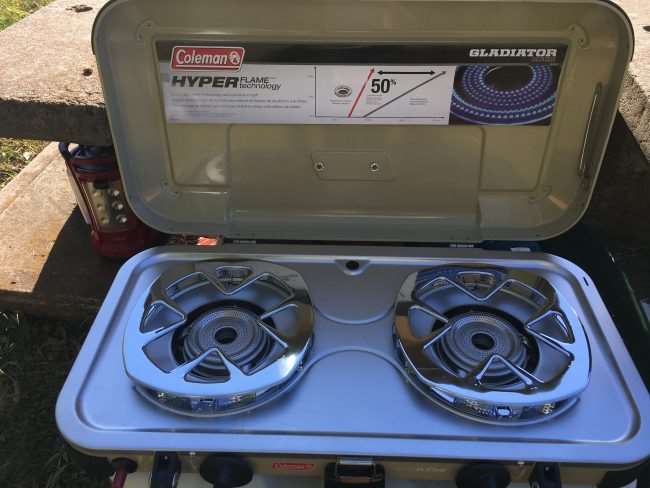 Coleman Propane Stove
I recently had the chance to try out the Fyreknight Propane Stove from Coleman and want to tell you about it. Coleman sent me their National Parks Edition propane stove with Hyperflame technology so I could do this review. Like always, what you are about to read is what I liked and didn't about this particular propane cooking stove.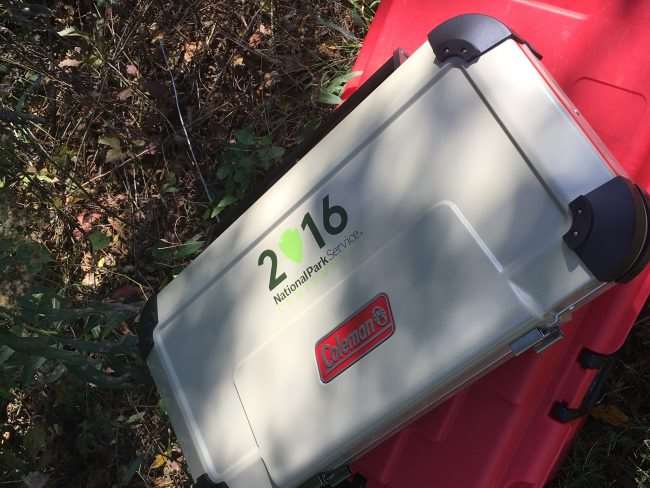 My last Coleman propane stove was a wedding gift over 20 years ago and it served us well. Coleman has made major improvements to their propane stoves to include technology that improves cook time and fuel usage. Plus in honor of the National Parks Service celebrating 100 years, Coleman introduced a line of gear to help people get out and enjoy the National Parks. The National Parks Edition Fyreknight Propane Stove I received from Coleman was one of those products.
Our family has taken this 2 burner propane stove out on several trips this fall and want to share the highlights with you.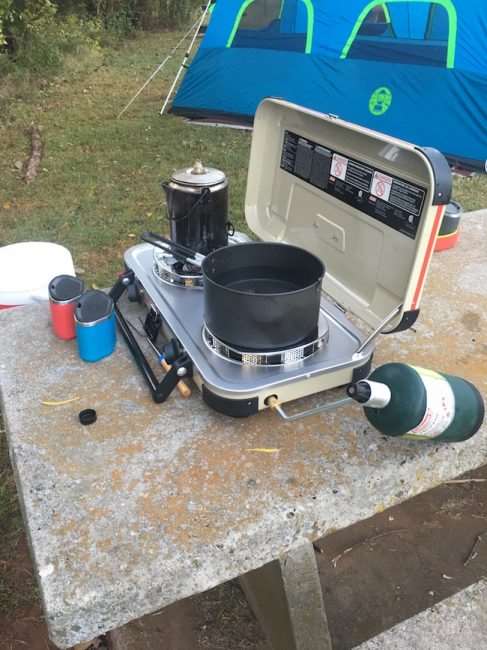 No Matches Required
Are you like me? Always looking for a lighter? This stove can start with the push of a button. Coleman calls it InstaStart and it works like the starter on your backyard grill. Just attach your propane bottle, turn on the burner, and push the button to ignite the flame. It's easy peasy, Now if the camp fire was this easy to start.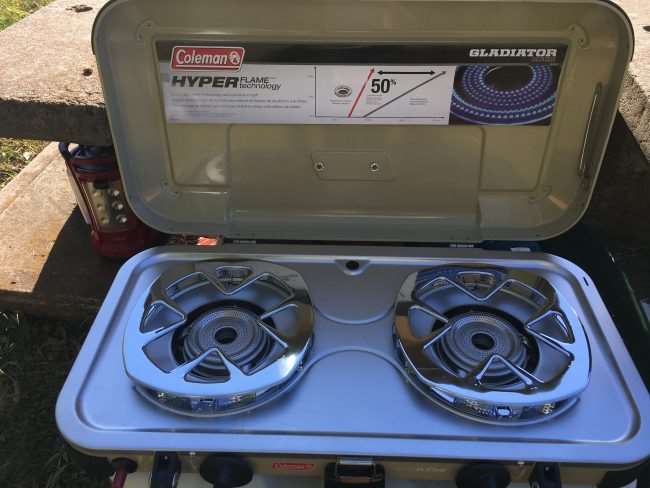 Wind Protection
This stove has key features that make it useful in diverse conditions, like windy Oklahoma weather. The stove has Wind Block that is a perforated metal ring around each burner. It blocks the wind but still allows airflow to fuel the flame.
The HyperFlame is another feature that provides wind protection and even heat distribution across your cook surface. Together, these allow the stove to work in not so ideal weather conditions and still come to a boil in half the time of a traditional stove. With low wind, it can boils in 3-4 minutes.
If you are visual like me, take a look at this video from Coleman that shows how these features actually work together.
Fuel Efficient
Like many modern gadgets and tools, this Coleman stove is fuel efficient. Coleman designed Perfect Flow pressure control to create a steady stream of fuel when cooking. This allows you to better control your cooking temperature. This stove will run with both burners on high for about an hour using a 16.4 ounce propane bottle. We make strong coffee in about 10 minutes with a percolator using a medium-low flame. So imagine what you can cook with a full bottle of propane.
Special Edition
The only negative, which really isn't one, is that this National Parks Edition Fyreknight Propane Stove was available for a limited time. I was fortunate enough to get one. You may not be able to find the exact model as you are reading this. BUT, if you like the features it has, take a look at Coleman's Fyresergeant 3 in 1 Hyperflame stove.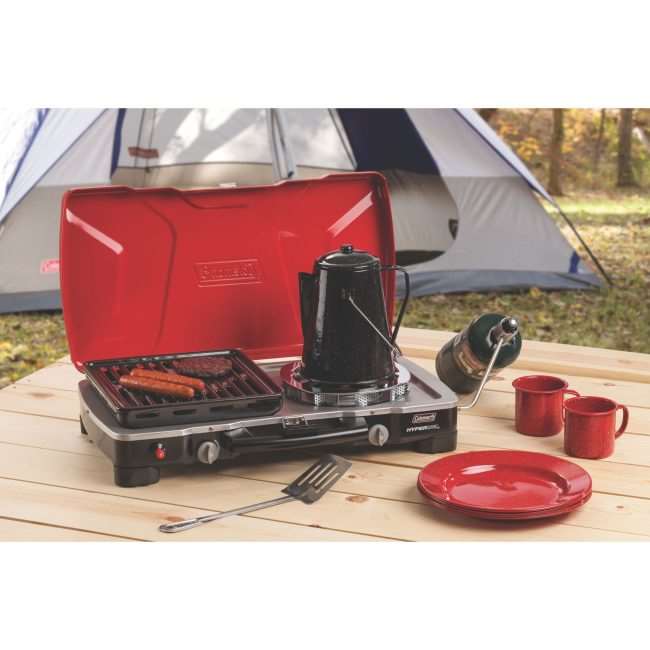 It has all the same features. It just has a different shell. Both are easy to use, easy to transport, and easy to clean. No matter which model you get, your Coleman stove will serve you well for years to come and help you get outdoors with your family.
You can find this and other Coleman products at coleman.com, outdoor gear retailers online, and in stores.
What do you like to cook with outdoors?