Vietnamese Spring Rolls are a healthy appetizer or light meal that can be ready in less than 20 minutes. Loaded with raw vegetables and fresh herbs, these rolls are full of flavor and nutrients. Team them with this delicious Thai peanut Sauce for an experience better than you can get in any restaurant.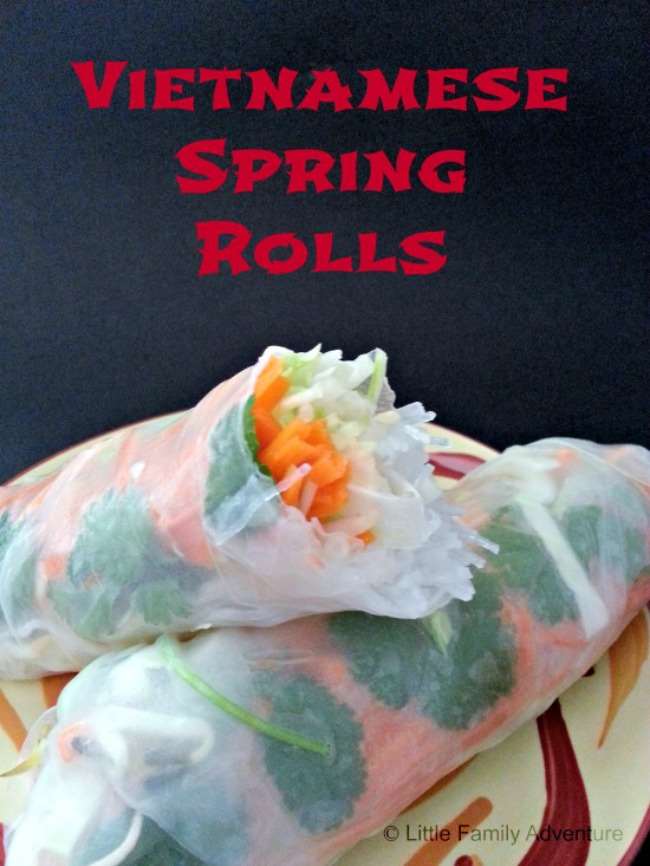 These spring rolls are so easy to make. This is a great recipe to get the kids involved with. A rice paper wrapper holds a variety of fresh vegetables together into an easy to grab bundle. The rice paper wrapper is super malleable (really stretchy) and makes easy work of making these rolls. You can twist and pull on these wrappers without breaking, but are easily cut with a knife or your teeth when you bite into them.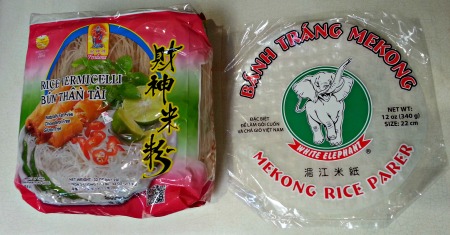 I find both my rice vermicelli noodles and rice paper wrappers (shown above) at a local Asian supermarket. Rice vermicelli goes by a few different names including vermicelli, rice sticks, Mai Fun noodles, rice noodles, etc. You're looking for really thing noodles made with rice. On the rice paper, they come in different sizes and with or without tapioca. I buy without tapioca, but any kind will do. With both of these items, be sure to check the ingredient labels and nutritional facts. Some brands are super high in sodium and you don't want that. The noodles and wrappers I had shown have less than 300 mg combined per serving. That less than 7% of your recommended daily value.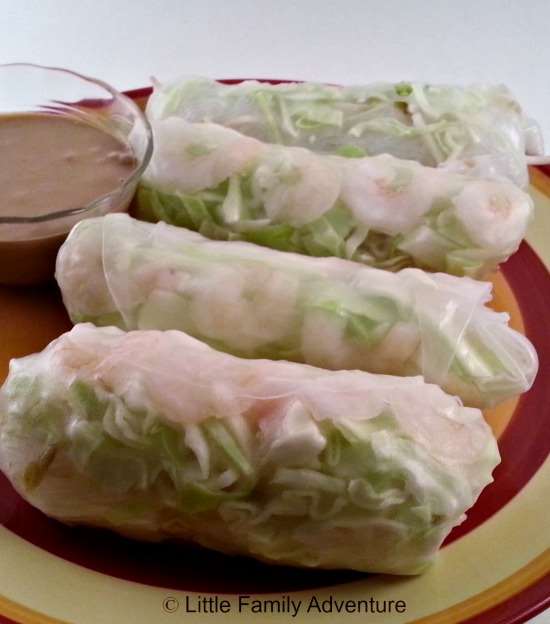 The ingredients I list in this recipe are what my family likes to include in their spring rolls. All of these ingredients are gluten-free. You can change-up the ingredients to suit your personal tastes. Here are a few suggestions:
Swap the cabbage for napa cabbage, spinach, or kale
Add sliced cucumber or squash
Omit the shrimp for a veggie roll or substitute tofu
Add thinly sliced chicken, beef, or pork instead of shrimp
Add any combination of mint, basil, and cilantro.
Instead of peanut sauce, use a Thai Sweet Chili Sauce, or sweet soy sauce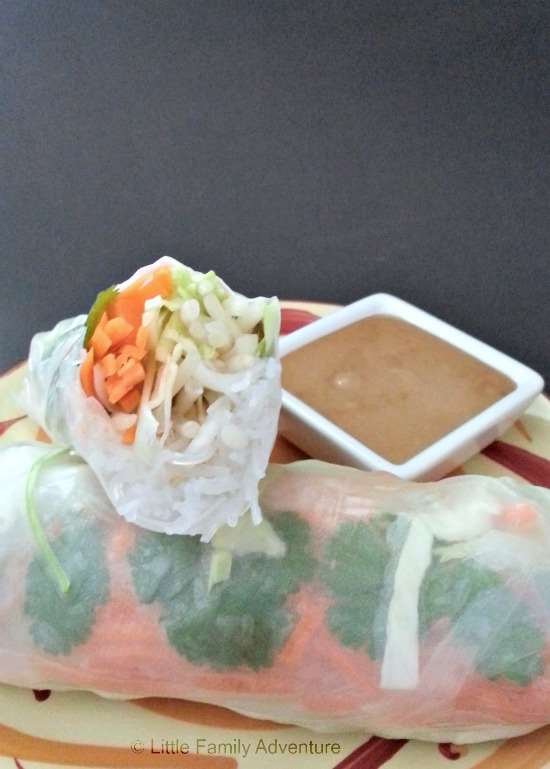 The Thai peanut sauce recipe makes more sauce than you need for 8 rolls. I use it as a condiment in so many things. I love this sauce drizzled over fried rice, on a pizza with shredded chicken and carrots, and as a dipping sauce for french fries. There are so many possibilities. If you like a little heat, add a touch of Sambal Oelek (red chile paste).
Yields 8 rolls
Fresh Shrimp Spring Rolls with Thai Peanut Sauce
20 minPrep Time
20 minTotal Time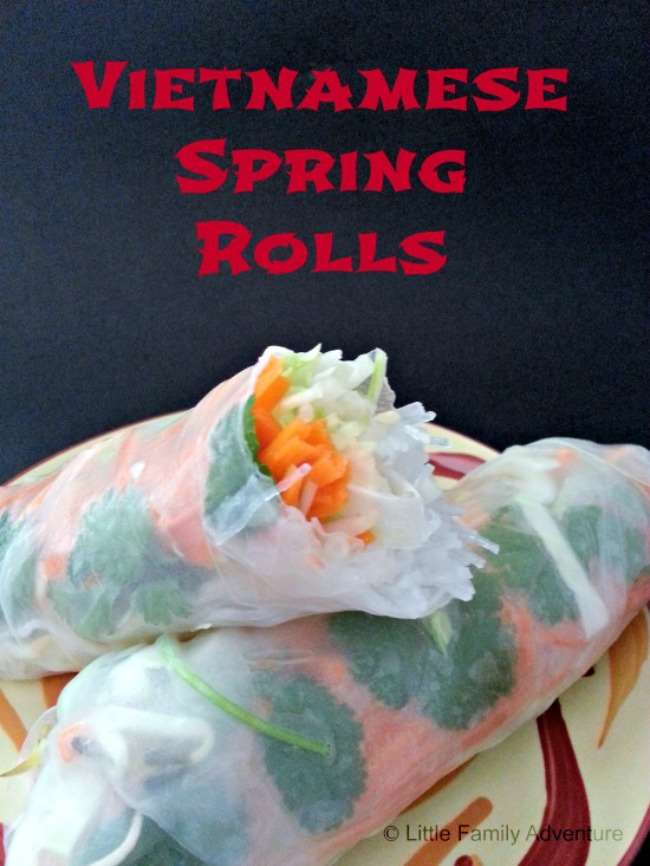 Ingredients
Thai Peanut Sauce
1/2 cup roasted unsalted peanuts
1/2 cup full fat coconut milk
2 tablespoons Tamari
1 teaspoon fish sauce or rice vinegar
Pinch of cayenne
1 garlic clove
1 tablespoon brown sugar
1/4 teaspoon tamarind paste
Spring Rolls
1/2 pound medium sized cooked shrimp, peeled and tails removed
3 cups shredded cabbage
2 carrots, julienne
1 cup mung bean sprouts
2 ounces rice vermicelli noodles
3 Tablespoons fresh cilantro, stems removed
2 Tablespoons fresh Thai basil, stems removed
Rice paper spring roll wrappers, 8 sheets
Instructions
Thai Peanut Sauce

Add peanuts and coconut to a food processor or blender and puree. Add remaining ingredients and pulse until well combined.

Spring Rolls

Bring a medium pot of water to a boil. Remove from heat and add rice vermicelli. Soak for 3 to 5 minutes, or until al dente. Drain and set aside.
Fill a large bowl or pie pan half way with warm water. Dip one wrapper into the hot water for 5 seconds to soften. Remove from water and lay wrapper flat on a cutting board or other flat surface.
In a row across the top half of the wrapper, place 4 shrimp, cabbage, rice vermicelli, carrot, basil, cilantro and bean sprouts. Leave 1.5 inches of space on each side of the roll.
Burrito fold the roll: Fold uncovered sides inward, then tightly roll the wrapper, beginning at the end with the cabbage.
Repeat with remaining wrappers and ingredients.
Serve with peanut sauce
7.8.1.2
55
https://littlefamilyadventure.com/shrimp-spring-rolls/
LittleFamilyAdventure.com