Planning a camping trip? It is a great family activity that can be done in all seasons, and it doesn't have to break the bank or take a ton of time away from your day-to-day life. When you go car camping, especially during the summer months, there are some important things to consider when storing your food. Most importantly, "How do you keep food cold while camping?"
There are some important considerations when storing food while camping that we want to share with you before you embark on your next adventure. Perishable food stored above 40˚F poses a risk of food poisoning. No one wants to get sick while camping! We want you to have a great camping trip, so keep reading for ten tips on how to keep food cold while camping!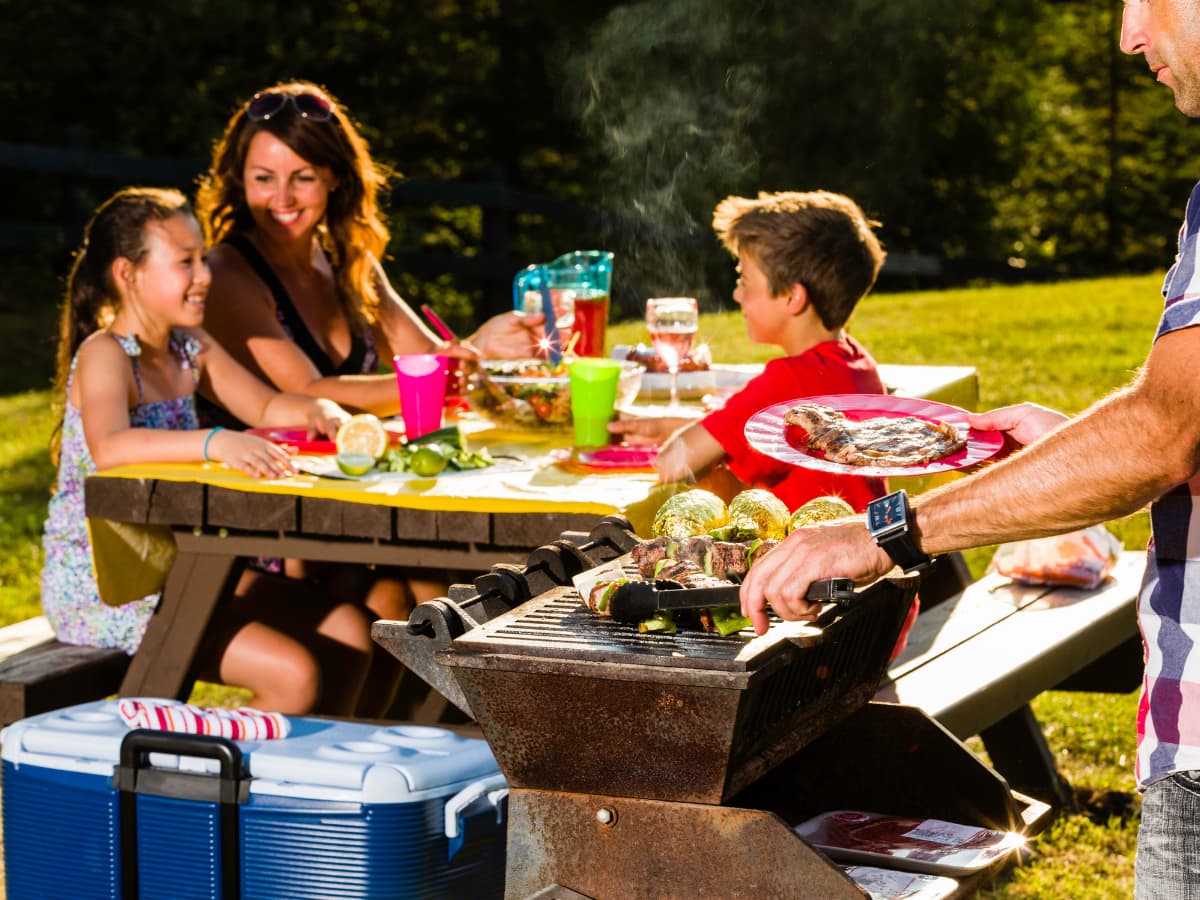 How To Keep Food Cold While Camping?
When we go camping, we have a system for prepping, pre-cooling, and packing our hard-sided ice chest to keep perishable foods cold. It keeps the cooler below the all-important 40˚F and ensures that the food stays fresh and avoids spoilage.
Here are the ten things I do to keep food cold on a camping trip:
Start with a quality, high-end cooler
A well-insulated high-end cooler makes all the difference in keeping your food cold. Personally, we have ORCA coolers (26 QT and 75QT) which are Roto-molded coolers that keep ice for days. I have also tested Arctic Zone, Yeti hard-sided coolers (they have a new Harvest Red color that I LOVE), and Pelican hard-sided coolers that perform equally well. I believe these four brands make some of the best coolers on the market and you get what you pay for.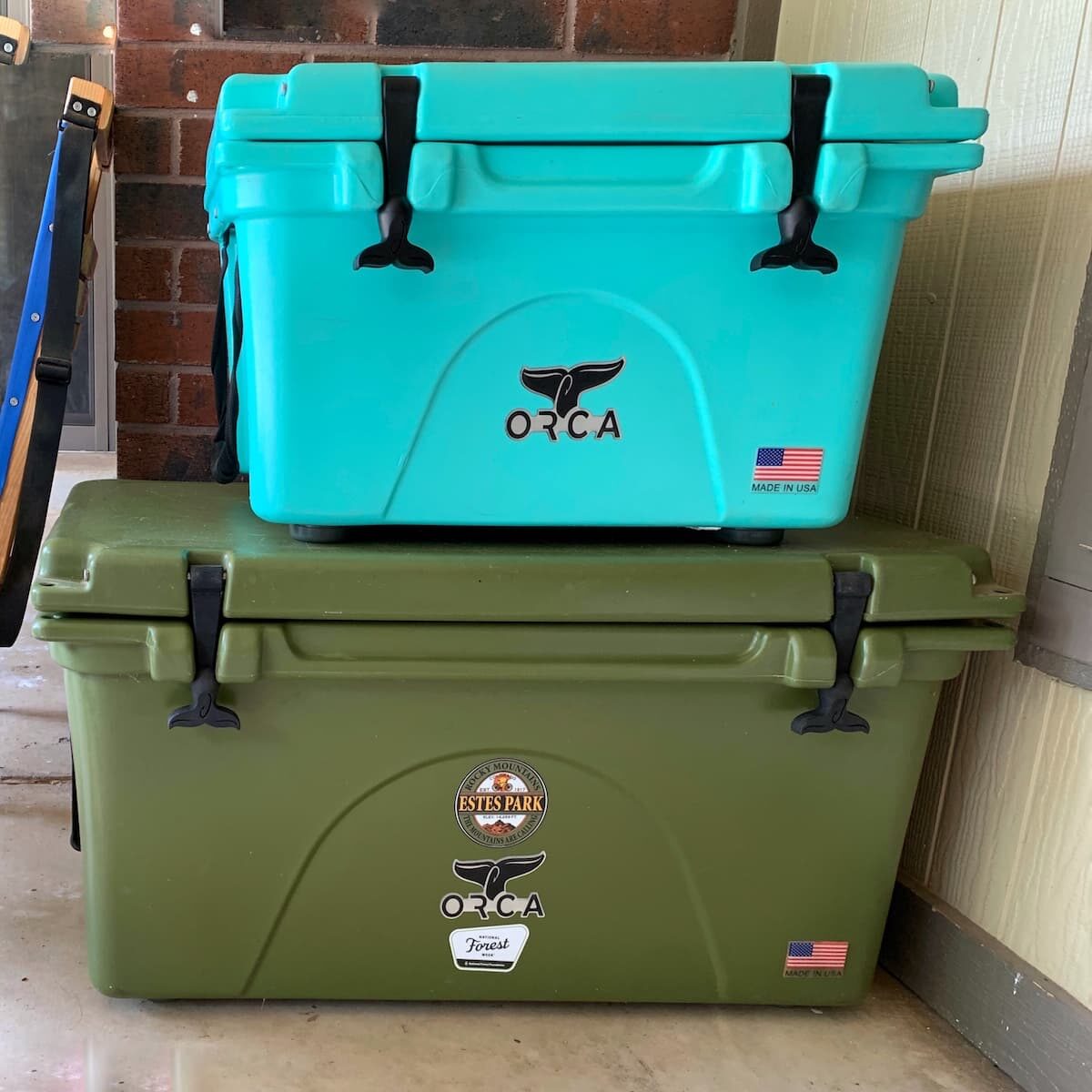 If you don't want to buy or borrow a well-insulated, hard sided cooler, use a thermal bag to help keep contents in your ice chest cool for an extended period of time. Just know that you will be visiting the grocery store or camp store during your stay for ice runs.
Precool the cooler
Before packing your food cooler with food, you need to pre cool it. Add a bag of "sacrificial" ice or dry ice at least an hour before you are ready to start packing. This will bring the temperature down and reduce the amount of ice needed. Once you are ready to pack your food, discard the sacrificial ice, pack, and add fresh ice. (Note: If you've dry ice, you don't have to discard it.)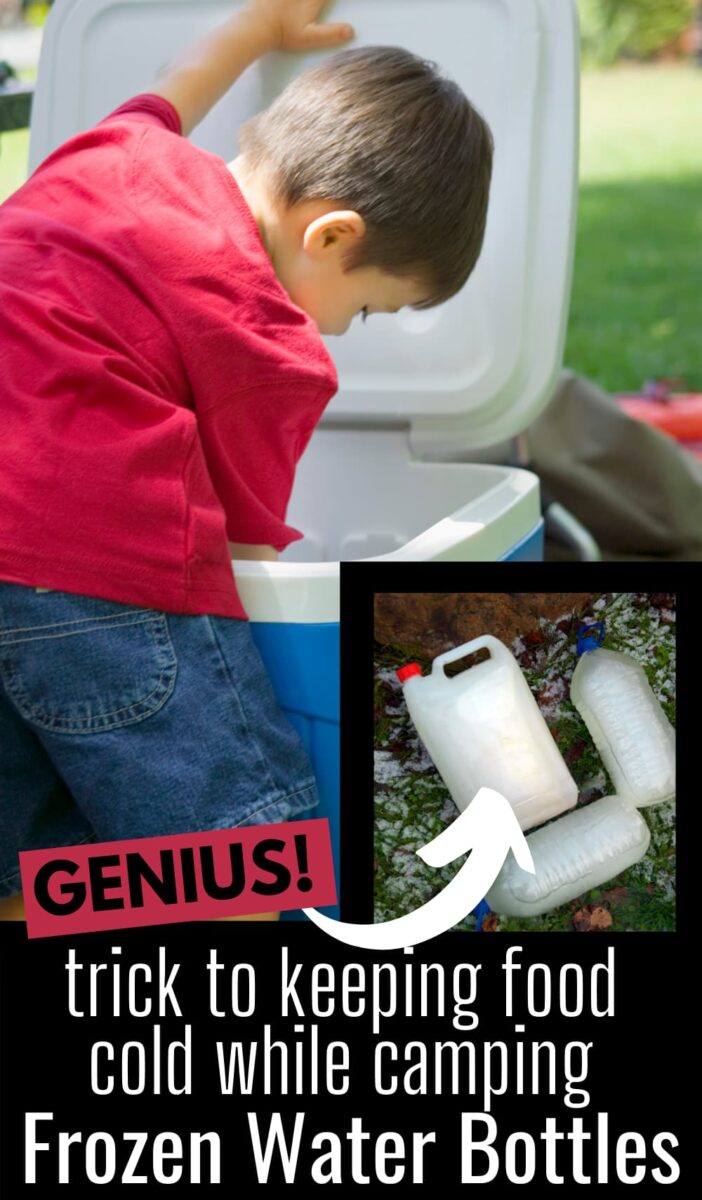 Freeze your water
It makes no sense to pack bags of ice AND room temperature drinking water for your camping trip. Instead, save on space and freeze individual water bottles or gallon-size jugs in advance. Use them in place of ice and as the water melts, you can drink the cold water.
Freeze your food
Whenever applicable, freeze your food ahead of time. If you do meal prep at home, prior to your camping trip, prep and then freeze any ingredients you can. If you precook certain meals at home (taco soup is one of my favorites), you can freeze that too. Other meals that freeze well are taco meat for walking tacos, chili, sloppy joes mix, etc.
Note: If marinating meat for any camping/grilling recipes, start at home by adding marinate and meat to a freeze storage bag and freeze. It will continue to marinate as it thaws slowly in the cooler.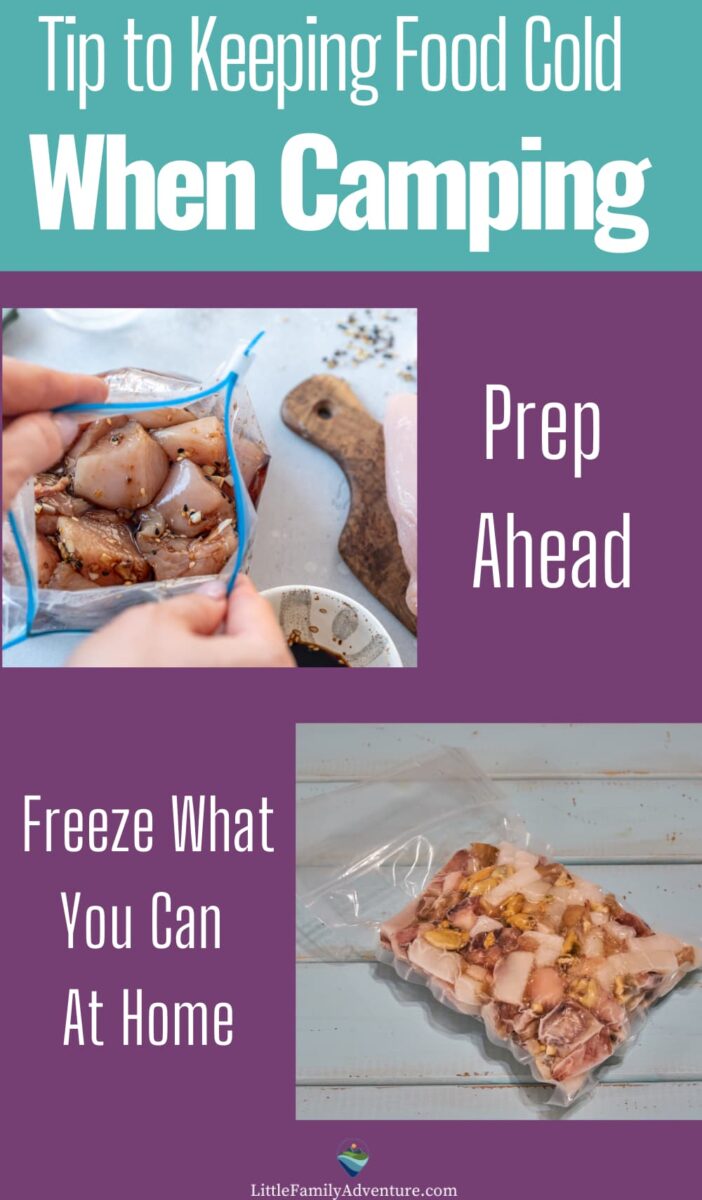 Freeze individual/smaller portions of food
You can also freeze individual and small portions of yogurt, fruit, and vegetables. When I prepare vegetables at home for camping recipes, I will often portion them out by recipe and store them in a food storage bag. Stasher reusable silicone bags are great for this and it's what I use. But any freezer bags will do.
Pack your cooler properly
Start with frozen ice packs/water bottles at the bottom of the cooler. Then, I add a piece of cardboard on top of that and then start adding food. Store raw meat and dairy products towards the bottom, on top of the ice packs and cardboard, so they don't touch vegetables or fruit. They'll stay colder longer this way because they are kept separate from the cooler's cold air. Next, add frozen food, precooked meals, and foil packet dinners, followed by fruits, vegetables, etc. Top with ice and fill in any gaps. Lastly place any fragile items (eggs), lettuce, soft cheese. etc. on top of ice.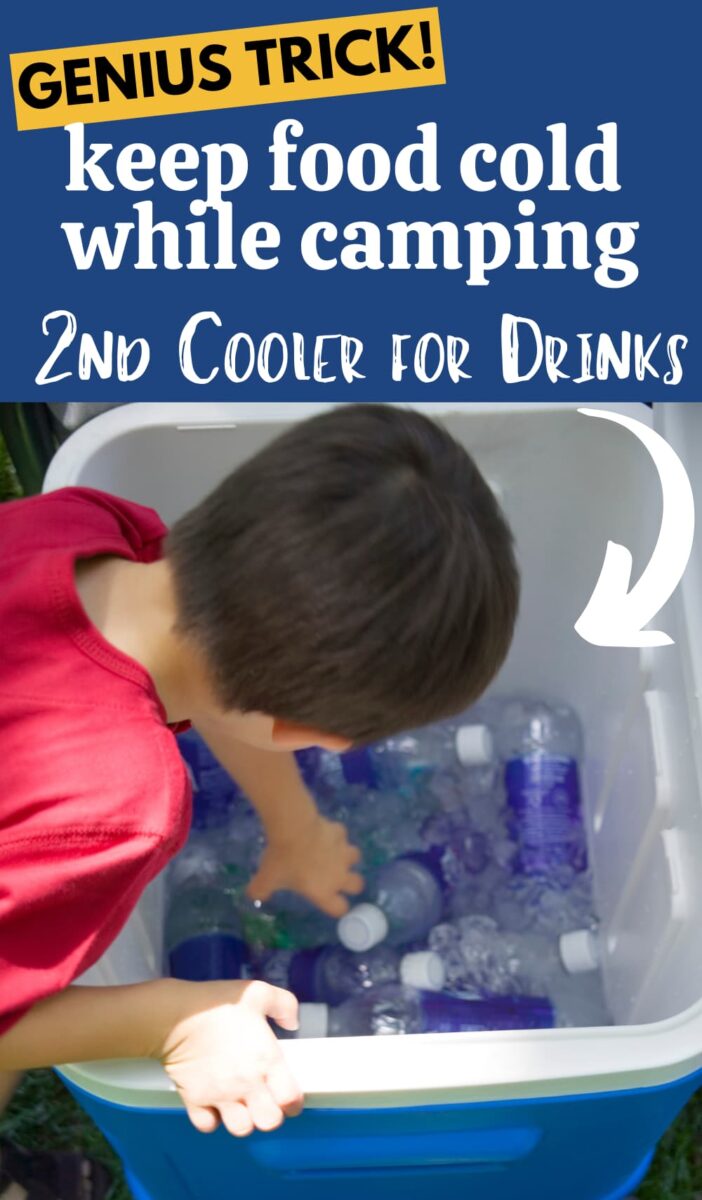 Have a second cooler for drinks and snacks
Store drinks and snacks in a separate ice cooler if possible. We use our 26QT ORCA for this. Most campers are in and out of the cooler for these two things. Every time the cooler lid is opened, cold air escapes, and the temperature inside rises over time. By having a separate cooler, you eliminate this air escape and keep your food colder in the main cooler.
Meal plan for your camping trip
Have a plan for every meal and create a system to pack those food items in the same area of the cooler. This will help eliminate rummaging around allowing the cold air to escape. If you want the hard work of meal planning done for you, get this grab and go camping meal plan that has everything you need for a 3 day camping trip.
Ice, Ice Baby
Sorry, I couldn't help myself there. Ensure that your cooler is filled with enough ice. Fill in gaps between items to eliminate any warm air gaps. On short 2-3 day trips, you don't need to drain the water from the cooler as the ice melts. But for longer trips, it's important to drain the water off and add more ice as needed. During the summer months, I usually figure on a large bag of ice for every 24 hours between the main cooler, drinks cooler, and ice for beverages.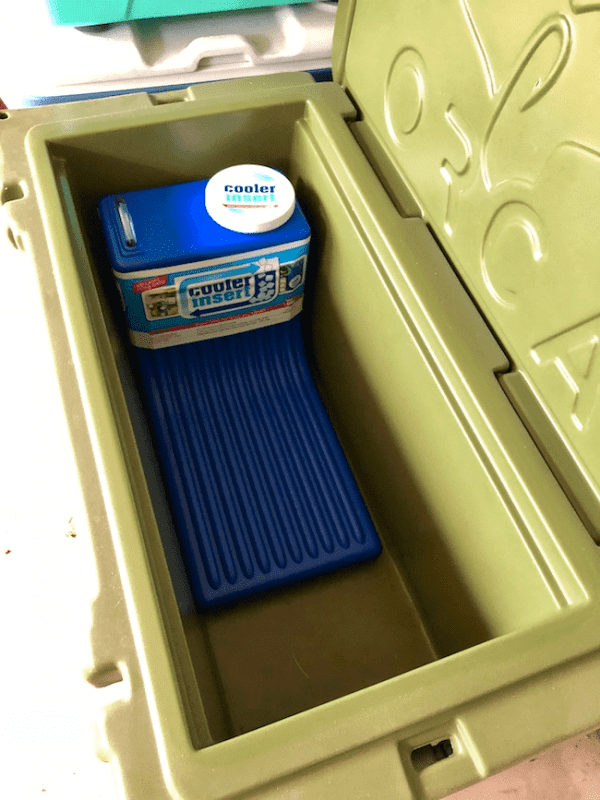 Want to prevent soggy food inside your ice cooler? Read this review I did on the Cooler Insert. This molded container holds 12 pounds of ice and fits inside most 75QT coolers. It's a great thing to have, especially on longer camping trips.
Store food properly
Not every food you bring camping needs to be stored in the ice chest. For items like bread, potatoes (raw), bananas, cookies, chips, etc. can be stored at room temperature. If you are in bear country, you can store these and other dry goods in your car or in a bear canister (REI || Amazon || Backcountry.com).
I recently got these Smelly Proof reusable storage bags on Amazon (can you also buy them on their website).. They do an excellent job of sealing in odors and are super durable. I tested them with my dogs by placing beef jerky inside. My dogs didn't smell a thing. perfect for camping and outdoor use.
Put your ice cooler in the shade
Keep your cooler out of direct sunlight. This will reduce how quickly your ice melts and keep things cold longer. We will often put the cooler under the picnic table, under a tree, under the RV, or set up a tarp above it. I've found it can also help to place a wet towel over the cooler. It creates a cooling system that mimics what happens inside your fridge at home!
There are a few things to consider when storing food while camping. We hope this article has been helpful in answering some of your questions about how to keep food cold on the go, as well as what you should consider before going car camping with your family and friends. One question we didn't answer is where you'll be traveling to! Camping can take place anywhere from a state park near home or at an RV resort thousands of miles away so it's important to make sure that wherever you're going, there will be plenty of safe places for cooler storage (like bear-proof lockers). Once you get your cooler packed up, don't forget sunscreen and bug spray too! This summer might just turn into a great time for adventure.
Once you get your cooler packed, where do you want to go camping first?