What do you do with extra ripe bananas? Well in our house we make this whole wheat sugar free banana bread.

Extra ripe bananas are perfect for making banana bread. They are naturally sweet, so you can omit additional sugar in many recipes. In this Whole Wheat Sugar Free Banana Bread, we've cut out the sugar completely and used whole wheat flour to create a healthy banana bread that you can enjoy anytime! This bread is always moist and delicious making perfect for breakfast or a quick snack.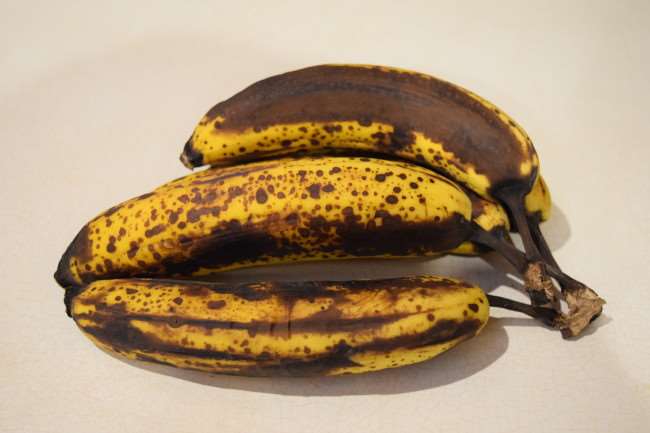 These bananas have banana bread written all over them. When they get to looking like this, my kids won't touch them. They'll say, "Eeeww, they're all soft and spotted." That's okay with me because I know that the brown spots just mean they are extra sweet and will make a delicious loaf of quick bread. If I can't use them right away, they will freeze until I am. To freeze bananas, I peel them then cut into slices. I'll store them in a ziploc bag in the freezer. When I'm ready to make banana ice cream or banana bread, I'll just take out what I need. It's that simple.
Last Christmas my husband gave me a set of silicone baking pans. I seriously love these things. They make everything non-stick without having to butter and flour the pan. I used my 9×5 loaf pan in this recipe. If you aren't using a silicone baking pan, you'll need to butter and flour your pan before pouring in the batter.
If you just have to add an extra smackerel (said in my best Winnie the Pooh voice) of sweetness, swear a slice with a touch of creamed honey or a honey butter. Enjoy this sugar free banana bread!
Whole Wheat Sugar Free Banana Bread
Ingredients
3 ripe bananas, mashed
1/3 cup applesauce or 1 1/2 peeled apples pureed in a blender
2 eggs
1 teaspoon vanilla extract
1/2 cup apple juice or water
2 cups whole wheat flour
1 teaspoon baking powder
1 teaspoon baking soda
1/2 teaspoon cinnamon
1/4 teaspoon nutmeg
1/8 teaspoon allspice
1/4 teaspoon cardamom
Instructions
Preheat oven to 350 degrees F.
Using a stand mixer or hand mixer, beat together bananas, applesauce, eggs, vanilla, and juice until creamy.
In a separate mixing bowl, combine flour, baking powder, baking soda, and spices.
Gradually add flour mixture to wet ingredients. Beat until well combined.
Pour batter into a 9x5 loaf pan. Smooth top with a spatula to even surface, if needed.
Bake for 45 minutes or until a toothpick inserted into bread comes out clean.
Cool completely on a wire rack.
Once cooled, store in the refrigerator wrapped in plastic wrap or covered container.
Nutrition Information:
Serving Size:
1
Amount Per Serving:
Calories:

1717
Total Fat:

9g
Saturated Fat:

2g
Sodium:

1928mg
Carbohydrates:

349g
Sugar:

87g
Protein:

68g
So how would you enjoy this whole wheat sugar free banana bread?
My answer: Any way I can, every chance I get .