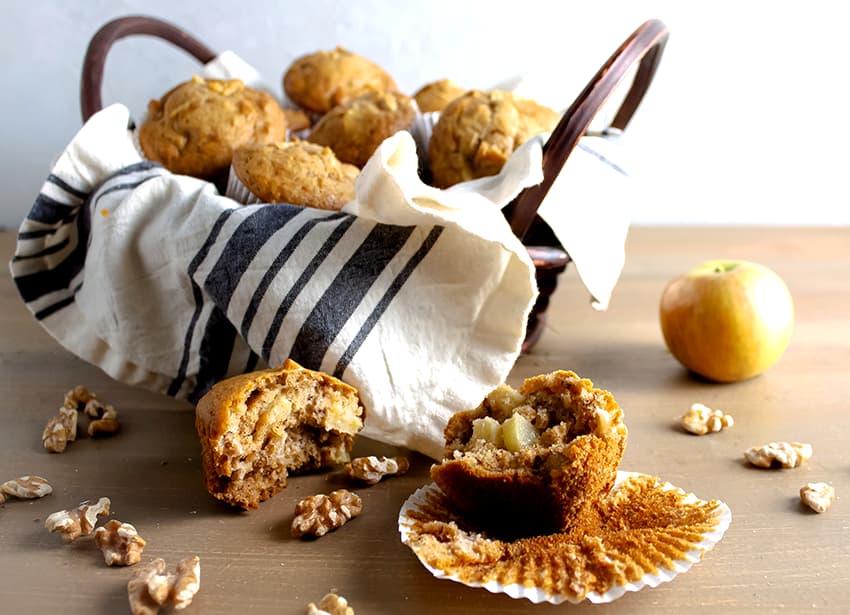 An easy apple muffins recipe loaded with chunks of fresh apple, cinnamon, and walnuts. They are oh sooo good straight out of the oven, but they also freeze well. I've taken my grandmother's original recipe and made it a bit healthier with whole wheat flour, applesauce instead of oil, and honey. You'll LOVE these moist applesauce muffins for snacks, dessert, or as a make-ahead breakfast for home or camping.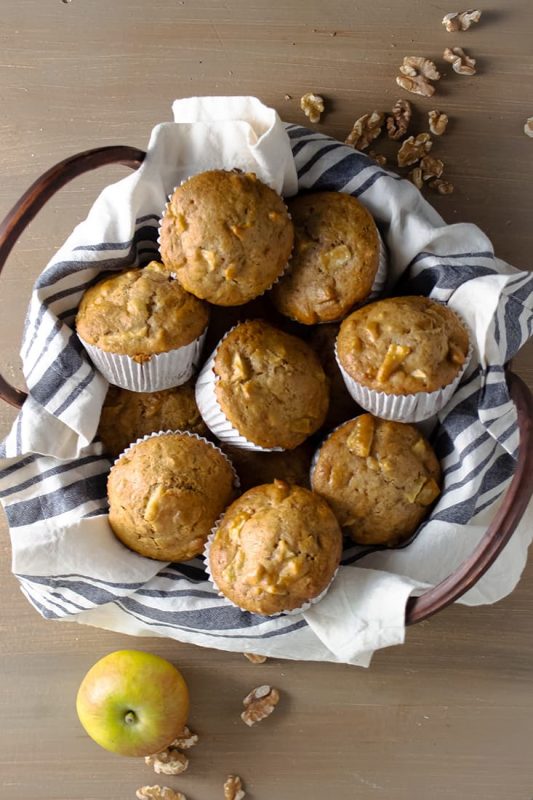 Easy Apple Muffins Recipe
I'm excited to share my recipe for apple filled goodness! This simple recipe takes just 20 of prep and 25 minutes in the oven. So you could be enjoying these in less than an hour. Note: If you have an apple peeler like this one, you can cut that prep time in half.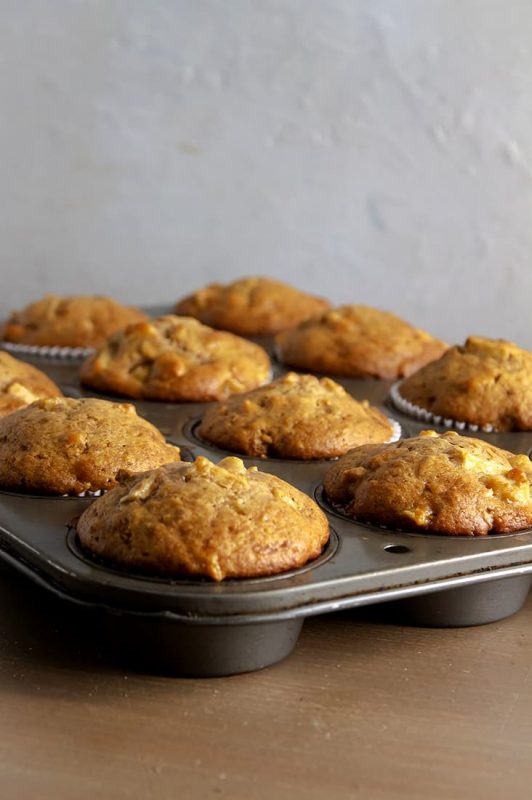 In our house, muffins are basically cupcakes without the frosting! Although we aren't opposed to cake or cupcakes for breakfast, these apple muffins are healthier for you option from breakfast through dessert. I try to cut sugar as much as I can, especially in baking. This recipe has 1/2 cup of granulated sugar. These days I use a Keto-friendly sugar from Swerve that is used on a 1:1 ratio. But you can use regular cane sugar if you prefer. To that, I also add 1/4 cup of honey. My honey of choice is Manuka honey with its host of health benefits. It's a bit pricey to cook with, but I love the flavor. You can use clover honey or any local variety you may have.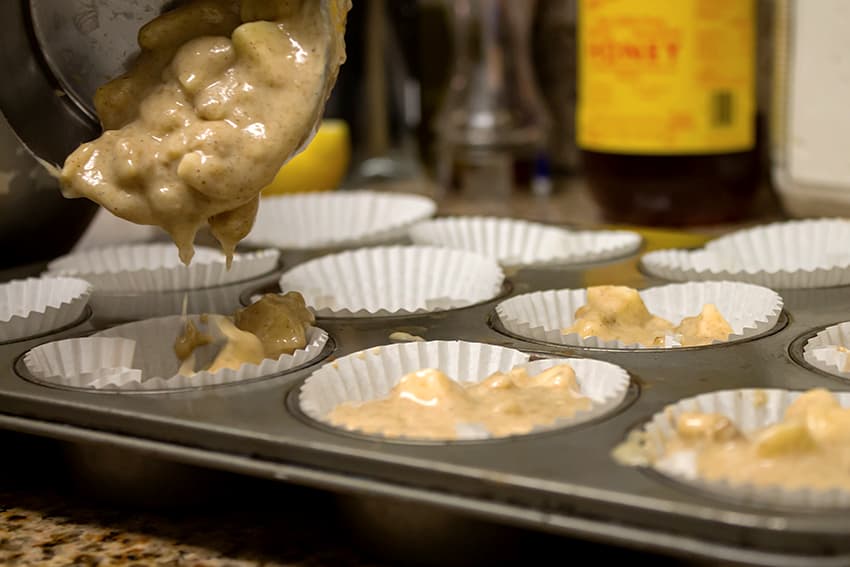 Pin this for later…. If you'd like to see more like this, be sure to follow us on Pinterest too.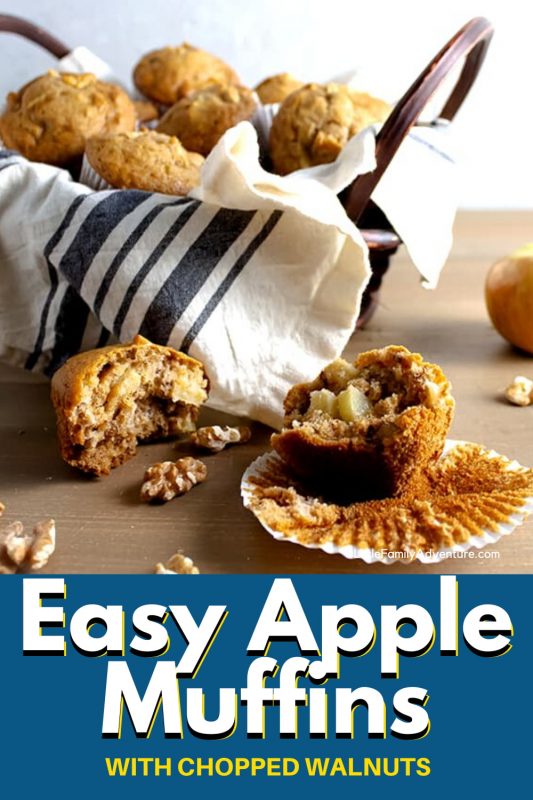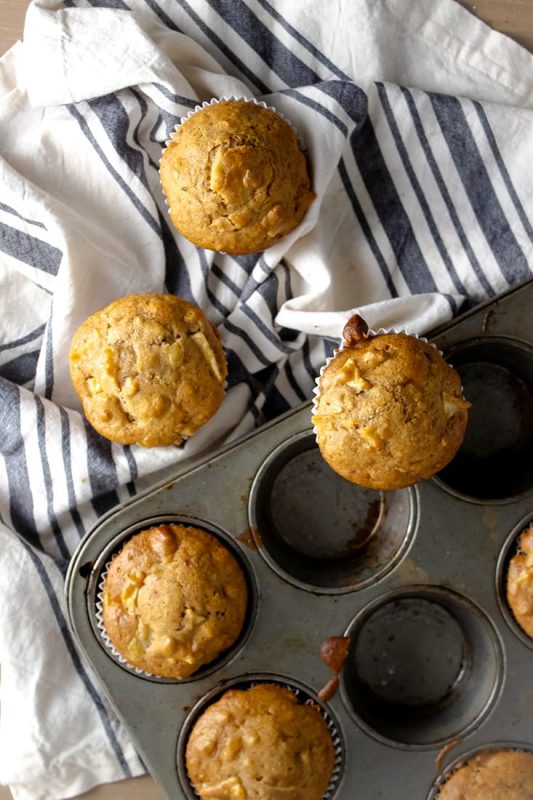 You might also like these recipes…
Applesauce Muffins
Unsweetened applesauce is a great substitute for oil in baking recipes. It can also be used to replace butter in baking recipes. Normally, you substitute it on a 1:1 ratio. My grandmother's recipe originally called for 1/2 cup of vegetable oil. So I swapped it out for 1/2 cup of unsweetened applesauce. It adds more apple flavor, which the kids love, and less fat.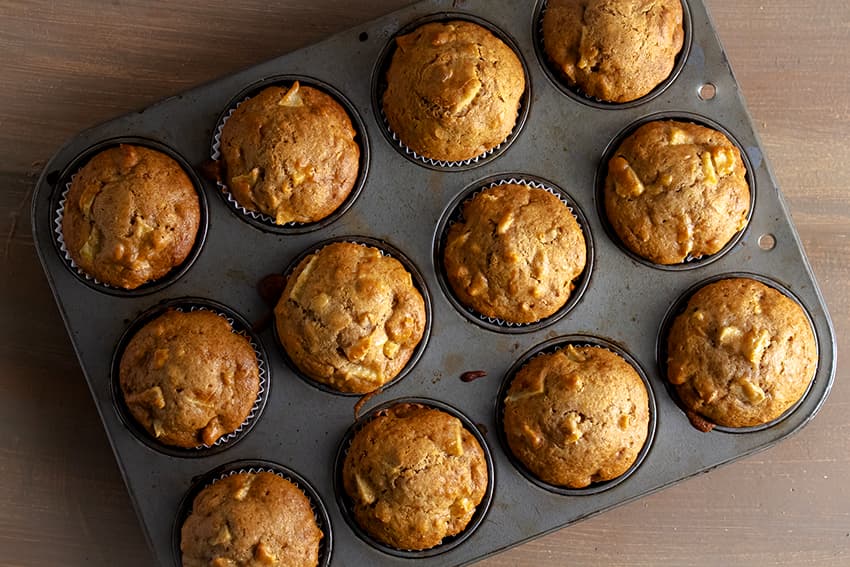 Don't Over Stir Your Batter
A light hand wins the day when it comes to baking, especially when it comes to muffins, biscuits, and pancakes. When you make these applesauce muffins, they are best mixed by hand. Why? Using a stand mixer or hand mixer causes these muffins to become over mixed. This results in the wheat gluten "toughing up" and making for a hard muffin. That is something you definitely DON'T want! Over mixing is also why my southern style biscuits can resemble hockey pucks more than soft, flaky biscuits. Note: My daughter has banned me from baking biscuits for this reason. Luckily, she's an excellent baker.
Freezer Friendly Muffins
I have started batch cooking at home again. It helps me save time in the kitchen and helps me get ahead of cooking for the week. I will actually make several dozens at a time and freeze what we won't eat right away. They will last up to 3 months in the freezer.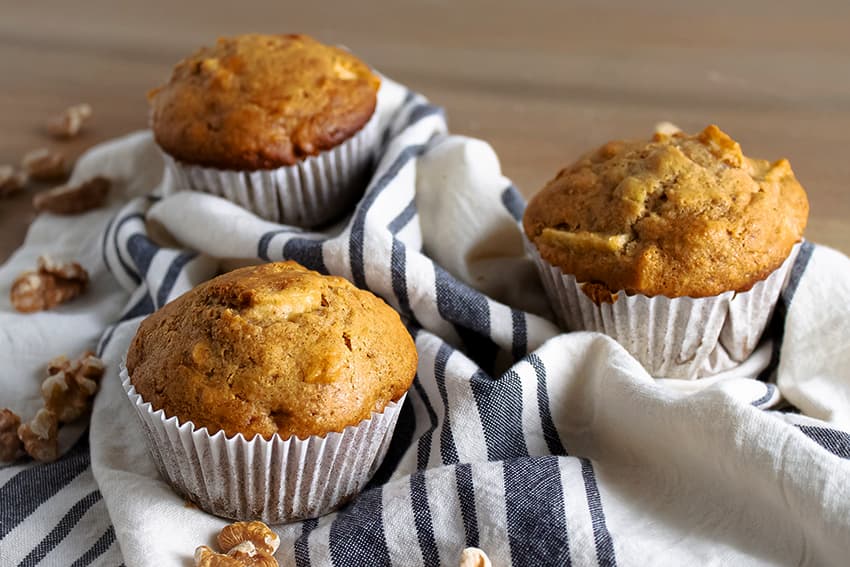 Yield: 12
Apple Muffins with Walnuts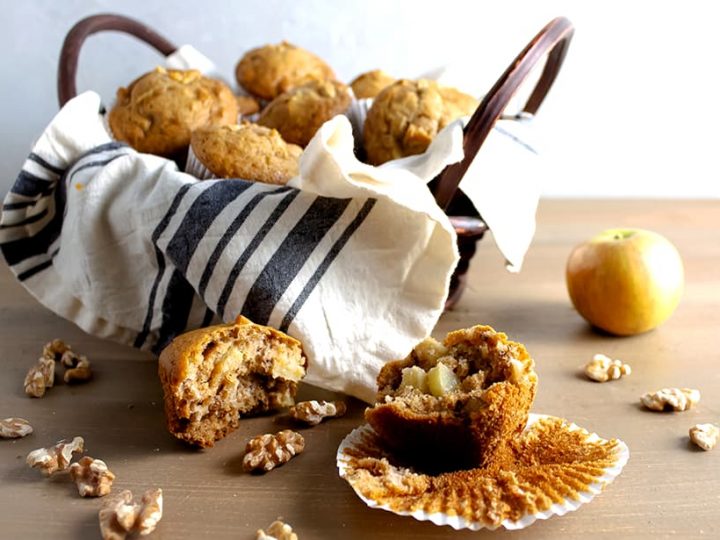 This is a healthy recipe for apple muffins with whole wheat flour, apple chunks, and honey. We've swapped the sugar for a keto-friendly alternative and added applesauce instead of oil. It's a delicious and simple recipe that freezes well for up to 3 months.
Ingredients
2 cups white whole wheat flour
1 1/4 teaspoon baking powder
1 teaspoon baking soda
1 teaspoon ground cinnamon
½ teaspoon ground ginger
¼ teaspoon sea salt
2 large eggs
¾ cup half and half
½ cup applesauce
1 1/2 cups apples, peeled, cored, and chopped into 1/2" cubes
1 cup walnuts, coarsely chopped
Instructions
Preheat oven to 350° F. Line 12 cups in a ½ c capacity muffin pan with paper liners.
Combine all dry ingredients (flour, sugar, baking powder, baking soda, spices, salt) in a large bowl. Stir with a wooden spoon to evenly distribute everything.
Make a well in the center of the flour mixture. Add eggs and break the yolks with the wooden spoon.
Add half and half, applesauce, and honey to applesauce the eggs. Stir to mix, slowly incorporating into the flour. Mix only until everything is incorporated, some lumps may remain. Over mixing will result in tough muffins.
Gently fold in apple and walnut pieces.
Scoop batter into paper liners, filling nearly to top.
Bake at 350° F for 25 minutes until a cake tester comes out clean and the muffins are lightly browned.
Best served warm and the same day. If storing, keep in an airtight container in the fridge for no more than 2 days.

Recommended Products
As an Amazon Associate and member of other affiliate programs, I earn from qualifying purchases.
Nutrition Information:
Yield:
12
Serving Size:
1
Amount Per Serving:
Calories:

226
Total Fat:

9g
Saturated Fat:

2g
Trans Fat:

0g
Unsaturated Fat:

6g
Cholesterol:

36mg
Sodium:

222mg
Carbohydrates:

35g
Fiber:

3g
Sugar:

18g
Protein:

6g
Did you try this recipe? Share your photos!