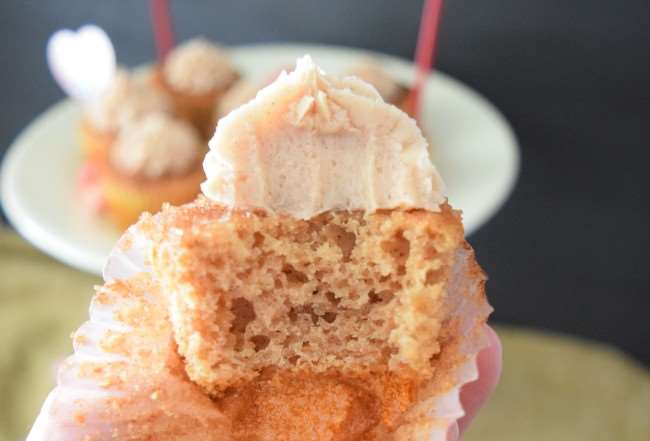 Churro Cupcakes?
Did I just really just say "Apple Churro Cupcakes"? Yeah, I did! Can you imagine anything so perfect as combining a healthier version of a churro and a cupcake? I didn't think that there was anything better than a churro. I was soooo wrong! These Apple Churro Cupcakes are beyond amazing! When you combine a churro and a cupcake, it truly can't get any better than that!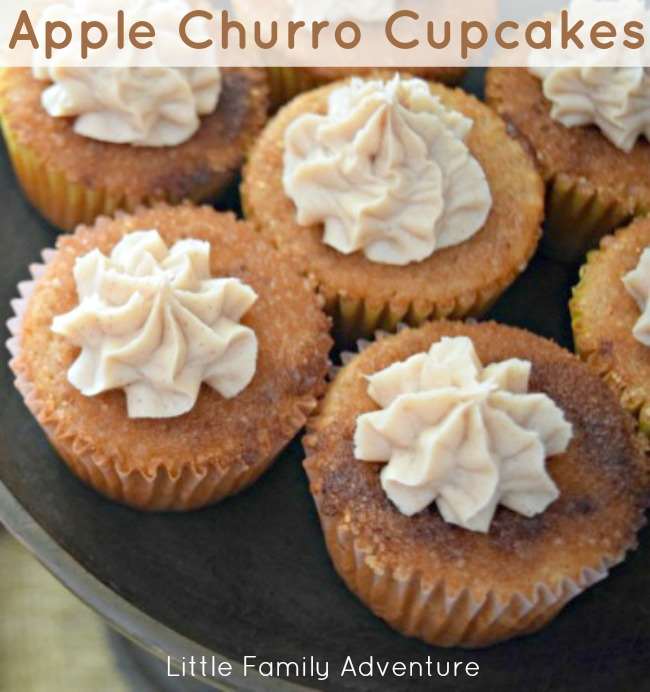 Recently, I wanted to create an extra special something for my kids. They love churros, a crispy fried dough stick covered in cinnamon sugar. I don't deep fry much anymore, so they haven't had a churro in forever. My daughter was eating a cupcake the other day and mentioned that she wished I could make a churro flavored cupcake. So I went to work and I created these super amazing Apple Churro Cupcakes for my kids. I think they're going to say these were the best cupcake EVER!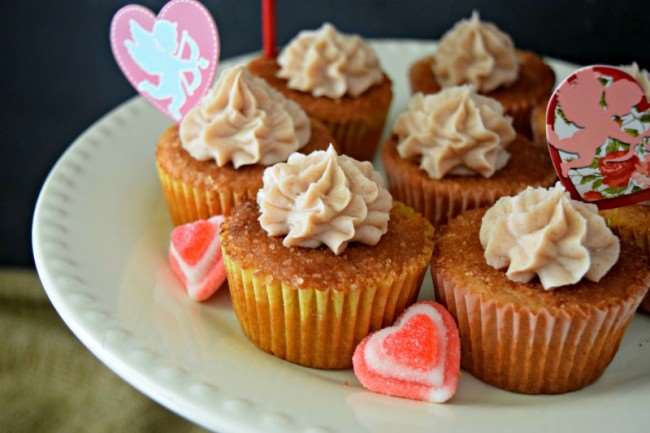 Churro Cupcake Recipe
Apple juice gives these cupcakes a mild apple flavor and yogurt makes these cupcakes moist. These Churro Cupcakes combine a cinnamon sugar topping with an extremely moist and delicious cupcake. That mixture of cinnamon and raw sugar is added after baking to give them crunch. It's just like when you bite into a traditional fried churro. Then to top everything off, a rich cinnamon cream cheese frosting completes these cupcakes. You can use a star tip pastry bag to pipe the frosting like in the pictures or you can simply spread the frosting onto each cupcake. All these flavors combine to create a dessert that you are going to fall in love with!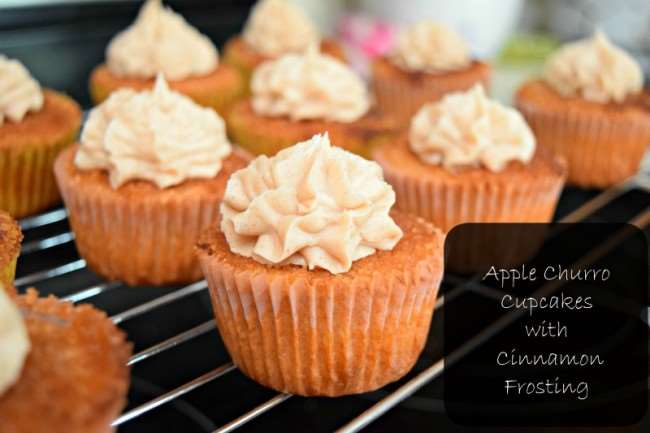 Yield: 12
Apple Churro Cupcakes
This recipe makes 12 amazing Apple Churro Cupcakes.
Ingredients
Cupcakes
3/4 cup white whole wheat flour
3/4 cup cake flour
2 teaspoons baking powder
1 1/2 teaspoon cinnamon
1/4 teaspoon salt
1/2 cup unsalted butter, room temperature
2 Tablespoons brown sugar
3/4 cup cane sugar
1/4 cup plain yogurt
1 egg, room temperature
1 teaspoon vanilla extract
2/3 cup apple juice
Cinnamon Sugar Cupcake Topping
2 Tablespoons butter, melted
2 Tablespoons raw sugar
1/2 teaspoon cinnamon
Cinnamon Cream Cheese Frosting
4 Tablespoons cream cheese, softened
4 Tablespoons butter, softened
1/2 teaspoon ground cinnamon
1/4 teaspoon vanilla extract
2 1/2 cups confectioners' sugar
Instructions
Cupcakes
Preheat oven to 350 degrees. Line standard sized muffin tin with paper liners.
In a large bowl, combine flours, baking powder, cinnamon, and salt.
In another bowl, cream together butter and sugars with an electric mixer on medium-high speed.
Beat yogurt into creamed butter. Scrape bowl down with a spatula.
Add egg and blend well until all is incorporated.
Beat in vanilla and continue to beat until creamy.
Alternate adding flour mixture and apple juice to the wet mixture, starting and ending with the dry ingredients.
Fill each cupcake liner 3/4 full.
Bake for 20 minutes.
Remove muffin tins from oven and transfer to a wire rack to cool completely.
Remove muffins from tins once cooled.
Cupcake Topping & Frosting
Place the melted butter in a small bowl.
In another small bowl, combine the sugar and cinnamon.
Brush each cupcake with melted butter and then dip into the cinnamon sugar mixture. Set aside.
In a medium sized mixing bowl, butter together cream cheese and butter until light and creamy.
Blend in vanilla and ground cinnamon.
Add powdered sugar 1 cup at a time until all is mixed in.
Frost each cupcake with frosting. Store finished cupcakes in the refrigerator until ready to serve.
Be sure to SUBSCRIBE and on FACEBOOK , TWITTER , INSTAGRAM and Follow PINTEREST to see more delicious recipes, travel destinations and tips, adventures, and more of what we are up to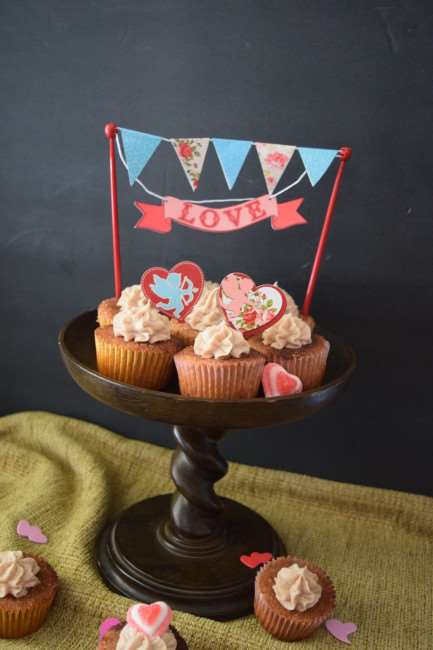 If you like these Apple Churro Cupcakes, you may also like these desserts: