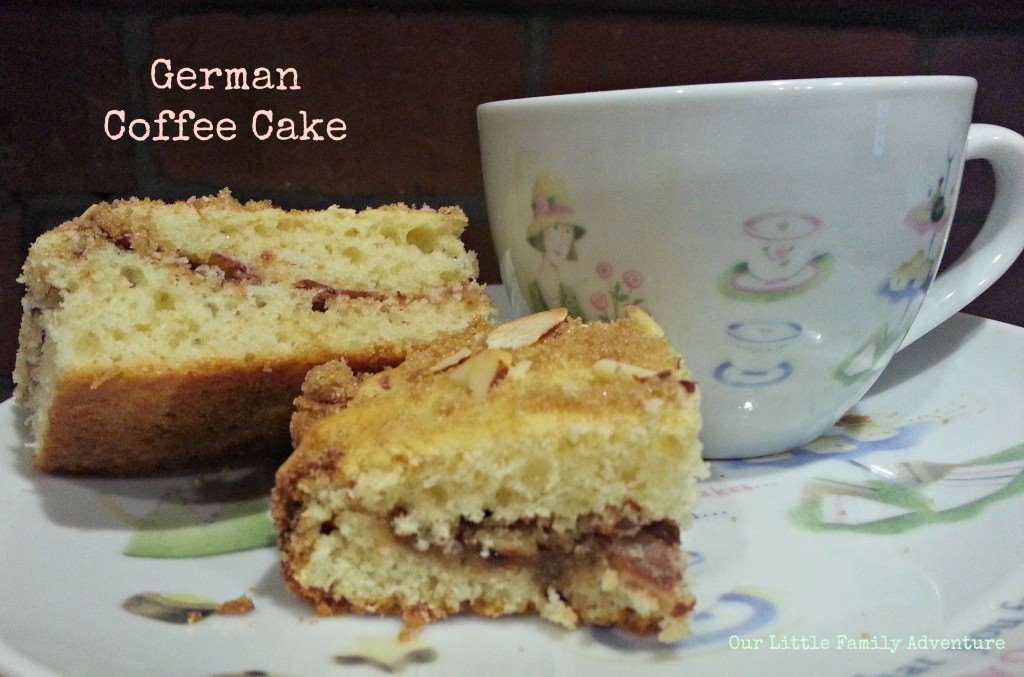 Cake for Breakfast?
Imagine a slice of warm, cinnamony goodness in this German coffee cake. It's the perfect way to start off the day or enjoy with a cup of tea or java. CAKE for breakfast? Sign me up! Treat yourself and have the kids singing your praises as you serve this delicious cake.
German Coffee Cake = Bliss
Now that the weather has cooled, it's time to start baking again. Don't you love baking in the fall? The smell of cinnamon, freshly baked bread, and cakes… Mmmmmmm. Heavenly! This German Coffee Cake is filled with cinnamony (Is that even a word? If not, it should be.) goodness that will leave your house smelling amazing!
Cake is Great ANYTIME!!
This German Coffee Cake is deliciously light and moist. It's the perfect finish to a big meal or alongside your morning tea or coffee. With the cooler weather, I'll often have a slice with my afternoon tea.
German Coffee Cake
Ingredients
1/3 cup butter, softened
1/2 cup cane sugar
1 teaspoon almond extract
2 eggs
1 1/2 cups white whole wheat flour
2 teaspoon baking powder
1/2 cup almond milk
1/2 cup sliced almonds
1/4 cup packed brown sugar
1 teaspoon cinnamon
Instructions
Preheat oven to 350 degrees F and grease a 9x9 baking pan.
In a large mixing bowl beat together butter, sugar, and extract until creamy.
Beat in 1 egg at a time.
In another bowl, mix together flour and baking powder.
Slowly add flour to butter mixture, alternating with milk.
Spread 1/2 of batter into greased pan.
In another mixing bowl, combine nuts, brown sugar, and cinnamon.
Sprinkle 3/4 of nut mixture over the batter in the pan.
Add remaining batter on top of nut layer and spread carefully.
Top with remaining nut mixture.
Bake 30-35 minutes until golden brown and cake tester comes out clean.
Cool completely in pan on wire rack.
What do you like to have after a big meal or with your morning tea/coffee?