I'm partnering with ALDI to create these Snickerdoodle Muffins with organic ingredients for less $$.
Holiday baking holds a special place in my heart. This time of year, I love gathering together with family and friends to celebrate the season. I think it's extra special when I can get in the kitchen with my kids to create fresh baked breads and muffins to give as gifts. It warms the house and the smell of freshly baked treats is better than most anything! Plus who doesn't like to get some fresh baked goodies for the holidays?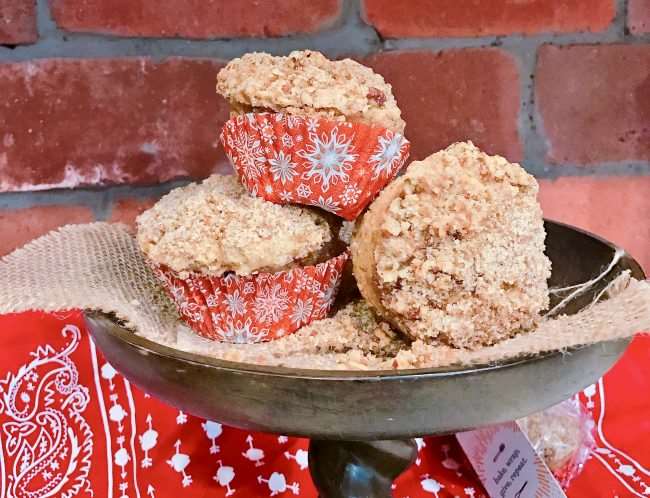 Snickerdoodle Muffins Recipe
Today, I have a recipe for Snickerdoodle Muffins with Streusel Crumble. It's inspired by my grandmother's snickerdoodle cookie recipe and it sure to be a HUGE hit with everyone this holiday season.
>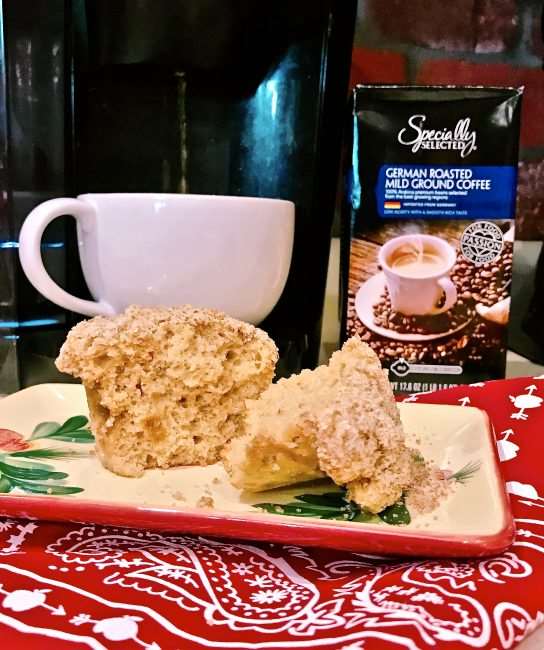 Baking with my Grandmother
Growing up, I lived right next door to my grandmother. After school, I could go over and she ALWAYS had cookies or quick bread slices ready for us. It wasn't until years later that I learned she stashed things away in the freezer for us (Genius idea!!!). During the holidays, I would go over and help her bake cookies like her Lebkuchen and Sour Cream Twists. Mind you it was more like I licked the batter off the spoons while she did the baking, but I still remember those days fondly decades later! That's why I started baking with my kids. I want them to have those same memories of spending time together in the kitchen.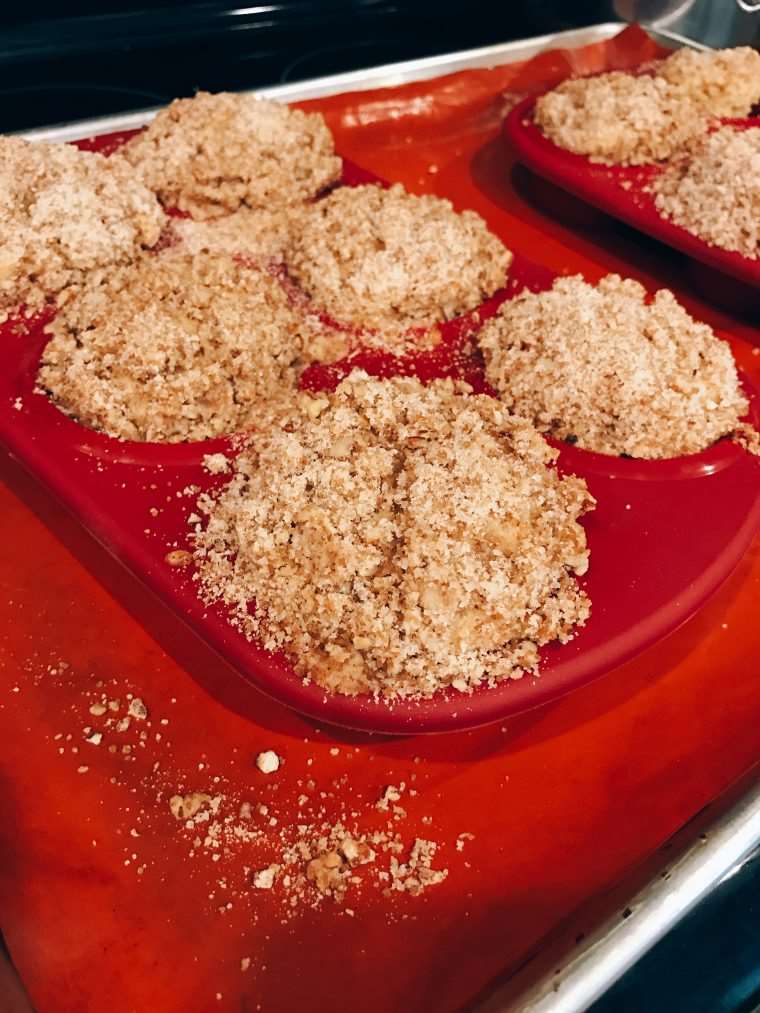 Easy Muffin Recipe
During the holidays, my kids and I get together in the kitchen to create holiday gifts for friends and neighbors. I think it's extra special when you can give a gift you make yourself. In the past, I would give quick breads and plates of these Cinnamon Cookies too. This year, we are making this easy muffin recipe because they are GREAT holiday gift! Muffins are single serving and can be giving individually like in the idea I'll share in a minute, or given in a group of 6-12. Give these muffins as a Teacher's gift, for a party hostess, Secret Santa gifts, housewarming, or just because. Everyone will LOVE them!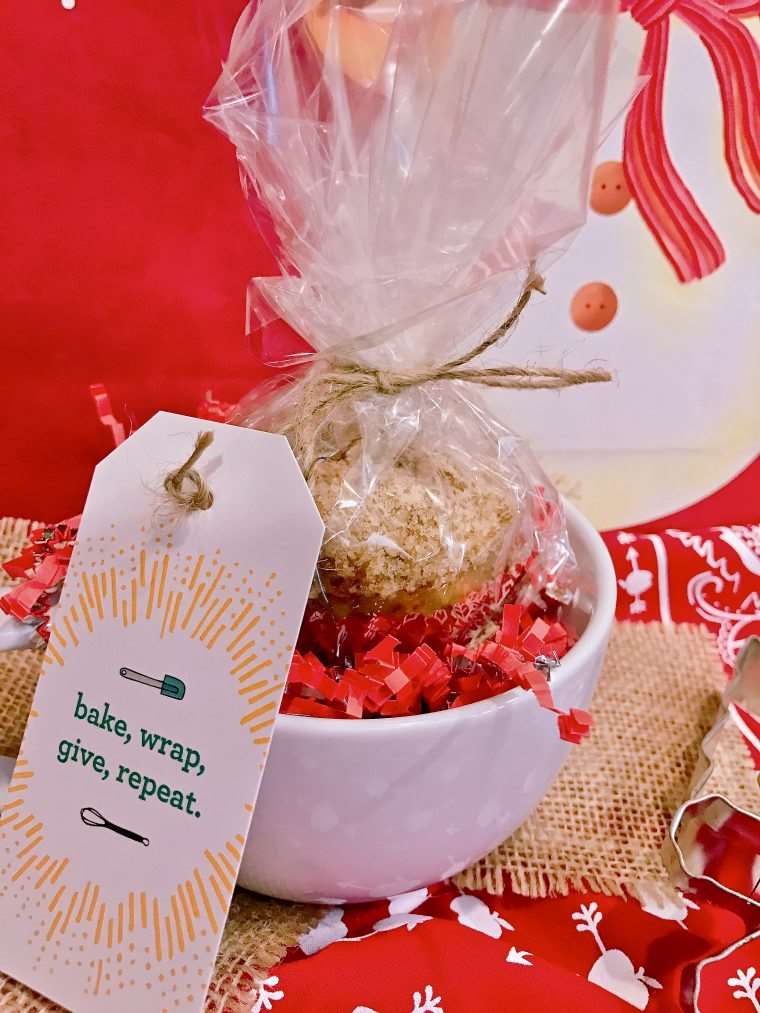 Create this Coffee Snack Break Gift with a new coffee mug and Snickerdoodle Muffin. This gift idea is super easy! Just wrap your muffin in a little cellophane wrap to make it pretty. Place a coffee pod or a few tea bags into a new coffee mug and top with your wrapped muffin. Wrap again in cellophane and add a gift tag! Easy Peasy!!!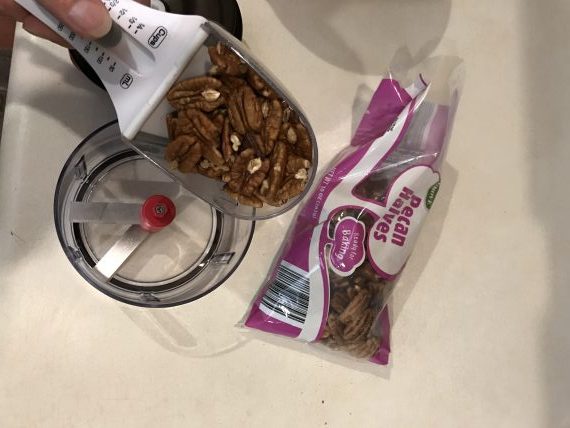 ALLERGY NOTE: This Snickerdoodle recipe does have nuts! So if anyone may have a nut allergy, you can omit them completely and you will still have a delicious Snickerdoodle muffin.
Snickerdoodle Muffins
We try to eat as healthy as we can year around. Part of that is using organic products whenever possible, especially when it comes to the Dirty 15. Organics provide my family the healthy ingredients I want without pesticides and GMOs. Many people feel that eating organics is outside their budget, but ALDI makes organics affordable for everyone. They are my first stop when I grocery shop.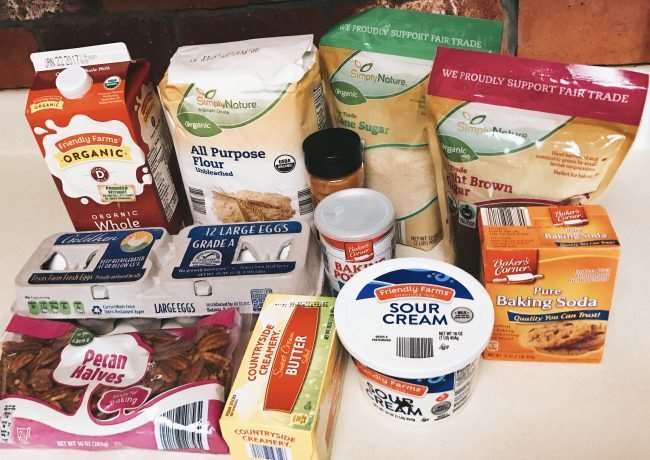 Here's the ingredients needed for this easy Snickerdoodle Muffin recipe with Streusel Crumble topping.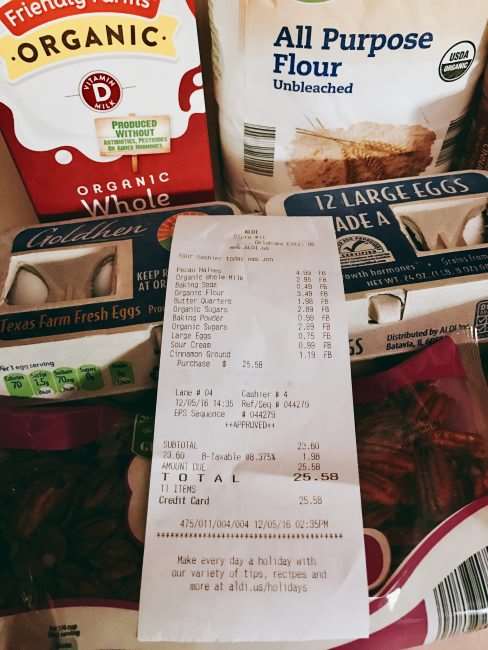 Here's my receipt: $25.58 for every thing except salt and vanilla extract.
Organic all purpose flour is $3.49
Organic Cane & Brown Sugar are $2.89 each
Organic Whole Milk $2.95
ALDI also has organic spices that are perfect for the holidays. I wnt conventional on the cinnamon ($1.19) this time but you need to take a look at ALDI to see how you can save on buying organics for your family. If you like cinnamon, check out this recipe for Cinnamon Apple Crepes with ALDI Stonemill Essentials Cinnamon.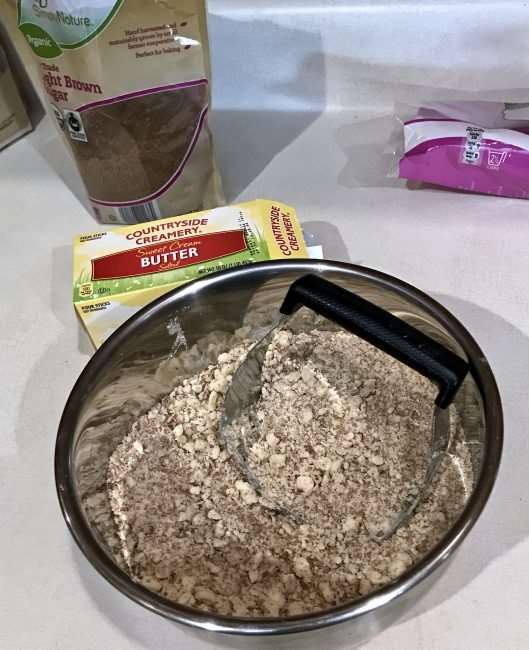 How to Make Streusel Crumble
Before we get to the recipe, I want to give you a tip to creating a great crumble topping. The secret is in the butter. Precut your butter into slices and place in the freezer for just 5-10 minutes. It will help keep your crumble together and give you the perfect streusel crumble.
Create this delicious Snickerdoodle Muffins with Streusel Crumble for your family today and celebrate the joy of the season! Happy Holidays!!
Snickerdoodle Muffins with Streusel Crumble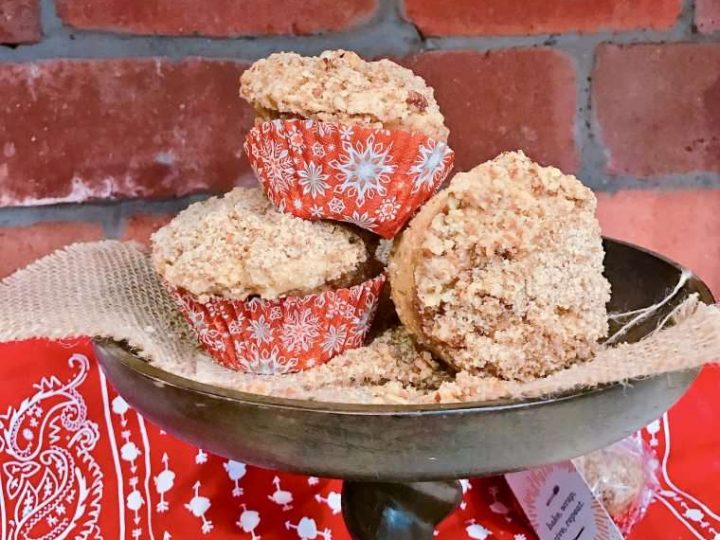 Ingredients
Muffin Batter
2 cups SimplyNature Organic All-Purpose Flour
1 teaspoon Baker's Corner baking powder
1/2 teaspoon Stonemill Essentials ground cinnamon
1/4 teaspoon salt
1/4 teaspoon Baker's Corner baking soda
3 Golden Large Eggs
3/4 cup SimplyNature Organic Cane Sugar
1 stick Countryside Creamery butter, melted
1 cup Friendly Farms sour cream
1 teaspoon Stonemill Essentials vanilla extract
Streusel Crumble
1/3 cup SimplyNature Organic cane sugar
1/3 cup SimplyNature Organic brown sugar
1/3 cup SimplyNature Organic all purpose flour
2/3 cup Southern Grove chopped pecans
1 Tablespoon Stonemill Essentials cinnamon
5 Tablespoons Countryside Creamery butter, cold
Instructions
Preheat oven to 350 degrees F.
Line muffin pan with paper cups or use a silicone muffin pan.
Streusel Crumble
Combine sugars, flour, pecans, and cinnamon in a medium mixing bowl.
Cut the butter into slices and mash into the streusel crumble mixture with a fork or pastry cutter.
Set aside.
Snickerdoodle Muffins
In a large mixing bowl, combine flour, baking powder, cinnamon, salt, and baking soda.
In a small mixing bowl, whisk eggs together with sugar, melted butter, sour cream, and vanilla extract.
Add the wet ingredients into the dry ingredients and add 1/2 cup of the streusel crumble.
Gently fold ingredients to combine.
Spoon batter into prepared muffin tins, filling 2/3 full.
Top with remaining streusel crumb mixture.
Bake for 25-28 minutes or until toothpick comes out clean when inserted.
Nutrition Information:
Serving Size:
1
Amount Per Serving:
Calories:

1218
Total Fat:

5g
Saturated Fat:

1g
Sodium:

752mg
Carbohydrates:

233g
Sugar:

2g
Protein:

49g
To more holiday recipes, check out ALDI's website, Facebook, and Instagram feed.
Little Family Adventure is partnering with ALDI to bring you this recipe for Snickerdoodle Muffins with Streusel Crumble. Compensation has been received, but we only recommend brands and products that we love and support. All opinions expressed are our own.