My daughter recently had a birthday. (Happy Birthday Baby!!) Instead of a traditional birthday cake, she asked for a Dutch Apple Pie. Unfortunately, I didn't have enough butter or lard to make a traditional crust. So, we compromised on my Harvest Apple Crumble instead. She LOVED it!! You will too!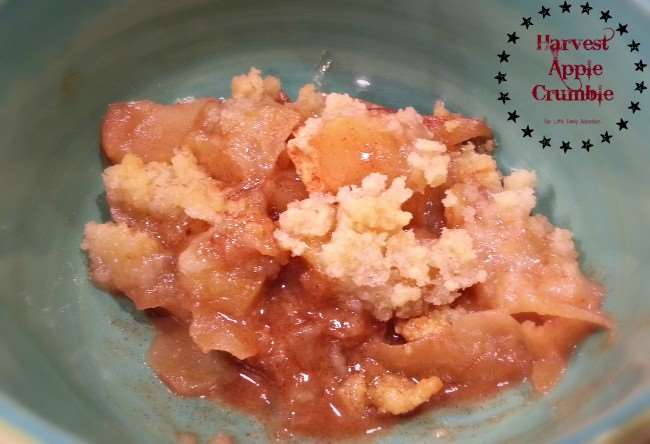 A fruit crumble has all the flavor of a traditional pie, except there's no flaky crust. There is a bit of flaky goodness on top for those die-hard crust lovers. It's like a cross between flaky and crumb topping. I love the gooey part of the crust that meets the filling. So I'm a HUGE fan of a crumble. Regardless, you'll love this easy dessert recipe.
One tip I want to share is to use at least two different types of apples for this dessert. All apples are not created the same. I used three this time, since I had them on hand. I used Gala, Golden Delicious, and Honeycrisp. They each impart a different sweetness and texture making this an scrumptious treat. You can also substitute other types of fruit (equivalent to 5 cups) for the apples. Berries work great in this recipe too.
So, here's my recipe. Try it for yourself and tell me what you think!
Fruit filling
5-6 apples, peeled and sliced
1/3 cup cane sugar
1 Tablespoon lemon juice
1 Tablespoon ground cinnamon
Topping
1/2 cup butter
2/3 cup cane sugar
1 cup white whole wheat flour
Preheat oven to 400 degrees.

Combine the apples and next 3 ingredients and place in a 9×9 baking dish.

Place topping ingredients (butter, sugar, and flour) in a medium-sized bowl. Using a pastry blender or stiff fork, cut in butter until mixture resembled small pebbles.
Sprinkle topping over apple mixture. Bake 30-40 minutes until golden brown.
Allow crumble to cool slightly, then serve alone or with vanilla ice cream.