I am partnering with ALDI to bring you this recipe for Sautéed Cinnamon Apple Crepes. I love shopping at ALDI because of their everyday low prices. All opinions. as always, are my own. Enjoy the recipe!

Fall is here folks. I hope you're reading this with a Pumpkin spiced latte in hand or maybe a hot apple cider. I know I look forward to fall for those special delectable treats with pumpkin, apple, cinnamon, or nutmeg. Those favors just scream fall to me. Today I'm bringing you a very special recipe with two of those autumn flavors, apples and cinnamon.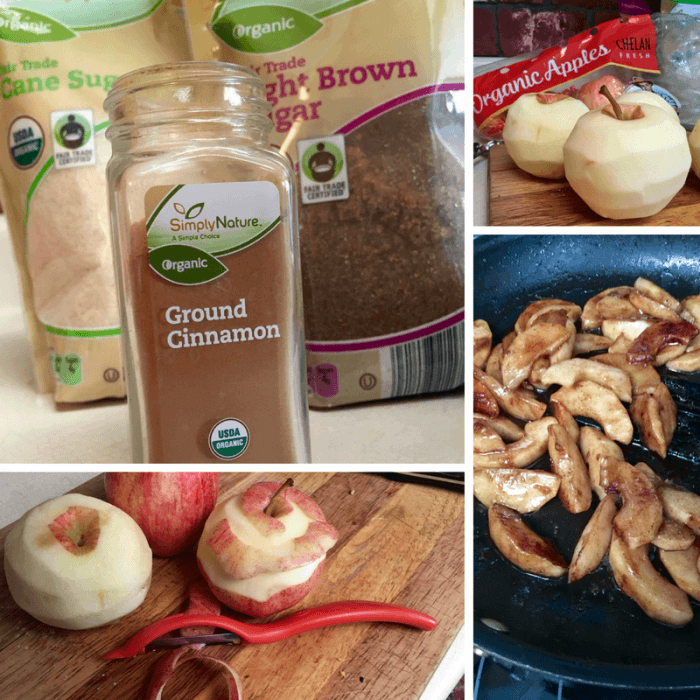 These Sautéed Cinnamon Apple Crepes are so good that it's a shame to limit them to just breakfast. So enjoy them at brunch, as a snack, for brinner (breakfast for dinner), or topped with a heavy scoop of vanilla ice cream for dessert.


Sautéed Cinnamon Apple Crepes
This crepe recipe is one that I've been making for years. The original recipe was in my grandmother's recipe box. After she passed away, I received her recipe boxes and cookbooks. They were filled with so many recipes I remember eating as a child. My cousins and I talked at length about some of the foods we remembered her cooking; fried chicken, Christmas cookies, cabbage casserole, and so much more. Every time I make one of her recipes now, I am reminded of her and what a great cook she was. Since this was one of hers, you know it's been perfected over time and there's a lot of love in there. You are in for a delicious sweet treat!
Easy to Make Crepes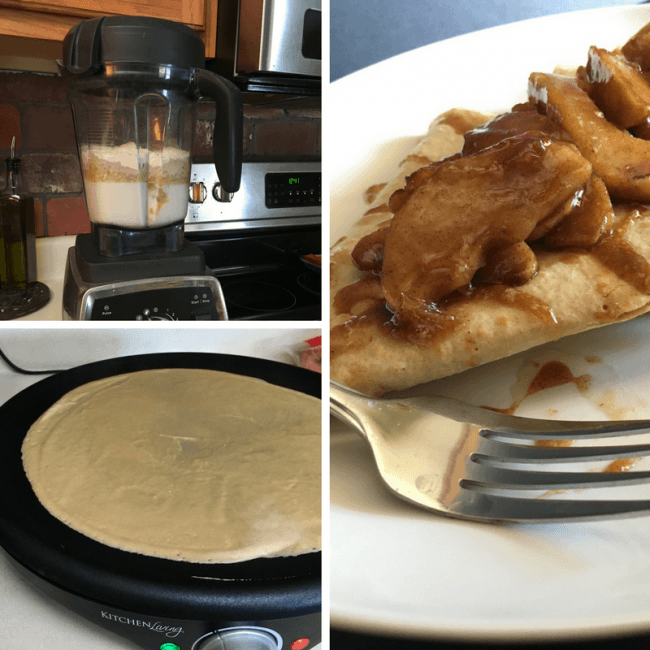 The crepe batter is really easy to make in a blender, but it takes a bit of time (1 hour). Trust me when I say that it's WELL worth it. You whip up this batter in a blender and then refrigerate for 1 hour. This resting time helps the batter thicken up and prevents the crepe from tearing apart when you flip it during cooking. If you are running short on time, you can make the batter ahead and it will hold in the refrigerator for up to 48 hours.
ALDI + Organic Food = Low Prices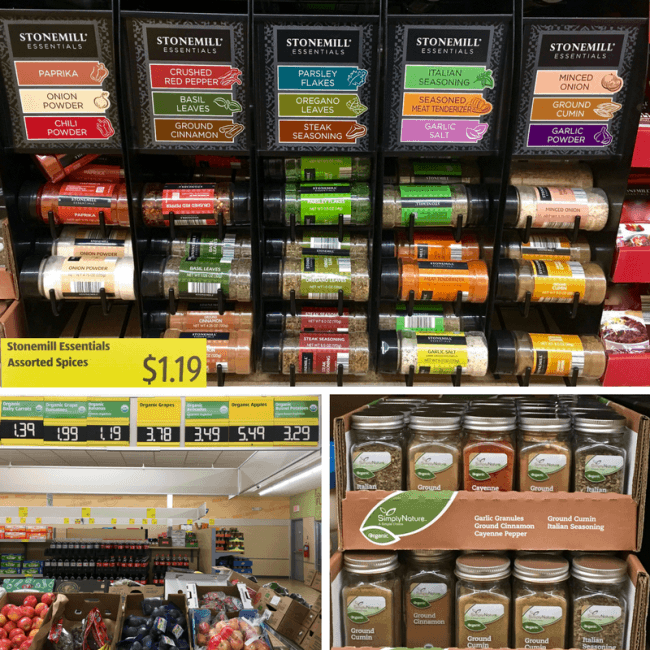 When it comes to grocery shopping, ALDI is where I shop for groceries most often. I LOVE that their everyday low prices save me money on healthy food for my family. I can buy all natural and organic foods I feel good about feeding them for much less than other stores. Plus their store brand products are ALWAYS free of certified synthetic colors, trans fats, and MSG.
The SimplyNature organic line features a wide range of products from almond milk to grass fed ground beef. That 100% organic grass fed beef is just $4.99 a pound. That's a GREAT price!!! Stores also have a selection of organic produce. It does seem to vary a little by store. But I can always find organic apples, bananas, baby carrots, potatoes, and tomatoes at my local store. I picked up a 3 pound bag of organic Gala apples for these apple crepes for just $5.49.
Spices For Less
I have already mentioned how I love cooking with spices this time of year. ALDI has great prices on those too! Their Stonemill Essentials spices are just $1.19 and the SimplyNature Organic spices are $1.99 each. As the holidays approach, ALDI will start carrying more baking spices as seasonal items. I'll be able to stock up and bake my grandmother's Lebkuchen and my mother's spice bread recipes.
Heres what you'll need to make these Sautéed Cinnamon Apple Crepes.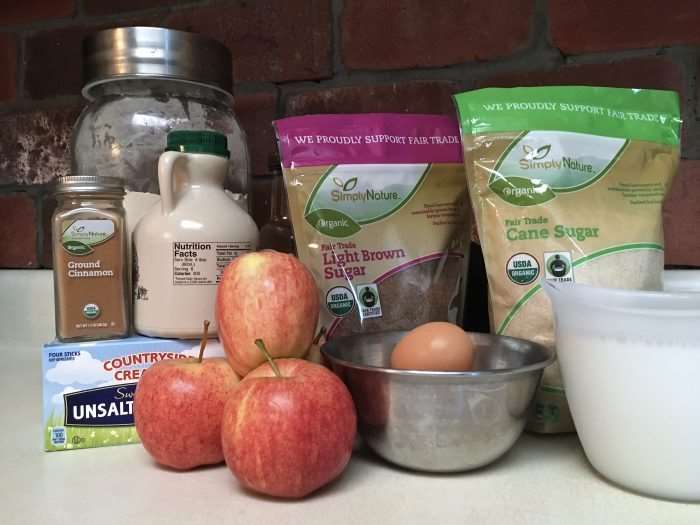 I already have the flour, milk, and eggs needed for this recipe, so I just picked up a few things at ALDI.

Check out the prices on the organic brown sugar and cane sugar. Love it!!!! Notice the premium ice cream on there?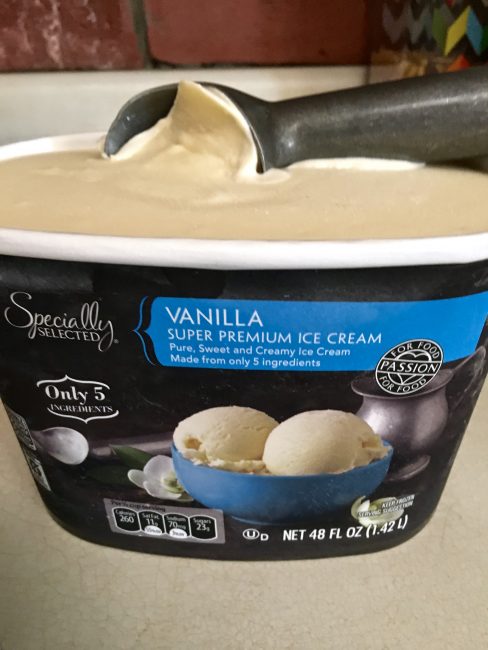 I picked up a tub of vanilla ice cream that has just a few simple ingredients. I find it hard to say no when the kids ask for it. I'm saving this for an apple crepes dessert.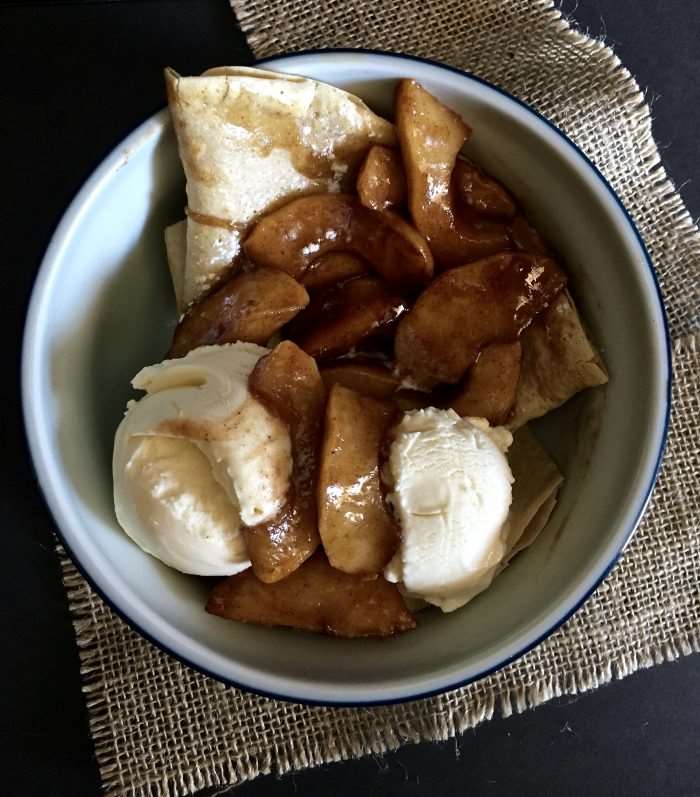 Heck, I may just have them for breakfast. Ice cream = milk, right?
Here's my family recipe for Sautéed Cinnamon Apple Crepes. Try it and it will soon become your family favorite too!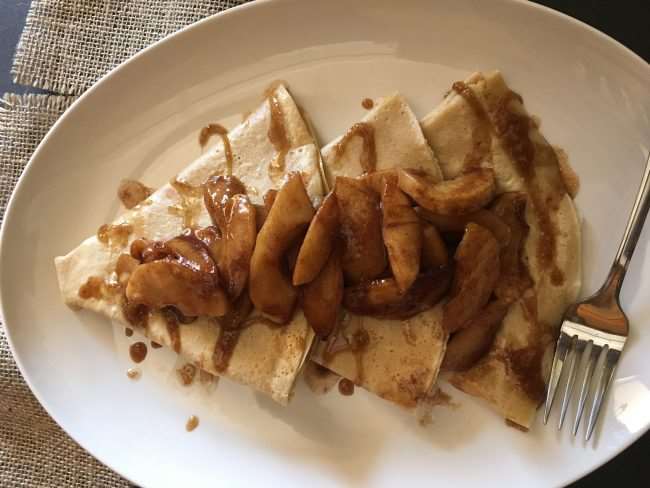 Celebrate the Flavors of Fall with Sauteed Cinnamon Apple Crepes

Ingredients
Crepe Batter
4 large eggs
2 cups whole milk
1/2 cup Countryside Creamery Unsalted Butter
2 cups Baker's Corner All Purpose Flour
1/4 teaspoon salt
Cinnamon Apples
4 organic Gala Apples, peeled, cored, and sliced
2 Tablespoons Countryside Creamery Unsalted Butter
2 Tablespoon SimplyNature Organic Brown Sugar
2 Tablespoons SimplyNature Organic Cane Sugar
1/2 teaspoon SimplyNature Organic Ground Cinnamon
Optional: Powdered Sugar, Maple Syrup, Vanilla Ice Cream
Instructions
Crepe Batter
In a blender, combine all crepe batter ingredients together.
Add the lid and blend at medium speed for 1 minute.
Remove the lid and scrap down the sides of the blender with a spatula to remove any dry ingredients.
Return lid to blender and blend for additional 15 seconds.
Place batter in the refrigerator for 1 hour to thicken.
Cooking the Crepes
Remove batter and preheat a skillet or crepe maker griddle on medium heat.
Pour enough batter to cover the bottom of the skillet in a thin layer (about 1/4 cup). Spread batter with a wide spatula or swirl the pan to help spread it out.
Cook crepe for 30 seconds and flip over.
Cook for additional 15 seconds and then remove from the griddle.
Lay flat on a plate to cool.
Continue cooking remaining batter.
Sautéed Cinnamon Apples
Heat a large skillet or cast iron pan over medium heat.
Add butter.
Once butter has melted, add sliced apples and cook for 7 minutes, stirring occasionally.
Once apples have softened, add sugars and cinnamon to the pan.
Cook for additional 2 minutes, stirring frequently.
Sugars will melt and form a syrup over the apples. Remove from heat and set aside.
Assembling your sautéed cinnamon apple crepes
Fold crepes into half and then thirds (into triangles). Place onto a plate or serving platter. Top with hot apples and syrup. Dust with powdered sugar or maple syrup if desired.
For dessert, you can add a scoop of ice cream on top and serve.
One of the best things about shopping at ALDI is their Double Guarantee. If I'm not 100% satisfied with one of their products, they will replace the product AND refund your money. That's a great way to stand behind their products.
Check out an ALDI near you to check out their organic line, SimplyNature, and their other great products today. Head over to ALDI's website or find them on Facebook, Twitter, or Instagram. They will help you save money on healthy food for your family everyday!
So tell me, when would you enjoy these Sautéed Cinnamon Apple Crepes? Tell me in the comments below. If you have a favorite fall recipe, I'd love to hear about it too.