Sometimes you want a snack that's a little sweet and a little salty.
Peanut butter and chocolate make for great bed fellows. Look at a peanut butter cup. These two flavors are just great together and they've been around for quite a while. Take that combination and add salty pretzels and things just explode with yumminess. These ingredients combined make these Peanut Butter Pretzel Bites the perfect combination to satisfy both your sweet and salty cravings. Don't you agree?
We all want easy, healthy snacks. Right?
We are all looking for snacks that aren't filled with preservatives, artificial food coloring, and unhealthy additives. These snack bites are easy to make using real food, natural ingredients. I used organic pretzels, organic chocolate, homemade peanut butter (peanuts & coconut oil), and homemade powdered sugar using cane sugar. These are easy enough to get the kids involved with. Dipping the balls in the melted chocolate can be a little messy. But it's chocolate, what's not to love!
These bites can be stored at room temperature if you're going to eat them the same day. Otherwise, pop them in the freezer or refrigerator. That way you can have them on hand whenever a craving hits. If you're looking for an easy homemade gift idea, these are perfect!
What's your favorite snack when cravings hit?
Yield: 2 dozen
Peanut Butter Pretzel Bites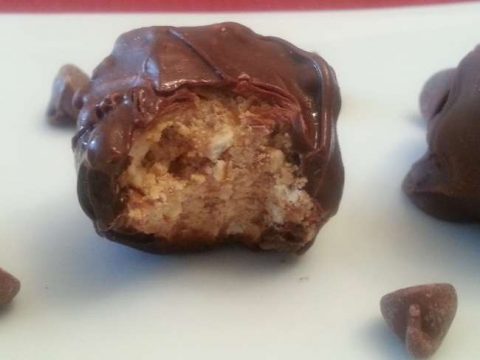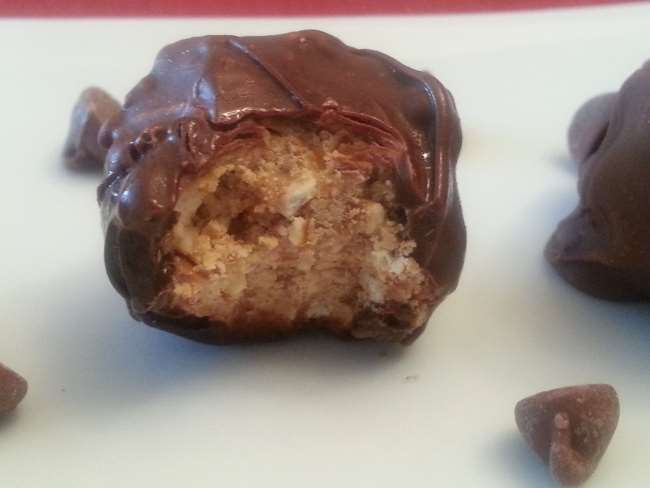 Ingredients
2/3 cup creamy peanut butter
5 Tablespoons powdered sugar
1 Tablespoon unsalted butter, softened
1 cup pretzels, crushed
1 cup milk chocolate chips
Instructions
Stir together peanut butter, sugar, butter, and crushed pretzels. If mixture doesn't stick together on its own, add a little more peanut butter.
Roll into 3/4" balls. Freeze 30 minutes or until firm.
Melt chocolate in a double boiler over medium heat. Dip balls into melted chocolate and refrigerate until set.
Store in refrigerator or freezer if not eaten right away.