This Strawberry Coconut Milk Popsicle recipe is brought to you in partnership with Barleans.
Fresh strawberries are the BEST!! My kids LOVE strawberries. My youngest son loves them so much that he will eat frozen strawberries directly from the freezer bag. It's for him that I created this recipe for strawberry popsicles with just two or three ingredients. These dairy free, frozen treats made with fresh berries and coconut cream or full fat milk are a hit with our whole family. You're going to LOVE them too!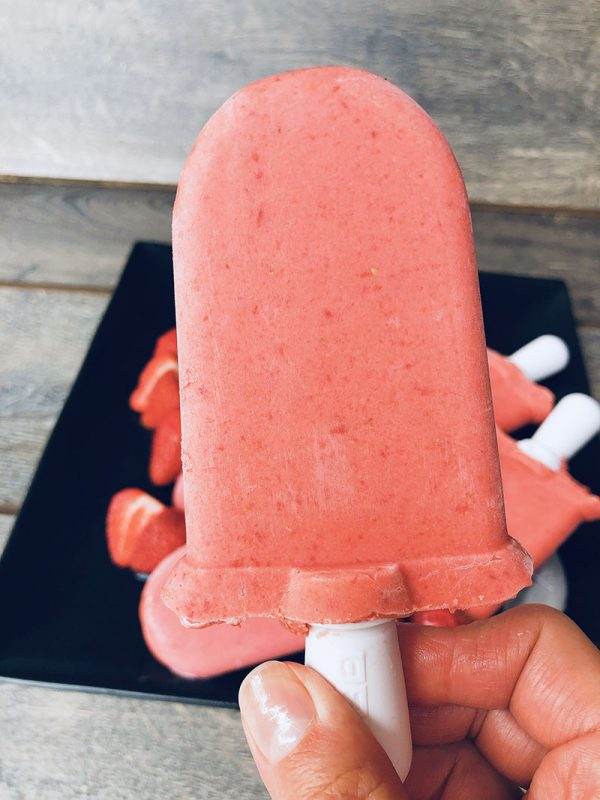 The inspiration for this recipe came from a Strawberry Coconut Milk Tea I had at an Oklahoma City boba shop. I didn't take a picture of it before I tried it and I really should have. Maybe that's something I should add to my to-do list. When I ordered this for the first time, I was asked if I wanted it with almond milk or full fat coconut milk. I asked which was better and she said, "definitely the coconut milk." So that's what I ordered and it's so good. Over the summer, I started freezing my version of it into these sugar free strawberry popsicles. The rest as they say is history.
Easy Keto Popsicles
It takes just a few minutes to make these homemade low carb, strawberry popsicles. The steps for how to make these fruit popsicles couldn't be easier. You add the ingredients to a blender, puree, and freeze.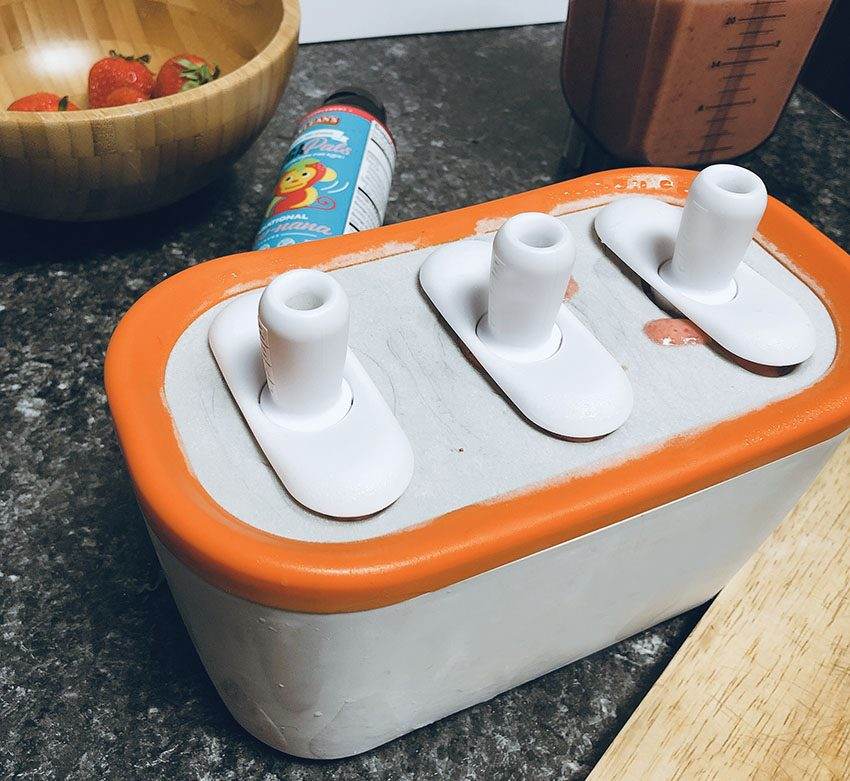 I use this quick freeze popsicle maker that we keep in the freezer. The core is super cold, so when liquid is poured in, it freezes solid within minutes. It makes really quick work of making fruit popsicles.
If you don't have this type of popsicle mold, you can use whatever ice mold you have, ice cube trays, or paper cups that will be peeled off after the liquid is frozen. These plastic ice pop sleeves for really neat too! Just note that the total recipe time will be much longer than 5 minutes. You should plan on it taking several hours for the liquid to freeze fully.
Is Coconut Milk Keto?
Yes! Coconuts contain high fat and low carbs making keto-friendly. Full fat coconut milk or coconut cream found in cans can be a great option for those on a keto diet.
5 Keto Friendly Fruits
We are not on a strict keto diet in our house, but we do limit the amount of sugar (natural and added) we eat. Instead of sugary desserts and snacks, we will often eat fruit instead. Here are 5 fruits that are low in carbs, keto friendly, and great in low carb popsicles.
Strawberries
Watermelon
Lemon
Blackberries
Raspberries
Strawberries, blackberries, and raspberries are three keto berries that work GREAT for these sugar-free popsicles. You can just swap them out on a 1:1 ratio. Watermelon and lemon with coconut milk isn't to everyone's liking, but we really like them. Try it for yourself and you may find new favorite combinations.
Pin this for later…. If you'd like to see more like this, be sure to follow us on Pinterest too.
Low Carb Popsicles
When using the ripe, bright red strawberries, I find that this popsicle recipe doesn't need any additional sweetener. But some times, they are hard to come by and then you need a little sweetener. For a keto friendly sweetener, there is always Swerve, erythritol, or xylitol.
Nutritional information: 1/2 cup of strawberries has 26 calories and 4.5 grams of net carbs. Full fat coconut milk varies by brand, but on average contains 90 calories and 2 gram of net carb count per serving.
Something Extra with Omega Pals
Another option for a natural, Keto friendly sweetener is using Seriously Delicious Omega Pals from Barlean's. They are not actually a sweetener but an Omega 3 vitamin emulsion that tastes like a dessert syrup. It is all natural and sweetened with xylitol. In a 1.5 teaspoon serving there are only 3 net carbs.
<script type="text/javascript">
amzn_assoc_placement = "adunit0";
amzn_assoc_search_bar = "true";
amzn_assoc_tracking_id = "littfamiadve-20";
amzn_assoc_ad_mode = "manual";
amzn_assoc_ad_type = "smart";
amzn_assoc_marketplace = "amazon";
amzn_assoc_region = "US";
amzn_assoc_title = "My Amazon Picks";
amzn_assoc_linkid = "65f57f13cdfc5ff9d34c152621079582";
amzn_assoc_asins = "B001RPBZKQ,B07JP42H1X,B07JP9RN6B,B07JNNSH3P";
</script>
<script src="//z-na.amazon-adsystem.com/widgets/onejs?MarketPlace=US"></script>
Barlean's makes four flavors specifically for kids; Sensation Straw-nana (Strawberry Banana), Hooty Fruity (Tangerine), Lipsmackin' Citrus (Citrus), and Chirpin' Slurpin Lemonade (lemonade). I have used them all in smoothies, drizzled over granola, straight off the spoon, and even in this Banana Smoothie Yogurt Bowl. Kids love the packaging and the way it tastes.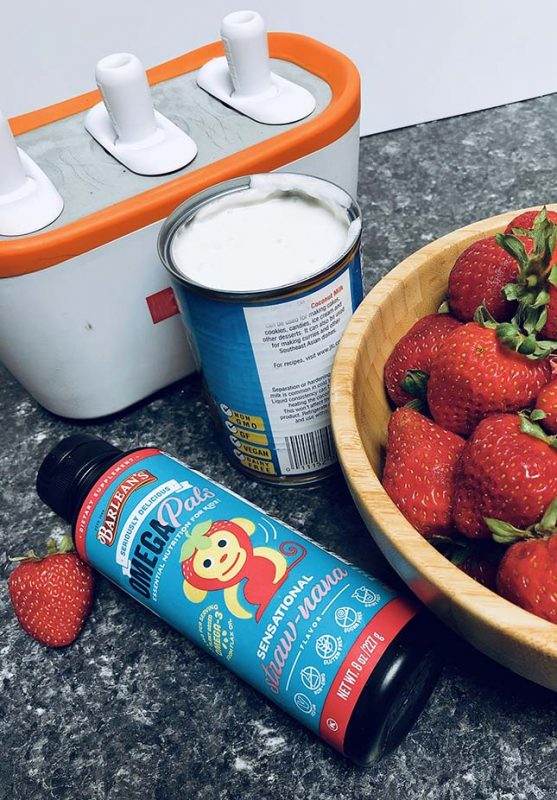 Each flavor offers a good dose of Omega 3. The strawberry banana flavor is made with flax oil and has 1,483 mg of Omega 3 per serving. Adding just 1/4 cup to this strawberry popsicles recipe enhances the flavor in a BIG way. Bananas aren't a typically a Keto-friendly fruit, but you this omega swirl always for all the flavor without the added sugar.
You'll find these at most natural food stores, online at the Barlean's website and on Amazon. You can also try these other flavors for different combinations; Pina Colada, Lemon Creme, and Key Lime Pie.
Homemade Strawberry Popsicle Recipe
Let's get onto the recipe for strawberry coconut milk keto popsicles. The recipe is super easy your kids will love it!
Yield: 4 cups
Strawberry Coconut Milk Keto Popsicles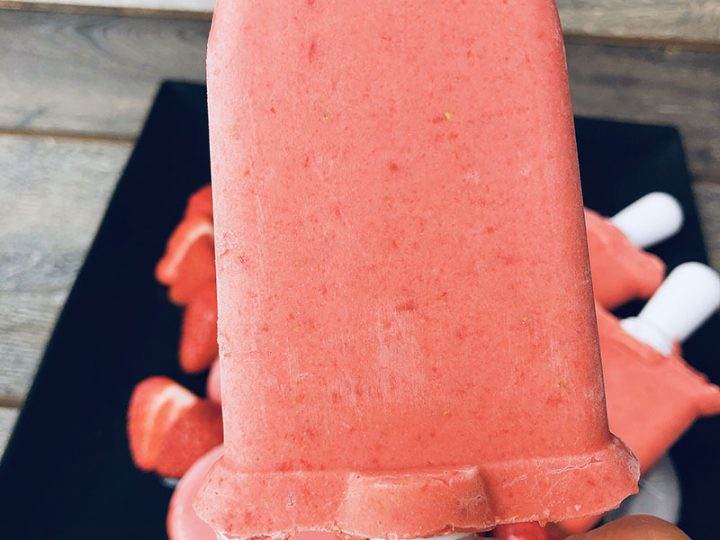 Low sugar popsicles made with fresh strawberries, full fat coconut milk, and sweetened with Keto-friendly sweetener
Additional Time
5 minutes
Ingredients
3 cups fresh strawberries
1 can full-fat coconut milk
Instructions
Blend ingredients in a blender until well blended.
Pour into ice pop molds and freeze.
Notes
The number of popsicles will depend on the size of your ice pop/popsicle mold. If you don't want to make all into popsicles. You can store the blended mixture in the refrigerator.
Nutrition Information:
Yield:
32
Serving Size:
1
Amount Per Serving:
Calories:

30
Total Fat:

3g
Saturated Fat:

2g
Trans Fat:

0g
Unsaturated Fat:

0g
Cholesterol:

0mg
Sodium:

2mg
Carbohydrates:

2g
Fiber:

0g
Sugar:

1g
Protein:

0g
There you have our recipe for low sugar, low carb popsicles. Adding in a little Omega Pals from Barlean's gives the kids their daily dose of Omega 3's they need and the sweet treat they want. Try out the recipe the next time you want a sweet treat without added sugar.
Check out these other keto recipes: