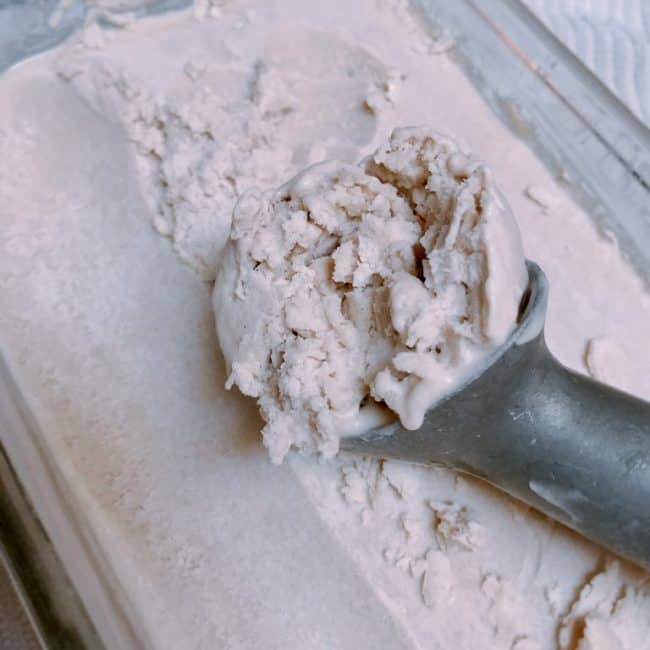 I was recently in Gulf Shores, Alabama on a press trip, when our group went to dinner at Fisher's Upstairs Restaurant at Orange Beach Marina. It was a fantastic restaurant with each course better than the last. But dessert was what really stuck out. So much that I wanted to try and recreate this Steen's Cane Syrup Caramel Popcorn Dome. It was brown butter ice cream sitting atop a caramel wafer, topped with popcorn and drizzled with cane syrup (more caramel). Here is a picture of it.
It's definitely different, but it was delicious. So much so that the person who ordered this had to order another one. Now I'm not a baker, so that caramel wafer at the bottom wasn't in my skill set. But ice cream and caramel popcorn, those I could do!
This dairy free ice cream is my vegan version of the browned butter ice cream the original recipe had. It combined many of the same flavors and the end reason is one I will enjoy again and again, until I can return to Alabama for the real thing.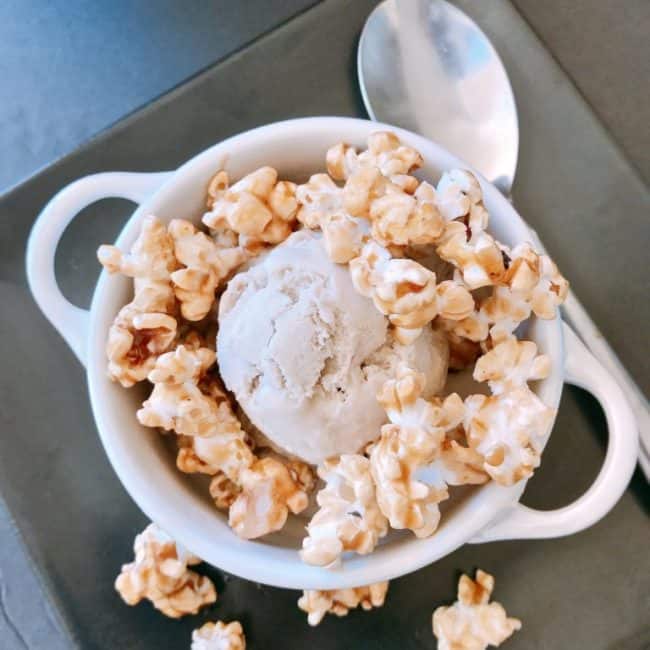 Below is the recipe for this Brown Sugar Coconut Ice Cream made with full fat coconut milk. You want to get the recipe for the vegan no bake caramel popcorn to complete this dessert too. Either way, you'll love this dairy free ice cream all summer long.
Brown Sugar Coconut Ice Cream (vegan)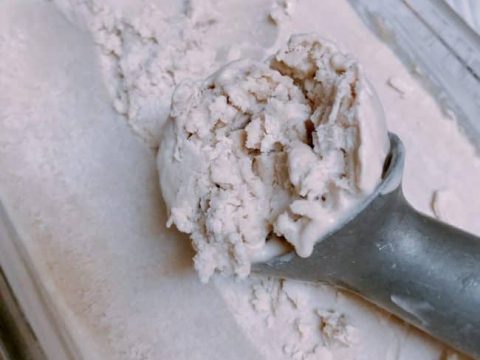 Ingredients
2 cans Full Fat Coconut Milk
3/4 cup Organic Light Brown Cane Sugar
4 Tablespoons Barleans Butter Flavored Coconut Oil
Vanilla bean, scraped
1 teaspoon vanilla extract
Pinch of sea salt
Instructions
Combine all ingredients in a high speed blender like a Vitamix.
Puree until all ingredients are well combined.
Transfer to a freezer safe container and freeze until at a firm or use an ice cream maker.
Can be served as a soft serve or hard frozen.
Nutrition Information:
Amount Per Serving:
Calories:

123
Total Fat:

14g
If you like this recipe, try these other ice cream/granita recipes:
SaveSave