Do you want easy RV meals you can eat while on a road trip? Maybe you've seen others post pictures of their easy RV recipes or meal planning tips on social media. I've partnered with RVshare to share my favorite food ideas and show you how easy RV cooking can be. Here are 25 easy RV meal ideas for breakfast, lunch, dinner, and dessert! You'll be able to enjoy these easy RV camping meals on the road or even at home! There are also some practical meal planning tips below that will help keep things simple so you can have well-fed "happy campers."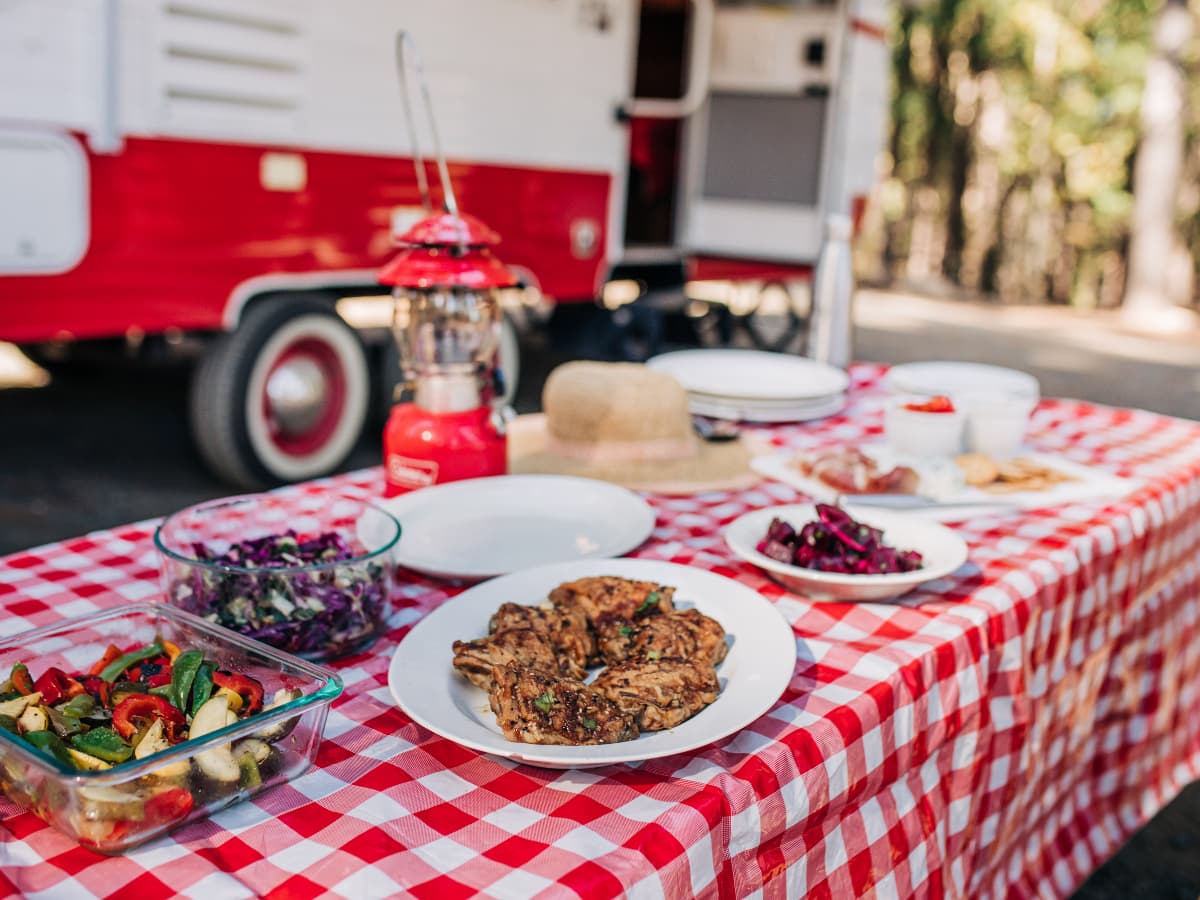 RV Cooking
RVing is a great way to get away and enjoy the outdoors. There's nothing like seeing the stars at night or waking up in a different place every day! But cooking in an RV can feel challenging. An RV kitchen is definitely itty bitty compared to a home kitchen with limited refrigerator, freezer, and counter space. Most likely you are cooking with one stovetop burner, not an oven, and you might not have a dishwasher. But you also have a great outdoor space you can utilize to grill and barbecue.
We have had an RV for a number of years, but we do not RV full time. I'd like to pick up and go year round, but my family has vetoed the idea again and again. So instead, we take our travel trailer out for weekends and week long trips when we can. Traveling this way made me skilled at packing in and out all our food every trip. The one time I didn't pack out all the dry goods brought a family of furry, scurrying guests I don't care to have back EVER again!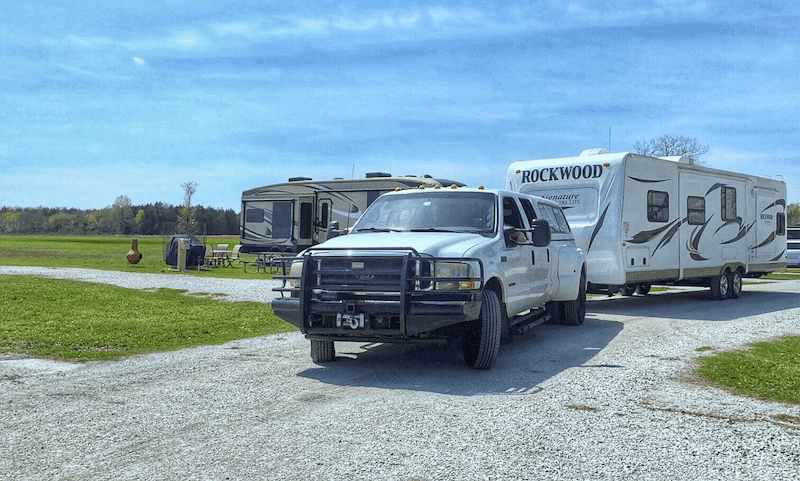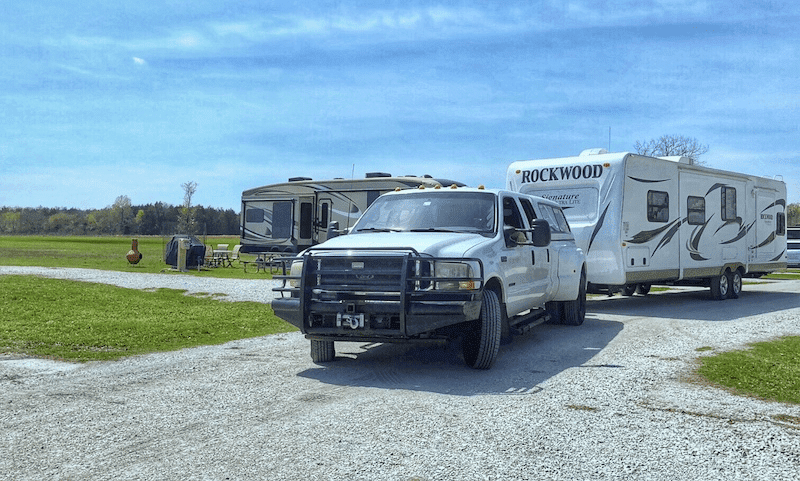 Do you want to earn $2000+ a month? When not using your RV, rent it out with RVshare. They are the US's largest peer-to-peer RV rental company reaching over 1 million renters a year. It's a great way to earn additional income.

RVshare makes it easy for RV owners by verifying renters so you know who you are renting to. RVshare securely handles all the payments, provides a worry-free rental guarantee, 24/7 Roadside Assistance, and includes insurance ($1,000,000 liability coverage, comprehensive and collision coverage) with every rental at no cost. Learn more and get started by listing your RV free here.
How Easy is RV Cooking?
Cooking in an RV can be as easy or as complicated as you make it. For us, we like a mix of meals that use just a few ingredients and many share the same ingredients. This cuts down on the amount of different foods, ingredients, and spices I need to have on hand. Our favorite meals can be cooked on the RV's stovetop, in a pressure cooker or slow cooker, grilled outside on a barbecue, or over a campfire. I didn't mention the oven, because honestly I've never used our RV oven.
Having a mix of recipes that can be cooked in different ways allows us to mix things up so we don't get bored. It also allows for weather changes that may make it difficult to cook outdoors (heat, rain, wind, etc.) There have been trips with high winds and rain that made it impossible to cook outside. So having this versatility really pays off.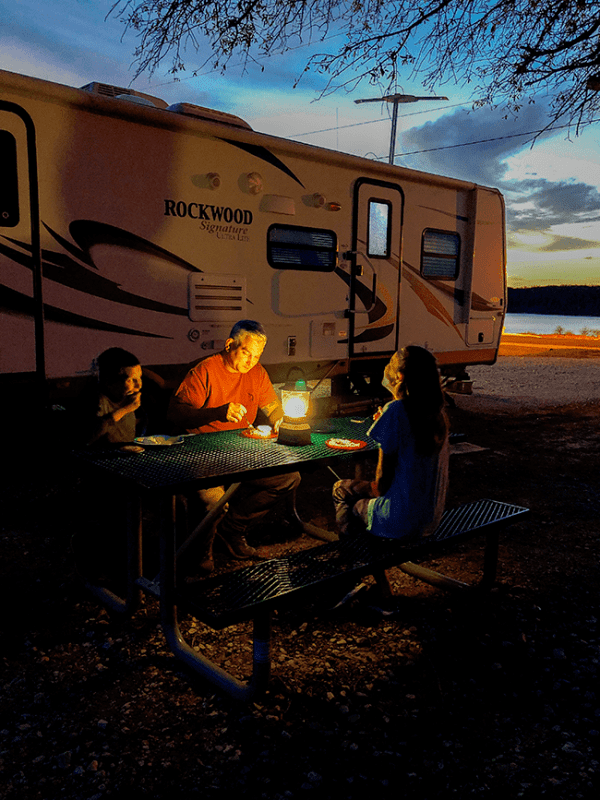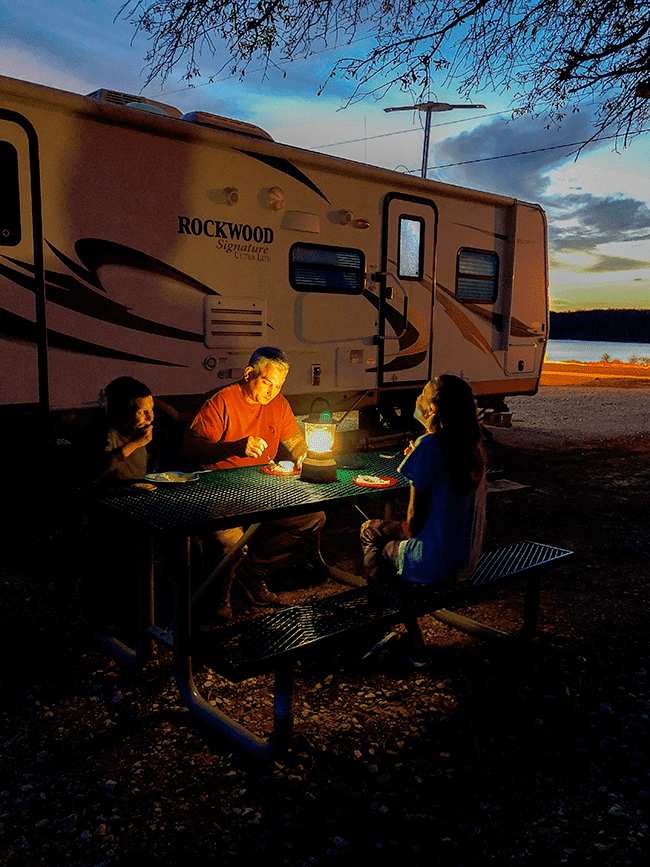 RV Meal Planning Tips
Before I get to the RV meal ideas, let me talk first about RV meal planning. The best advice I can give you when creating an RV or camping menu is to keep things simple. To do that, I like to create a meal plan, checklist, and grocery list before I ever leave home.
Here are a few easy ways to plan and prep your meals:
Get clear on the # of meals and how many people you're cooking for. If traveling or meeting up with others, take note of any food allergies, sensitivities, or aversions.
Create a meal plan template with the number of days you'll be camping and what meals you'll need to make.
Choose meal ideas and recipes with common ingredients. This reduces the number of items you need to buy, prep, and store in the RV.
Make a packing list with the tools and groceries you'll need ahead of time. Adding everything you need to bring to one list helps ensure you don't forget something.
Add everything you need to buy to your grocery list. This includes groceries, spices, camping gear, tools, etc. You'll have an easier time once at the grocery store and have all the essentials you need while RVing.
Pack easy to prepare, dry, or canned items – Space in the fridge and freezer is limited. Pack canned beans, dried pasta,
Pre-cut vegetables and protein for use in your recipes – Carrots, bell peppers, onions, celery, etc can be prepped at home and stored in containers or bags. You can also pre-cut, marinate, and freeze your beef, chicken, and pork.
Include your favorite spices that are easy to pack: salt & pepper, garlic powder, dried herbs (parsley is great!), cajun seasoning or favorite BBQ spice blend. Feel free to add more while you're RVing! You might find some new favorites too.
Pack small-sized condiments, olive oil, etc. Your kitchen space is limited, so plan accordingly.
Plan ahead for leftovers. On an RV trip, every third day or so, I plan a leftover lunch so we can clean out the fridge. The plan is to reheat or repurpose leftovers to make room for other things. Repurposing cooked vegetables and meats in burritos is a favorite pick with my kids.

Related: Check out Boondocking 101 for Beginners and RV Renters – It's chaulk full of tips and helpful advice to RVing off grid.
25 Easy RV Meals To Try On Your Next Trip
RV Meal Ideas for Breakfast
Nature waking up alongside you can be such an inspiration to make easy rv meals while traveling on the road or trail. And here are some easy rv meal ideas for breakfast that you can make: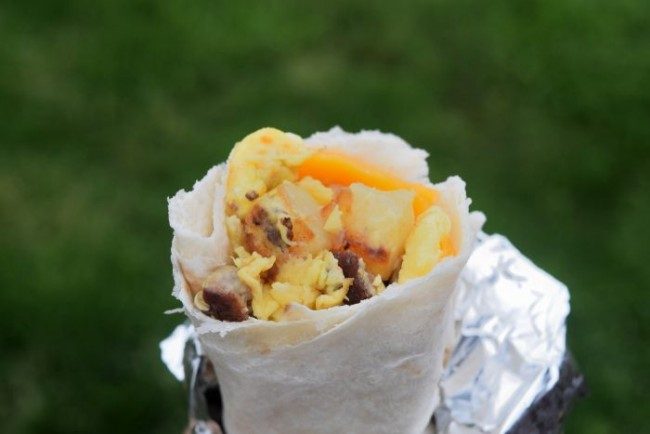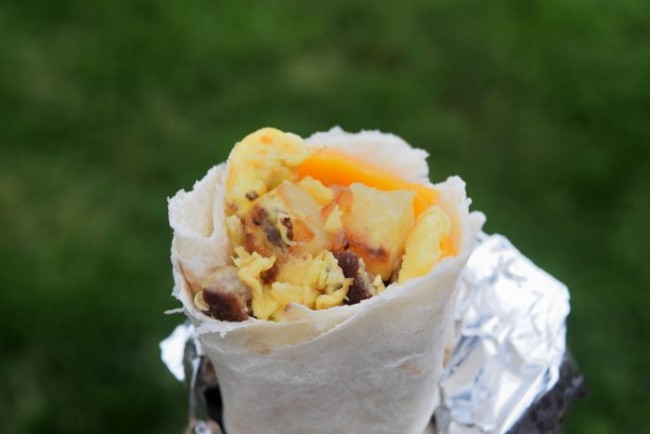 Breakfast Burritos – The perfect way to start your morning before hitting the hiking trails in the mountains, these breakfast burritos are easy to prepare ahead of time and freezes well too. Make a big batch at home and wrap it in foil or wax paper to save space in the fridge. I like to create mine with eggs, bacon or sausage, cheddar cheese, and potatoes. Reheat in the microwave, in a skillet, or over a campfire.
Oatmeal – Cook up oatmeal on the stovetop or add boiling water to instant oatmeal. Check out these no-cook camping food ideas for how I make my own customized oatmeal packets.
Strawberry Yogurt Parfait – Yogurt is easy to pack, easy to make, and delicious! Layer strawberry yogurt with raspberries, blueberries, or blackberries for a sweet treat that is easy to pack and enjoy. Top with nuts or homemade granola.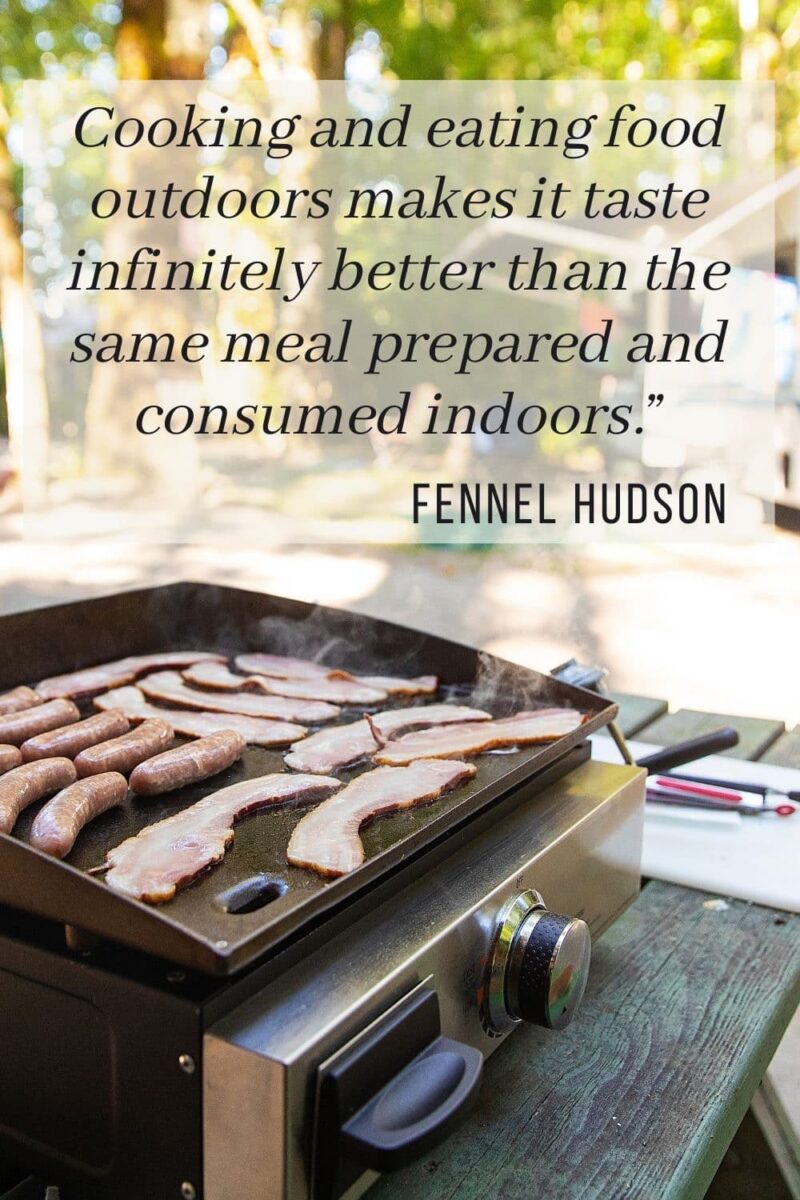 Pancakes and Sausage or Bacon – Pancake lovers rejoice- this easy breakfast can fill up a hungry family! These flapjacks are fluffy, full of flavor, and they're easy to make in batches for feeding a crowd. You can create them in a skillet in the RV or pull out your outdoor griddle and listen to the sounds of nature waking up alongside you.
Scrambled Eggs – Scramble some eggs before you head out on the road or trail- it's easy enough that even little ones can help if they want. The options with this meal are limitless: add ham, onions, peppers, cheese…anything your heart desires really!
Cottage Cheese And Fruit Wrap – If it's not quite too hot yet outside for dessert, this is a delicious treat on those days when things are heating back up out there. Layer cottage cheese with fresh fruit inside a flour tortilla wrap then roll them tightly making sure to tuck in the ends. You can also sprinkle a little cinnamon sugar or honey if you like for a bit more sweetness.
Skillet Cinnamon Rolls – flatten out refrigerated, canned cinnamon rolls and place each one in a preheated skillet or on a griddle on low heat. You can add a pat of butter if you like. Flip over frequently and cook for about 10 minutes to ensure the dough is cooked thru and has a nice outer crust.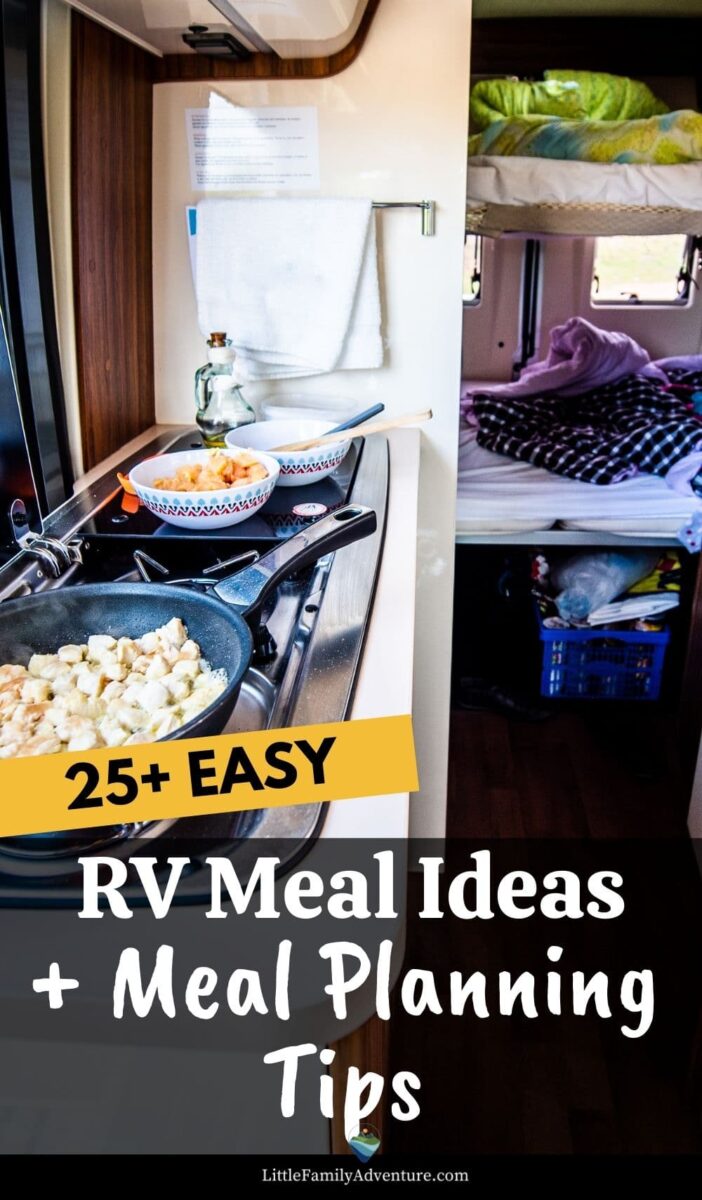 Easy Lunch Ideas
Sandwiches and Wraps – Perfect packable lunch idea with your favorite sammie or wrap. When we know we'll have leftover chicken, we love these chicken caesar wraps or this chicken salad on whole-wheat bread. But PB&Js are just as tasty on the trail.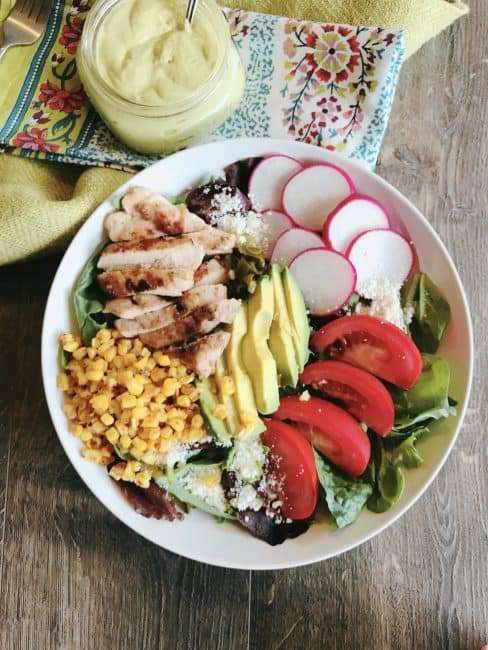 Entree Salads – Whip up your favorite entree salads like a Cobb Salad, Southwest Chicken Salad with Roasted Poblano Dressing, Chopped Apple, and Cranberry with Chicken, Thai Chicken Salad with Peanut Dressing, Chicken Caesar, etc. I often will buy bagged salads for these and add protein. It's easier with the prep work already done.
Vegetable or Fruit Salad – Diced fruit or vegetables make an easy portable lunch. I'm partial to a fruit salad with sliced almonds and a drizzle of honey, but I also really like a hearty pasta or antipasti salad. Take a look at these side dishes for sandwiches that fit the bill here.
Burritos – Use any leftover pulled pork, chicken, or carne asada (see dinner ideas below), beans, rice, cheese, cooked peppers and onions, etc., and add to flour tortillas for burritos, add to lettuce for a salad, or more rice a burrito bowl.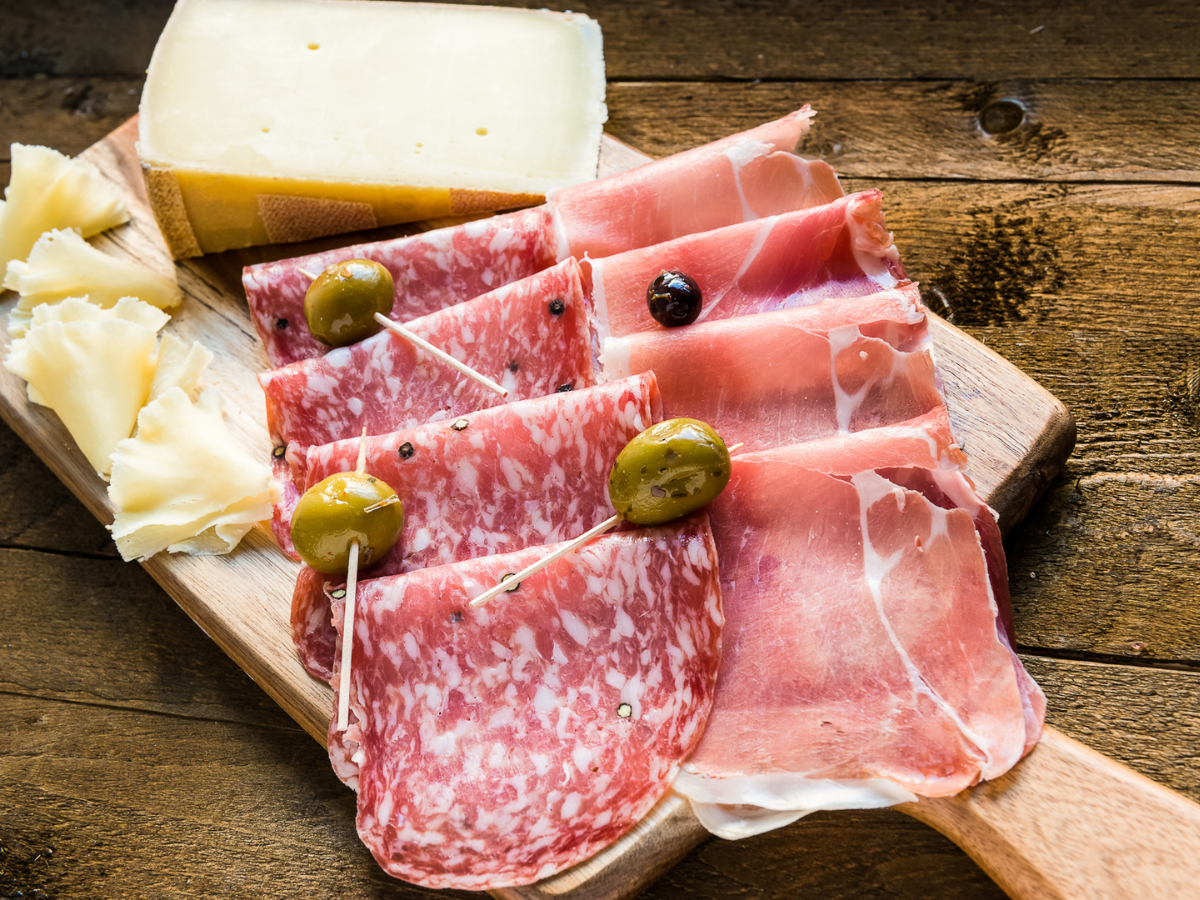 Snacking Boards or Homemade Lunchables – Super easy lunch or dinner meal idea with your favorite deli meats, cheeses, nuts, dried fruits, olives, etc.
Peanut butter rice with shredded chicken – Cook up some minute rice and add this peanut butter sauce and some shredded chicken for a protein-packed lunch. The combo may seem strange but it's quite good and reminds you a bit of Thai sauté with rice. Peanut sauce can be made ahead at home or on the stovetop.
Related – No Cook Camping Food Ideas – To be honest, I rarely "cook" for lunch and prefer grab and go options. I listed over 50 food ideas that are super easy.
RV Dinner Ideas
Pulled Pork Sliders with Coleslaw – The pork roast can be cooked at home, shredded, and frozen or cooked in a crockpot or Instant pot in the RV. At dinner time, you add shredded pork, BBQ sauce, and coleslaw to Hawaiian sweet rolls. (Note: If in a pinch, you can buy pre-cooked, shredded pork at the grocery store and use that.)
Grilled Chicken & Vegetable Kebabs – This yogurt marinated chicken can be pre-marinated at home and frozen. When ready, thread onto skewers and grill. I like to serve it over rice at home. Parboiled rice is preferred with camping or RVing because it takes less time to cook.
Campfire Foil Packet – Foil packet dinners are the ultimate outdoor one-pot meal. Each dinner can be made in advance, frozen, and heated on the grill or campfire. I really like this Keto-friendly Greek Ground Beef and Vegetable Foil Packet Dinner. You can find other grilled foil packet dinners here.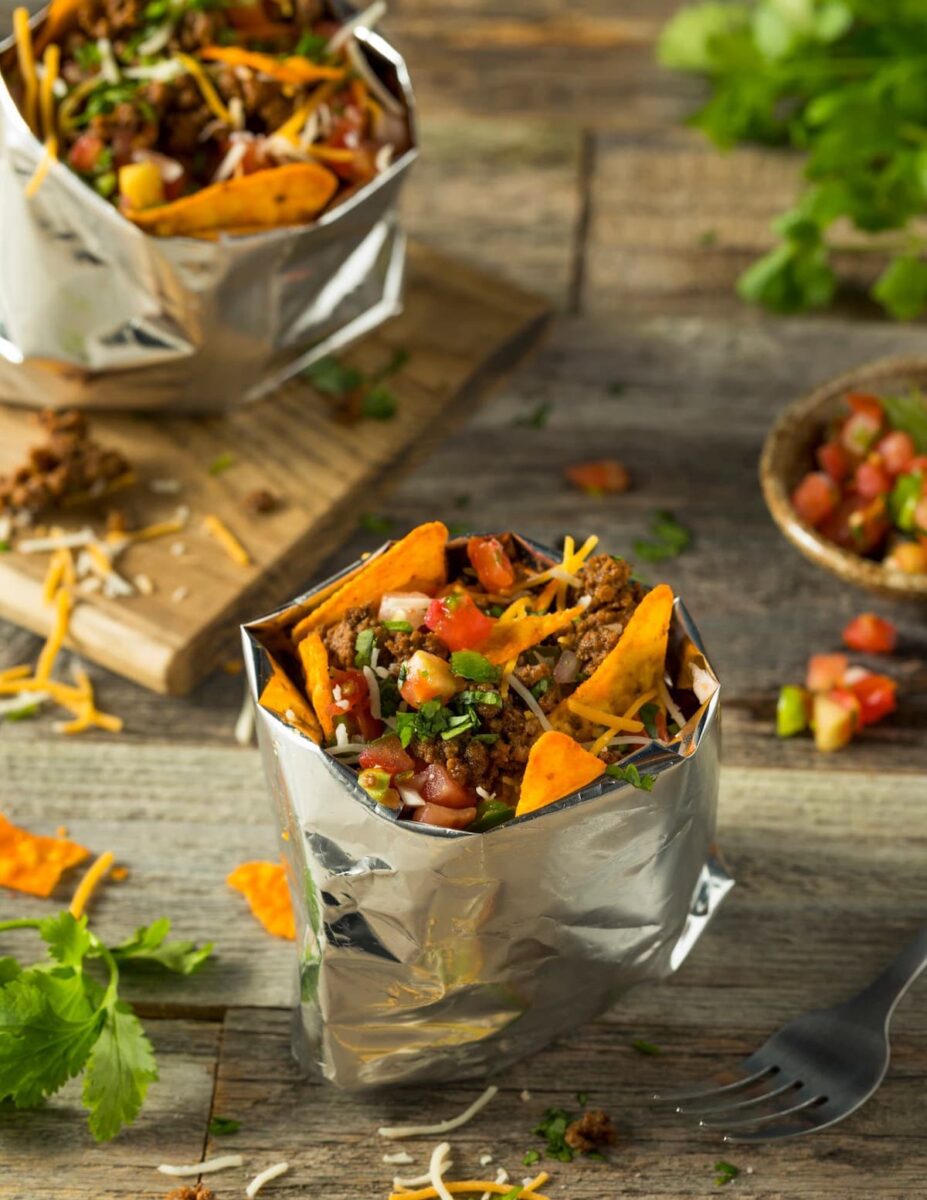 Walking Tacos – These are another staple on my camping and RVing meal plans. The kids love them and they are super easy. I pre-cook ground beef at home, add homemade taco seasoning, and freeze. For dinner, I reheat the taco meat, add canned beans, diced tomatoes, guacamole, shredded lettuce, and cheese to small bags of Nacho cheese or tortilla chips.
Italian Sausage with Peppers and Onions – Cook Italian sausage with peppers and onions in a skillet, as a foil packet dinner, or skewered on the grill.
Naan Pizza – Flatbread pizzas are easy dinner ideas to put together and cook over a campfire or grill. Add tomato sauce or pesto to Naan/flatbread and top with your favorite pizza toppings. Then heat through directly on a BBQ grill, over a campfire, or in a cast-iron skillet with a lid or piece of foil over the top.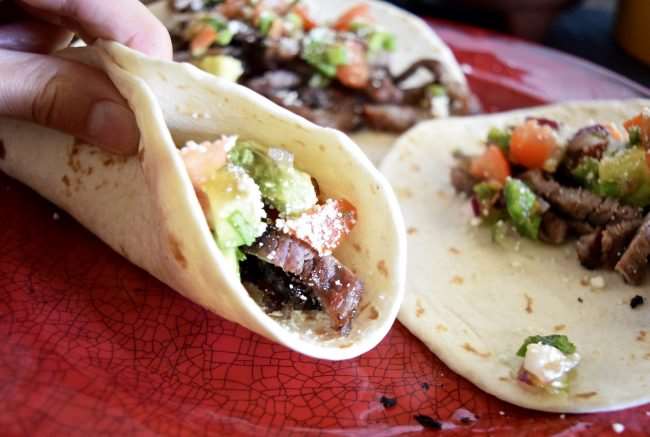 Carne Asada Tacos – This marinated flank or skirt steak tastes better the longer it marinated, so you can prep ahead at home or on-site. Grill or pan-fry the steak and serve with guacamole, canned beans, salsa, and shredded cheese.
Dessert and Snack Ideas for RVing and Camping
Doughnuts from your local bakery or donut shop are almost always on our list because they take just minutes to prepare. We like to team them up with caramel or chocolate sauce for a decadent treat. It's no secret we love doughnuts around these parts!
Fresh Fruit (No Refrigeration Needed) – Easy to store and easy on the wallet – apples, oranges, and bananas are inexpensive and can be bought in bulk. Store on the counter or table for a grab-and-go snack.
Trail mix – Buy a big bag at Costco or Walmart and divide it into smaller bags or containers for easy snacking away from home. I like to use these reusable bags made from silicone for snack bags.
Granola bars/cereal bars​ – Make your own granola bars with healthier ingredients or look to others like Kind Bars that have high-quality ingredients but are still easy to find when you're out of town! ​​​
Ice Cream Sandwiches – Ice cream sandwiches are a REAL treat when RVing. The kids will love them! Buy them already made or make your own ice cream in an ice cream ball and create a sandwich with your favorite cookies.

Fruit Popsicles with Fruit Juice – Make use of that RV freezer. Mix fruit juice of choice with frozen fruit, add popsicle sticks, cover molds then freeze overnight or until completely set. Peel off the mold before eating and enjoy on hot days! I like to bring frozen cans of juice concentrate for this compact and easy to use!
Popcorn – Air-popped, microwave, or campfire version – easy, easy, easy!
Now that you have 25 easy RV recipes to choose from, hopefully, mealtime will be a little less daunting. Heck, you don't even have to wait for the trip! You can try some of these meals camping in your backyard.
A word about RVshare – When not using your RV, rent it out and earn some great money. RVshare is the AirBnB of the RV world and they have helped fellow RV owners earn up to $40,000 a year. Imagine what you can do with that! You set your rates and when you'll make your RV available. One-on-one support is also available to help you set up your listing and answer your questions. Click here to learn more.
As always, we encourage you to share your favorite RV recipe with us and tag us on social media so that we may showcase it here at Little Family Adventure or on our Easy Camp Cooking Facebook group. Until next time, happy cooking!