Looking to avoid the crowds or trim your RV vacation budget? Try boondocking or dispersed camping! It's adventurous, free, quiet, and free of crowds. I'm partnering with RVShare to share what you need to know before you venture off on this type of off-grid RV camping.
RVing in general allows families to hit the road and vacation with all the comforts of home. Boondocking though can get you off the beaten track and away from crowded campsites and parks. For RV owners and renters who are ready to try this side of the RV lifestyle, boondocking is a great way to get outdoors and vacation again. PLUS it is cheap, fun, and simple to do once you know the basics.
While camping off-grid may seem a bit scary, it is not difficult in the opinions of many RVers, there are helpful tips, tricks, and strategies to make it more fun and an overall positive experience.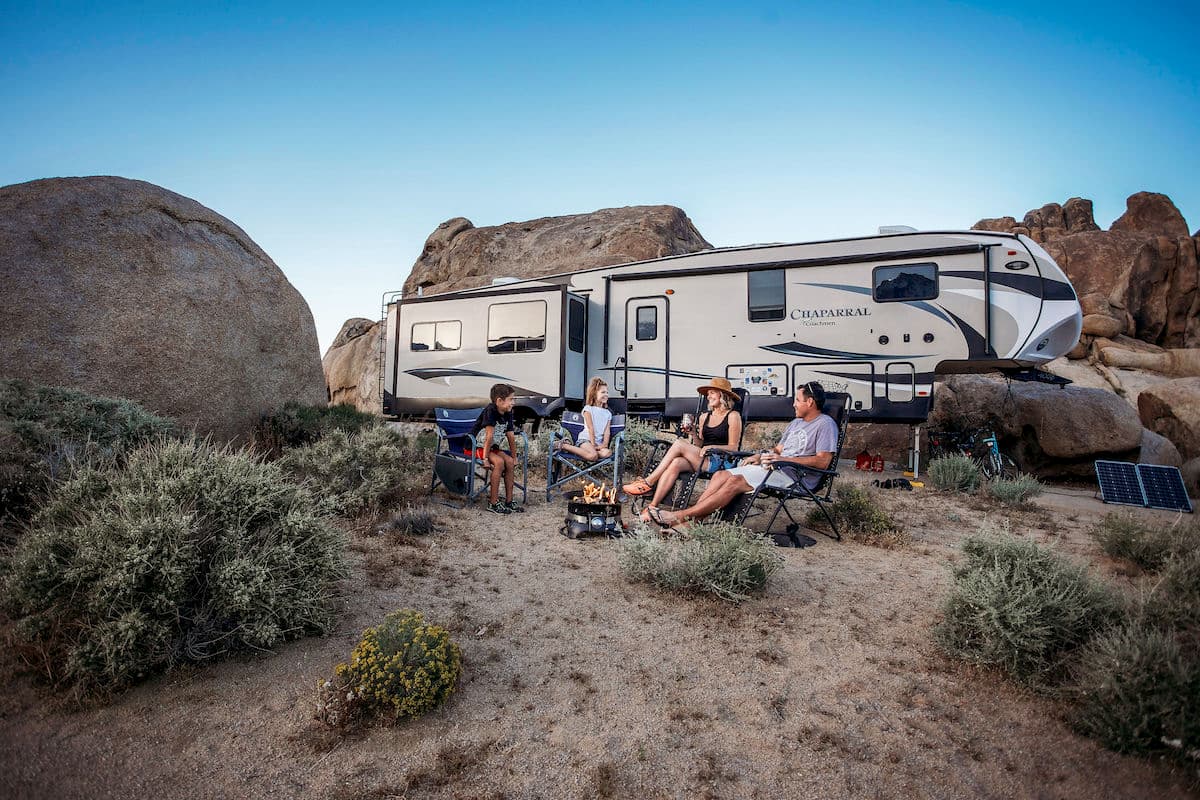 Boondocking can give you great access to remote, beautiful areas of the country. It might seem intimidating at first for both RV owners or anyone renting an RV or travel trailer. But by following these simple tips and tricks, I feel confident you will be glad you gave it a try.
Here are 9 things you need to know about boondocking in preparation for your RV trip.
What is Boondocking?
Boondocking, also known as dry camping or dispersed camping, is essentially free camping. For us, it's the opportunity to camp "off-grid" away from other RVs, traditional campgrounds, and services.
Boondocking can be in a campsite that is away from the populated areas, where all you get is a cleared place to park your RV. However, boondocking can also refer to finding your own place to park your RV, typically in a nature environment, and that is where you set up camp.
But, as you can imagine from the lack of paying a fee, it is also basic camping. There are usually no services such as bath houses or hook-ups for electricity, water, or sewage. You may not even have access to an outhouse.
Camping in these conditions can be challenging because you must pack everything into the campsite that you need and then pack everything out at the end of your stay.
The important part of this is just to remember to plan carefully so you don't forget any necessities. There will be no place to go get them if they are forgotten. If you plan carefully, you can make sure your experience is just as good, or even better, than if you had access to all of the amenities and services you are used to.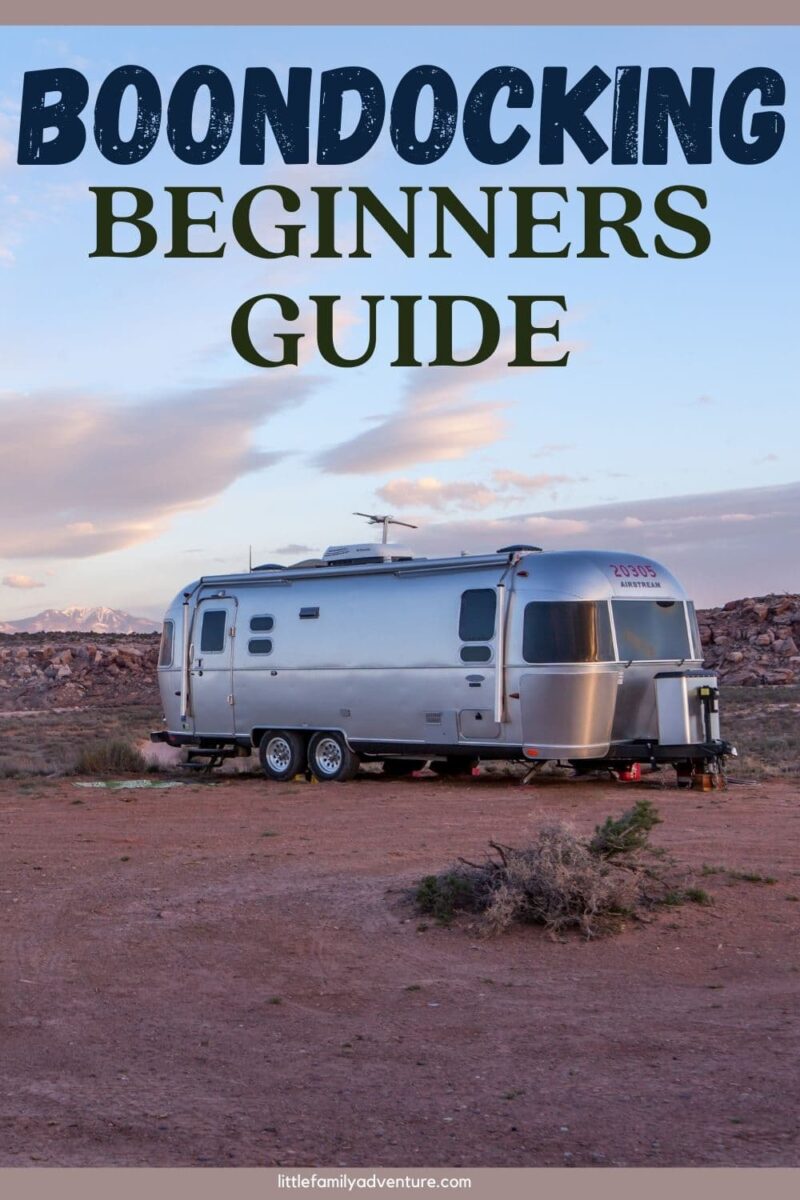 Where Can You Go Boondocking?
Boondocking spots can be found in a variety of places such as roadside rest areas, public land, trail heads. and even in Walmart, Cabela's, Flying J Truck Stops, and Camping World parking lots. However, you cannot just assume if you read about it, camping in these areas is acceptable. A savvy boondocker calls ahead of time and double checks before setting up camp.
Boondocking on land owned by the Bureau of Land Management (BLM) is almost always free to park your RV. Vast areas of land in the west are managed by the BLM. Although there are formal campsites set up by the organization that charge fees, if you ask, you can find out about free and primitive campsite options.
National forests also often offer boondocking options. Look at their map to learn more details about where camping is available. You can call directly to the specific forest to inquire about dispersed camping options, even if you do not see them listed.
Finally, there are plenty of discounted camping programs such as Harvest Hosts. While you must pay a membership fee, you can then enjoy free camping for one night at farms, breweries, and wineries across the country.
NOTE: See our article on Free Camp Sites in the United States for more resources and websites we use to find dispersed camping areas.
How to Boondock?
In short, know AND obey the rules for where you want to camp. Before settling in, make sure you know the rules about where you are staying. Talk to the local staff in charge of the park, land, or parking lot. Some details to consider include:
How long can you stay?
Can you build a fire?
Can you hunt or fish?
Are there rules about where to park or recommended sites?
Is there a dumping station, and if so, is there a fee to use it?
Most BLM land allows boondockers to stay for up to 14 days. However, this is the average and may vary from location to location.
Knowing the rules can help you avoid problems and trouble with park authorities. So, take a few minutes to chat with staff in person or give them a call.
Conserve Water
With no access to water where you are camping, you will need to bring in your own. Fill up your water tanks (and empty your black and gray water tanks) before boondocking.
NOTE: If you are traveling far, I recommend you wait to fill up your water tank as close to the boondocking location as possible. Pulling less weight will increase your gas mileage.
Depending on how long you are staying, bring along jugs of extra water you can use for drinking and cooking. You might also consider purchasing a large, 5-gallon jug in case you end up needing extra water. It is better to be over prepared rather than underprepared with this type of camping.
It is important to conserve as much water as possible during a boondocking trip. You can get as extreme as only taking sponge baths or using body towelettes and using as little water for cooking and washing dishes as possible. Obviously, laundry will be hard to do on-site with limited water, so make sure you have enough clothing packed.
Some other ways to conserve water include taking a dip in a nearby lake or river rather than showering and using a water sprayer bottle for washing dishes. You can even collect rainwater for flushing your toilet and other water usages that do not require potable water.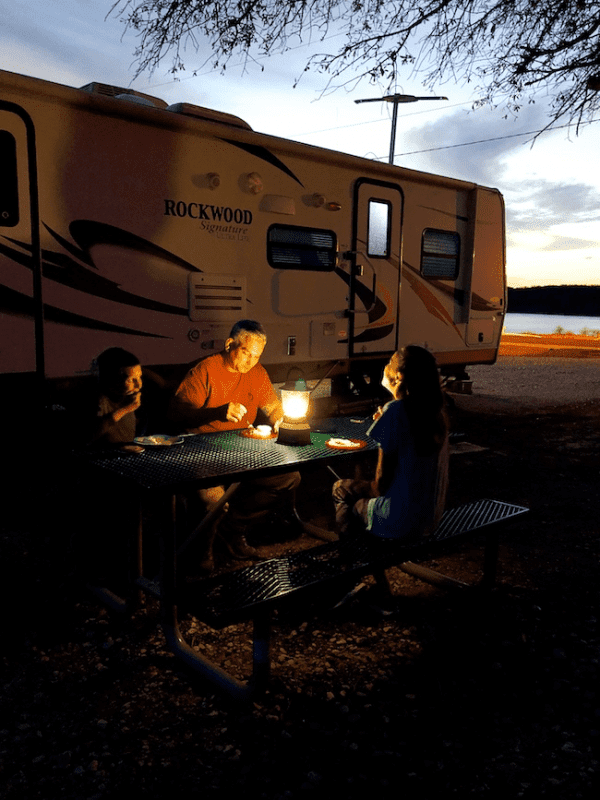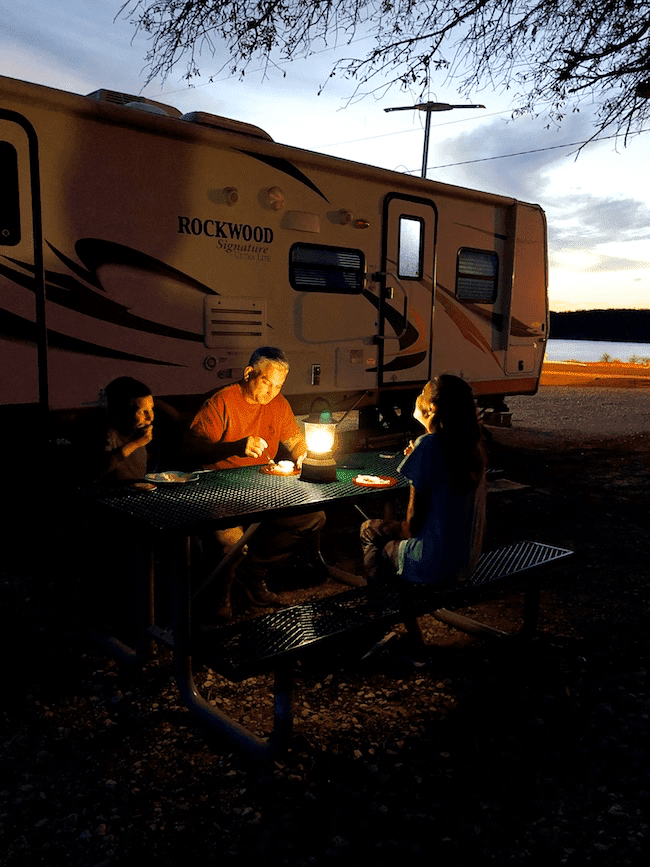 Conserve Power Resources
If you need power for your rig, you will need a generator or solar power set up. Also, bring enough gas and propane to run your generator. Check your deep cycle batteries throughout your stay to make sure they do not dip below 50%.
To help conserve power, use LED lights and use electricity sparingly.
If you plan on boondocking regularly, a solar power system is a great investment.
This will let you create electricity wherever you go, limiting your reliance on propane and gas which add to your load. Furthermore, because you will mostly just be running lights and perhaps a few electronic devices, solar power is often enough to keep things going.
Do not forget to consider the season, too.
When boondocking in cooler months, you may need to run your heater. During the day, you can rely on the sun's warmth and, if permitted, light a fire to stay warm outdoors. However, at night you will probably need some additional heat.
Plan your power needs ahead of time with plenty of propane, gas, or battery charged up so that you stay toasty warm. Alternatively, purchase sleeping bags specially designed for very cold weather and bundle up!
The heat is another concern. Air conditioning can run your battery dry very quickly. Instead, turn your exhaust fans on "in" mode and hang a wet towel underneath. This will help you stay cool without using as much electricity.
Note: If renting an RV, RVShare makes it easy to find a model with a generator. On the "More Filters" tab, select electric generator, then look through the listing where you'll find of the RV/trailer at your location. Be sure to take note of how many hours of generator time are included in your rental free.

Leave No Trace – Pack It In/Out
Just like when backpacking, be responsible! You'll be packing in everything you need for the duration of your trip. With no dumpsters within sight, you will have to pack all your trash out. In some remote locations, bears and other wild animals can be a concern, so leaving your trash outdoors is not an option.
Bag up your trash in trash bags or use old grocery bags to pack up your waste. You may also consider getting a larger plastic trash can that you can use to keep everything contained.
Plan Your Meals
What can you eat while boondocking? Well, just about anything!
However, it is worthwhile to plan so you can take all your groceries with you. This will help avoid having to drive a long distance to a grocery store from your remote location. Many people make a meal plan on a weekly basis, writing out which meals they will make every day of the week.
Note: if you need help with meal planning or want pre-made meal plans, see our Stress-Free Camp Meal Plan Bundle that has everything you need for delicious camping food.
In addition, when it comes to cooking while boondocking, simplicity is best so you can avoid the many dishes that more complex meals involve. Crockpot, instant pot, and one-pot meals are ideal (as long as you have electricity.) For example, chili, soups, and chicken and rice recipes are great.
Another way to conserve while boondocking is to cook meals over the open fire outside, assuming having a campfire is allowed. This way you can save your propane for other uses.
Think Outside the Box
Boondocking is a lesson in living simply.
Because you do not have access to all your usual hook-ups and services, conservation is essential. You will have to think outside the box to make everything last. This means you should think about entertainment creatively as well. Instead of watching movies and using your digital devices, spend your free time reading books and enjoying nature. Set up some chairs outside and watch the clouds, look up at the stars, or gather to play camping charades.
Have an Exit Strategy
Upon leaving your boondocking site, you might be in desperate need of a dump station and fresh water. In fact, throughout your boondocking stay, you should keep an eye on your gray and black tank levels to make sure they are not getting too high.
When they are too full, it's time to move on. Boondocking requires a plan, which includes knowing where the closest station is to dump your tanks.
Sometimes, there are dumping stations within the same park where you are boondocking if there is a paid camping area. You can ask about using the dump for a fee if you parked in the non-paid section.
Another option is to check at rest areas, gas stations, or truck stops. They sometimes have public dump stations available for RVers to use. The important thing is to know where to go so you can clean up your RV immediately after your dry camping trip.
Renting an RV to go Boondocking?
Dispersed camping isn't limited to seasoned, veteran RVers and owners. New RVers and renters can have a great time off-grid camping too. Start by renting the right RV or travel trailer for you and your needs. Start with these questions to ask to find your right RV rental.
What's the Best Dry Camping Travel Trailer?
When renting an RV for dry camping, I highly recommend renting smaller (under 30 feet), lightweight travel trailer that includes a generator. This smaller size makes it easier to get in/out of places you can camp. I highly recommend RVShare for both renting an RV and for owners looking to rent out their RVs. Make note of how much generator usage is included in your rental fee and how many propane tanks are on board. Two tanks can last you well past a full week if you converse energy usage.

Why RVShare?
RVShare is the largest peer-to-peer RV rental company. They make the whole rental process simple, easy, fun, and totally COVID safe! For anyone looking for an economical vacation, RVShare renters save an average 57% on vacation costs compared to other forms of travel. Plus they offer rental insurance and 24/7 emergency roadside assistance with every booking. So you can rest well knowing that you may be camping away from crowds, but you aren't alone if a problem arises.
Start your RVShare search for the perfect RV rental here.
Note: Do you own an RV and want to make up to $22,000 in rental income? Click here to learn more about listing your RV with RVShare.
After a few boondocking camps, you will get into the rhythm and preparing for this type of camping will be a piece of cake. As a bonus, it also helps you keep your RV living or rental costs down. Because you can often stay for up to 2 weeks at a time, you can enjoy a bit of stability as you roam around from site to site. There are many advantages to boondocking, indeed.
While boondocking may seem intimidating for beginners, with some research and a day's preparation, you can make it happen! Before you know it, you will be a pro at boondocking and be able to prepare for this sort of stay very efficiently.