Cold winter temperatures are here to stay (at least for the season), but that doesn't mean you have to stay indoors this winter. With the right planning, you can get outdoors, fight off the winter chill, and have a fun-filled winter adventure.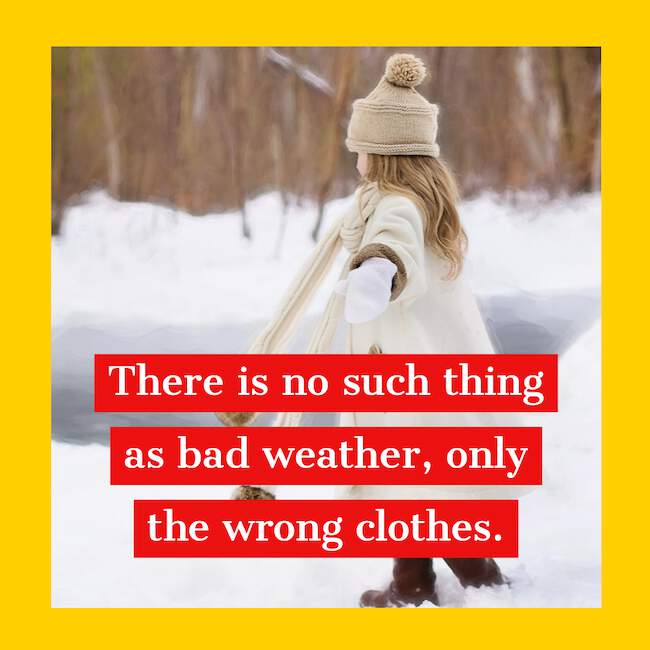 There's a Nordic saying, "There is no such thing as bad weather, only the WRONG clothes."
If you waited for the weather to be "good enough to get outside", you may find yourself inside A LOT! With this mindset of waiting for the right day (whatever that may be), you could be missing out on all kinds of winter fun; snow tubing, cross country skiing, visiting ice castle, geocaching for "Ugly Ornaments", and so much more. Instead, embrace the winter weather with these five tips for staying warm while you check things off your Winter Fun Bucket List.
How to Stay Warm in Winter
1. Choose the Right Fabrics
During the cold winter months, you need to control moisture and restrict air flow if you want to stay warm outdoors. Simply trapping heat under your jacket doesn't do it. For maximum comfort, choose moisture wicking fabrics that dry quickly.
Cotton keeps you warm, but soaks up moisture like a sponge. Once wet, cotton garments DON'T keep you warm, just wet and soggy. I remember one time I wore a cotton sweater that got wet. Starting off it was a REALLY cute white cable knit sweater, but after about an hour of being wet, I felt more like a wet shaggy dog than anything else.
Fleece is a great lightweight option for both moisture wicking and warmth. Next to the skin, it's soft and helps you stay warm. You will find many options for fleece base and mid layer clothing. For those that like to wear leggings or jeans, a fleece lined version should be a wardrobe staple.
Down and synthetic down are effective at providing insulation without adding heavy layers. Unfortunately, down doesn't work well once it's wet. So, it's best as a mid-layer or an outer layer with a waterproof coating.
Wool is your best fabric option because it whisks away moisture from the skin and insulates against the cold air (even when wet). Have you ever seen a cold sheep? That's my point!
You can find it in everything from long underwear/base layers to outerwear.
2. Layer Your Clothes
It's not enough to choose the right fabrics, but you need to layer them effectively. You want to stay warm and dry while avoiding overheating. Therefore, layering is key to being comfortable outdoors. Start with a moisture wicking base layer next to the skin, insulating base layers, weatherproof/waterproof outer layer.
Tip: When engaging in strenuous activity outdoors, dress for 10-15˚ warmer than the actual temperature.
3. Wear a Hat & Gloves
Your body loses heat when exposed to the air. Simply covering up with a hat and gloves can help prevent that and keep you warm. It was once said that you lose 70% of your body heat through your head, but that isn't quite accurate. It's more like 10%.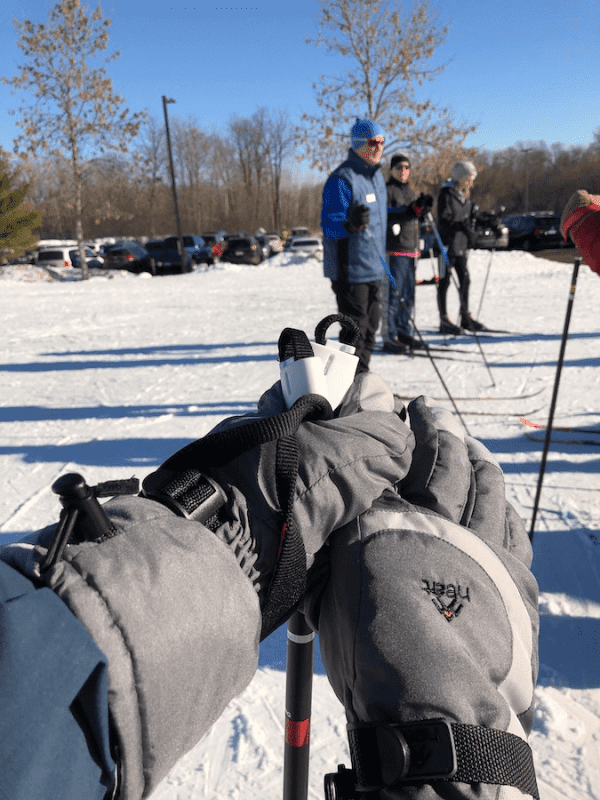 Tip: If playing in the snow, wear waterproof gloves.
4. DIY Hand Warmers
You can buy hand warmers, but it is really easy to make them yourself. Sew together two 3-4" fabric squares or take two small plastic bags and fill with a few tablespoons of uncooked rice.
5. Warm Yourself from Within
Your body naturally produces its own heat by burning calories. Eating a healthy diet means you have the fuel necessary to produce that heat and stay warm. It's also important to stay hydrated. Water is essential year around, but it's also a good insulator.
Follow these tips to stay warm in winter and get ready for a grand outdoor adventure. If you need a little winter activity inspiration, check out these winter travel bucket list ideas from Alamo's Scenic Route.
Need a few family travel ideas and destinations? We have those and a few tips to help you avoid mistakes driving on winter roads.