A fun family adventure can happen in any season. Winter is a fun time to be out as a family. From holiday travel, visiting friends or family, to heading out to go snow tubing for the day, many of us find ourselves on a winter road trip. Every winter trip can be fantastic as long as you are prepared for the seasonal weather conditions. Winter weather can range from light powdery snow to sleet and hail and everything in between. Knowing what to look out for while driving, especially in harsh winter weather, can help you avoid accidents or other emergency situations. Here are 6 mistakes you should AVOID when driving in snow or other winter road conditions. These will help you get out and arrive at your destination safely.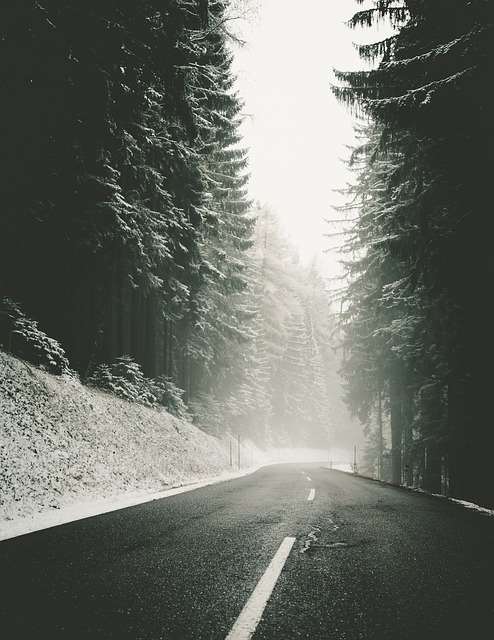 Mistakes to AVOID when driving on snow/winter roads
NOT Driving slowly
Everything slows down and takes longer on icy or wet roads. Make sure to leave room in between you and vehicles in front of you. When you have to brake, make sure you have enough time to slow or stop to avoid having to slam on your brakes or cause yourself to lose control of the vehicle.
NOT Knowing your brakes
Before any big winter road trip, have your brakes and tires inspected. Driving slowly will allow you to ease on the brake as needed in winter road conditions. If you gave to brake suddenly and your brake pedal starts pulsing or chattering, keep your foot on the pedal and don't release any pressure. That is your ABS or the anti-lock brakes working. If you find your vehicle skidding sideways, the brake is not the pedal to press. Instead, steer in the direction you want to go and lightly press the gas pedal.
This Youtube video was really helpful to me in understanding braking on snow.
NOT Being aware of black ice
Just because it isn't snowing or raining when you're driving doesn't mean you're in the clear. Black ice usually forms around dawn and late evening because these are the times the temperature is the lowest. Be aware of shaded areas, either by trees, overpasses or other coverings, as they are ideal locations for black ice to form.
Driving on gas fumes
Never having a gas tank less than half full at all times is one of the most essential winter driving safetytips. Everything slows down when driving in snow, when weather is bad, or road conditions become less than favorable. Having enough gas ensures that you are prepared for changing road conditions, traffic, etc. Plus, the added weight of the fuel may help with vehicle traction on snowy roads. In case of an emergency, having enough gas can help if you need to run your car for the heat if you become stranded. Just be sure to only run the heater just long enough to remove any chill and conserve fuel.
Driving in snow or other winter conditions if you don't have to
Before any road trip, get a weather report to see what conditions you can expect. Even if you think that you're a decent driver in bad conditions, that doesn't mean that everyone else is. If you decide to head out, be sure to let others know the route you are taking and estimated time of arrival. Be sure to pack your cell phone, charging cable, and external battery pack in case of emergency.
NOT being rested and driving tired
While being aware when driving at any time is critical, it is especially important when conditions aren't in your favor. Be sure to get enough sleep before any road trip. Being tired can slow down reaction time and make you unaware of dangerous conditions.
You can your family can have an amazing family adventure or winter road trip when you follow these winter safety tips for driving in snow and other winter road conditions. The only thing left is to decide where you would like to go this winter.