Are you dreaming of taking the ultimate road trip and taking "home" with you? RV Rental companies are making it easier than ever before to get you on the road without the high price of RV ownership. Now it's easy to rent an RV, take it out yourself or have it set up at your vacation destination, and see if the RV life is for you. Discover 4 national recreational vehicle and trailer rental agencies that offer everything from large, luxurious motorhomes to small RV rentals like VW bus conversions and pop-ups.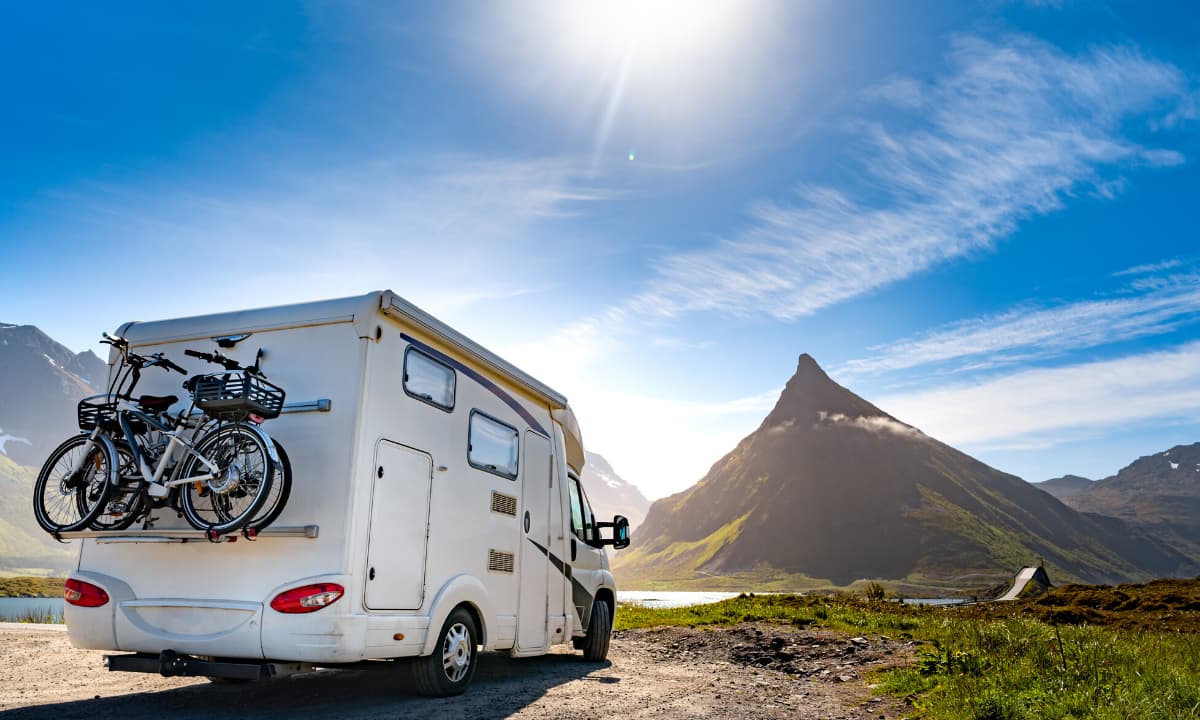 There has never been a better time to jump into RVing. Whether you want to try the RV life and hit the road or just enjoy arrive to enjoy a parked travel trailer parked, you have so many options to live your best adventure yet.
Benefits of Renting an RV?
This year, more than ever before, people are looking for a safer way to travel and enjoy the great outdoors. Renting an RV is great for people looking to do this as many recreational vehicles are fully contained allowing you take "home" on the road and wherever you'd like to go. Plus many rental companies have implemented cleaning protocols to help ensure your safety.
Renting an RV is great for anyone:
Taking a road trip or vacation and looking to stay in lodging other than a hotel room or condo
Considering buying an RV or travel trailer and want to try out different options to see what you need versus what you want
Who enjoys RVing but doesn't want the hassle of owning one
Where to Rent an RV
Here you will find 4 places/rental agencies that offer RV and trailer rentals around the United States. These RV rentals range from fully contained Class A RVs (the big bus style) to tow behind travel trailers and pop up tent trailers.
RV Share
RV Share is the AirBnB of RV rentals connecting over 60,000 RV owners with renters. It's the largest rental marketplace of its kind offering every type of recreational vehicle and travel trailer. Here you can find luxurious Class A motorhomes to pop up campers. It's also possible to find something that can be delivered and set up on site or can be available for a short term/temporary lodging if needed. Rentals accommodate 3-10. Website

Outdoorsy
Just like RV Share, Outdoorsy connects RV owners to the people looking to rent them directly on their website. Here you can find every class of RV, fifth wheels, toy haulers, adventure rigs, Sprinter vans, and teardrop trailers. They also have vintage options for anyone looking to rent an Airstream or old Volkswagen van conversion. Delivery options vary by owner, just like with RV Share. So you may be able to pick up or have it delivered. Rentals accommodate 3-10. Local dealers may also have rentals available, so it doesn't hurt to check in with them as well. Website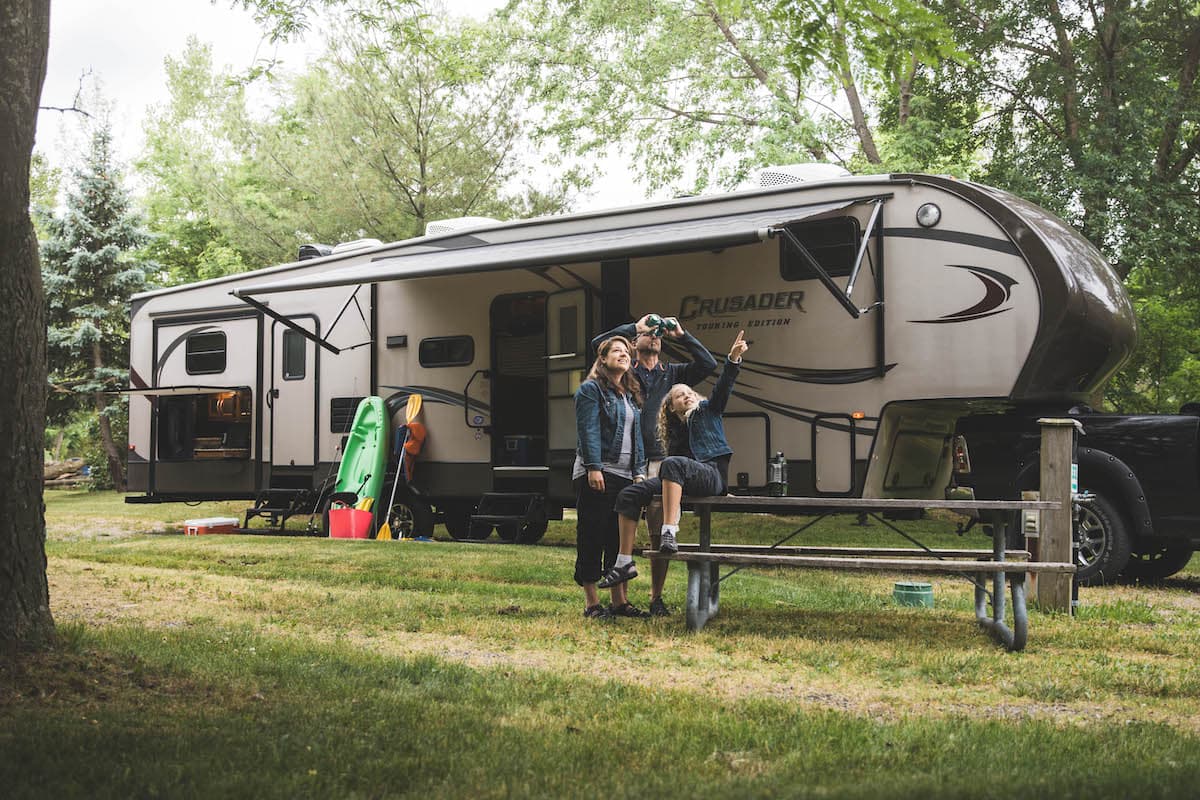 Cruise America
Cruise America RV rental is your Avis/Hertz rental car option for RVs. You rent directly from one of the 125+ Cruise America locations available across 33 states and take your rig on the road. You have most likely seen their Class C (van style cab with an attached motorhome) out on the road or at a national park parking lot. Here you can find several sizes of Class C rentals and a compact truck camper attached to a Ford F150. Their rentals accommodate 3-7 people. Website
Tip: If you want to stay away from the crowds, opt to get a membership to Harvest Hosts, a collection of farms, wineries, and breweries, that allow fully contained RVs to stay for free. The yearly fee is just $79!! It's a fun way to see the country.
El Monte RV
Find an RV at one of their rental locations across 13 states including California, Colorado, New York, Texas, Utah, and Washington state. Here you will find Class A and Class C rentals. Plus it also offers one way rentals, so you may be able to pick one up, road trip, and then fly home if you are limited on time. Their rentals accommodate 3-7 people. Website
Pin This For Later…..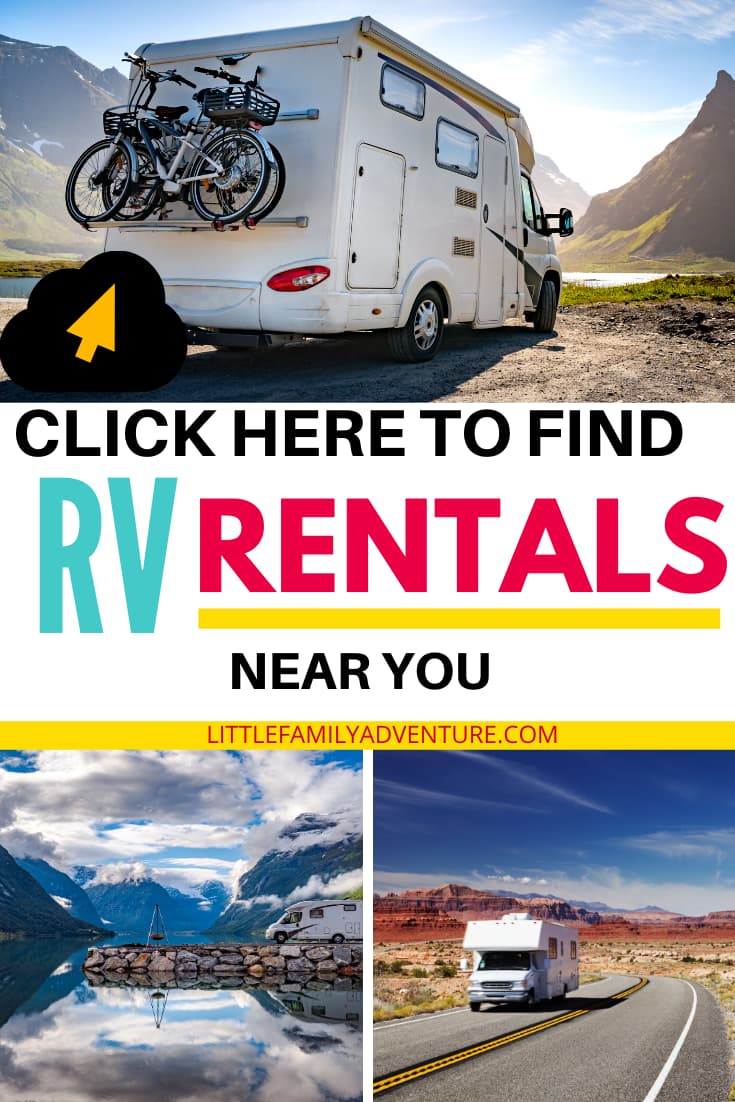 Like with car rental agencies, fees and rates vary by company, season, and type of vehicle you rent. So shop around, ask questions, and don't be after to ask if the company is offering any rental deals.
These are just 4 of the most popular RV rental agencies in the U.S. You can find regional dealers on the GoRving website. Local dealers may also have rentals available, so it doesn't hurt to check in with them as well. Where ever you decide to rent from, be sure to ask questions about what's included in your rate, cleaning, etc. An informed traveler is a happy traveler, especially these days.
Be sure to check more outdoor family activties: