Have you dreamed of taking an RV vacation before? RV camping is a wonderful way to unplug and spend some quality time with your loved ones. Glamping in an RV can make it even more enjoyable and be the ultimate way to enjoy nature with all the comforts of home. Don't have an RV? No problem! Rent one! I've partnered with RVshare, the first and largest peer-to-peer RV rental marketplace, to bring you 7 ways to create the ultimate glamping experience during your next RV trip.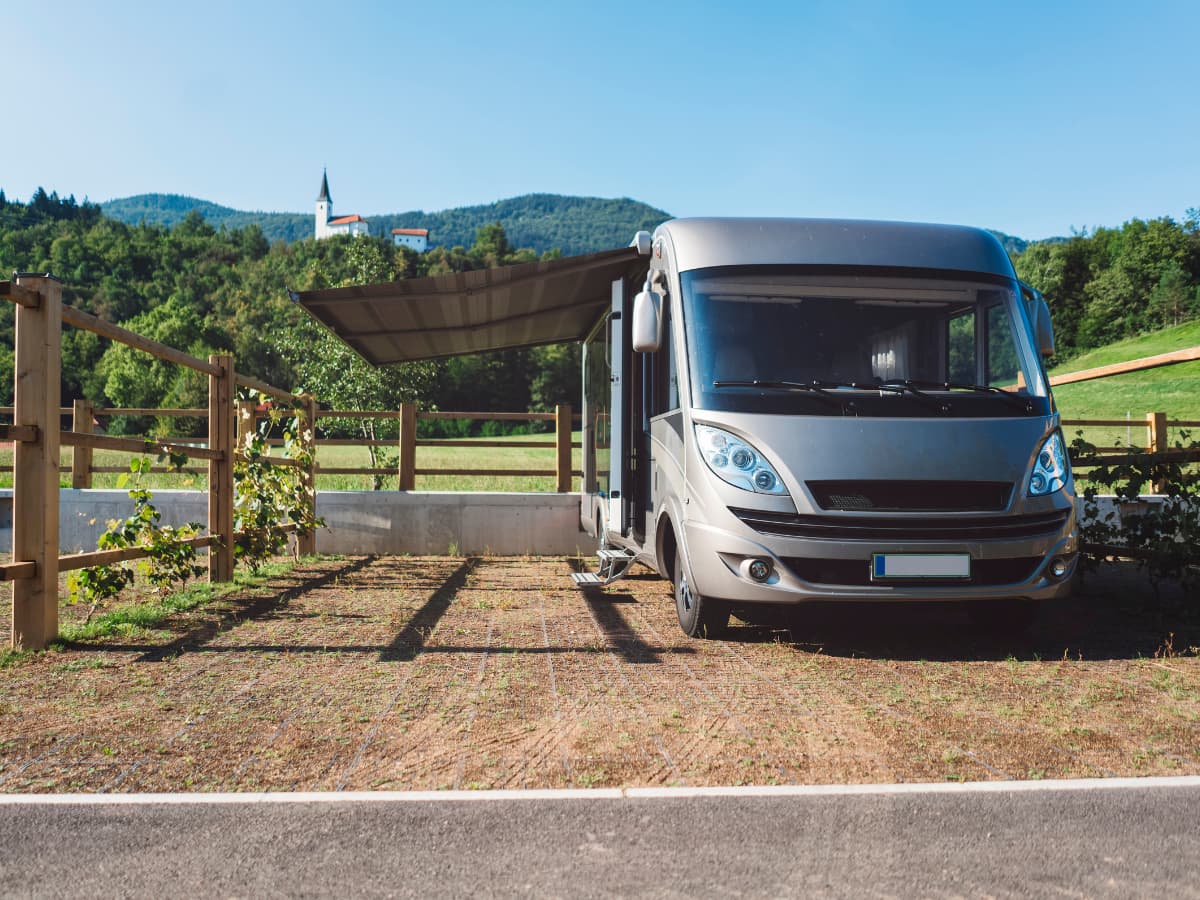 Glamping RV Rentals
Families just like yours are renting RVs as a low-cost vacation option without the commitment of owning an RV. Plus you can take your pets with you (if allowed in the vehicle you choose). Glamping RV rentals provide all the comforts of home while still feeling like an outdoor adventure with a great view. RVshare has over 100,000 RV listings. many amenities offered by most parks to their campers for free such as water hookups, electricity, and other basic needs.
Don't Want to Drive an RV?
If you are afraid of driving the RV or simply don't want to, we have a solution for you. Rent an RV and have the RV delivered to the campsite for your trip! (I'm looking at doing this in 2022 at Walt Disney World's Fort Wilderness Resort.)
In 2020, 1 In 5 RV renters got their RVs delivered (either to their home before traveling or to their final destination). A stationary RV rental is perfect for those who want more luxuries during their trip and want to get to relaxing right away!
Creating the Ultimate Glamping Experience In an RV
Here are 7 ways to create the ultimate glamping experience so you can finally get what you've always wanted out of their RV vacation.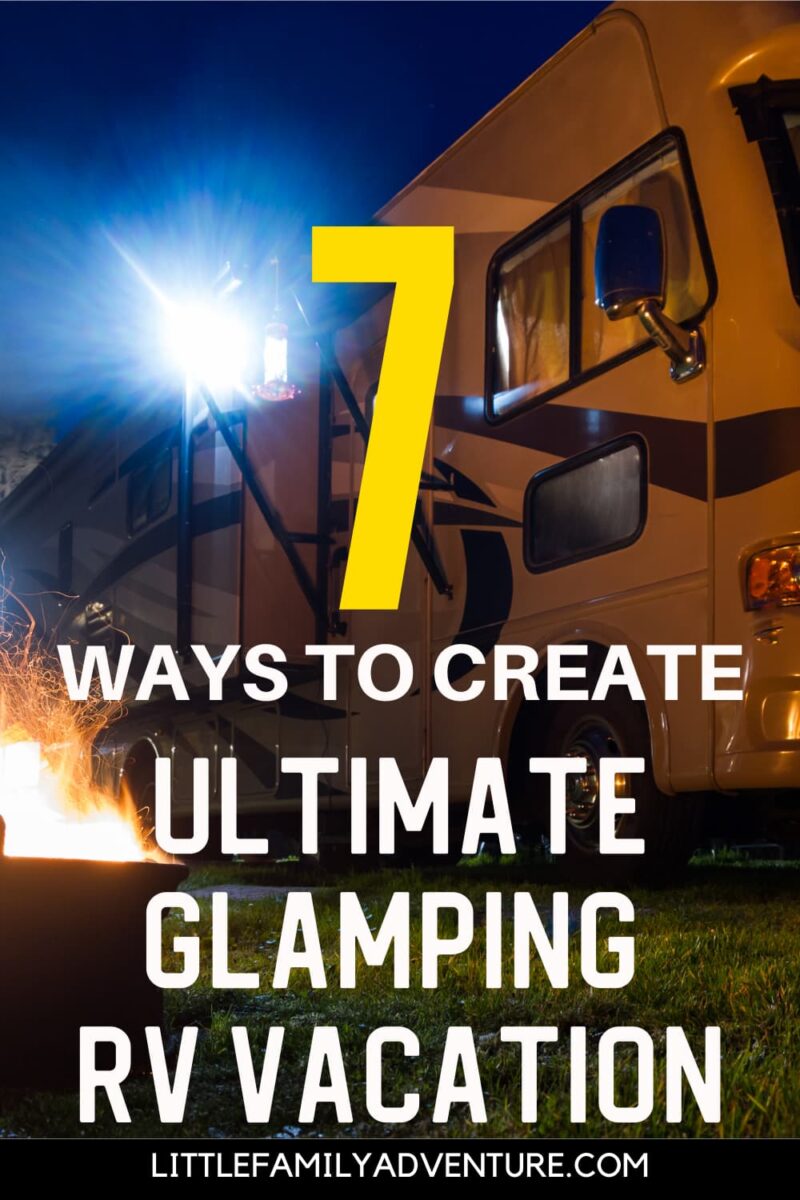 Make sure you have the right-sized RV
Glamping in an RV means you need to have enough space for the family. If you're looking to go luxury, look to a Class A motorhome or a fifth-wheel trailer with elegant interiors and upgraded amenities.
You can also enjoy a spacious master suite with a full bath. These are usually more expensive rigs and have more luxury touches. From interior finishes to sleek exterior designs, you'll feel like you're rolling in style.
Find out what questions to ask before renting an RV here.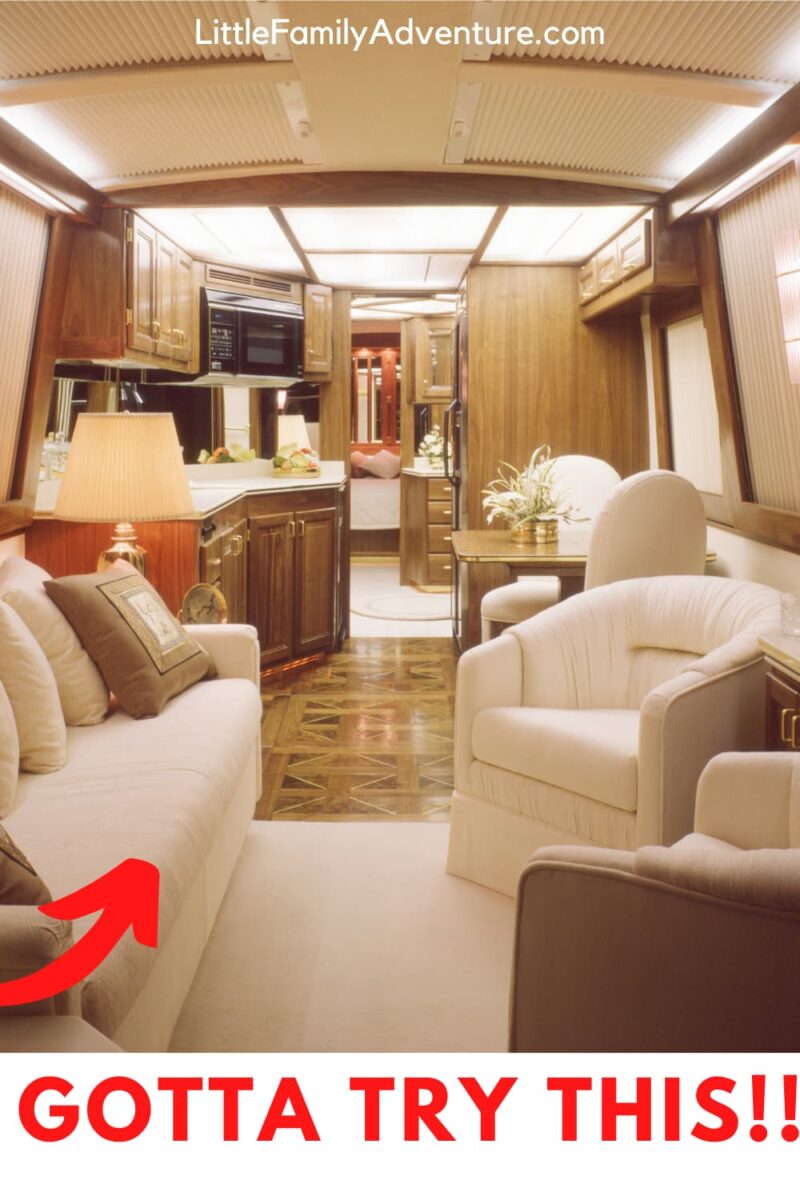 Extend your outdoor living space
Glamping means outdoor living, so make an outdoor living/dining space where everyone can enjoy their meals together, sit around the table to play games, and enjoy the fresh air together. Add an outdoor rug or mat to expand your living space and make it a little cozier. Bring along outdoor furniture like camp chairs, a hammock, and a fire pit to create the ultimate outdoor living experience.
Set up your mood lighting
RVers often use solar lanterns and outdoor lights to create an outdoor ambiance to enjoy dinner under the stars. Glamping is all about the experience, so make sure you've got your mood lighting set up to create a serene atmosphere.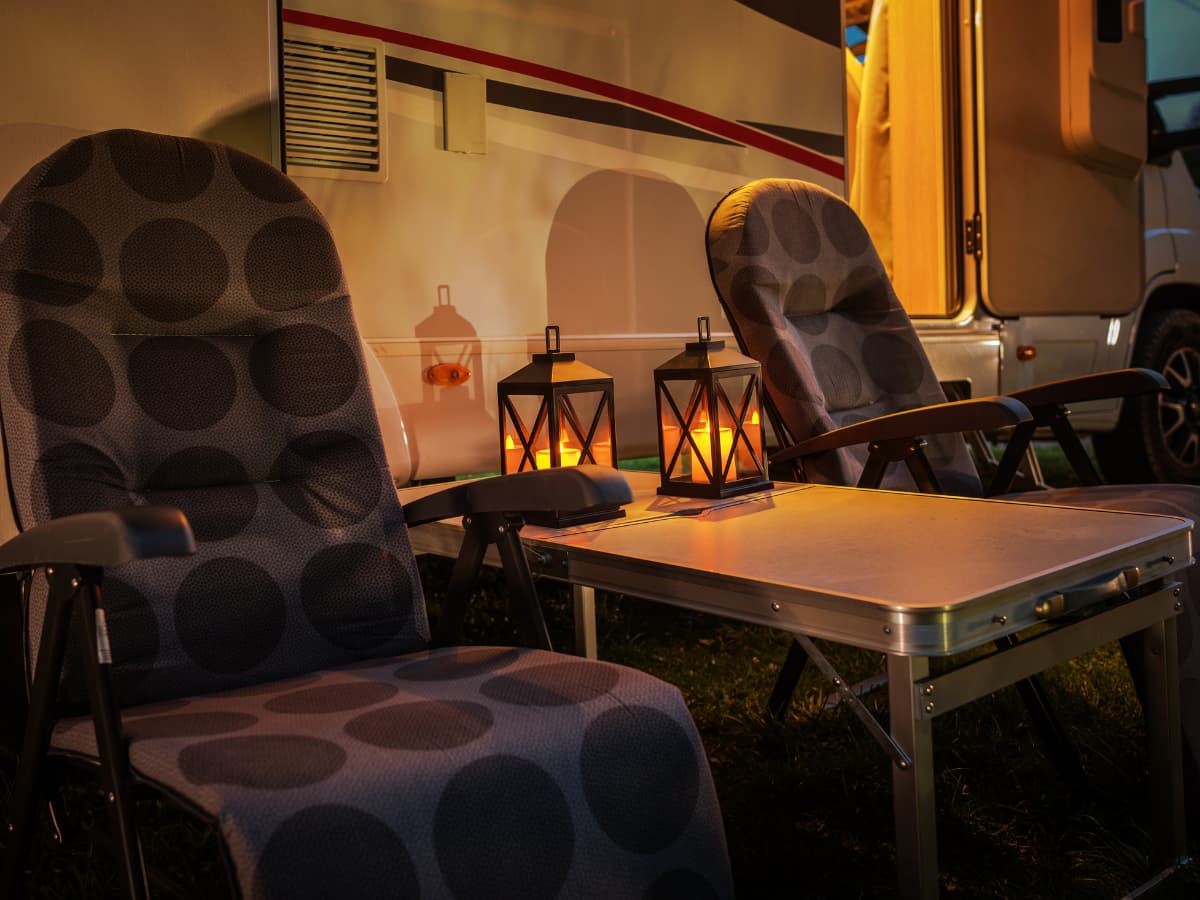 Oasis of relaxation
Glampers know that what they need most after an adventurous day exploring nature are comfy beds and crisp linens. Make sure you have plenty of pillows and have extra blankets on hand for your family to feel pampered. Glamping is all about making your experience as luxurious and relaxing as possible, so make sure you have everything you need for those moments of solitude too!
Create an outdoor kitchen
Glampers are looking for that high-end camping feel, so don't skip out on creating your own full-service cooking station with all the amenities you need! Bring along a small grill or flat top griddle, so you can cook outside in style. Make sure you're stocked up on all your favorite foods at grocery stores near the campground before settling in for the night! Glamping means being able to enjoy your meals outside with only the sounds of nature around you.
Note: When renting an RV, check the listing for kitchen utensils, silverware, and place settings. If not provided, bring along a few small dishes and silverware, so you can dine in comfort.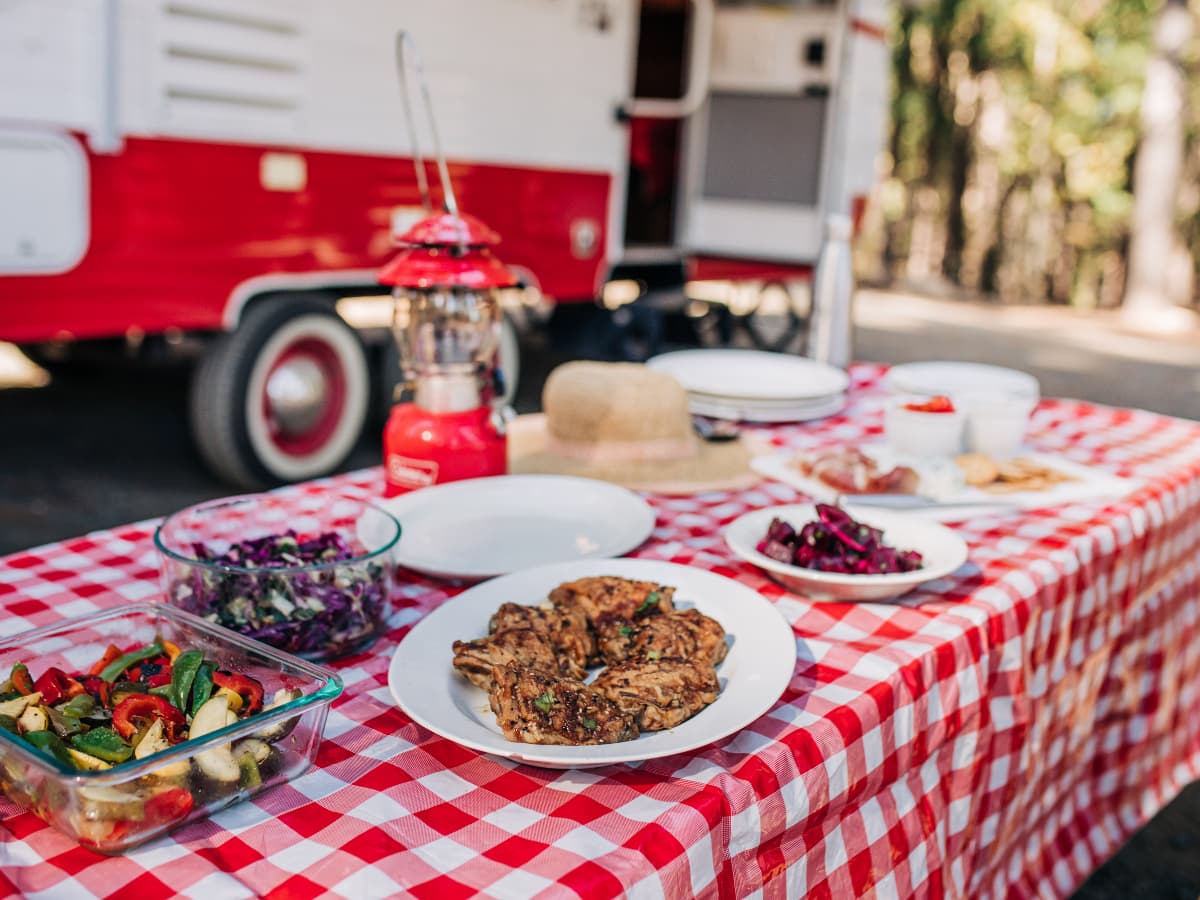 Need any ideas for RV meals? Get these 25 easy RV Meals and meal planner printable here.
Do it right by bringing in some luxuries
Glampers are often looking for that feeling of luxury even in their camping accessories. Glampers love to cook, but sometimes it can be hard cooking outdoors when the wind is blowing and the bugs are out. So bring along some luxuries like an electric mosquito repellent, Bluetooth outdoor speaker, etc.

Plan for activities
Glamping vacations come with lots of room for activities, so make sure you have all the supplies you need to ensure everyone has a great time. Bring along board games and puzzles, books or magazines to read by your new fire pit. If you're looking at going outdoorsy, make sure you've got hiking boots, a first-aid kit, and plenty of snacks. Glamping in an RV means that the wilderness is literally at your doorstep!
Glamping is about enjoying camping without any of the struggles. This type of vacation ensures a much more relaxing experience, so make sure you plan plenty of time for restful activities like reading or napping on your hammock. Use your imagination to create an experience that's perfect for you and your family!
Book your next vacation rental today with RVshare and start planning the family trip you've been dreaming on.