The idea of getting the family outdoors and back into nature is a splendid way to spend the weekend. For those that aren't into camping and "roughing it", glamping may be the way to go. With just a few pieces of luxury outdoor gear, you can turn any trip into a luxury glamping experience.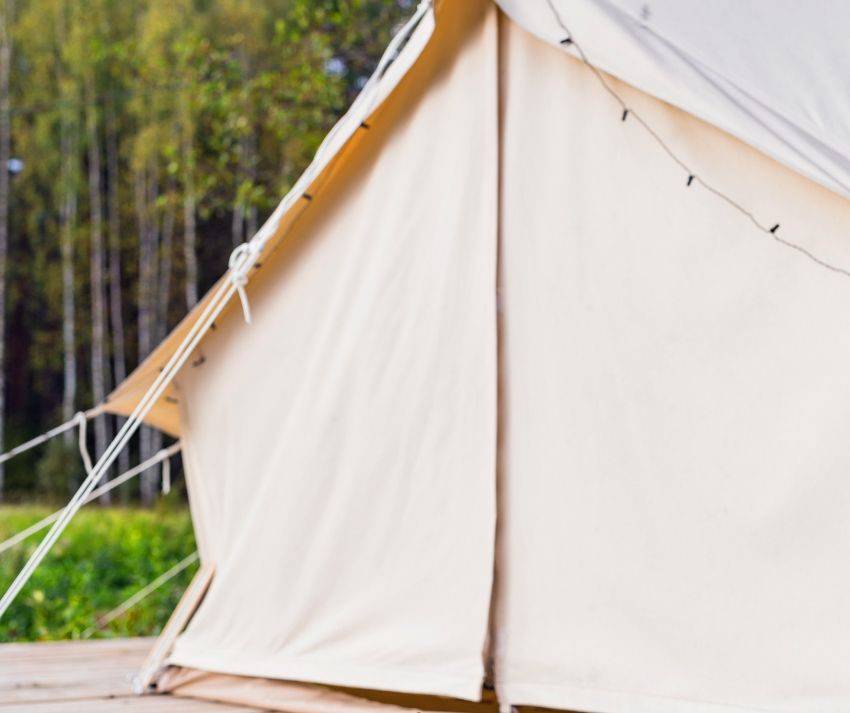 What is Glamping?
Glamping is where camping and glamour/luxury meet. For me, it's the things I love about a hotel stay but in an outdoor setting; the comfortable bed, the down blankets, hot showers, gourmet food and coffee, a soak in the hot tub, etc. Yes, I said hot tub! There's a portable hot tub complete with bubble jets on this list of luxury camping gear. This isn't primitive camping with just the basics that you pack in and out. It's far from it!
You can go camping and/or glamping just about anywhere. There are companies like Under Canvas and Glamping Hub that allow you to show up to a site and have a ready-made glamping experience. But, you shouldn't have to travel far and wide to enjoy a glamping trip. Just a few of these glamping essentials can really elevate your trip. They also make great gifts for outdoor lovers in your life.
Pin This for Later….
Luxury Outdoor Gear to Turn Any Camping Trip into Something More
To help you find the ultimate comfort camping where ever you want to be, we put together this list of camping accessories to help you do that. Here are our picks for Essential Glamping Equipment to turn your next camping trip into something over the top.
Spacious doesn't begin to describe this his luxury camping tent. Bothe the 12'x12' and 20'x20' canvas bell tents are massive with enough room for two queen sized beds and a seating area.. You choose to lounge around in bed each morning and entertain inside your tent. It's four season, so this is essential glamping gear in all four seasons. Best of all one person can set it up in 15 minutes and can also be used as a canvas canopy when you unzip the doors.
Another option for the family is this large 12 person tent from CORE. This is an instant set up model that can be up in 2 minutes.
If you are looking for a luxury glamping experience, adults can sleep in one room, the kids in another, then set up the third room as living space or screened porch with double sided access.
Why sleep on the ground when you can sleep in a pillow of air. This is as comfortable a night's sleep as you would get in any hotel. Built-in pump quickly inflates mattress within two minutes.
Kids want to up their level of comfort camping, so these 34" long youth beds from Kid-O-Bunk are perfect. They can be used as single cots, stacked for a bunk bed system, or combined to make a couch. Comes complete with organizers for the kids to store their books, flashlight, or other treasures.
This 2 burner camp stove from GSI Outdoors is ideal for cooking your camping meals. Use with stainless steel pans/pots or your cast iron cookware. The 10,000 BTU/h burners rapidly and evenly heat larger pots and pans. So whether you are cooking for a few, a family, or the whole group, its the right camping gear for the job.
Photo Credit: gsioutdoors.com
A great cup of coffee is everything and you'll shouldn't have to miss out when you are outdoors. This silicone pour over filter and manual coffee grinder ensure you can the coffee you need before any outdoor adventure.
No camping or glamping experience is complete with a campfire. This OpenFire Pit is a portable firepit for wood or charcoal that you can take anywhere. Grill grate is included for campfire cooking too.
Dutch oven cooking is one of our favorite ways to cook outdoors. You can cook directly over the campfire or with charcoal briquets to create a variety of one pot dishes. This one also doubles as a pizza oven! When you invert a lidded Dutch oven, you can use it as a pizza oven. Now that's luxury camping gear that does double duty!c
If a hot shower wasn't luxurious enough, relax in this portable hot tub from Intex. Intex is the outdoor gear brand responsible for inflatables from kayaks to airbeds. So why not a hot tub? This inflatable hot tub seats 4 and holds 210 gallons of water. It includes water filter, heater, and 120 bubble jets. If this doesn't count as luxury outdoor gear, nothing does!
Having a good quality ice cooler is at the top of our camp accessories and gear list. We love this ORCA Cooler because it keeps food cold for 8-10 days. Plus it's made in the US.
Wrap up in the down blanket made to go anywhere you go, indoors and outdoor. Measures 54" x 80" at full size, but is easy to carry stuffed in its 7"x7" carry sack.
Photo Credit: unitedbyblue.com
Choose to go plastic free for your glamping and/or camping experience. Instead of using single use plastics for water bottles, straws, or bags, opt for this Quit Kit from United by Blue. For extra product purchased on their site, they remove one pound of trash from US waterways. #quitsingleuse
Photo Credit: .amazon.com
These LED lights from set the mood at the campsite. They aren't too bright and help you find your way at night. They come in a different colors and each has several lighting modes making them fun camping accessories to have on hand. Best of all, they can be turned off when it's lights out.
Keep the dirt and grass out of your canvas tent. This indoor/outdoor mat can be used inside yout tent, outside to make a nice seating area, or as a picnic blanket.
Camp chair meets space age design for the most comfortable outdoor chair you'll ever sit in. The Stargaze Recliner Luxury auto reclines on any surface and swings gently. Relax by the campfire or enjoy the stars.
Looking for more camping/glamping tips, take a look at:
If you'd like camp cooking recipes, start here: