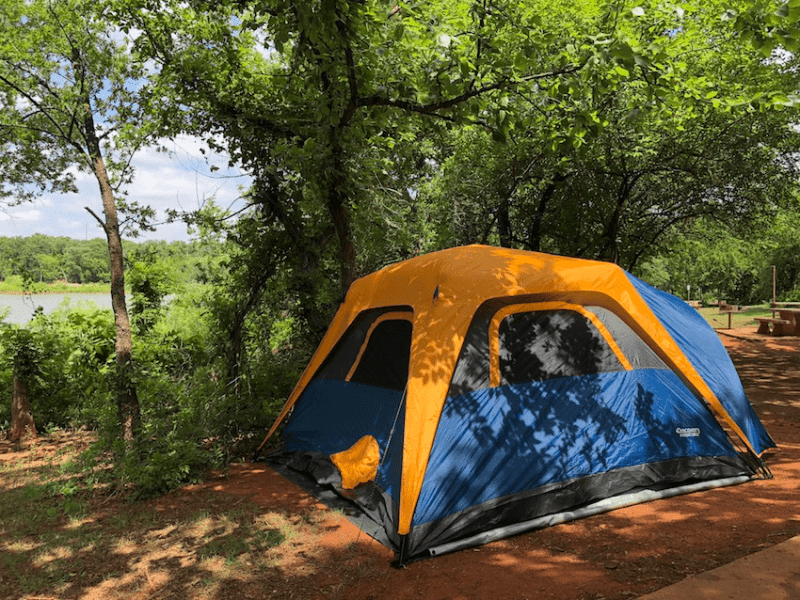 I'm partnering with Academy Sports + Outdoors to bring you a few tips to make your next summer family camping trip the best one yet. Summer is our favorite time to go camping with the kids. They are out of school, the days are longer, and the weather is warmer. It's a great time to get outdoors! But with the summer season, there are a few things you need to consider and plan to ensure that your next trip is memorable for all the "right" reasons. Let me share with you a few family camping tips that make our campouts adventurous and keep us returning to the great outdoors again and again.
Pre-Planning Before Leaving on Your Camping Trip

Before you ever get to your camp site, there is some planning that should take place. Where will you go? Where will you stay? What activities do you want to do? What will you eat? What will you bring? Etc… The best way to ensure that your next family camping trip is epic is to do a little planning ahead of time. This will ensure you have what you need, meals are packed, and everyone is ready to go.
Check the Weather
Weather can be erratic all year long. But during the summer months you need to be especially mindful. One day you may have 100 degree days and the next may bring temperatures in the 50's with heavy rain or thunderstorms. With higher temperatures and dry conditions, fire danger becomes a concern. Fire bans can be in effect for your area that will prohibit a camp fire or cooking with a controlled/open flame.  If bad weather or a burn ban is likely, be sure to take the necessary precautions for a safe camping trip.

Note: I learned this one the hard way. Last year, we were in Estes Park, Colorado and didn't check the weather. There was a burn ban in effect. Open fires were prohibited. The camp menu I planned and bought groceries for was to be cooked over the campfire; grilled chicken, baked potatoes, foil pocket meals, etc. We didn't have enough propane bottles with us, so we had to pay premium prices at the camp store. Now I check and recheck the weather before every trip.
Select and Test Out Your Gear
Based on weather conditions, length of your trip, and the type of camping you'll be doing, select the gear/equipment you'll be taking along. A few things to consider include:

Once you've decided what to bring, you'll want to test EVERYTHING! The kids will love helping with this part and it's good to get them involved. Ensure that the tent is still in one piece and has all the pieces (a pre-trip backyard camping night may be in order).  Is the cookware clean and in good order? Do stoves have enough fuel? Did you check if lanterns and headlamps all have batteries or are charged? Is your First Aid Kit WELL stocked? If you need to replace anything or you are wanting new gear, now is the best time to do it. Academy Sports + Outdoors is where we like to go. They have brands we trust and everyday low prices which are easy on the wallet.
We recently bought this new Camp Chef single burner stove at Academy. While we were there, we found a few deals we couldn't pass up including this 5 piece Outdoor Gourmet cast iron cookware set for under $40.

Take a look at these prices:

Academy Sports + Outdoors makes it easier for everyone to enjoy more sports and outdoors. Spending less money on gear means we have more money to spend on camping food and more family adventures. What could be better than that?

Plan Your Meals
Camping food is, by far, our favorite part of every trip. When cooking outdoors, you need to ensure that you have everything with you. Once you make it to your camp site, it may not be possible to just run to the store and grab a meal or an ingredient you forgot. Therefore, planning is essential.
First, create a meal plan of what you'll prepare/cook at each meal. Base this plan on the cookware you already have or are planning to take with you and the type of cooking you are wanting to do. Examples:
Cooking with a camp stove and cast iron skillet

– you'll want meals that can be pan fried, sautéed, etc.  An easy option is pan fried bratwurst with red cabbage and sautéed apples.

Cooking with a Dutch Oven

– This is low and slow cooking using charcoal as your heat source. You can bake, braise, and stew in a Dutch Oven. Some of our favorite recipes include chili, lentil taco stew, peach cobbler, and biscuits.

Cooking over the fire with foil pockets

– Meals cooked this way are done quickly so you'll want more heat and serve options. A favorite foil pocket with my kids are meatballs with peppers, onions, mushrooms, and a little cheese added once it's done.

Using a charcoal BBQ grill

– great options include steaks, burgers, vegetables, and flatbread pizzas.
Summer Cooking Tip: Lighter meals like sandwiches, grilled chicken, vegetables skewers, salads, foil pocket meals, etc. are easy to cook without having to be over a hot fire or camp stove for long.
Next, write out a grocery list based on that meal plan that includes everything you'll need to take with you. This includes seasonings, cooking oils, etc. Purchase anything you don't already have on hand.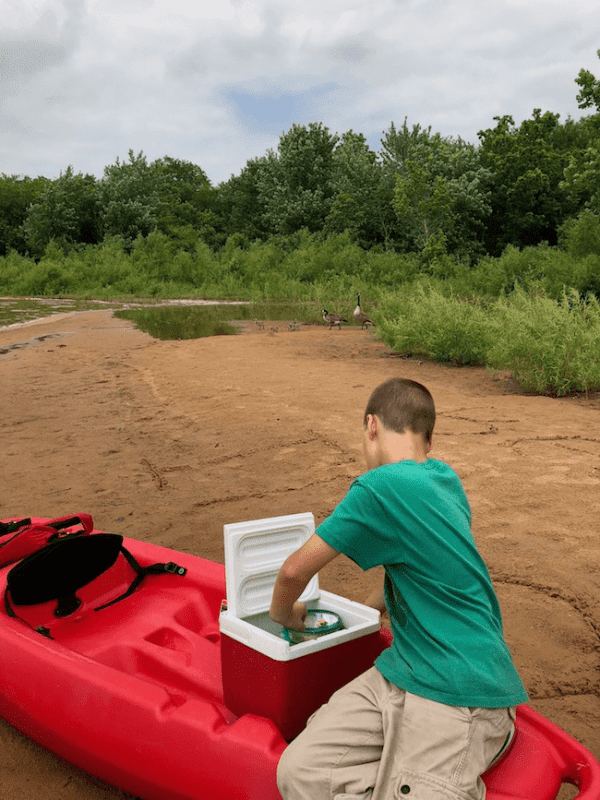 Last, pack a dry goods box with all your dry goods and check items off your list as you put it into the box.  Pack an ice cooler with anything that needs to be refrigerated. Put anything that freezes well towards the bottom of the cooler. Top with other items and end with fragile items such as eggs or bread. If you are bringing chocolate for S'mores, store it in the ice cooler. Summer temperatures will melt the chocolate into a mess if you don't.
Tip: If you are concerned that kids will be in/out of the main food cooler getting snacks, get a second smaller cooler just for them. We have this 9 quart Igloo cooler that we got at Academy for under $10. We keep snacks for the kids inside like applesauce pouches, juice boxes, fruit slices, etc. It's a convenient size and ensures that the main cooler stays cold.
Bring Extra Water
It's important to stay hydrated when you are outdoors. During the summer months, it's especially important to drink enough water to prevent dehydration. Be sure you have enough water for everyone throughout the camping trip. That could be in the form of water bottles/jugs if you are car camping or a water filtration device is you are backpacking.  
Family camping tip: When we car camp, we'll often freeze gallon sized water jugs and store them inside our ice cooler. They keep things cold and as they melt, the water can be used for drinking.
Once At the Camp Site
Setting Up Your Tent Site
These next few tips are universal no matter what time of year you go camping. But they bear repeating so I've added them below. Setting up the camp site is the beginning of the campout. Whenever possible, let the kids help out and assist with set up.
Select a camping area with partial shade to protect against the midday sun. If there are no trees around to help provide that shade, a tarp hung over the tent will also help. Shielding the tent from the sun will help keep the interior of your tent cooler and more comfortable at night.

The tent shown above is a Discovery Adventures 6 person tent we got from Academy Sports + Outdoors for under $70. Academy makes it easier for everyone to get great prices like that. If you are looking to buy a new tent, I advise that you to get one slightly larger so it can accommodate your stuff/gear. When camping with kids, there is always extra "stuff" that makes its way into the tent. Having a slightly larger tent, allows for that and still provides adequate space to sleep.
Set up your tent a short distance away from your cooking/camp fire area.
Ten feet away is the distance we strive for. It provides a reasonable space away from the campfire smoke or any ash/embers that blow out of the camp fire.
Prepare your tent foundation. Pick up any rocks or twigs where the tent will be laid down upon. This provides a smoother surface to lie on and reduces the chance the tent floor will snag or tear. Lay a tarp down over that cleared area to protect the bottom of the tent from other debris and provide a water barrier. Then you can erect your tent.
Setting Up Your Sleeping Area  
This is a great chore to let the kids help out and be in charge of. Everyone needs a place to sleep, so the kids can help lay out all the bags.

With sleeping bags, here are a few things to remember:
If your tent is on a slope or incline, place the sleeping bags so that your head is facing uphill. Otherwise you'll wake up with a killer headache. That is NEVER fun!
To provide insulation and protection from the ground, it's always a good idea to place an air mat/mattress or blanket under each sleeping bag. Do this and you won't have a "Princess and the Pea" moment.
You can create a larger "family sized" sleeping bag by zipping two rectangular bags together.

If the night time temperatures are too warm to sleep inside your bag, you can open it up and use as a base. Then add a flat sheet or light blanket on top.

That's it! These are my camping tips. Having an amazing family camping trip this summer is pretty easy with a little preplanning and the right gear. If you are looking for new gear, Academy Sports + Outdoors is place to get it and clothing, all at great prices. You can check out their online store locator to find an Academy near you!  Are you getting outside and going camping this summer? Show Academy how by sharing your summer camping photos and tagging @Academy on Facebook, Twitter or Instagram.