One of the BEST parts of a camping trip is gathering around the campfire with your family. Roasting marshmallows, telling stories, playing camping charades, and enjoying hot cocoa (or mulled wine). It's the best!! Yet, many families (us included) are choosing to stay closer to home and doing more backyard camping this year. A campout is not complete without a campfire, so we bring you 4 of the best portable fire pits suited for the backyard and beyond and burn wood.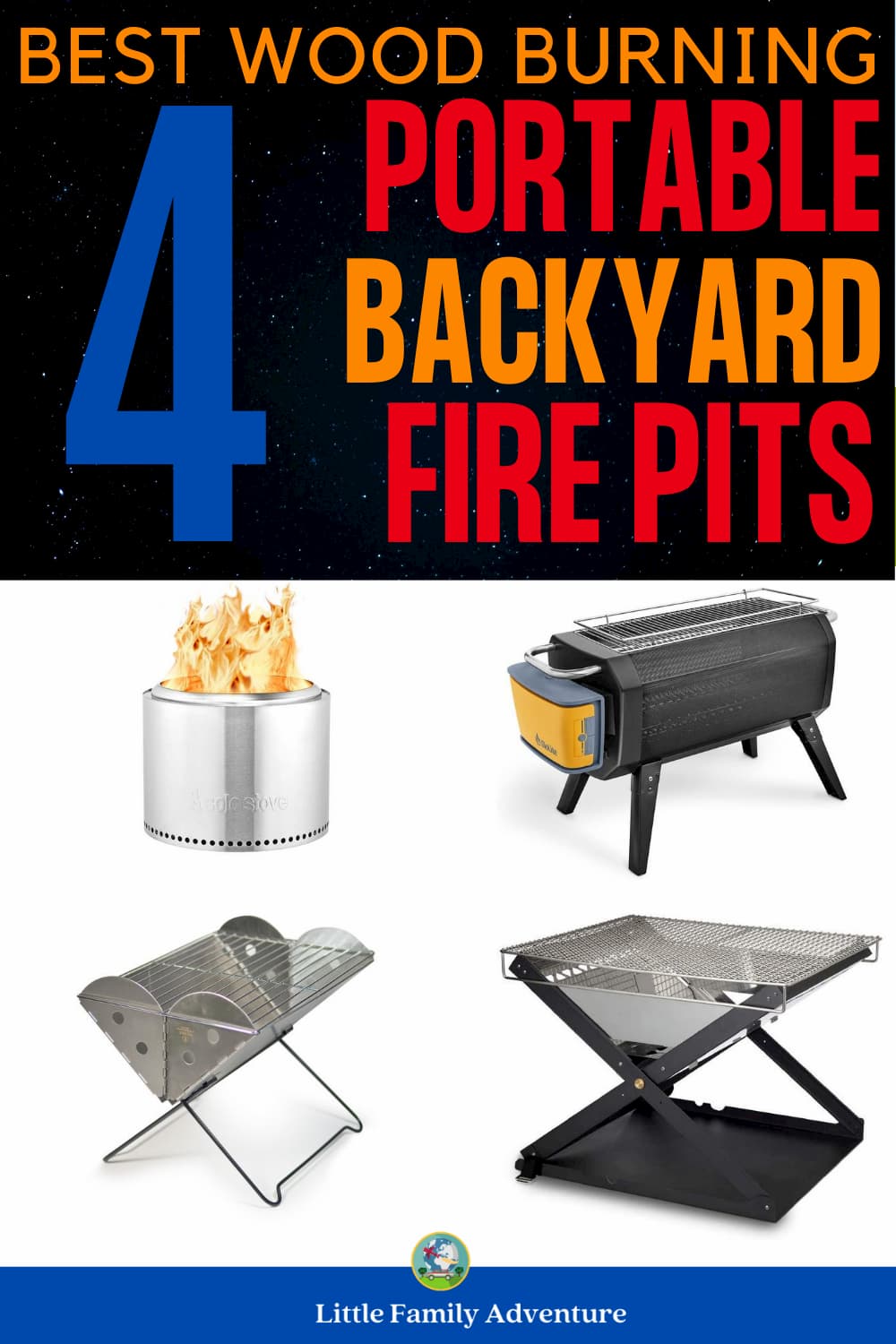 The best thing about using a portable fire pit is you can enjoy the full campfire experience and leave no trace behind when you are done. Many people consider a gas or propane fire pit for that reason. Yet you can also achieve leave no trace principles with a wood burning pit WITHOUT having to build a permanent fire ring in your backyard.
Tip: Wood ash is great for the garden and/or compost bin. So if you are using one of these portable wood burning fire pits at home, dispose of any resulting camping ash there.
Each of these backyard fire pits can either be folded up or easily stored. There is even one that is small enough to use on a porch or patio. Two of them also burn wood so efficiently that there is little to no campfire smoke! Get inspired by these outdoor fire pits that can be perfect for ALL your outdoor spaces.
Best Portable Backyard Fire Pits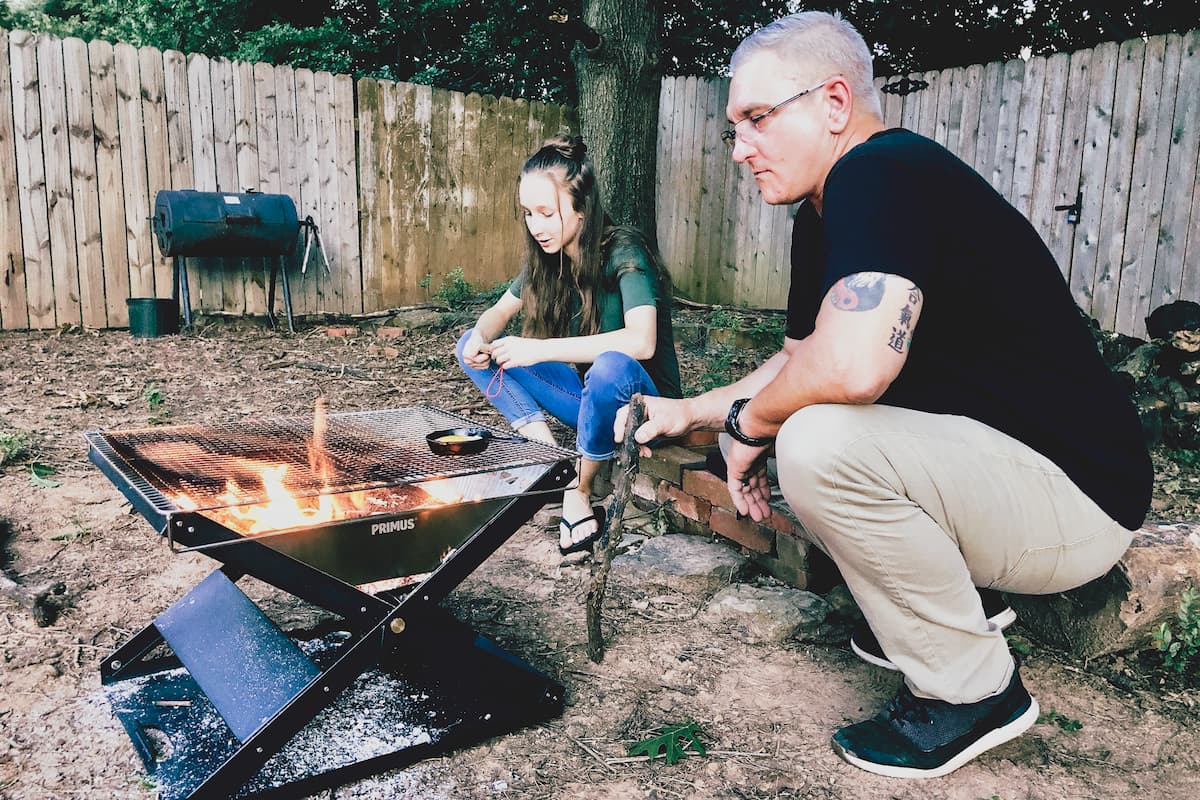 Primus Kamoto Open Fire Pit – Large
For families that want a compact system with a large fire bowl and/or grill area, the Kamoto is the one to choose. Primus actually offers two different sizes; small and large. The small is ideal for 1-4 people. For families, the large Kamoto is best suited for them as it provides more surface area (18.5" x 25.6") for grilling and can accommodate up to 16" cord wood or logs. That means a bigger fire.
The powdered coated frame resists rust and makes this grill/fire pit extremely durable. The design allows for good airflow under the wood fire or charcoal if you're using this to grill.
Set up is very easy too as the unit unfolds from its integrated ash tray that doubles as a protective cover, attach the side panels, top with grill grate, and you are ready to go. The integrated ash tray makes it ideal for leave no trace campfires too.
Measurements: 12.5" x 15.7" x 25.6" (set up) and 12.5" x 2.4" x 25.6" (folded)
Weight: 21.2 pounds
$159.95
Buy it at Primus or at Amazon
UCO Flatpack Grill & Firepit
This folding fire pit from UCO Gear is the smallest on our list. When set up, it stands just 10.5 inches tall. The compact size makes it perfect for small patios or porches. When folded up, it fits conveniently into a canvas carry bag (included) and measures 13.5" x 10.5" x 1.5". You can easily slip it into a backpack, beach bag, or day pack and set it up just about anywhere.
This portable outdoor fire pit is also a grill with a 13" x 10" cooking grate. That's large enough for a few burgers or make a pan of grilled nachos on. Built from stainless steel, this grill/fire pit is extremely durable and should last you for years. Set up is super easy and can be down in less than a minute. You simply unfold the grill, cross the legs, and place the grill grate on top. Great for use with charcoal when grilling or smaller pieces of wood.
Solo Stove Bonfire
The design of the Bonfire by Solo Stove is what most people envision when they think of a fire pit. The exterior of this campfire ring is a large single piece of stainless steel. Inside the ring, you can set up your wood to bring a fire roaring to life. For anyone who loves a campfire, but hates smelling like one, you'll find there is less smoke with this thanks to the Bonfire's design.
Like other Solo Stove products, the unique design promotes increased oxygen flow around the fire to help it burn more effectively. This means wood is burned more completely resulting in less smoke and less ash to clean up. This is the only model on the list that doesn't double as a grill. However, with its size, this model is perfect for a family to sit around and roast marshmallows. When not in use, store in the included nylon mesh carry case/bag.
Related: Read our review of the Solo Stove Titan Cook Stove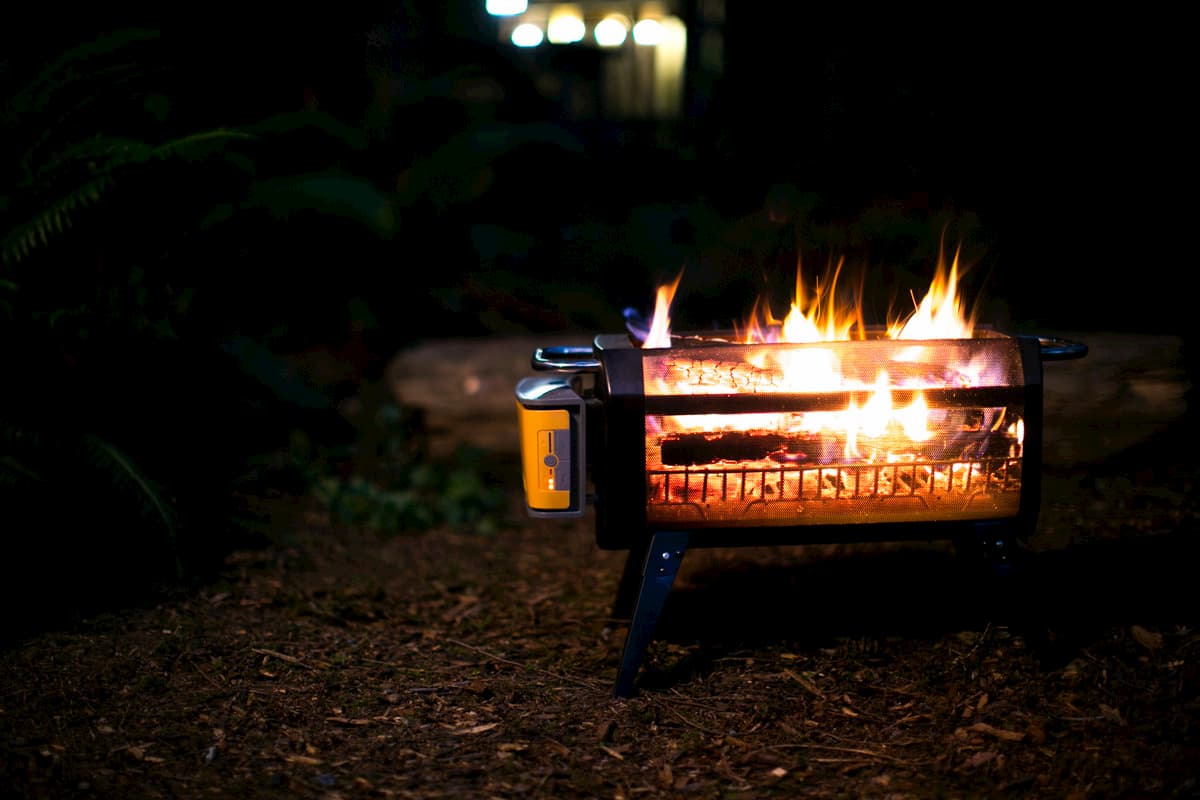 BioLite Firepit
The largest portable fire pit on the list is this one from BioLite. It is also the only one that offers a 360˚ view of the fire thanks to integrated mesh sides. Just like the Solo Stove, there is little to no smoke with this model. A bluetooth controlled integrated fan system controls the air flow to burn wood more efficiently and limit the smoke. If you don't want to use your phone, you can also control this manually. This fan system is a rechargeable system (via micro USB) that powers the fire, external lights with a USB plug, or recharge a portable device.
The doubles as a grill when you use the hibachi style grill grate (included). When grilling, you can opt for charcoal or fit up to 4 pieces of cord wood inside. When it comes to portability, unlike the Primus and UCO Gear models on this list, this does not fold flat. The legs are the only things that fold making for easy transport and storage. When the legs are folded up, the height is 10.5" tall and unfolded 15.8" tall.
Now you can enjoy all the benefits of having a campfire in your own backyard. Each of these are portable so can take it with you car camping, RVing, and tailgating (once that gets underway again.) Always remember that before starting any outdoor fire, please be aware of any burn bans in effect. If away from home, always check with the camp or park manager for current rules of where to build a fire, what you can burn, etc. Always follow Leave No Trace principles no matter where you are.